Survey: Teens' enthusiasm for Facebook is waning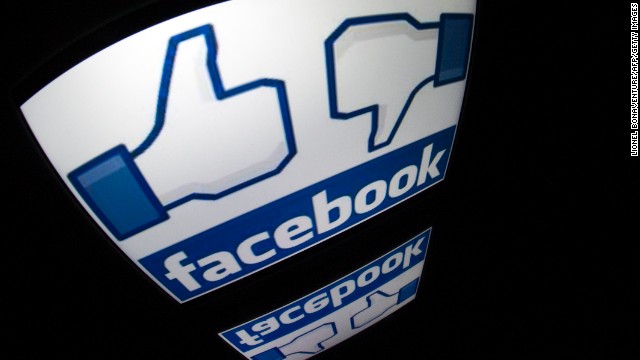 A new survey suggests some U.S. teens may be losing interest in Facebook, although they remain active on the site.
(CNN) — There's fresh evidence that American teenagers may be growing weary of Facebook.
They don't like the fact that their parents, grandparents and other adults are also there, diluting Facebook's "cool" factor. They complain about their friends' oversharing, and about too much "drama" on the site. And they're increasingly flocking to other social platforms, such as Twitter.
These are some of the findings of a new Pew Research Center survey of U.S. teens' social media use. Released Tuesday, the survey finds that teens are sharing more personal information on social media, but are also taking a variety of steps to manage their privacy online.
But it was the Facebook stuff that generated the most headlines. According to Pew, focus-group discussions with teens revealed "waning enthusiasm" for Facebook for the reasons cited, including feeling "drained by the 'drama' that they described as happening frequently" on the site.
"The stress of needing to manage their reputation on Facebook also contributes to the lack of enthusiasm," the survey said.
The Pew survey found that 24% of online teens now use Twitter, up from 16% in 2011. Other social platforms such as Tumblr, Instagram (which is owned by Facebook), YouTube and Snapchat also have seen big growth among young users in the past year.
"Those teens who used sites like Twitter and Instagram reported feeling like they could better express themselves on these platforms, where they felt freed from the social expectations and constraints of Facebook," the Pew survey said. "Nevertheless, the site is still where a large amount of socializing takes place, and teens feel they need to stay on Facebook in order to not miss out."
Facebook has 1.1 billion users worldwide and remains the most popular social network among U.S. teens.
A Facebook spokesperson declined to comment specifically Wednesday on the Pew report but pointed to statements by CFO David Ebersman in a recent conference call about quarterly earnings, in which he emphasized Facebook's popularity among users under 25.
"We continue to have really high penetration rates among that age group, both in the U.S. and globally, and … younger users remain among the most active and engaged users," Ebersman said. "Younger users are extremely active users of Instagram as well."
Facebook executives maintain that teen use of their social network has remained steady. They argue that Facebook is not losing users to other platforms — instead, they say, more users are visiting other social media sites in addition to Facebook.
"The urban legend (that Facebook is losing younger users) flows more often than not from surveys people have done of younger users that indicate that they're using other social services … much of the concern stems from the assumption that this is a zero-sum game, and that's not how we see it," Ebersman said. "We think the overall amount of time spent on services that enable you to connect and share is growing and will continue to grow."
Jeff Hancock, a professor of communication at Cornell University and a frequent social media analyst, mostly agrees.
"Facebook's attraction to youth is based in part on being connected, but also on being an 'ingroup' and 'cool' thing. To the degree that the cool of Facebook wears off, we should see some migration of teens to other platforms," he said.
"People are unlikely to fully leave Facebook but simply to diversify their tools for accomplishing social interaction. Instead of Facebook being the Walmart of social media, it will become just one platform in a big ecology, including photo sharing with Instragram, broadcasting with Twitter, etc."
Pew's findings are based on a nationally representative phone survey, run by its Internet & American Life Project, of 802 teens ages 12-17. It was conducted between July 26 and September 30, 2012. Pew also conducted two online focus groups of teenagers ages 12-17 in June 2012.
Pew found that the typical (median) teen Facebook user has 300 friends, while the typical teen Twitter user has 79 followers.
ANDROID AND ANTITRUST: THE EU'S GOOGLE CASE EXPLAINED
Google faces a fine of up to $11 billion for the way it ties Google Search and Chrome to the Android mobile operating system.
Google's Android mobile operating system is based on open-source software, but some of the most useful parts of it – Maps and Search, for instance – are proprietary, and the company makes sure that anyone wanting to use those features has to use other services that make it money too.
If an investigation by the European Union's antitrust authority finds that that behavior constitutes abuse of a dominant market position, it could expose Google to a fine of up to $11 billion.
While the fine won't have much effect on Android users, device makers or service providers, the legal remedies that usually accompany such findings could mean bigger changes to the way Google licenses Android, and in particular access to its search tools and Play store.
If Google were forced to change those agreements, it could become easier for major phone manufacturers to sell devices with "forks" of the Android software that provide better security or privacy than Google's default, or to include search engines or browsers better suited to the needs of businesses.
What the Android antitrust case is about
What most people see as the Android operating system is part open source, part proprietary. AOSP, the Android Open Source Project, is the core software that handles interactions with the phone hardware and allows calls and internet access over the wireless network. Anyone can use and develop it.
However, another key component is GMS, Google Mobile Services, which Google describes as "the best of Google." It's the part of a phone's software that most people think of when they talk about Android, and includes Google's voice-controlled mobile assistant; Maps and the Chrome browser; as well its Gmail, Youtube, Photos and chat apps. Most crucially of all, it includes the Google Play store, giving access to millions of other apps, games, movies and TV shows, music tracks and magazines.
You don't have to pay to use or distribute GMS, but you do have to enter a license agreement with Google. Those agreements are at the heart of the case.
When did the EU start the Android antitrust case?
In April 2015, the European Commission opened a formal investigation into whether Google had breached EU antitrust rules by entering into anticompetitive agreements or abusing a possible dominant market position. Such actions could have hindered the development and market access of rival mobile operating systems, applications and services to the detriment of consumers and developers of innovative services and products, the Commission said at the time.
Android is the most-used mobile OS in Europe ahead of Apple's iOS, as it was when the Commission began its investigation. Since then, however, two other competitors have dropped out of the smartphone software market: Microsoft Windows Mobile and BlackBerry OS.
The Commission focused its investigation on three allegations:
Whether Google illegally hindered the development and market access of rival mobile applications or services by requiring or incentivising smartphone and tablet manufacturers to exclusively pre-install Google's own applications or services;
Whether Google has prevented smartphone and tablet manufacturers who wish to install its applications and services on some of their Android devices from developing and marketing modified and potentially competing versions of Android (so-called "Android forks") on other devices, thereby illegally hindering the development and market access of rival mobile operating systems and mobile applications or services;
And whether Google has illegally hindered the development and market access of rival applications and services by tying or bundling certain Google applications and services distributed on Android devices with other Google applications, services and/or application programming interfaces of Google.
Has the EU formally charged Google?
In April 2016, EU Competition Commissioner Margrethe Vestager sent Google a "Statement of Objections" – formal charges that it expected the company to answer. It accused the company of a breach of EU antitrust rules, abusing its dominant position by imposing restrictions on Android device manufacturers and mobile network operators.
Google, it said, had implemented a strategy on mobile devices to preserve and strengthen its dominance in general internet search. That strategy meant Google Search was pre-installed and as the default or exclusive search service on most Android devices sold in Europe – and also prevented rival search engines using competing mobile browsers and operating systems to enter the market.
It also accused Google of giving smartphone manufacturers and mobile network operators financial incentives to exclusively pre-install Google Search on their devices, or of making such installation a condition for access to the Play store.
A Statement of Objections is a formal document issued by the European Union's antitrust authority, the European Commission, in cases of anticompetitive practices or abuse of market dominance. It sets out how the Commission believes a company has breached EU law, and gives the company a chance to defend itself, either in writing or in an oral hearing.
The next steps
If, after reviewing the company's response, the Commission still feels it has a case, it either invites the company to make formal commitments to remedy the situation, or it publishes a decision of its own imposing remedies, a fine, or both.
There's no deadline for the Commission to complete its investigation, but indications from Brussels are that it will publish a decision in the Android case before August 2018.
In the Google Android case, the Commission could theoretically fine it up to $11 billion, or 10 percent of parent company Alphabet's $110 billion worldwide revenue in 2017 – but recent antitrust fines have come nowhere near that level.
There's a separate investigation ongoing into the company's AdSense online advertising service, looking at the restrictions it places on the ability of third-party websites to display search ads from its competitors. That could expose the company to a similar-size fine.
And, of course, the Commission has already hit Google with one antitrust fine, for abusing the dominance of its search engine to promote its own comparison shopping services. That cost it $2.7 billion in June 2017, around 3% of its prior-year revenue.
Other recent fines for abuse of a dominant market position are in the same ballpark. In January 2018 it fined Qualcomm $1.2 billion, or just under 5% of annual revenue, while Intel's $1.3 billion fine in June 2014 represented about 3.8% of revenue.
Given the nature of the Commission's complaints, it could impose remedies requiring Google to change the way it licenses the GMS add-ons to Android, including its search engine and the Play store, or seek commitments from the company that it will make such changes.
That could mean mobile phones with access to the Play store, but with some other search engine or browser set as the default in place of Google Search or Chrome, appearing on the market from major manufacturers.
Source:  Computer World
IOS APPS ON MACS? GEE, THAT FEELS FAMILIAR…
FLIPKART OFFERS DISCOUNTS ON SAMSUNG GALAXY S8, GALAXY S8+, GALAXY ON NXT, AND MORE
Samsung is back with its Samsung Carnival offers and discounts on smartphones, headphones, and speakers. While the company hosted the sale on Amazon in 2017, it brought the Samsung Carnival to Flipkart earlier this year. The sale features offers and discounts on several Samsung Galaxy lineup of handsets and other products. The latest sale on Flipkart started on Tuesday (June 12) and will go on till Thursday (June 14). Notably, the discounts come alongside other exchange benefits and no-cost EMI schemes. The major Galaxy handsets that are available with discounts during the latest sale include the Galaxy S8, Galaxy S8+, Galaxy On Nxt, Galaxy On Max, Galaxy On5, and Galaxy J3 Pro. Also, there are offers on Smart TV models, refrigerators, and other electronic products. It is worth noting that the ongoing Flipkart sale on Samsung products also provides 10 percent instant discount on HDFC Bank debit and credit card transactions as well as EMIs.
During the Samsung Carnival sale on Flipkart, the Galaxy S8 is available with a Rs. 12,000 discount and is priced at Rs. 37,990. Meanwhile, the Galaxy S8+ is available with a Rs. 10,000 discount and will cost Rs. 43,990. Additionally, the Galaxy On Nxt 64GB inbuilt storage variant comes at a price of Rs. 10,900, down from the launch price of Rs. 17,900. Also, the 16GB inbuilt storage model of the smartphone can be purchased with a Rs. 2,009 discount, priced at Rs. 8,990.
Interested buyers looking for an affordable Galaxy model can go for the Galaxy J3 Pro 2GB RAM/ 16GB storage at Rs. 6,690, down from the launch price of Rs. 8,490. Flipkart has also listed the Galaxy S7 Edge 32GB variant at Rs. 32,900, down from the original price of Rs. 41,900. The smartphone had received an official price cut in February and is formally available with a starting price of Rs. 35,900. Also, the Galaxy On5 is available at Rs. 5,999, down from Rs. 8,990.
Apart from the discounts on smartphones, the Samsung Carnival sale on Flipkart features consumer durables as well, including the 32-inch Samsung 32J4003 Flat HD TV that is available at Rs. 16,999. Also, Samsung's Smart Convertible 5-in-1 Refrigerators are available for purchase with prices starting at Rs. 16,040.
The Samsung Carnival sale on Flipkart also features discounts on Samsung headphones and speakers, up to 50 percent discount on Samsung mobile accessories, cases, and chargers, and up to 40 percent discount on select Samsung monitors. Notably, the Gear Fit 2 Pro is now available at Rs. 10,990, down from the launch price of Rs. 13,590.