BlackBerry goes up for sale after years of struggle in smartphone market
Once dubbed the 'CrackBerry', the smartphone company suffered a calamitous decline in the business it helped revolutionise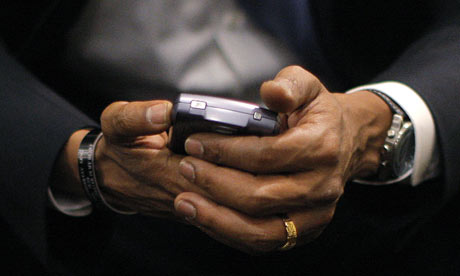 Even Barack Obama, for long BlackBerry's most high-profile fan, has cooled on the company. Charlotte Photograph: Jae C Hong/AP
BlackBerry, once the global leader in smartphone technology, has put itself up for sale after years of falling sales and failed revamps.
Once seen as so habit-forming its users dubbed it the "CrackBerry", Blackberry has suffered a calamitous decline as rivals revolutionised the business it did so much to start. On Monday the company previously known as Research in Motion (RIM) announced it had decided to "explore strategic alternatives". Buyers are being sought, though the company could also go private or be broken up. Few analysts expect a turnaround.
Unable to match Apple's iPhone for cool or the sheer range of devices from Samsung and others using Google's Android mobile system, its market share has collapsed from close to 50% in the US in 2009 to less than 3%, according to figures released last week by the analyst IDC. On the day the news broke, the Z10, BlackBerry's latest, much-hyped device was being offered for $19.99 by US mobile retailer Wirefly. It was selling for $199 when it was launched earlier this year.
For BlackBerry watchers, the news is no surprise. The company lost $84m in the last quarter and announced 5,000 layoffs last year. "The beginning of the end started some time ago," said Stuart Jeffrey, analyst at Nomura Securities. He said the company's statement suggested it no longer had any confidence in its ability to get out its current predicament. BlackBerry, he predicts, is likely to re-emerge as a software company, perhaps with some contracts for super-secure government devices, but "without the handicap of all those uncompetitive handsets".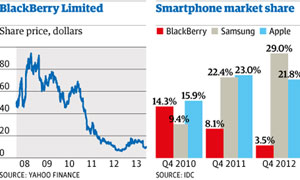 How a company that once defined the smartphone messed up so badly is likely to become a classic case study for business schools around the world. The first BlackBerry device, an email pager, was released in 1999 and allowed busy execs to collect and reply to their messages on the go in a way that revolutionized business communications. The BlackBerry Curve, Pearl and Bold followed shortly after, adding cameras and features to broaden the company's appeal to consumers.
But then in 2007 came the iPhone. At first BlackBerry relied on its ties to the business community and its perceived advantages in security to fend off Apple's attack. It didn't work. Apple's Steve Jobs had spotted that mobile devices were becoming media devices – powered by the increasing prevalence of Wi-Fi and more high powered mobile networks – music and games were set to be as important as email in the smartphone future. Google was soon chasing Apple in the mobile market with its Android operating system, Blackberry fell further behind. The arrival of apps let people personalise their mobiles and further changed the ways they used their devices.
When Apple launched the iPad, BlackBerry responded with its own tablet the PlayBook, which proved a massive failure and underlined how far behind the company had fallen. Blackberry was left looking clunky and uncool in a sector that was becoming ever more fashion conscious and fast moving.
In 2012 Marissa Mayer, a hotshot former Google exec, was drafted in to revamp Yahoo, another tech giant with an image issue. One of her first moves was to scrap company BlackBerrys. "We literally are moving the company from BlackBerrys to smartphones. One of the really important things for Yahoo's strategy moving forward is mobile," she told Fortune magazine, suggesting BlackBerry was neither a smartphone nor important in mobile.
Even Barack Obama, for long BlackBerry's most high-profile fan, seems to have cooled on the company. As a candidate in 2008, Obama criss-crossed America with his BlackBerry seemingly glued to hand. After his election there were fears he might have to end his CrackBerry addiction due to security fears. But he fought hard, and successfully, to keep the device. "Let the man have his BlackBerry," John Podesta, co-chairman of Obama's transition team, told security chiefs. Without it "he'd be like a caged lion padding restlessly around the West Wing, wondering what's happening on the other side of the iron bars that surround the People's House".
The president is still a BlackBerry man and could be spotted bashing away at his device during his inauguration in January. But daughters Sasha and Malia stole the show snapping pictures of their kissing parents on their iPhones. And even Obama now reportedly prefers to use an iPad for security briefings.
BlackBerry launched its latest operating system, BlackBerry 10, and three new devices this year. They got positive reviews. But, says Carolina Milanesi, analyst at Gartner, it was too little and way too late. "They have suffered a fate a lot of big guys suffer from. They were the first to market, they created the smartphone as we know it. They just didn't see what was coming next," she said.
"People can choose what device they want for work these days, and they don't want BlackBerry. Brand is important, cool factor is important, and BlackBerry lost out on that. But even that's not enough these days," she said. "You need the eco-system, you need to offer the same experience on different devices."
Smartphones these days are more about music, photos and video than they are about email. BlackBerry for too long relied on its business customers to keep it in the game, said Milanesi. "But these days you don't want to be boring in business.
source: http://www.theguardian.com/technology/2013/aug/12/blackberry-for-sale-smartphone-market
GOOGLE LAUNCHES A PODCAST APP FOR ANDROID WITH PERSONALIZED RECOMMENDATIONS
Google today is introducing a new standalone podcast app for Android. The app, called simply Google Podcasts, will use Google's recommendation algorithms in an effort to connect people with shows they might enjoy based on their listening habits. While podcasts have previously been available on Android through Google Play Music and third-party apps, Google says the company expects Podcasts to bring the form to hundreds of millions of new listeners around the world. (Google Listen, an early effort to build what was then called a "podcatcher" for Android, was killed off in 2012.)
"There's still tons of room for growth when it comes to podcast listening," said Zack Reneau-Wedeen, product manager on the app. Creating a native first-party Android app for podcasts "could as much as double worldwide listenership of podcasts overall," he said.
Google Podcasts will look familiar to anyone who has used a podcast app before. It lets you search for new podcasts, download them, and play them at your convenience. More than 2 million podcasts will be available on the app on launch day, Google says, including "all of the ones you've heard of."
Open the app, and a section called "For you" shows you new episodes of shows you've subscribed to, episodes you've been listening to but haven't finished, and a list of your downloaded episodes. Scroll down, and you'll see top and trending podcasts, both in general and by category. The podcast player has fewer fine-grained controls than you might be used to from apps like Overcast. You can't customize the skip buttons or create playlists of podcasts to listen to, for example.
The Podcasts app is integrated with Google Assistant, meaning you can search for and play podcasts wherever you have Assistant enabled. The company will sync your place in a podcast across all Google products, so if you listen to half a podcast on your way home from work, you can resume it on your Google Home once you're back at the house.
In the coming months, Google plans to add a suite of features to Podcasts that are powered by artificial intelligence. One feature will add closed captions to your podcast, so you can read along as you listen. It's a feature that could be useful to people who are hard of hearing or for anyone who is listening in a noisy environment. (I usually miss a few minutes of the podcasts I listen to every day, thanks to a noisy subway ride.)
Closed captions also mean that you'll be able to skip ahead to see what's coming up later in a show. Eventually, you'll be able to read real-time live transcriptions in the language of your choice, letting you "listen" to a podcast even if you don't speak the same tongue as the host.
Google also wants to expand the number of people making podcasts. The company's research showed that only one-quarter of podcast hosts are female, and even fewer are people of color. In an effort to diversify the field, Google formed an independent advisory board that will consider ways to promote podcast production outside of the handful of major metropolitan areas in the United States that currently dominate the field.
Google will not pay any creators to make podcasts directly, the company said, but it will likely explore ways of giving podcasts from underrepresented creators extra promotion. It's also examining ways to make recording equipment more accessible to people who can't afford it.
If you already listen to podcasts on Google Play Music, nothing will change today. But the company made it clear that it plans to focus its future efforts around podcasting in the standalone app.
The Android app can be downloaded here. There are currently no plans for an iOS app.
BANK OF CHILE HIT BY CYBER-ATTACK, HACKERS ROB MILLIONS
Shares in the Bank of Chile were down on Monday after it confirmed hackers had syphoned off $10 million (roughly Rs. 67 crores) of its funds, mainly to Hong Kong, though the country's second-largest commercial bank said no client accounts had been impacted.
The cyberheist is the latest in a string of such attacks, including one in May in Mexico in which thieves used phantom orders and fake accounts to steal hundreds of millions of Mexican pesos out of the country's banks, including Banorte.
Shares in the Bank of Chile, which is controlled by the Chilean Luksic family and Citigroup, were down 0.47 percent at CLP 100.4 ($.16) in mid-day trading.
Bank CEO Eduardo Ebensperger told Chilean daily La Tercera in an interview on Saturday that hackers had initially used a virus as a distraction, prompting the bank to disconnect 9,000 computers in branches across the country on May 24 to protect customer accounts.
Meanwhile, the hackers quietly used the global SWIFT bank messaging service to initiate a series of fraudulent transactions that were eventually spotted by the bank and cancelled but not before millions were funnelled to accounts abroad.
"The [attack] was meant to hurt the bank, not our customers," Ebensperger said.
Ebensperger said a forensic analysis conducted by Microsoft had determined the attack was the work of a sophisticated international group of hackers, likely from eastern Europe or Asia, and that the bank had filed a criminal complaint in Hong Kong.
The bank said in a May financial statement that it would work with insurers to recoup the lost funds.
source: Gadgets 360
HUAWEI MATE 20 PRO TIPPED TO SPORT A 6.9-INCH SAMSUNG OLED DISPLAY
arlier this month, Huawei introduced the Watch 2 smartwatch with an eSIM and voice call support. Now, a new development claims that the company is procuring OLED displays from Samsung. The South Korean giant is said to have already sent out samples to Huawei, and if all goes well, full scale production is expected to start by Q3 2018. The smartphone to sport these 6.9-inch OLED panels is said to release sometime in the fourth quarter or even early 2019, and we largely expect to see them on the Huawei Mate 20 Pro.
South Korean media The Bell reports that Samsung is in the process of finalising samples with Huawei for its order of 6.9-inch OLED displays. These large-sized displays are usually seen on Huawei's P series or Mate series. While the P30 series is not expected to arrive before MWC 2019, the Mate series traditionally arrives sometime in Q4. Furthermore, with the screen size being so large, we expect the Pro version to sport the 6.9-inch display, while the Mate 20 could sport a 6.1-inch or some such.
If Huawei is indeed bringing a 6.9-inch display smartphone, it should easily win the screen size battle, as the iPhone X Plus is expected to sport a 6.5-inch display, while the Samsung Galaxy Note 9 is expected to sport a 6.4-incher. These large sized displays are very popular in the Chinese market, and Huawei wants to meet expectations in its home market. Bigger screens are popular also because of the large text area used by the Chinese language, the report adds. Huawei wouldn't want to lose its momentum in its biggest market by not staying ahead of its game.
Of course, all of this is based on sheer speculation, and we expect you to take everything with a pinch of salt, till Huawei makes things official.
Source: Gadget360