How to engage your LinkedIn followers
LinkedIn marketing continues to pick up steam, as more and more businesses, particularly B2B businesses, realise the importance and value of creating a comprehensive strategy for one of the world's largest social networks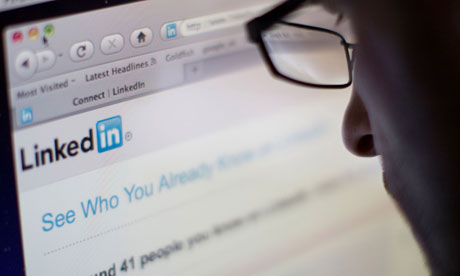 LinkedIn offers your company several ways to drive marketing results, discover leads, and close more sales. Photograph: Chris Batson / Alamy/Alamy
With a user base of over 200 million people in 200 countries, LinkedIn has emerged as the social network of choice for business professionals, who turn to the network for job hunting, recruiting, and business-centric content discovery. Beyond recruiting, however, LinkedIn marketing continues to pick up steam, as more and more businesses, particularly B2B businesses, realise the importance and value of creating a comprehensive strategy for one of the world's largest social networks.
LinkedIn offers your company several ways to drive marketing results, discover leads, and close more sales. Here are some LinkedIn Marketing strategies and best practices for companies looking to leverage LinkedIn to drive business goals.
Be there
The first step in the process is to have a presence on LinkedIn. Company pages are fine but LinkedIn groups are the best places to get leads because you can create groups by topic or vertical and engage people. LinkedIn groups show you interacting and helping and having a positive impact on an established social community. Monitoring activity allows you to see how interested people are in you and your company.
Raise awareness
Implement the perpetual promotion machine, in which you re-market, re-message, and then re-target. By doing this, you reach people everywhere, appear bigger and more important, get people coming back to your content, remain number one in your potential customers' minds and get the most of your dollars spent.
Those following your LinkedIn presence are likely to be interested in not only your latest product updates, but your thoughts on industry happenings. Content is a great way to market for leads. Your latest blog post, white paper, or ebook should be shared on LinkedIn so your business-centric audience can see it, establishing your brand as thought leaders in your arena. Be sure to include images in your updates to help them stand out, and feel free to make your updates more engaging by asking a question, or even running a poll.
Extend your reach with internal assets
There are a number of things that increase sharing of content and engage those who may end up being leads.
Employees
Your employees can be a great brand army. Get them on LinkedIn, actively grow their networks, and ask them to share news and content to their LinkedIn feeds. Your employees are visible, and can spend time in your groups to help foster relationships at all stages of the funnel. In particular, this is great for grabbing attention at the top of the funnel.
Customer recommendations
Under the Products tab of your company page, you'll note that product recommendations are prominently featured in the right sidebar. Here is where your audience will see who in their professional network is endorsing your brand's products and services.
Recommendations appear under "Product" on your LinkedIn Company page. These product recommendations are a great display of social proof for your brand.  We are highly influenced by what people we know are discussing and recommending, so don't feel shy about reaching out to satisfied customers and brand advocates to ask for these valuable LinkedIn recommendations.
Extend your reach with LinkedIn tools
Advanced people search
Find new prospects with the Advanced People Search in LinkedIn. LinkedIn can help you get in the door, and the advanced search functionality allows you to search for granular groups of people such as CEOs at companies with more than 5,000 employees, or people who work in a specific industry with a certain job title, among a number of other search functionalities.
Inmail
LinkedIn's InMail option gives companies the ability to send a direct message to any member of the network regardless of whether they are connected or not. The network maintains that the open rate on InMail messages reaches as much as 44%, far exceeding that of standard email efforts. It's not a free option, but an Inmail campaign may be an option your company could use in order to fully take advantage of the network's user base for lead generation.
Advertise
LinkedIn advertising is still an evolving product and it is mostly used by B2B companies, targeting job titles, companies, industries and LinkedIn groups. Some of the major metrics are more costly on LinkedIn versus Facebook and Google AdWords, but it is still quite affordable. It costs just seventy-five cents to reach 1,000 people advertising on LinkedIn. LinkedIn advertising allows you to narrow your targets on a platform where many of your prospects are spending time and, perhaps most importantly, keeping their profiles up-to-date.
LinkedIn allows company pages to better target their content with customised audience features. Based on the profile of the visiting user, this customisation allows you to use the most enticing language according to factors such as industry, job titles, geographic location, etc. Creating customised content for specific LinkedIn users will help send them more relevant landing pages and calls-to-action. This could be used to send job seekers to one area, potential buyers to another.
FACEBOOK IS TESTING ITS VERY OWN DATING APP
Yes, Facebook Dating is a real thing. And we may have just received a sneak peek.
Jane Manchun Wong — an app researcher who's spotted Facebook features in the past, like Talent Show — posted photos from what she claims is an internal test of Facebook Dating.
The company wouldn't say whether these pics are the real deal, although it did confirm it's testing Facebook Dating internally.
Two months ago, at its F8 developer conference, Facebook shared that it was developing a dating app. Aspiring yenta Mark Zuckerberg explained it was "going to be for building real, long-term relationships, not hookups."
Later, on its blog, Facebook dished out a few more details: "People will be able to create a dating profile that is separate from their Facebook profile — and potential matches will be recommended based on dating preferences, things in common, and mutual friends. They'll have the option to discover others with similar interests through their Groups or Events."
From Wong's photos, it looks like the app will let you prevent your current Facebook friends from seeing your dating profile, thus avoiding potential embarrassment. It'll also offer a variety of gender options, including trans man, trans woman, and non-binary.
No word on when, exactly, Facebook Dating will become available to the public. Guess you'll just have to make do with Tinder, Bumble, OKCupid, Happn, Grindr, Hinge, and the thousands of other dating apps out there in the meantime.
WHATSAPP MESSAGES AND SENDERS CAN BE ALTERED AFTER YOU RECEIVED THEM, SAY RESEARCHERS
Security researchers have discovered that it's possible for hackers to change both the content and the sender of a WhatsApp message after you've received it …
This includes the ability to change quoted messages, to make it appear you said something you didn't.
CNET reports that the possibility was discovered by Check Point Software Technologies.
The firm] found that hackers can create a hacked version of the app and alter a quoted message (a past one that someone is replying directly one) to change the content or sender.
The hacker would, however, need to be part of the chat, so the vulnerability mostly applies to group chats.
WhatsApp told the NYT that it was not aware of the technique being used in the wild, and a cure would be worse than the problem.
One solution would be to create transcripts of every message exchange to verify the accuracy of every quote. Creating such a transcript is a significant privacy risk because those accounts of what people wrote to each other must be stored somewhere, the company said.
All WhatsApp messages are protected by end-to-end encryption, which means that only those within a chat would be able to exploit the loophole. Storing a transcript would effectively mean removing that end-to-end encryption.
WHATSAPP INTRODUCES GROUP CALLS FOR UP TO 4 PEOPLE
Times after Messenger launched the video call option, WhatsApp rolls out its new feature for conference video calling. The new WhatsApp feature is now available to facilitate the users around the globe on iOS and Android.
Distinctly, the group calling feature supports up to four people at the same time.
WhatsApp says that all calls are encrypted and this new feature is engineered to work even under slow network conditions easing the users to make conference calls anytime, anywhere.
The functionality is pretty simple: To start the video call with one of the contacts, a button on the top right corner of the screen will let the user add another participant to call.
Once the call gets connected, an add icon appears, on the top right, above the names of the recipients. However, if the third user accepts the call their names will be separated with a comma. The feature can connect up to four people on a video call, all at the same time.
Noteworthy is the fact that this feature only works on the latest version of WhatsApp.