Using the internet on planes: your questions answered
Federal Aviation Administration expected to consider lifting its ban on the use of electronic devices during takeoff and landing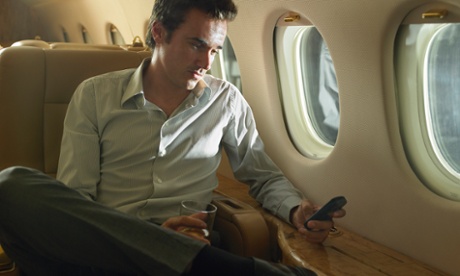 A US ban on the use of electronic devices in-flight below 10,000 feet could be lifted as soon as 2014, which would mean you could use your tablet, ereader or laptop throughout the entire flight.
A 28-person advisory committee is set to recommend the removal of the ban in a report that will be delivered to the FAA on Monday, industry officials familiar with the deliberations told the AP.
"The FAA recognises consumers are intensely interested in the use of personal electronics aboard aircraft; that is why we tasked a government-industry group to examine the safety issues and the feasibility of changing the current restrictions," the FAA said in a statement in June.
The committee was set up and partially staffed by the FAA, and therefore it is widely expected that the FAA will implement most, if not all, of the recommendations.
Which devices will I be able to use on flights?
The report is set to recommend that most electronic devices can be used, although some might still need to be switched to 'airplane mode' with their mobile network connectivity disabled.
Passengers should be able to use devices such as Wi-Fi-only tablets, Kindles, portable games consoles, laptop computers, and digital music players throughout the flight, below the 10,000 feet altitude cap that's currently in place.
Is it dangerous?
Modern planes are insulated against electromagnetic interference, which means the general consensus, before the full report is published, is that the use of low-powered devices is safe.
One of the primary reasons why the FAA's expert advisers appear to have recommended the policy change is at least partly because so many passengers flout the rules currently, and seemingly without consequence.
Why did they think it might be dangerous?
The ban over the use of electronic devices in-flight has often been attributed to the possibility of electronic interference with flight equipment in the modern an era of fly-by-wire planes, which control flight systems using electronic signals rather than physical movement of connect cables.
Another often cited reason for the ban is the possibility that electronic devices such as Kindles, tablets and laptops could turn into projectiles within the cabin if the plane experiences turbulence – though that should also apply to books and other non-electronic devices too, of course.
What can I still not use?
Mobile phones with the mobile network radio switched on. A mobile phone searching for a network operator emits higher energy radio waves than one that's connecting to a device over Bluetooth or to a network via Wi-Fi, and therefore they are considered more likely to cause electromagnetic interference.
However, the use of a devices that can connect to mobile phone networks in-flight is not solely governed by the FAA in the US. The Federal Communications Commission (FCC), the American communications regulator, also needs to authorise the use of mobile phones on aeroplanes and their connections to the terrestrial phone networks.
The worry is that fast-moving planes overhead with mobile phones connecting to ground-based infrastructure could cause unnecessary strain on terrestrial networks.
What do the British authorities say?
Right now, the Civil Aviation Authority (CAA) is "waiting for the full report to be published" by the FAA before making any recommendations, said a CAA spokesperson talking to the Guardian.
"The issue obviously affects international aviation, and we are looking forward to reading the FAA's recommendations. It is, however, only talking about low-emission devices like Kindles and Wi-Fi tablets, not cellularly connected devices like phones," the spokesperson continued.
When asked how long a response from the CAA could take to the report and begin any implementation, should the CAA agree with the FAA's committee's findings, the CAA said it would take "months, not years."
source: http://www.theguardian.com/technology/2013/sep/27/using-the-internet-on-planes-your-questions-answered
BANK OF CHILE HIT BY CYBER-ATTACK, HACKERS ROB MILLIONS
Shares in the Bank of Chile were down on Monday after it confirmed hackers had syphoned off $10 million (roughly Rs. 67 crores) of its funds, mainly to Hong Kong, though the country's second-largest commercial bank said no client accounts had been impacted.
The cyberheist is the latest in a string of such attacks, including one in May in Mexico in which thieves used phantom orders and fake accounts to steal hundreds of millions of Mexican pesos out of the country's banks, including Banorte.
Shares in the Bank of Chile, which is controlled by the Chilean Luksic family and Citigroup, were down 0.47 percent at CLP 100.4 ($.16) in mid-day trading.
Bank CEO Eduardo Ebensperger told Chilean daily La Tercera in an interview on Saturday that hackers had initially used a virus as a distraction, prompting the bank to disconnect 9,000 computers in branches across the country on May 24 to protect customer accounts.
Meanwhile, the hackers quietly used the global SWIFT bank messaging service to initiate a series of fraudulent transactions that were eventually spotted by the bank and cancelled but not before millions were funnelled to accounts abroad.
"The [attack] was meant to hurt the bank, not our customers," Ebensperger said.
Ebensperger said a forensic analysis conducted by Microsoft had determined the attack was the work of a sophisticated international group of hackers, likely from eastern Europe or Asia, and that the bank had filed a criminal complaint in Hong Kong.
The bank said in a May financial statement that it would work with insurers to recoup the lost funds.
source: Gadgets 360
HUAWEI MATE 20 PRO TIPPED TO SPORT A 6.9-INCH SAMSUNG OLED DISPLAY
arlier this month, Huawei introduced the Watch 2 smartwatch with an eSIM and voice call support. Now, a new development claims that the company is procuring OLED displays from Samsung. The South Korean giant is said to have already sent out samples to Huawei, and if all goes well, full scale production is expected to start by Q3 2018. The smartphone to sport these 6.9-inch OLED panels is said to release sometime in the fourth quarter or even early 2019, and we largely expect to see them on the Huawei Mate 20 Pro.
South Korean media The Bell reports that Samsung is in the process of finalising samples with Huawei for its order of 6.9-inch OLED displays. These large-sized displays are usually seen on Huawei's P series or Mate series. While the P30 series is not expected to arrive before MWC 2019, the Mate series traditionally arrives sometime in Q4. Furthermore, with the screen size being so large, we expect the Pro version to sport the 6.9-inch display, while the Mate 20 could sport a 6.1-inch or some such.
If Huawei is indeed bringing a 6.9-inch display smartphone, it should easily win the screen size battle, as the iPhone X Plus is expected to sport a 6.5-inch display, while the Samsung Galaxy Note 9 is expected to sport a 6.4-incher. These large sized displays are very popular in the Chinese market, and Huawei wants to meet expectations in its home market. Bigger screens are popular also because of the large text area used by the Chinese language, the report adds. Huawei wouldn't want to lose its momentum in its biggest market by not staying ahead of its game.
Of course, all of this is based on sheer speculation, and we expect you to take everything with a pinch of salt, till Huawei makes things official.
Source: Gadget360
VPN TUNNEL : WHAT IS IT, HOW CAN IT KEEP YOUR INTERNET DATA SECURE
With growing censorship and regulations threatening global internet freedom and security, in turn, we've seen an increasing number of services become available to protect your online web browsing.
Virtual Private Networks (or VPNs) have become increasingly popular in recent years for their ability to bypass government censorship and geo-blocked websites and services, and do so without giving away who is doing the bypassing.
For a VPN to do this, it creates what is known as a tunnel between you and the internet, encrypting your internet connection and stopping ISPs, hackers, and even the government from nosing through your browsing activity.
We explain the basics of what a VPN is here
What is a VPN Tunnel?
When you connect to the internet with a VPN, the VPN creates a connection between you and the internet that surrounds your internet data like a tunnel, encrypting the data packets your device sends.
While technically created by a VPN, the tunnel on its own can't be considered private unless it's accompanied with encryption strong enough to prevent governments or ISPs from intercepting and reading your internet activity.
The level of encryption the VPN tunnel has depends on the type of tunneling protocol used to encapsulate and encrypt the data going to and from your device and the internet.
Types of VPN tunneling protocols
There are many types of VPN tunneling protocols that offer varying levels of security and other features. The most commonly used tunneling protocols in the VPN industry are PPTP, L2TP/IPSec, SSTP, and OpenVPN. Let's take a closer look at them.
1. PPTP
Point to Point Tunneling Protocol (PPTP) is one of the oldest protocols still being used by VPNs today. Developed by Microsoft and released with Windows 95, PPTP encrypts your data in packets and sends them through a tunnel it creates over your network connection.
PPTP is one of the easiest protocols to configure, requiring only a username, password, and server address to connect to the server. It's one of the fastest VPN protocols because of its low encryption level.
While it boasts fast connection speeds, the low level of encryption makes PPTP one of the least secure protocols you can use to protect your data. With known vulnerabilities dating as far back as 1998, and the absence of strong encryption, you'll want to avoid using this protocol if you need solid online security and anonymity – government agencies and authorities like the NSA have been able to compromise the protocol's encryption.
2. L2TP/IPSec
Layer 2 Tunneling Protocol (L2TP) is used in conjunction with Internet Protocol Security (IPSec) to create a more secure tunneling protocol than PPTP. L2TP encapsulates the data, but isn't adequately encrypted until IPSec wraps the data again with its own encryption to create two layers of encryption, securing the confidentiality of the data packets going through the tunnel.
L2TP/IPSec provides AES-256 bit encryption, one of the most advanced encryption standards that can be implemented. This double encapsulation does, however, make it a little slower than PPTP. It can also struggle with bypassing restrictive firewalls because it uses fixed ports, making VPN connections with L2TP easier to block. L2TP/IPSec is nonetheless a very popular protocol given the high level of security it provides.
3. SSTP
Secure Socket Tunneling Protocol, named for its ability to transport internet data through the Secure Sockets Layer or SSL, is supported natively on Windows, making it easy for Windows users to set up this particular protocol. SSL makes internet data going through SSTP very secure, and because the port it uses isn't fixed, it is less likely to struggle with firewalls than L2TP.
SSL is also used in conjunction with Transport Layer Security (TLS) on your web browsers to add a layer to the site you're visiting to create a secure connection with your device. You can see this implemented whenever the website you visit starts with 'https' instead of 'http'.
As a Windows-based tunneling protocol, SSTP is not available on any other operating system, and hasn't been independently audited for potential backdoors built into the protocol.
4. OpenVPN
Saving the best for last, we have OpenVPN, a relatively recent open source tunneling protocol that uses AES 256-bit encryption to protect data packets. Because the protocol is open source, the code is vetted thoroughly and regularly by the security community, who are constantly looking for potential security flaws.
The protocol is configurable on Windows, Mac, Android, and iOS, although third-party software is required to set up the protocol, and the protocol can be hard to configure. After configuration, however, OpenVPN provides a strong and wide range of cryptographic algorithms that will allow users to keep their internet data secure and to even bypass firewalls at fast connection speeds.
Which tunneling protocol should I use?
Advertisement
Even though it's the fastest, you should steer clear of PPTP if you want to keep your internet data secure. L2TP/IPSec provides 256-bit encryption but is slower and struggles with firewalls given its fixed ports. SSTP, while very secure, is only available on Windows, and closed off from security checks for built-in backdoors.
OpenVPN, with its open source code, strong encryption, and ability to bypass firewalls, is the best tunneling protocol to keep your internet data secure. While it requires third-party software that isn't available on all operating systems, for the most secure VPN connection to the internet, you'll want to use the OpenVPN protocol.
A good VPN service should offer you the choice of at least these four types of tunneling protocols when going online. We've compiled a list of the best VPNs in the industry for you to get started on protecting your internet data.
Source: Tech Radar