Bill Gates: Control-Alt-Delete was a mistake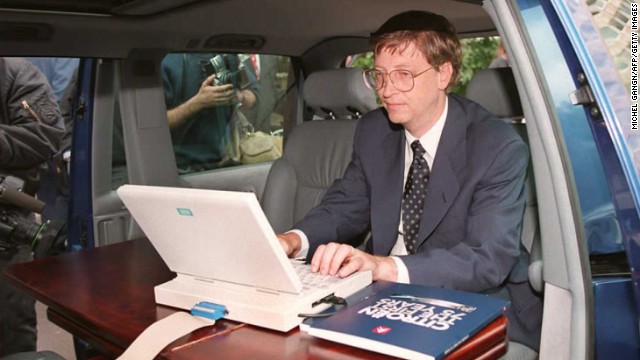 Microsoft president Bill Gates demonstrates Microsoft's Windows 95 program from his automobile prior to a press conference in Paris in September 1994.
If you pressed Control-Alt-Delete to log on before reading this, Bill Gates says he's sorry.
The Microsoft founder says the triple-key login should have been made easier, à la Apple's Macs, but that a designer insisted on the more complicated step.
"We could have had a single button. But the guy who did the IBM keyboard design didn't want to give us our single button," Gates said Saturday during a question-and-answer session to launch a Harvard University fund-raising campaign. His comments have gained attention since a video of his Harvard Q&A was posted on YouTube on Tuesday.
Smiling, Gates tried to follow through on the thought, noting it was a basic security feature. But he eventually surrendered to common sense.
"And so we had … we programmed at a low level that you had to … it was a mistake," he said, throwing up his hands to laughter and applause from the crowd.
Gates defended innovation on the earliest Microsoft software though.
"We did some clever stuff," he said. "We were able to experiment with a lot of stuff, but more on the software side than the hardware."
Long the first interface step for PC users, Control-Alt-Delete still exists in Windows 8 as a way of either locking the computer or accessing the control panel. While the system defaults to a log-in screen, users may tweak their settings to return to the old way of logging on to Windows.
Sometimes informally called the "three-fingered salute," the login required users to use both hands and was intended to avoid accidental keystrokes from rebooting a computer.
Engineer David Bradley, a designer on early IBM computers, said he invented the combination as a shortcut during development.
"I originally intended for it to be what we would now call an Easter egg — just something we were using in development and it wouldn't be available elsewhere," Bradley said while appearing on a 2011 panel that included Gates. "But then (software publishers) found out about it. They were trying to figure out how to tell somebody to start up one of their programs, and they had the answer. Just put the diskette in, hit Control-Alt-Delete, and by magic your program starts."
He then tried to deflect what he perhaps wryly called "credit" for its continued use.
"It was like a five-minute job in doing it. I didn't realize that I was going to create a cultural icon when I did it," he said "… I may have invented it, but I think Bill made it famous."
A tight-lipped Gates appears to force a smile in a video of the panel but does not respond.
Gates attended Harvard until he left during his junior year to start Microsoft with Paul Allen in 1975. While at Harvard, he lived down the hall from current Microsoft CEO Steve Ballmer. Gates received an honorary degree in 2007.
Gates remains Microsoft's chairman although he stopped full-time work at the company in 2008.
During Saturday's session, Gates reflected on a variety of topics, from the philanthropy he's made his life's work since stepping back from an active role at Microsoft to his company's relationship with Apple in the early days.
That included helping keep what would become Microsoft's fiercest rival afloat in the 1990s when it was foundering.
"In the Apple II era, we were kind of friendly competitors," he said. "We actually put more people on the Mac than Apple had."
When co-founder Steve Jobs returned to Apple in 1996, "he sort of says, 'I want this, this and this and I'll give you this, this and this.' … We did the deal in three days," Gates said.
That included buying a 6% share of Apple, which lawyers convinced Gates that Microsoft shouldn't keep for antitrust reasons.
"It would have been nice if we had," he said.
source: http://edition.cnn.com/2013/09/30/tech/innovation/apple-coke-top-brands/index.html
THE FINTECH REVOLUTION IN INSURANCE
Advancing technology has collided with longstanding customer issues to create a series of deep, lasting, systemic challenges for insurance. How will these trends impact insurers' businesses and the industry overall?
The rise of fintech, changing consumer behavior, and advanced technologies are disrupting the insurance industry. Additionally, Insurtechs and technology startups continue to redefine customer experience through innovations such as risk-free underwriting, on-the-spot purchasing, activation, and claims processing.
The report from Deloitte Global examines forces that are disrupting the insurance industry and presents four possible scenarios for the future. We explore:
Changing the channel: Partnerships with product makers and distributors, and embedding insurance into other products and services may enable customers to select products that best fit their lifestyle.
Underwriting by machine: Technology advancements including AI innovations and algorithms will likely individualize risk selection and pricing, and customers can select products based on a wider range of price points.
Rise of the flexible product: Time-flexible, event-driven, modular and adjustable coverage may evolve to accommodate life stage, lifestyle, and wellness changes among consumers.
E-Z life insurance: Given the growth and shopping patterns in emerging markets, insurers who introduce flexible term products, and master digital distribution without compromising underwriting are likely to win in the marketplace.
Read the report to understand what the future holds for the insurance industry.
Key Contact
EUROPEAN INVESTMENT BANK RUNS BLOCKCHAIN HACKATHON
A team from EY triumphed in a 48-hour European Investment Bank (EIB) hackathon designed to find ways to use blockchain technologies to redesign the transaction processing of commercial paper.
The EIB brought together 56 coders from 15 countries in 12 teams for the hackathon, run alongside the bank's annual forum dedicated to treasury issues.
While the conference was running, the coders were locked in an adjacent room, trying to prove that blockchain tech can improve the transaction process of commercial paper – a short-term financing instrument that is used worldwide in treasury operations and still relies on an 'archaic' and complex process.
In the pitching session, the EY team won the contest with an effort that taps a combination of blockchain, robotics and business AI tools to optimise the issuance process and reduce the number of exchanges between the EIB and its counterparties while maintaining each one's role within the ecosystem.
The EY team won a EUR5000 cash prize and a contract with the EIB to further develop its solution into a proof of concept.
Alexander Stubb, vice president, EIB, say: "There will be major gains from the use of new technologies such as blockchain, generated from the simplification and streamlining of existing financial processes. The new perspectives opened up by digitalisation and Distributed Ledger Technology must be assessed and we must all be ready to make use of them and embark on this new venture.
"As the EU's financial arm, we decided to be on the active side, learn by experience and make things happen, to be a facilitator and join with our banking partners to pave the way for tomorrow's financial industry."
Separately, Barclays is planning a hackathon that will see coders use blockchain technology for post-trade processing of derivatives contracts. The event will take place over two days in September in London and New York, according to Coindesk.
GOOGLE NEVER REALLY LEFT CHINA: A LOOK AT THE CHINESE WEBSITE GOOGLE'S BEEN QUIETLY RUNNING
More information is leaking out about just how Google is planning to re-enter the Chinese market with a mobile search engine application that complies to the country's censorship laws.
The Intercept first broke this story when a whistleblower provided them documentation detailing the secret censored search project (codenamed Dragonfly). According to them, an overlooked Google acquisition from 2008 — 265.com — has been quietly laying down the foundation for the endeavor.