BlackBerry abandons search for buyer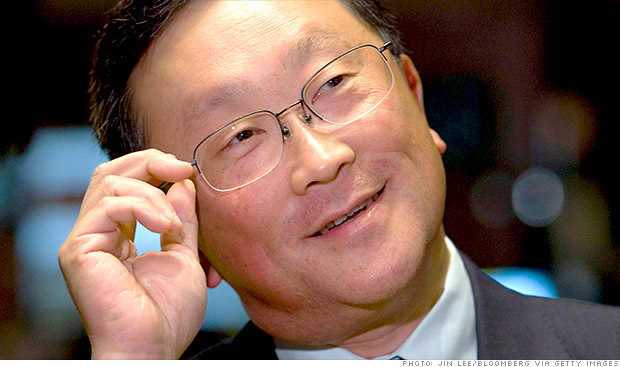 John Chen turned Sybase around. Can the new interim chief of BlackBerry do the same for the troubled smartphone company.
Shares of BlackBerry plunged more than 10% on Monday after the company abandoned plans to sell the company and fired its CEO.
BlackBerry's (BBRY) potential suitors had until Monday to produce plans to buy the struggling smartphone maker. Instead, BlackBerry's largest shareholder, Fairfax Financial, said it would invest $1 billion in the company.
Fairfax, which controls 10% of BlackBerry's shares, announced in late September that it intended to buy the rest of the company for $4.7 billion. BlackBerry was reported to have met with several other technology companies about a buyout of all or parts of the firm since then, including Google (GOOG, Fortune 500), Cisco (CSCO, Fortune 500), SAP (SAP), Intel (INTC, Fortune 500), Facebook (FB, Fortune 500), LG, Samsung and Lenovo.
BlackBerry co-founders Mike Lazaridis and Douglas Fregin also said they were interested in taking BlackBerry private a month ago in conjunction with mobile chip leader Qualcomm (QCOM, Fortune 500) and private equity firm Cerberus.
The company declined to say why it didn't accept any offers, but it's possible that potential suitors either couldn't come up with the funding or were no longer interested after taking a look at BlackBerry's books. BlackBerry is a deeply troubled company with sinking sales, mounting losses and a user base that is increasingly defecting to rival smartphone makers, such as Apple (AAPL, Fortune 500) and hardware companies making phones that run on Google's Android.
It has also been hemorrhaging cash as steep writedowns and losses threatened the company's future. BlackBerry also announced plans to lay off 4,500 employees by the end of the year in September and said last month that those job cuts will cost $400 million — four times as much as the company had previously expected.
BlackBerry also announced Monday that CEO Thorsten Heins will be leaving the company and step down from the board. Heins is due $13.25 million in severance, according to BlackBerry's most recent proxy statement. In March, BlackBerry revised the CEO's pay package "in recognition of Mr. Heins' outstanding performance."
But since then, BlackBerry released two new smartphones that were designed to turn around the company — and instead were gigantic flops. BlackBerry was forced to write down nearly $1 billion of inventory for the keyboardless Z10 smartphone.
John Chen, former CEO of Sybase, will serve as interim CEO and executive chairman of the board. Prem Watsa, CEO of Fairfax, will head up the committee to search for a permanent successor to Heins.
Chen's past experiences make clear why BlackBerry would want him to take the helm … even if it is just on a temporary basis. Chen successfully turned once-struggling Sybase around before selling it to SAP in 2010.
In its announcement on Monday, BlackBerry said it will no longer be seeking "strategic alternatives." The company first announced in August that it was seeking a buyer, but BlackBerry now believes that the $1 billion Fairfax investment will solve its near-term problems.
Barbara Stymiest, chairwoman of BlackBerry's board, said in a prepared statement that the "financing provides an immediate cash injection on terms favorable to BlackBerry." Fairfax and other investors are buying debt securities that can convert into stock over the next seven years.
BlackBerry did not announce any strategic plans as part of its announcement, but a breakup could still be on the table. Many tech analysts believe that while the future does not look good for BlackBerry's smartphone business, the company's software business is still viable and could be valuable to other tech firms. The same may be true for BlackBerry's mobile technology patents.

<script src='http://i.cdn.turner.com/money/.element/script/6.0/players/embed.js?videoid=video/technology/innovation/2013/10/21/t-flying-car-terrafugia-transition.cnnmoney'></script>
ONEPLUS IS GOING TO START MAKING TVS
OnePlus is is getting into a new line of business: making TVs. Best known for its phones, China's OnePlus also has a small catalog of really good accessories like wireless earphonesand surprisingly awesome backpacks, though nothing as complex or expensive as a television set. In announcing the news on the OnePlus online forums, company chief Pete Lau describes it as "the first step in building a connected human experience."
Every hardware manufacturer is now looking intently at ways to monetize the smart home space. Samsung and Huawei recently announced smart speakers, Apple and Google already have the HomePod and Google Home, respectively, and Microsoft and Sony are old incumbents with their Xbox and PlayStation consoles. OnePlus has decided to make its entry point into this market the TV itself, which has always been at the center of home entertainment, though often with the help of other connected devices. Reading Lau's teaser announcement, the OnePlus TV — which so far only has a project name, no timeline or specs have been revealed — will serve as the connectivity hub for OnePlus' future vision of the smart home.
The OnePlus smart TV will be developed by a new division within OnePlus, led by Pete Lau himself. Still at the earliest stages of development, OnePlus is currently seeking input from its fans, as it often does, about what their priorities with a future smart TV will be.
LAGOS TO HOST BIANNUAL AFRICA FINTECH SUMMIT FOR THE FIRST TIME IN NOVEMBER
The Summit, organized by Dedalus Global, gathers innovators, investors, policy makers and other key stakeholders in the Fintech sector to discuss technologies transforming finance on the continent, debate regulatory policies, compare best practices, and forge new ventures
LAGOS, Nigeria, 

September 17, 2018

/ — Africa's premier fintech event, the Africa Fintech Summit, (www.AfricaFintechSummit.com) will be held for the first time in Lagos, Nigeria, on

November 8-9, 2018

. This event comes on the heels of the earlier edition in Washington D.C. which featured leading policy makers, c-suite business executives, start-ups, and investors.

The Summit, organized by Dedalus Global, gathers innovators, investors, policy makers and other key stakeholders in the Fintech sector to discuss technologies transforming finance on the continent, debate regulatory policies, compare best practices, and forge new ventures.

Speaking on the decision to bring the Summit to Lagos, the Chairman of the Summit, Leland Rice, said, "Lagos is an ideal host city; it's an epicenter of Africa's fintech revolution and the driving force behind the continent's entrepreneurial spirit. The successes of companies such as Paga, Flutterwave, Mines.io, and Paystack have strategically positioned Lagos as the destination of choice for investors."

"The first edition of the Summit in D.C. was a launch pad for several milestone fintech deals struck among its delegates in the months after the event. We plan to build on these successes in Lagos, with a focus on bringing innovators and policy makers together to move the needle on fintech regulation and bringing founders and investors together to facilitate further capital raises," added Leland.

The two-day event will feature investor missions from the US, UK, and UAE, an Alpha Expo featuring the most exciting startups and entrepreneurs in Nigeria, a half-day blockchain masterclass, and an awards ceremony.

Reacting to the decision to host the Summit in Lagos, the Senior Special Assistant to the President on Technology, Lanre Osibona, stated, "This reflects the progress Nigeria is making in the areas of technology and financial services. The event is very important as it comes at the heels of the Vice President Osinbajo's trip to Silicon Valley to promote Nigeria's tech sector. We look forward to collaborating with the organizing committee and to a successful event in Lagos."

In similar vein, Tayo Oviosu, the founder of Paga—a payment company that recently raised $10 million in Series B2 funding—said that "the Africa Fintech Summit in Washington D.C. provided valuable insights into the fintech space and connected me with key players in the industry. I look forward to the Lagos edition."

Speakers lined up for the event include Chief Economist of PwC Nigeria, Dr. Andrew S. Nevin; Managing General Partner of EchoVC, Eghosa Omoigui; CEO of Diamond Bank, Uzoma Dozie; Founder of Flutterwave, Iyinoluwa Aboyeji; and CEO of PayStack, Shola Akinlade, whose company recently raised $8 million Series A funding

Distributed by APO Group on behalf of Dedalus Global.

For more information, please contact:
Ridwan Sorunke
Directory of Communications, AFTS
Ridwan@AfricaFintechSummit.com
+234 (0) 8037885760
+1 2023166726

About Dedalus Global

Dedalus Global (https://VC4A.com/dedalus-global/) is an investment and strategy advisory firm focusing on emerging markets and emerging technologies. With networks throughout Africa and the Middle East, we leverage granular market knowledge to drive innovation, accelerate capital deployment, and create value for our clients and the economies where they operate.

About Africa Fintech Summit (AFTS)

The Africa Fintech Summit (www.AfricaFintechSummit.com) is a biannual event that brings together leading disruptors, tech and finance professionals, regulators, and investors from around the globe to debate policies, compare best practices, and forge Africa-focused ventures. AFTS leverages the growth of the fintech sector in Africa to bring key stakeholders to discuss the technologies transforming finance on the continent.

To learn more about AFTS, please visit www.AfricaFintechSummit.com

View a recap from the AFTS Washington: https://www.youtube.com/watch?v=ZIdDS-u0rXE

SOURCE
Dedalus Global

Multimedia content
AMAZON IS REPORTEDLY BUILDING A FREE STREAMING VIDEO SERVICE FOR FIRE TV OWNERS
Amazon is said to be prepping an ad-supported streaming video service; it'll be available to folks who own any of the company's Fire TV streaming dongles and set-top boxes, reports The Information.
It'll be separate from Prime Video, which offers a range of licensed shows and movies, as well original content produced by Amazon, to people who are subscribed to Prime.
Do you like good gadgets?
Those sweet cool gadgets?
The idea behind this upcoming service, which is dubbed Free Dive, is to help Amazon bring in more revenue through advertising. Ads presently account for a small fraction – about $2 billion out of more than $200 billion – of its annual revenue, but they offer higher margins than retail, and are one of Amazon's fastest growing earners company-wide.
To that end, the company's been selling ad space on its site, and is slated to run ads during live sporting events on Prime Video. It also turned off ad-free viewing on Twitch – its game video streaming service – for Prime subscribers earlier this month.
Free Dive could give Amazon a chance to rival Roku, which offers a similar ad-supported streaming service for owners of its devices and is expected to reach 59 million users by the end of 2018. Roku also made its 'Channel' service available via the web earlier this month to folks in the US, so you don't need the company's hardware to access it. It'll be interesting to see if Amazon follows suit – and how it plays its cards with customers across the globe, especially in cost-conscious markets like India, where it's expanding its media offerings.