Robot cops rule! Humanoids take over streets of Kinshasa to tackle traffic chaos
How do you solve the problem of choking road traffic in one of the world's bustling megacities? You bring in the robot cops.
In Kinshasa, the sprawling capital of the Democratic Republic of Congo, two humanoid robots have been installed in high-traffic areas to regulate the flow of vehicles and help drivers and pedestrians traverse the roads safely.
The goal is to ease the traffic woes of commuters and cut the number of road accidents in the center of Kinshasa, a city of some 10 million people.
"It is an innovation about road safety," Vale Manga Wilma, president of the DRC's National Commission for Road Safety (Commission Nationale de Prevention Routiere), told CNN.
"The traffic is a big problem in the rush hours," he explained. "With the robots' policemen intelligence, the road safety in Kinshasa becomes very easy."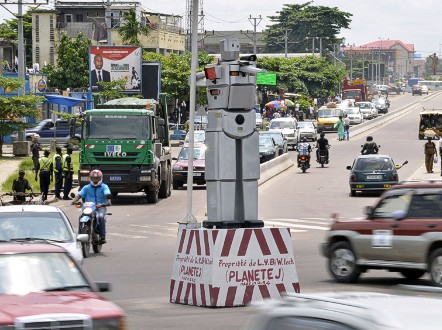 With the robots' policemen intelligence, the road safety in Kinshasa becomes very easy.
Vale Manga Wilma, NCRS, president
Standing eight feet tall, the robot traffic wardens are on duty 24 hours a day, their towering — even scarecrow-like — mass visible from afar. They are powered by solar panels and are equipped with rotating chests and surveillance cameras that record the flow of vehicles.
The humanoids, which are installed on Kinshasa's busy Triomphal and Lumumba intersections, are built of aluminum and stainless steel to endure the city's year-round hot climate.
Featuring green and red lights, Kinshasa's robot cops are designed to merge some of the functions of human officers and traffic lights. The anthropomorphic robots can raise or bend their arms to stop passing vehicles or let others pass, and are also programmed to speak, indicating to pedestrians when they can cross the road.
Manga Wilma said that this is a DRC-made technology, designed and built by a team of local engineers called WITECH ONG.
source:http://edition.cnn.com/2014/02/24/tech/robot-cops-rule-kinshasa/index.html?hpt=hp_mid
GOOGLE LAUNCHES A PODCAST APP FOR ANDROID WITH PERSONALIZED RECOMMENDATIONS
Google today is introducing a new standalone podcast app for Android. The app, called simply Google Podcasts, will use Google's recommendation algorithms in an effort to connect people with shows they might enjoy based on their listening habits. While podcasts have previously been available on Android through Google Play Music and third-party apps, Google says the company expects Podcasts to bring the form to hundreds of millions of new listeners around the world. (Google Listen, an early effort to build what was then called a "podcatcher" for Android, was killed off in 2012.)
"There's still tons of room for growth when it comes to podcast listening," said Zack Reneau-Wedeen, product manager on the app. Creating a native first-party Android app for podcasts "could as much as double worldwide listenership of podcasts overall," he said.
Google Podcasts will look familiar to anyone who has used a podcast app before. It lets you search for new podcasts, download them, and play them at your convenience. More than 2 million podcasts will be available on the app on launch day, Google says, including "all of the ones you've heard of."
Open the app, and a section called "For you" shows you new episodes of shows you've subscribed to, episodes you've been listening to but haven't finished, and a list of your downloaded episodes. Scroll down, and you'll see top and trending podcasts, both in general and by category. The podcast player has fewer fine-grained controls than you might be used to from apps like Overcast. You can't customize the skip buttons or create playlists of podcasts to listen to, for example.
The Podcasts app is integrated with Google Assistant, meaning you can search for and play podcasts wherever you have Assistant enabled. The company will sync your place in a podcast across all Google products, so if you listen to half a podcast on your way home from work, you can resume it on your Google Home once you're back at the house.
In the coming months, Google plans to add a suite of features to Podcasts that are powered by artificial intelligence. One feature will add closed captions to your podcast, so you can read along as you listen. It's a feature that could be useful to people who are hard of hearing or for anyone who is listening in a noisy environment. (I usually miss a few minutes of the podcasts I listen to every day, thanks to a noisy subway ride.)
Closed captions also mean that you'll be able to skip ahead to see what's coming up later in a show. Eventually, you'll be able to read real-time live transcriptions in the language of your choice, letting you "listen" to a podcast even if you don't speak the same tongue as the host.
Google also wants to expand the number of people making podcasts. The company's research showed that only one-quarter of podcast hosts are female, and even fewer are people of color. In an effort to diversify the field, Google formed an independent advisory board that will consider ways to promote podcast production outside of the handful of major metropolitan areas in the United States that currently dominate the field.
Google will not pay any creators to make podcasts directly, the company said, but it will likely explore ways of giving podcasts from underrepresented creators extra promotion. It's also examining ways to make recording equipment more accessible to people who can't afford it.
If you already listen to podcasts on Google Play Music, nothing will change today. But the company made it clear that it plans to focus its future efforts around podcasting in the standalone app.
The Android app can be downloaded here. There are currently no plans for an iOS app.
BANK OF CHILE HIT BY CYBER-ATTACK, HACKERS ROB MILLIONS
Shares in the Bank of Chile were down on Monday after it confirmed hackers had syphoned off $10 million (roughly Rs. 67 crores) of its funds, mainly to Hong Kong, though the country's second-largest commercial bank said no client accounts had been impacted.
The cyberheist is the latest in a string of such attacks, including one in May in Mexico in which thieves used phantom orders and fake accounts to steal hundreds of millions of Mexican pesos out of the country's banks, including Banorte.
Shares in the Bank of Chile, which is controlled by the Chilean Luksic family and Citigroup, were down 0.47 percent at CLP 100.4 ($.16) in mid-day trading.
Bank CEO Eduardo Ebensperger told Chilean daily La Tercera in an interview on Saturday that hackers had initially used a virus as a distraction, prompting the bank to disconnect 9,000 computers in branches across the country on May 24 to protect customer accounts.
Meanwhile, the hackers quietly used the global SWIFT bank messaging service to initiate a series of fraudulent transactions that were eventually spotted by the bank and cancelled but not before millions were funnelled to accounts abroad.
"The [attack] was meant to hurt the bank, not our customers," Ebensperger said.
Ebensperger said a forensic analysis conducted by Microsoft had determined the attack was the work of a sophisticated international group of hackers, likely from eastern Europe or Asia, and that the bank had filed a criminal complaint in Hong Kong.
The bank said in a May financial statement that it would work with insurers to recoup the lost funds.
source: Gadgets 360
HUAWEI MATE 20 PRO TIPPED TO SPORT A 6.9-INCH SAMSUNG OLED DISPLAY
arlier this month, Huawei introduced the Watch 2 smartwatch with an eSIM and voice call support. Now, a new development claims that the company is procuring OLED displays from Samsung. The South Korean giant is said to have already sent out samples to Huawei, and if all goes well, full scale production is expected to start by Q3 2018. The smartphone to sport these 6.9-inch OLED panels is said to release sometime in the fourth quarter or even early 2019, and we largely expect to see them on the Huawei Mate 20 Pro.
South Korean media The Bell reports that Samsung is in the process of finalising samples with Huawei for its order of 6.9-inch OLED displays. These large-sized displays are usually seen on Huawei's P series or Mate series. While the P30 series is not expected to arrive before MWC 2019, the Mate series traditionally arrives sometime in Q4. Furthermore, with the screen size being so large, we expect the Pro version to sport the 6.9-inch display, while the Mate 20 could sport a 6.1-inch or some such.
If Huawei is indeed bringing a 6.9-inch display smartphone, it should easily win the screen size battle, as the iPhone X Plus is expected to sport a 6.5-inch display, while the Samsung Galaxy Note 9 is expected to sport a 6.4-incher. These large sized displays are very popular in the Chinese market, and Huawei wants to meet expectations in its home market. Bigger screens are popular also because of the large text area used by the Chinese language, the report adds. Huawei wouldn't want to lose its momentum in its biggest market by not staying ahead of its game.
Of course, all of this is based on sheer speculation, and we expect you to take everything with a pinch of salt, till Huawei makes things official.
Source: Gadget360