GOOGLE STOCK SINKS AS MOBILE STRUGGLES CONTINUE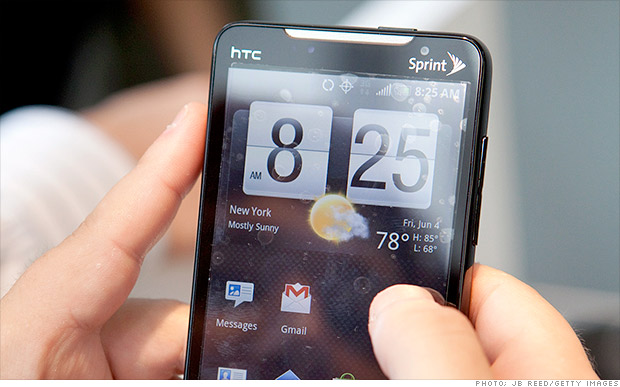 Investors are getting impatient with Google' mobile marketing strategy.
Google (GOOGL) shares sank 3% in after-hours trading Wednesday after the company posted first-quarter earnings and sales that missed expectations. Of particular concern was a 9% drop in payments from marketers per ad on Google sites.
The challenge for Google is convincing marketers to pay as much for mobile ads as they do for desktop ads, a task that's become increasingly pressing as Web usage shifts to smartphones.
Google Chief Business Officer Nikesh Arora said in a conference call Wednesday afternoon that the company's mobile ad revenue is being held up in part because merchants haven't spent enough time developing their mobile sites, assuming that customers will make more purchases via desktop.
"The journey is just beginning for advertisers on the mobile side," he said. As advertisers begin to see the potential of mobile ads, including location targeting, Arora added that the gap between desktop and mobile ad rates would likely close.
"Right now we can lead the horse to water, but we can't make it drink," he said.
Part of the way Google is addressing this issue in the meantime is through the "enhanced campaign" strategy it introduced last year, which requires advertisers to buy across multiple platforms.
Google still reported $15.4 billion in sales for the first quarter, up 19% versus last year, as consumers clicked on 26% more ads than they did a year ago. Earnings came in at $3.45 billion, up slightly from last year.
These are Google's first quarterly results since instituting a controversial 2-for-1 stock split earlier this month. Google shareholders were issued two shares for every one share they owned at half the price.
The company's newly issued Class C shares trade under its old ticker, "GOOG," and do not give investors the right to vote at its annual shareholder meeting. Class A shares now trade under the ticker "GOOGL," and come with voting rights.
The split, which was held up in court after shareholders sued to block it, further consolidates control of the company among the leadership triumvirate of CEO Larry Page, chairman Eric Schmidt and co-founder Sergey Brin.
Google stock has fallen 5.5% in the past month, part of a broader slide in tech stocks. However, the drop lately has followed gains of more than 40% in the past year.
Google, like rival Facebook (FB, Fortune 500), has been spending big on emerging technologies recently as it works to expand outside its core search business.
Earlier this week, Google announced the acquisition of Titan Aerospace, a start-up that makes high-altitude, solar-powered drones that Google hopes to use to deliver Internet service. The Titan team will operate separately from Google, but will collaborate with divisions including Google Maps and Project Loon, which has been working on delivering Internet service from high-altitude balloons.
The search giant has also invested billions of dollars in driverless cars, wearable gadgets, military robots and, through its $3.2 billion purchase of Nest earlier this year, connected home devices.
source:http://money.cnn.com/2014/04/16/technology/google-earnings/index.html
THE FINTECH REVOLUTION IN INSURANCE
Advancing technology has collided with longstanding customer issues to create a series of deep, lasting, systemic challenges for insurance. How will these trends impact insurers' businesses and the industry overall?
The rise of fintech, changing consumer behavior, and advanced technologies are disrupting the insurance industry. Additionally, Insurtechs and technology startups continue to redefine customer experience through innovations such as risk-free underwriting, on-the-spot purchasing, activation, and claims processing.
The report from Deloitte Global examines forces that are disrupting the insurance industry and presents four possible scenarios for the future. We explore:
Changing the channel: Partnerships with product makers and distributors, and embedding insurance into other products and services may enable customers to select products that best fit their lifestyle.
Underwriting by machine: Technology advancements including AI innovations and algorithms will likely individualize risk selection and pricing, and customers can select products based on a wider range of price points.
Rise of the flexible product: Time-flexible, event-driven, modular and adjustable coverage may evolve to accommodate life stage, lifestyle, and wellness changes among consumers.
E-Z life insurance: Given the growth and shopping patterns in emerging markets, insurers who introduce flexible term products, and master digital distribution without compromising underwriting are likely to win in the marketplace.
Read the report to understand what the future holds for the insurance industry.
Key Contact
EUROPEAN INVESTMENT BANK RUNS BLOCKCHAIN HACKATHON
A team from EY triumphed in a 48-hour European Investment Bank (EIB) hackathon designed to find ways to use blockchain technologies to redesign the transaction processing of commercial paper.
The EIB brought together 56 coders from 15 countries in 12 teams for the hackathon, run alongside the bank's annual forum dedicated to treasury issues.
While the conference was running, the coders were locked in an adjacent room, trying to prove that blockchain tech can improve the transaction process of commercial paper – a short-term financing instrument that is used worldwide in treasury operations and still relies on an 'archaic' and complex process.
In the pitching session, the EY team won the contest with an effort that taps a combination of blockchain, robotics and business AI tools to optimise the issuance process and reduce the number of exchanges between the EIB and its counterparties while maintaining each one's role within the ecosystem.
The EY team won a EUR5000 cash prize and a contract with the EIB to further develop its solution into a proof of concept.
Alexander Stubb, vice president, EIB, say: "There will be major gains from the use of new technologies such as blockchain, generated from the simplification and streamlining of existing financial processes. The new perspectives opened up by digitalisation and Distributed Ledger Technology must be assessed and we must all be ready to make use of them and embark on this new venture.
"As the EU's financial arm, we decided to be on the active side, learn by experience and make things happen, to be a facilitator and join with our banking partners to pave the way for tomorrow's financial industry."
Separately, Barclays is planning a hackathon that will see coders use blockchain technology for post-trade processing of derivatives contracts. The event will take place over two days in September in London and New York, according to Coindesk.
GOOGLE NEVER REALLY LEFT CHINA: A LOOK AT THE CHINESE WEBSITE GOOGLE'S BEEN QUIETLY RUNNING
More information is leaking out about just how Google is planning to re-enter the Chinese market with a mobile search engine application that complies to the country's censorship laws.
The Intercept first broke this story when a whistleblower provided them documentation detailing the secret censored search project (codenamed Dragonfly). According to them, an overlooked Google acquisition from 2008 — 265.com — has been quietly laying down the foundation for the endeavor.