How does Google's self-driving car work – and when can we drive one?
Self-driving car prototype has no steering wheel, brake or accelerator pedals. So how safe is it, and what is it like on the road?
Google unveiled a brand new self-driving car prototype on Tuesday; the first company to build a car with no a steering wheel, accelerator or brake pedal.
The car's arrival marks the next stage in Google's self-driving car project, which was born from the Darpa Grand Challenges for robotic vehicles in the early 2000s. Google kickstarted its own self-driving car project in 2008, and it has been rumbling on ever since, first with modified Toyota Prius and then with customised Lexus SUVs, which took the car's existing sensors, such as the cruise-control cameras, and added a spinning laser scanner on the top.
What is it?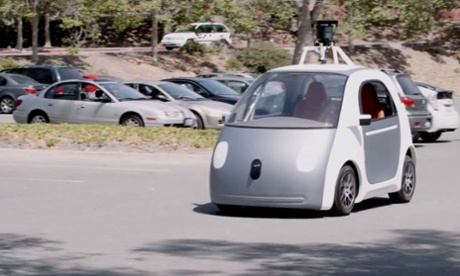 It is the first truly driverless electric car prototype built by Google to test the next stage of its five-year-old self-driving car project. It looks like a cross between a Smart car and a Nissan Micra, with two seats and room enough for a small amount of luggage.
It is the first real physical incarnation of Google's vision of what a self-driving car of the near future could be.
Where is it?
It operates in and around California, primarily around the Mountain View area where Google has its headquarters.
What does it do?
It ferries two people from one place to another without any user interaction. The car is summoned by a smartphone for pick up at the user's location with the destination set. There is no steering wheel or manual control, simply a start button and a big red emergency stop button. In front of the passengers there is a small screen showing the weather, the current speed and a small countdown animation to launch.
Once the journey is done, the small screen displays a message to remind you to take your personal belongings – reinforcing that this is not aiming to be a substitute for your personal car at the moment, but more as a replacement for the taxi without the human driver.
What's it like?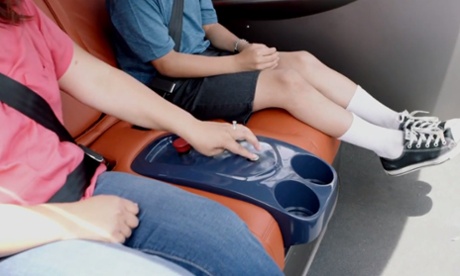 Very few people outside of Google have been allowed to ride in the new car. Most of the people depicted in Google's promotional videos for the new car described the experience as "smooth" and "nothing that feels the least bit threatening".
Kara Swisher and Liz Gannes from technology site Recode were one of the few independent test riders, who described the car as having "ample" room despite being small, likely due to the lack of the normal controls taking up space in the cabin, and "that this felt a lot like a theme park ride".
Who built it?
Google has designed the car from scratch, starting with the sensors and a frame to interconnect them, then adding a cabin that does not block any of the sensors or create blind spots and eventually the body shell. The manufacturing of the 100 or so prototype cars will be done by a firm in the Detroit area, but Google declined to comment on which.
How does it work?
Powered by an electric motor with around a 100 mile range, the car uses a combination of sensors and software to locate itself in the real world combined with highly accurate digital maps. A GPS is used, just like the satellite navigation systems in most cars, to get a rough location of the car, at which point radar, lasers and cameras take over to monitor the world around the car, 360-degrees.
The software can recognise objects, people, cars, road marking, signs and traffic lights, obeying the rules of the road and allowing for multiple unpredictable hazards, including cyclists. It can even detect road works and safely navigate around them.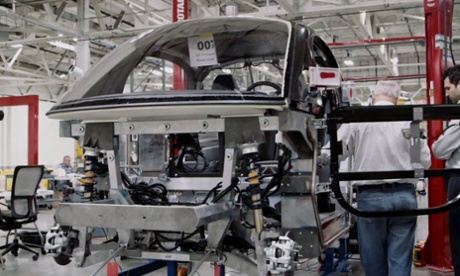 The new prototype has more sensors fitted to it that can see further (up to 600 feet in all directions) and in greater detail than the ones available on the previous repurposed Lexus and Toyota vehicles.
How safe is it?
The new car is the next evolution of Google's self-driving car. While the new frame is untested, the company's previous versions have clocked up over 700,000 miles of testing on public roads, mainly around California, including over 1,000 miles of driving in the most complex situations and cities like San Francisco's hills and busy streets.
The car itself is limited to 25 mph, which restricts it to certain roads, but also minimises the kinetic energy it could carry into a crash if one should happen. The front of the car is also made to be as kind to pedestrians as possible with a foam bumper and a flexible windscreen that is designed to absorb energy from an impact with a person's body.
Seat belts are also provided – a safety requirement for vehicles on the road – while the car has redundant systems, a "fault-tolerant architecture" as Google calls it, for both steering and braking, should the primary systems fails; plus that emergency stop button that passengers can hit at any time.
Google has also taken the data and behaviours it learned from its previous vehicles to create a defensive, considerate driving style that is meant to protect both the passengers and other road users. For instance, the car will wait a second after the traffic lights turn green before it moves off, although this could incur the anger of drivers stuck behind it.
Google also says that making it drive in a natural and predictable way has been one of the key goals, so that it behaves in a familiar way on the road for other drivers.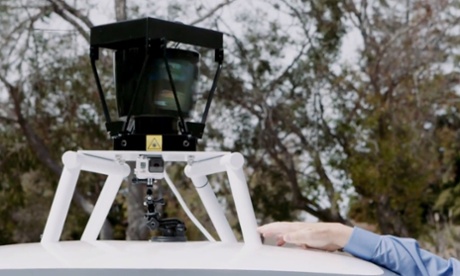 Why now?
Google says it has gone as far as it can with the current customised vehicles and that a new platform is needed to take the project and technology to the next step and closer to a product people can actually use.
For instance, the previous generation Lexus vehicle had blind spots right up against the car where the sensors couldn't see, something that needs to be eliminated in any vehicle open to the public.
The cars will first be used to test the software driving the car and push its capabilities. Google says at some point, when it deems its software safe, it will start putting real people into the cars beyond Google engineers. It will use the cars in a similar manner to the company's Google Glass explorer programme, analysing how people use them and what works and what doesn't.
Why do damn cute?
The car's cute looks and friendly "face" were created intentionally to be "very Googley" according to its designers, to put both other road users and passengers at ease with the new technology. The shell is also designed to give the sensors the best view of the surroundings.
Why does it still look like a car on the inside?
The new car has two traditional car seats, primarily because in this iteration passengers have to be strapped in like they would in any other car to meet safety regulations, which means using standard seat belts. It also provides a more familiar passenger experience, which at this stage is likely important to aid adoption.
Is this something I'm going to be able to buy?
Google's vision for this kind of self-driving car isn't an exact replacement for the one parked outside your home. They are designed to be more like shared vehicles, possibly within a family or more likely as a replacement for taxis.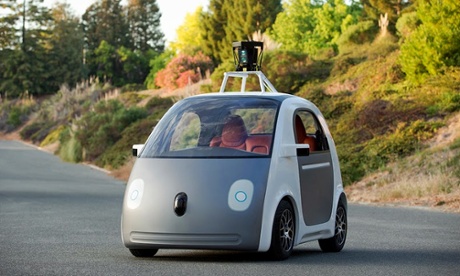 These cars are still very much in the early prototype stage still, and Google is still trying to figure out how to make a product out of the technology, how much it is likely to cost and when it will be available.
Apparently it will not have ads according to Google, although whether it'll eventually have a small screen like some taxis now that plays video adverts, who knows. That will likely be up to the operator rather than Google.
Who will build it for me?
Google is proving the technology, but it is unlikely to make the cars for sale once that technology is ready for the mass market. It has said in the past that it is actively seeking car manufacturing partners, which means we could see a Toyota, Ford or Fiat-made Google car in the future, but that is all very much still up in the air.
When can I get one?
Google says the cars should be road-ready by early next year, but that testing would take more than two years. At that point the technology will be ready for the next stage, which is likely to be greater pilot testing.
Current expectations are that these self-driving cars are at least five years away from being mature enough to create a real, non-prototype product, but it may be far longer until you can buy or hire one for personal use.
What about legislation?
One of the biggest hold-ups to the progression of the technology onto the open road of Britain, the US, Australia and the rest of the world will be legislation.
A law was passed in California over a year ago that made the testing and operation of self-driving vehicles on roads possible, as long as they had manual override controls. The Department of Motor Vehicles in California is expected to issue regulations on the operation of self-driving cars soon, after which self-driving cars may become a bit more common place.
However, there is still much to work out, primarily revolving around what a passenger in a self-driving car and can't do – will they have to be able to take control at any moment, for instance – as well as questions around what happens when an accident happens, who is at fault and who pays.
source:http://www.theguardian.com/technology/2014/may/28/google-self-driving-car-how-does-it-work
GOOGLE LAUNCHES A PODCAST APP FOR ANDROID WITH PERSONALIZED RECOMMENDATIONS
Google today is introducing a new standalone podcast app for Android. The app, called simply Google Podcasts, will use Google's recommendation algorithms in an effort to connect people with shows they might enjoy based on their listening habits. While podcasts have previously been available on Android through Google Play Music and third-party apps, Google says the company expects Podcasts to bring the form to hundreds of millions of new listeners around the world. (Google Listen, an early effort to build what was then called a "podcatcher" for Android, was killed off in 2012.)
"There's still tons of room for growth when it comes to podcast listening," said Zack Reneau-Wedeen, product manager on the app. Creating a native first-party Android app for podcasts "could as much as double worldwide listenership of podcasts overall," he said.
Google Podcasts will look familiar to anyone who has used a podcast app before. It lets you search for new podcasts, download them, and play them at your convenience. More than 2 million podcasts will be available on the app on launch day, Google says, including "all of the ones you've heard of."
Open the app, and a section called "For you" shows you new episodes of shows you've subscribed to, episodes you've been listening to but haven't finished, and a list of your downloaded episodes. Scroll down, and you'll see top and trending podcasts, both in general and by category. The podcast player has fewer fine-grained controls than you might be used to from apps like Overcast. You can't customize the skip buttons or create playlists of podcasts to listen to, for example.
The Podcasts app is integrated with Google Assistant, meaning you can search for and play podcasts wherever you have Assistant enabled. The company will sync your place in a podcast across all Google products, so if you listen to half a podcast on your way home from work, you can resume it on your Google Home once you're back at the house.
In the coming months, Google plans to add a suite of features to Podcasts that are powered by artificial intelligence. One feature will add closed captions to your podcast, so you can read along as you listen. It's a feature that could be useful to people who are hard of hearing or for anyone who is listening in a noisy environment. (I usually miss a few minutes of the podcasts I listen to every day, thanks to a noisy subway ride.)
Closed captions also mean that you'll be able to skip ahead to see what's coming up later in a show. Eventually, you'll be able to read real-time live transcriptions in the language of your choice, letting you "listen" to a podcast even if you don't speak the same tongue as the host.
Google also wants to expand the number of people making podcasts. The company's research showed that only one-quarter of podcast hosts are female, and even fewer are people of color. In an effort to diversify the field, Google formed an independent advisory board that will consider ways to promote podcast production outside of the handful of major metropolitan areas in the United States that currently dominate the field.
Google will not pay any creators to make podcasts directly, the company said, but it will likely explore ways of giving podcasts from underrepresented creators extra promotion. It's also examining ways to make recording equipment more accessible to people who can't afford it.
If you already listen to podcasts on Google Play Music, nothing will change today. But the company made it clear that it plans to focus its future efforts around podcasting in the standalone app.
The Android app can be downloaded here. There are currently no plans for an iOS app.
BANK OF CHILE HIT BY CYBER-ATTACK, HACKERS ROB MILLIONS
Shares in the Bank of Chile were down on Monday after it confirmed hackers had syphoned off $10 million (roughly Rs. 67 crores) of its funds, mainly to Hong Kong, though the country's second-largest commercial bank said no client accounts had been impacted.
The cyberheist is the latest in a string of such attacks, including one in May in Mexico in which thieves used phantom orders and fake accounts to steal hundreds of millions of Mexican pesos out of the country's banks, including Banorte.
Shares in the Bank of Chile, which is controlled by the Chilean Luksic family and Citigroup, were down 0.47 percent at CLP 100.4 ($.16) in mid-day trading.
Bank CEO Eduardo Ebensperger told Chilean daily La Tercera in an interview on Saturday that hackers had initially used a virus as a distraction, prompting the bank to disconnect 9,000 computers in branches across the country on May 24 to protect customer accounts.
Meanwhile, the hackers quietly used the global SWIFT bank messaging service to initiate a series of fraudulent transactions that were eventually spotted by the bank and cancelled but not before millions were funnelled to accounts abroad.
"The [attack] was meant to hurt the bank, not our customers," Ebensperger said.
Ebensperger said a forensic analysis conducted by Microsoft had determined the attack was the work of a sophisticated international group of hackers, likely from eastern Europe or Asia, and that the bank had filed a criminal complaint in Hong Kong.
The bank said in a May financial statement that it would work with insurers to recoup the lost funds.
source: Gadgets 360
HUAWEI MATE 20 PRO TIPPED TO SPORT A 6.9-INCH SAMSUNG OLED DISPLAY
arlier this month, Huawei introduced the Watch 2 smartwatch with an eSIM and voice call support. Now, a new development claims that the company is procuring OLED displays from Samsung. The South Korean giant is said to have already sent out samples to Huawei, and if all goes well, full scale production is expected to start by Q3 2018. The smartphone to sport these 6.9-inch OLED panels is said to release sometime in the fourth quarter or even early 2019, and we largely expect to see them on the Huawei Mate 20 Pro.
South Korean media The Bell reports that Samsung is in the process of finalising samples with Huawei for its order of 6.9-inch OLED displays. These large-sized displays are usually seen on Huawei's P series or Mate series. While the P30 series is not expected to arrive before MWC 2019, the Mate series traditionally arrives sometime in Q4. Furthermore, with the screen size being so large, we expect the Pro version to sport the 6.9-inch display, while the Mate 20 could sport a 6.1-inch or some such.
If Huawei is indeed bringing a 6.9-inch display smartphone, it should easily win the screen size battle, as the iPhone X Plus is expected to sport a 6.5-inch display, while the Samsung Galaxy Note 9 is expected to sport a 6.4-incher. These large sized displays are very popular in the Chinese market, and Huawei wants to meet expectations in its home market. Bigger screens are popular also because of the large text area used by the Chinese language, the report adds. Huawei wouldn't want to lose its momentum in its biggest market by not staying ahead of its game.
Of course, all of this is based on sheer speculation, and we expect you to take everything with a pinch of salt, till Huawei makes things official.
Source: Gadget360