Tweeting With the Enemy — 3 Tips for Interacting With Competitors on Social Media
Tweeting With the Enemy — 3 Tips for Interacting With Competitors on Social Media
Image credit: Nemodus photos | Flickr
234
274
150
2
Sheena Tahilramani
SHEENA TAHILRAMANI
CONTRIBUTOR
Co-Founder, 7 Second Strategies
7 Favorite PR Wins to Inspire Your Startup to Score Serious Buzz
Public Relations
7 Favorite PR Wins to Inspire Your Startup to Score Serious Buzz
SHEENA TAHILRAMANI
The Entrepreneur's Secret Handbook of the Favor Economy
Business Etiquette
The Entrepreneur's Secret Handbook of the Favor Economy
SHEENA TAHILRAMANI
Scale or Fail? Don't Overlook These Keys to Exponential Growth.
Growth Strategies
Scale or Fail? Don't Overlook These Keys to Exponential Growth.
SHEENA TAHILRAMANI
JANUARY 05, 2015
What do massive credit card debt, mystery fridge meat and your competitors have in common? None of these things will go away if you ignore them. Turning a blind eye to the actions of competing companies in your industry is a great way to get caught off guard and you'll miss out on valuable insights that can help your company thrive.
Just as your company is constantly evolving, so are the other businesses within your industry. Ignoring their activities, both online and off, can have dire consequences. Leverage social media to bolster your competitive edge with these three tips:
Related: Updated Facebook 'Pages' Allow You to Stack Up Your Competitors' Social Metrics
1. Give credit where credit is due.
A self-assured person isn't threatened by another individual's achievements, and a competent company isn't either. Don't be afraid to acknowledge your competitors and give credit where credit is due, but do be sure to use these moments as opportunities to define how your firm is different from the herd.
Giving a shout out to indirect and direct competitors on social media not only does a great deal for industry relations. It's also a chance for you to highlight your company's unique value proposition and reiterate its areas of expertise. If Competitor A was just acknowledged as the best XYZ for restaurants, be the bigger company by giving kudos via a tweet.
Then be sure to add some posts to your queue that highlight your company's successes with something related yet different such as a luxury line of products. Remember to keep these well-timed tweets positive and nonthreatening: This is your opportunity to explain how your company is unique, not to blatantly state how it's better.
Related: 3 Ways to Use Your Twitter Data to Beat the Competition
2. Up your social-media listening game.
There's substantial value in paying attention to what your consumers are saying on social media, and you can learn equally as much by studying your competitors' tweets, posts, blogs and op eds.
To do this, you'll need a social media strategy just for competitors. Checking in at random on other companies' Twitter feeds is better than doing nothing, but having the information in real time can really give you the upper hand.
List six competitors: three companies that directly take business away from you (and vice versa), and three firms that you don't compete with directly but greatly respect. Designate a point person on your team who is solely responsible for competitor research. Set up Google Alerts for these six companies and arrange for a scan of the social-media pages of the three direct competitors every other day (check their Twitter feed every day).
Your point person should disseminate relevant information in real time and draw up a quarterly strategy document that analyzes the behaviors of competitors. This gives you the information to reasonably predict their focus and can help you tailor your business plans to corner whatever market they're overlooking. Do this same exercise with your three aspirational competitors to examine successful campaigns and adapt any relevant ideas applicable to your company.
3. Find industry allies
You might lose sleep over your direct competitors, but your indirect competitors can (and should) be another story. Companies within your industry that target a different core consumer base can be excellent resources for industry insights and the relative lack of overlap makes knowledge sharing beneficial to everyone.
Use social media to easily find and interact with fellow companies in your industry and take these relationships offline to help strengthen one another's businesses. Focus your efforts on companies that are substantially larger than yours, those that can't cater to smaller orders or that don't offer their services on a reduced retainer.
Bigger players are always looking to refer clients that they can't work with to smaller reputable businesses. With appropriate communication and mutual respect, a noncompeting company in your industry can actually give you that competitive edge.
The bottom line is this: Your competitors' actions on social media tell a lot about their direction, client base and overall strategy. Use social platforms to your advantage — as a means of communicating your value proposition, as a source of competitor research and as an industry database. And you'll experience the positive results of becoming a bit more social with the enemy.
source:http://www.entrepreneur.com/article/241407
INSTAGRAM LAUNCHES A LITE APP FOR LOW-END ANDROID DEVICES
Instagram has released a lightweight version of its Android app that should be easier to install and browse on devices short on storage space and on spotty connections.
TechCrunch notes that the new app, which weighs in at just 573KB, is 1/55th the size of the original app at 33MB. Naturally, you'll find it a little lighter on functionality too: there's no messaging or the ability to upload videos right now.
The launch is part of Facebook's approach to reaching the next billion people who will come online for the first time in developing countries, mostly using low-cost mobile devices with limited access to connectivity and data.
Making its apps more easier to download and perform well on low-end devices is key to growing its user base around the world. To that end, Facebook made Lite versions of its apps for its social network and Messenger available years ago. Twitter has one too, and Google recently launched an optimized version of Android – complete with a suite of its essential apps – to address these needs in emerging markets.
Instagram's been on a roll lately. It added 300 million users in a little over a year to reach 1 billion last week, and has tacked on loads more features to its service recently, including group video calls, support for longer videos in what it's calling IGTV, tools for curating saved posts, and improving discovery.
Source: The NextWeb
SCAMMERS ABUSE MULTILINGUAL DOMAIN NAMES
Cyber-criminals are abusing multilingual character sets to trick people into visiting phishing websites.
The non-English characters allow scammers to create "lookalike" sites with domain names almost indistinguishable from legitimate ones.
Farsight Security found scam sites posing as banks, loan advisers and children's brands Lego and Haribo.
Smartphone users are at greater risk as small screens make lookalikes even harder to spot.
Targeted attack
The Farsight Security report looked at more than 100 million domain names that use non-English character sets – introduced to make the net more familiar and usable for non-English speaking nations – and found about 27% of them had been created by scammers.
It also uncovered more than 8,000 separate characters that could be abused to confuse people.
Farsight founder Paul Vixie, who wrote much of the software underpinning the net's domain names told the BBC: "Any lower case letter can be represented by as many as 40 different variations."
And many internationalised versions added just a tiny fleck or mark that was not easy to see.
Eldar Tuvey, founder and head of security company Wandera, said it had also seen an upsurge in phishing domains using different ways of forming characters.
In particular, it had seen an almost doubling of the number of scam domains created using an encoding system called punycode over the past few months.
And phishing gangs were using messages sent via mobile apps to tempt people into clicking on the similar-looking links.
"They are targeting specific groups," Mr Tuvey said.
And research had established people were three times more likely to fall for a phishing scam presented on their phone.
"To phish someone, you just have to fool them once," Mr Tuvey said. "Tricking them into installing malware is much more work."
INSTAGRAM'S NEW LONG-FORM VIDEO HUB IGTV TAKES ON YOUTUBE
Prepare to spend a lot more time on Instagram.
The Facebook (FB)-owned platform is rolling out a new hub for long-form, vertical video. Instagram announced the new feature at a press event on Wednesday.
The hub, called IGTV, will live within the regular Instagram app. It will also get its own standalone app in the coming days.
Anyone will be able to post to IGTV, but Instagram users with 10,000 followers or more will be able to post videos up to an hour long. Users with fewer followers can post up to 10 minutes of video. Instagram video posts were previously capped at 60 seconds.
The company has tapped celebrities such as Kim Kardashian West and Selena Gomez who will be among the first to upload longer-form content to their accounts on Wednesday.
How this energy firm is transforming this rural community
Experience the remarkable story of Nigeria's Green River Project.
In addition to IGTV, CEO Kevin Systrom announced a company milestone: 1 billion monthly active users now use Instagram, up from 800,000 active users in September.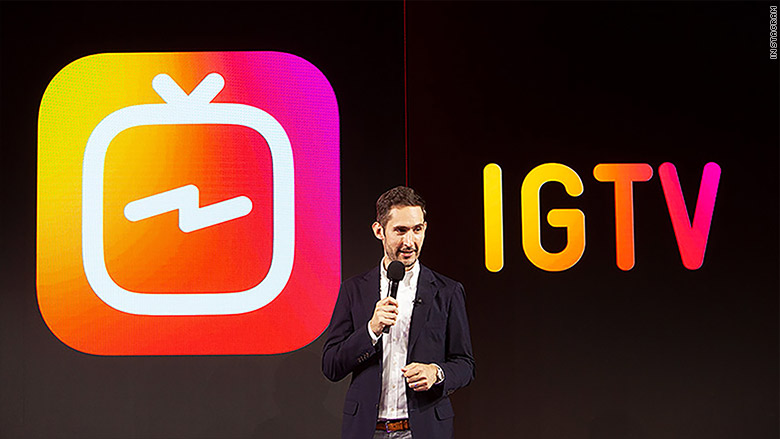 IGTV is reminiscent of Snapchat's Discover page, which features stories from publishers and creators, and curated posts from itscommunity. Snap, Snapchat's parent company, launched Discover in 2015 with a number of media partners, including CNN and Buzzfeed. It paid licensing fees to publishers up until recently when it reportedly shifted to an ad-based model only.
"Ads will not be part of IGTV at launch, but we'll be exploring and test ways to help creators monetize after launch," a spokesperson told CNNMoney.
Analysts are also comparing IGTV to Google-owned video platform YouTube.
According to media and technology analyst Rich Greenfield of BTIG, Instagram users were already using its Stories feature to link out to YouTube to direct followers to longer-form videos.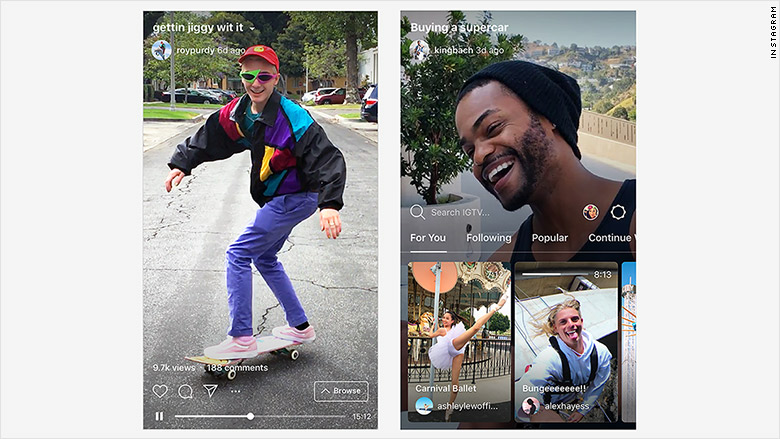 "Now, Instagram can keep that in-house, and drive greater engagement and time spent," Greenfield told CNNMoney. "I think this is a natural evolution from pictures to video, to stories and now to long-form video to capture as much human attention as possible."
Instagrammers are spending more time than ever looking at photos, videos and memes, the company previously told CNNMoney. Users under the age of 25 now spend more than 32 minutes each day on the platform, while users age 25 and older use the app for more than 24 minutes.
While IGTV may lead people to spend more time on Instagram, Systrom previously promised to roll out a tool that will tally time spent on its app.
"Any time should be positive and intentional," he tweeted last month.