Put A (Social) Ring On It
Right about now, many a nervous suitor is making the trek to a jewelry store to choose the perfect ring for a painstakingly planned Valentine's Day proposal. They're thinking about flowers, dinner reservations, and—if T.H. March has its way—insurance for that sparkly new bling.
A jewelry insurance broker that first opened its doors in 1887, T.H. March provides commercial insurance for jewelry retailers and designers, as well as personal jewelry insurance for the consumer.
And since the age at which people first marry has risen to approximately 30 for men and 27 for women in much of the world, T.H. March's target demographic is squarely in the powerful millennial generation. The company's challenge is a common one today: How do you connect with young, established, and social media-savvy adults?
As digital natives, millennials orchestrate their own brand experience, and expect to interact with content across devices, channels, and in the language they prefer. The traditional marketing funnel is obsolete.
T.H. March currently generates around £30 million in annual premium income and has seen double-digit increases in consumer product sales over the last four or five years. But sustaining this success with millennials will require a radical departure from its traditional business model.
The firm needed a forward-thinking strategy that met this target consumer's expectations and fostered a personal bond with them, despite being in an industry with an impersonal reputation, said T.H. March Managing Director Neil McFarlane.
Results of a customer satisfaction survey conducted by T.H. March in 2014 were clear: Existing customers wanted better and more responsive ways to talk with the company. And to grow that customer base, the company needed to step up its digital game.
At that point, however, the company couldn't even send letters with personalized salutations, says McFarlane. "It just wasn't going to cut it," he says. "In order to keep growing, we had to change. We as a business are going to be fundamentally different in five years."
The good news for T.H. March is that companies that successfully transition to a digital approach tend to outperform industry peers by about 26%, according to a joint study from Capgemini Consulting and MIT. But how does a 127-year-old company make that vital digital shift?
McFarlane is leading the charge. Digital transformation is not simply a technology implementation; the Capgemini/MIT study found that such change requires strong top-down leadership. Yes, such strategies require tools such as social, mobile, cloud, and analytics—but that technology must be used in conjunction with an enterprisewide business strategy. For T.H. March, that meant sharpening the focus on customer experience.
"Everybody flippantly says, 'CX,' but what does that mean?" asks McFarlane. The company's new business strategy puts the customer experience front and center by integrating sales, service, marketing, and social on an integrated, cloud-based platform that will help the company converse with customers, rather than talk at them—across a range of channels.
For example, T.H. March realized that something as simple as filing an insurance claim should trigger an immediate nurture program that conveys useful information to the customer about how the claim process works.
"In terms of insurance, one of the biggest frustrations is not hearing anything," he says. "Keeping customers in the loop on a regular basis helps them realize that their claim is progressing. Of course that is what we have always done, but technical innovation will help us to do it better!"
That's a smart way to avoid negative social chatter, too—an important consideration when so many in this demographic use social media to research purchases. In fact, online polling from Harris Interactive last year found that nearly 70% of millennials were at least somewhat likely to make a purchase after seeing a friend's post.
Beyond the shopping experience itself, brands need to engage with millennials through a consistent, omnichannel approach. A 2014 survey by Oracle ORCL +0.14% Retail and Retail TouchPoint Research found that such strategies improve customer loyalty by 66%, while increasing brand interaction by 40%.
To address this critical need, T.H. March is building targeted digital campaigns on Twitter, Facebook, and LinkedIn that engage its target demographic, as well as help the company listen and respond to social chatter.
"We don't want to be boring old insurance," says McFarlane. "To build a follower base, you have to have content that people want to 'Like' and follow."
And since millennial customers are more likely to seek customer support through social media than by using the customer support form on a company website, listening is critical.
In addition, McFarlane says, social media "provides the sentiment and tone. If the feedback is positive, we can expand upon it; if it's negative, we can do something to rectify that, but do it really quickly."
In addition to social media endeavors, T.H. March is piloting smaller, standalone, automated marketing projects that further support the new business model, which will eventually rework processes for about two-thirds of the workforce—from sales and marketing to call centers and the executive suite.
McFarlane hopes that building a critical mass of small successes will boost acceptance and build enthusiasm within the company as the project moves ahead. "It's a big learning curve for us," he says, "but once we can see the results of personalization and have a sense of what is going to happen, it will help people buy in."
Just as so many suitors will be hoping for buy-in and lots of excited social media shares when they pop the big question with a shiny—and well-insured—ring.
source:http://www.forbes.com/sites/oracle/2015/02/12/put-a-social-ring-on-it/
INSTAGRAM LAUNCHES A LITE APP FOR LOW-END ANDROID DEVICES
Instagram has released a lightweight version of its Android app that should be easier to install and browse on devices short on storage space and on spotty connections.
TechCrunch notes that the new app, which weighs in at just 573KB, is 1/55th the size of the original app at 33MB. Naturally, you'll find it a little lighter on functionality too: there's no messaging or the ability to upload videos right now.
The launch is part of Facebook's approach to reaching the next billion people who will come online for the first time in developing countries, mostly using low-cost mobile devices with limited access to connectivity and data.
Making its apps more easier to download and perform well on low-end devices is key to growing its user base around the world. To that end, Facebook made Lite versions of its apps for its social network and Messenger available years ago. Twitter has one too, and Google recently launched an optimized version of Android – complete with a suite of its essential apps – to address these needs in emerging markets.
Instagram's been on a roll lately. It added 300 million users in a little over a year to reach 1 billion last week, and has tacked on loads more features to its service recently, including group video calls, support for longer videos in what it's calling IGTV, tools for curating saved posts, and improving discovery.
Source: The NextWeb
SCAMMERS ABUSE MULTILINGUAL DOMAIN NAMES
Cyber-criminals are abusing multilingual character sets to trick people into visiting phishing websites.
The non-English characters allow scammers to create "lookalike" sites with domain names almost indistinguishable from legitimate ones.
Farsight Security found scam sites posing as banks, loan advisers and children's brands Lego and Haribo.
Smartphone users are at greater risk as small screens make lookalikes even harder to spot.
Targeted attack
The Farsight Security report looked at more than 100 million domain names that use non-English character sets – introduced to make the net more familiar and usable for non-English speaking nations – and found about 27% of them had been created by scammers.
It also uncovered more than 8,000 separate characters that could be abused to confuse people.
Farsight founder Paul Vixie, who wrote much of the software underpinning the net's domain names told the BBC: "Any lower case letter can be represented by as many as 40 different variations."
And many internationalised versions added just a tiny fleck or mark that was not easy to see.
Eldar Tuvey, founder and head of security company Wandera, said it had also seen an upsurge in phishing domains using different ways of forming characters.
In particular, it had seen an almost doubling of the number of scam domains created using an encoding system called punycode over the past few months.
And phishing gangs were using messages sent via mobile apps to tempt people into clicking on the similar-looking links.
"They are targeting specific groups," Mr Tuvey said.
And research had established people were three times more likely to fall for a phishing scam presented on their phone.
"To phish someone, you just have to fool them once," Mr Tuvey said. "Tricking them into installing malware is much more work."
INSTAGRAM'S NEW LONG-FORM VIDEO HUB IGTV TAKES ON YOUTUBE
Prepare to spend a lot more time on Instagram.
The Facebook (FB)-owned platform is rolling out a new hub for long-form, vertical video. Instagram announced the new feature at a press event on Wednesday.
The hub, called IGTV, will live within the regular Instagram app. It will also get its own standalone app in the coming days.
Anyone will be able to post to IGTV, but Instagram users with 10,000 followers or more will be able to post videos up to an hour long. Users with fewer followers can post up to 10 minutes of video. Instagram video posts were previously capped at 60 seconds.
The company has tapped celebrities such as Kim Kardashian West and Selena Gomez who will be among the first to upload longer-form content to their accounts on Wednesday.
How this energy firm is transforming this rural community
Experience the remarkable story of Nigeria's Green River Project.
In addition to IGTV, CEO Kevin Systrom announced a company milestone: 1 billion monthly active users now use Instagram, up from 800,000 active users in September.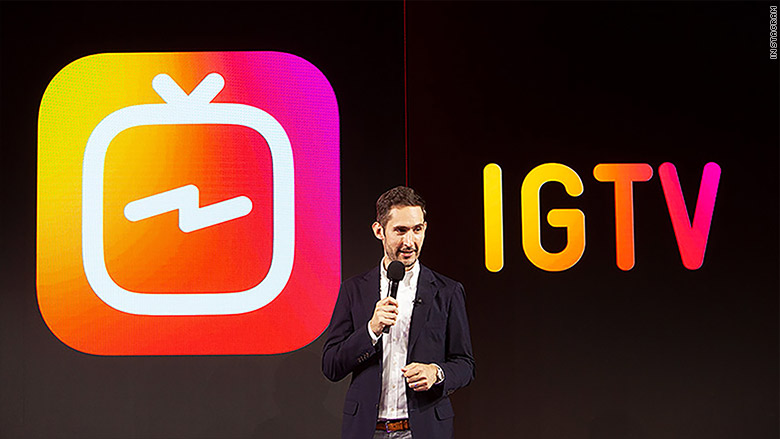 IGTV is reminiscent of Snapchat's Discover page, which features stories from publishers and creators, and curated posts from itscommunity. Snap, Snapchat's parent company, launched Discover in 2015 with a number of media partners, including CNN and Buzzfeed. It paid licensing fees to publishers up until recently when it reportedly shifted to an ad-based model only.
"Ads will not be part of IGTV at launch, but we'll be exploring and test ways to help creators monetize after launch," a spokesperson told CNNMoney.
Analysts are also comparing IGTV to Google-owned video platform YouTube.
According to media and technology analyst Rich Greenfield of BTIG, Instagram users were already using its Stories feature to link out to YouTube to direct followers to longer-form videos.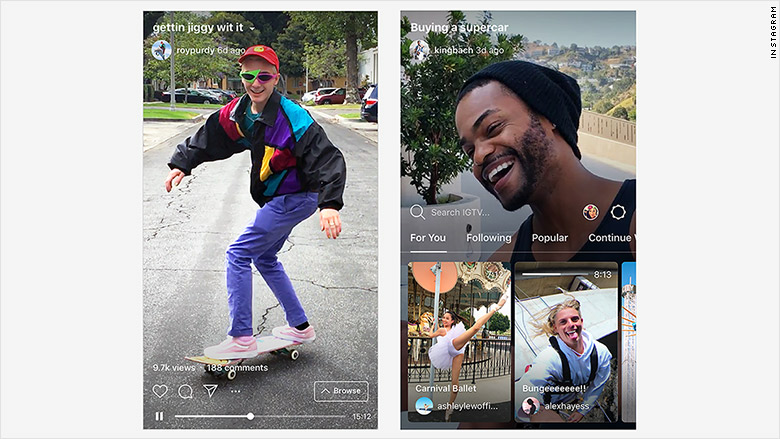 "Now, Instagram can keep that in-house, and drive greater engagement and time spent," Greenfield told CNNMoney. "I think this is a natural evolution from pictures to video, to stories and now to long-form video to capture as much human attention as possible."
Instagrammers are spending more time than ever looking at photos, videos and memes, the company previously told CNNMoney. Users under the age of 25 now spend more than 32 minutes each day on the platform, while users age 25 and older use the app for more than 24 minutes.
While IGTV may lead people to spend more time on Instagram, Systrom previously promised to roll out a tool that will tally time spent on its app.
"Any time should be positive and intentional," he tweeted last month.