BlackBerry and Android: Expanding Our World
There has been a lot of buzz regarding BlackBerry launching an Android smartphone. For those restraining excitement until rumors became reality – the day has come.
I confirmed today that the slider phone we very briefly unveiled earlier this year will indeed be an Android smartphone named PRIV by BlackBerry.
With PRIV, our commitment is to continue to provide confidence that your privacy and productivity come first. In today's hectic world where cyber threats are real for everyone, BlackBerry is making sure that our products invoke this mantra that your privacy is your privilege.
PRIV will be the solution for smartphone users who are learning daily of the lack of privacy they have on their current devices. PRIV will be the answer for former BlackBerry users who miss the physical keyboard but needed apps. And, we're responding to current – and prospective – BlackBerry users who need it all: choice, innovation, security, privacy and productivity.
What's unique about our Android phone is that we are collaborating with Google to bring the best of BlackBerry security and productivity to the Android ecosystem.
There will be a camp that reacts to this news with surprise, while others will see how, over the past two years, we've laid the groundwork to make this possible. It began with honing in on our DNA of security, privacy and productivity, and then bringing that heritage and continued innovation to other operating systems.
So why is it important that we extend to Android? Launching an Android device is a tremendous new market opportunity as we continue our focus on building a cross-platform strategy. It's a terrific proposition for dedicated Android users who are seeking greater productivity and powerful privacy features. And we are advancing our own platform, redefining the expectations of mobility in today's age of risk and cybercrime so that we can serve customers even better.
At the same time, I want to be clear: fans of BlackBerry's workhorse BlackBerry 10 smartphones can continue to depend on us, and we appreciate their commitment. We will be releasing new updates of this powerful OS in the upcoming year.
There is continued demand for our flagship BlackBerry 10 devices like BlackBerry Passport and Classic by consumers, enterprises and regulated industries. These devices – combined with our network – offer peerless security and productivity advantages. They're not going away. BlackBerry is offering a new option for those customers who want the apps ecosystem to help them stay productive and engaged in their personal lives, and the security and productivity they demand at work. Combined with BlackBerry's support of Android for Work on our BES12 platform, the new device will offer best in class security for enterprise customers.
For nearly two years now, I've been telling you how we would transform the iconic BlackBerry brand into a true software powerhouse (read about some of the progress that I shared in our Q2 call today). We're doing this by integrating our strength in building the most secure software and network and embedding it into a one-of-a-kind form factor.
BlackBerry is a new company. We have new life. And we plan to continue to surprise our customers and the industry. This is just the latest move along that path.
source: http://blogs.blackberry.com
FACEBOOK IS LAUNCHING A NEW MEMORIES PAGE TO REMIND YOU OF THE DAYS WHEN FACEBOOK WAS GOOD
Facebook announced a new page today called "Memories," where it'll surface old content from the days of Facebook past. It's similar to the "On This Day" feature you've likely seen in your News Feed. In addition to "On This Day," memories will include a few new sections, including Friends Made on This Day, seasonal or monthly recaps, and memories you might have missed from the past week. It's a simple feature that'll probably give people happy feelings that they'll then want to share.
The company has been attempting to perfect "On This Day" since it launched, in an effort to only surface positive posts and not painful memories. Users can dismiss stories in their News Feed or block out specific people, dates, or date ranges in their preferences. It also automatically detects potentially negative memories based on friend reactions and keywords; the post then will stop showing up in News Feeds. Clearly, Facebook wants to keep things cheery, at least when it comes to reminiscing, and it's willing to take Memories out of the feed so as to not trigger anyone who wasn't expecting a dark post.
Source:  The Verge
3 HUGE WAYS ANDROID'S GESTURE NAVIGATION JUST GOT BETTER
Google's second Android P beta delivers subtle touches that add up to a major leap forward for the platform's new gesture navigation system.
Let's not beat around the bush: In the first Android P beta release, Google's new gesture navigation system was a steamin' hot mess. It was glitchy, inconsistent, and confusing.
It was also, however, part of Android P's first public beta — software not intended for widespread public use — and so we have to expect a certain amount of imperfection. You can't judge a product when the recipe's still in flux and the baking's nowhere near finished.
With the launch of Android P's second official beta this week, we're a step closer to completion — and after using the new software for nearly a day now, I'm happy to report that the new gesture navigation system has, in fact, gotten better. Much better.
It's still not perfect, mind you, and it still has its share of foundational issues — but boy howdy, is the experience of using this thing now a far cry from what it was like at the start.
Let me explain.
1. It's much easier now to figure out what you're supposed to do
One of my biggest gripes with gesture nav in the first Android P beta was, quite simply, how hard it was to know how the damn thing worked. The system was a complicated concoction of hidden commands and overlapping ideas, without any real visual cues to guide you — and it was anything but intuitive.
In Android P's second beta, it's a whole other story. First of all, after you've been using the software for a few minutes, a prompt appears near the new Android Home button that gently encourages you to swipe up to switch apps. When you think about how this setup will come across at first to most Android phone-owners — y'know, the type of people who don't closely follow Android development and are gonna have no earthly idea what's up with this weird new interface in front of 'em — a simple introduction like that could make a massive difference.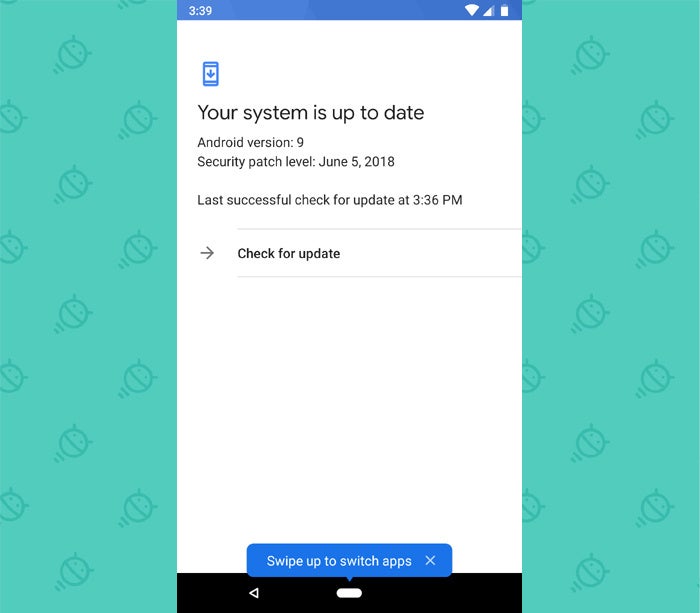 Beyond that initial nudge, Google's Android P home screen now features an upward-facing arrow above the docked row of apps at the bottom of the home screen — a visual indication that reminds you, again, to swipe up from that area instead of just assuming you'll magically know to do it.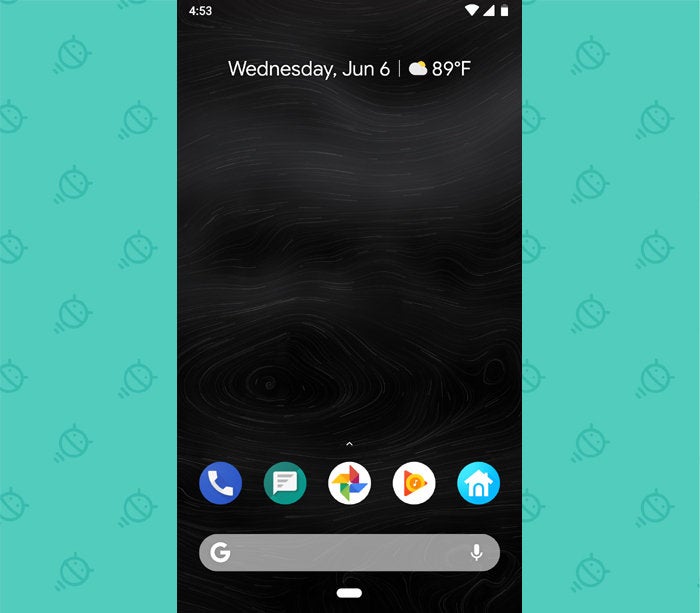 The trend of increased user-friendliness continues into the new Overview interface itself, which is where the real confusion began in the first Android P beta release. Google has implemented several significant steps there that add up to a meaningful improvement in usability.
First, the lower part of the screen — with a search bar and series of suggested apps — now features a frosted, card-like background with an upward-facing arrow at its top. That makes it abundantly clear that it's meant to be swiped upward further, unlike before, when you just had to figure that out on your own.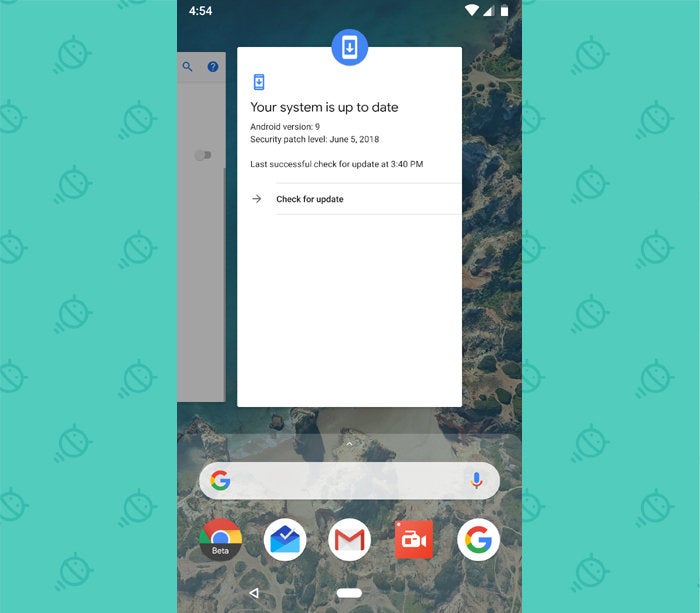 And it doesn't stop there, either: The first time you open the new Overview section, that card in the lower part of the screen pulsates — moving up and down repeatedly — to make it absolutely apparent, beyond all the other signals, that you should swipe upward on that element to reveal more. And in case you later forget, the card bounces up a touch higher than its final resting point and then slides back down every time you open the section, again giving you an obvious cue that swiping up on it leads to something worthwhile.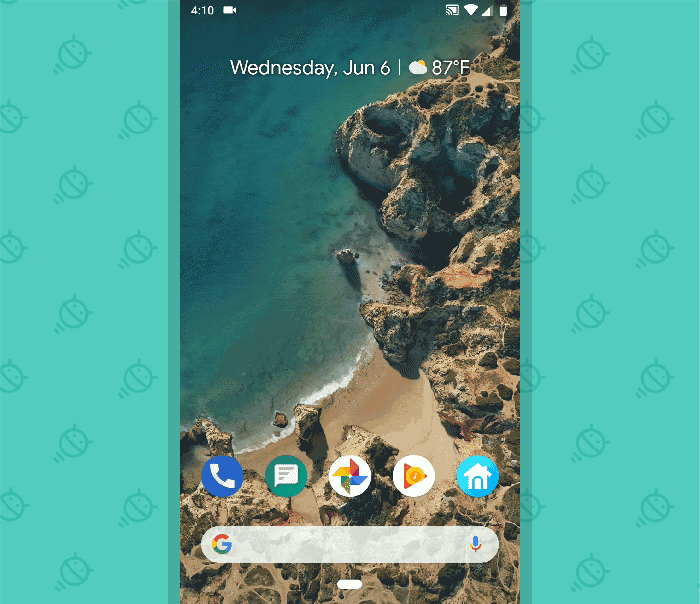 All in all, it's an immeasurable leap forward from the convoluted mishmosh we encountered in the first public P beta.
2. The areas of the new interface are now more distinct — and less confusing
Hidden commands aside, the earlier incarnation of Android P's gesture navigation system had a lot of similar-looking visual elements, which caused more than a little confusion. When you first opened the Overview area, for instance, you'd see a row of suggested apps that were in the same basic area as the custom dock icons on your home screen. That made for a really jarring transition — because every time I swiped up to open the Overview section, I expected the shortcuts in that area to be the same ones that were on my home screen a second earlier. But they weren't.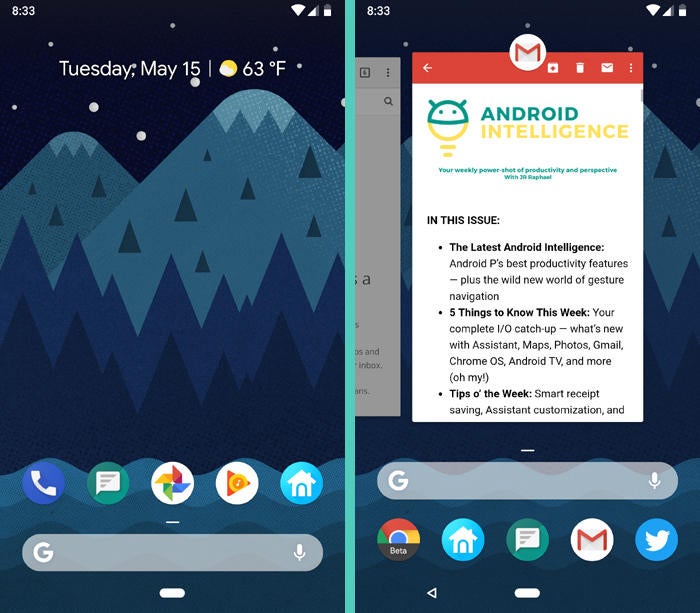 Google listened, and it's made a noticeable improvement to this issue in the latest Android P beta. With that lower area of the Overview interface now having a frosted, card-like background — and with it bouncing up a bit upon being opened instead of just flatly appearing, as it did previously — it no longer feels like it should be an extension of the home screen dock area. It feels like its own separate element instead, just like it should. Once more, a simple change made a big difference.
The card-like appearance of that area also really gives the impression that you're seeing the start of something — which you actually are: You're seeing the top portion of the app drawer, something that now becomes immediately apparent as you swipe up on it.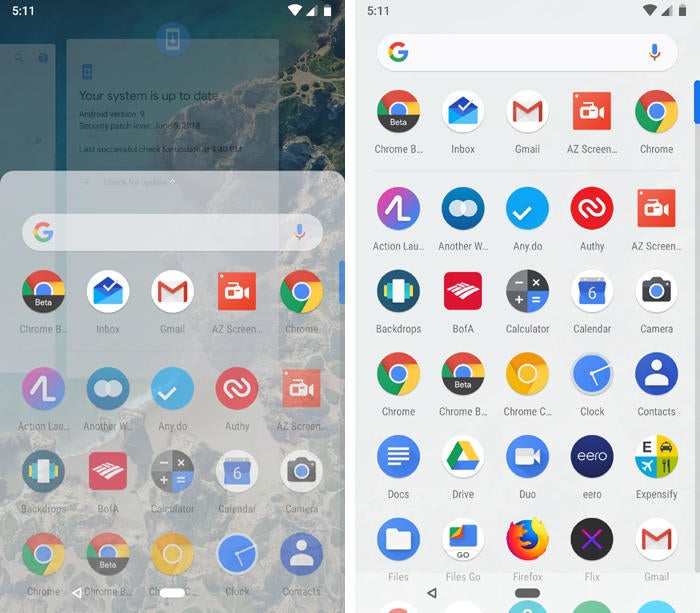 In the app drawer itself, meanwhile, the row of suggested shortcuts at the top is more clearly set apart from the other apps — with a prominent divider and an "All Apps" label even appearing below the divider the first few times you see it. That makes it completely clear that you're looking at a separate element that's unrelated to the main app list and unrelated to the icons within the dock on your home screen.
And there's more yet: Functionally, Google has refined the actual gestures to make some of the overlap between them a bit less awkward. In my first, erm, overview of the new Overview, I talked about how close some of the new Home button gestures were to each other: You'd swipe up once from the Home key to open the Overview screen, for instance, and long-swipe or double-swipe to get to the app drawer. It was way too easy to try to regular swipe and then end up long-swiping instead, or vice-versa. (Heck, even talking about that is confusing!)
In this latest beta, Google has drawn a more prominent line between those actions: The long-swipe happens only if you swipe waaaaaay up high, past the halfway point of your screen — which is clearly a deliberate long-swipe. Otherwise, the system interprets your gesture as a regular swipe and opens up the Overview interface normally.
Long story short, once you get used to it, it's all easier to use. And that's a good thing.
3. The system is generally just a lot smoother — and less glitchy
So we've covered all the "getting more intuitive" parts of the tale, but there's one more side to this story: With Android P's second beta, the act of using the new gesture nav system is a lot more pleasant simply because much of the initial glitchiness has been worked out. Things feel smoother, and I haven't seen any weird screen flashes or unexpected results in the time I've been using the new system so far.
Mind you, the new gesture nav system is still far from perfect. The sometimes-there, sometimes-not nature of the Back button (and the lopsided effect that creates on that bottom-of-screen bar) still feels somewhat clumsy and not entirely ideal. As a result of that part of the setup, the nav bar also still takes up permanent screen space — whereas it seems like a system of this nature should free up that area of the display. And the new fast-switch gesture of flicking right on the Home key is still less snappy and effective than the command it's replacing, though it does feel a bit smoother than it did in P's first beta release (and I think I'm also just getting used to using it instead of constantly comparing it to the zippiness of its predecessor).
However you look at it, one thing's for sure: When it comes to gesture nav, this second beta packs some serious progress — and significant improvements. And we're still a fair way from the finish line yet.
Source:  Computer World
ANDROID AND ANTITRUST: THE EU'S GOOGLE CASE EXPLAINED
Google faces a fine of up to $11 billion for the way it ties Google Search and Chrome to the Android mobile operating system.
Google's Android mobile operating system is based on open-source software, but some of the most useful parts of it – Maps and Search, for instance – are proprietary, and the company makes sure that anyone wanting to use those features has to use other services that make it money too.
If an investigation by the European Union's antitrust authority finds that that behavior constitutes abuse of a dominant market position, it could expose Google to a fine of up to $11 billion.
While the fine won't have much effect on Android users, device makers or service providers, the legal remedies that usually accompany such findings could mean bigger changes to the way Google licenses Android, and in particular access to its search tools and Play store.
If Google were forced to change those agreements, it could become easier for major phone manufacturers to sell devices with "forks" of the Android software that provide better security or privacy than Google's default, or to include search engines or browsers better suited to the needs of businesses.
What the Android antitrust case is about
What most people see as the Android operating system is part open source, part proprietary. AOSP, the Android Open Source Project, is the core software that handles interactions with the phone hardware and allows calls and internet access over the wireless network. Anyone can use and develop it.
However, another key component is GMS, Google Mobile Services, which Google describes as "the best of Google." It's the part of a phone's software that most people think of when they talk about Android, and includes Google's voice-controlled mobile assistant; Maps and the Chrome browser; as well its Gmail, Youtube, Photos and chat apps. Most crucially of all, it includes the Google Play store, giving access to millions of other apps, games, movies and TV shows, music tracks and magazines.
You don't have to pay to use or distribute GMS, but you do have to enter a license agreement with Google. Those agreements are at the heart of the case.
When did the EU start the Android antitrust case?
In April 2015, the European Commission opened a formal investigation into whether Google had breached EU antitrust rules by entering into anticompetitive agreements or abusing a possible dominant market position. Such actions could have hindered the development and market access of rival mobile operating systems, applications and services to the detriment of consumers and developers of innovative services and products, the Commission said at the time.
Android is the most-used mobile OS in Europe ahead of Apple's iOS, as it was when the Commission began its investigation. Since then, however, two other competitors have dropped out of the smartphone software market: Microsoft Windows Mobile and BlackBerry OS.
The Commission focused its investigation on three allegations:
Whether Google illegally hindered the development and market access of rival mobile applications or services by requiring or incentivising smartphone and tablet manufacturers to exclusively pre-install Google's own applications or services;
Whether Google has prevented smartphone and tablet manufacturers who wish to install its applications and services on some of their Android devices from developing and marketing modified and potentially competing versions of Android (so-called "Android forks") on other devices, thereby illegally hindering the development and market access of rival mobile operating systems and mobile applications or services;
And whether Google has illegally hindered the development and market access of rival applications and services by tying or bundling certain Google applications and services distributed on Android devices with other Google applications, services and/or application programming interfaces of Google.
Has the EU formally charged Google?
In April 2016, EU Competition Commissioner Margrethe Vestager sent Google a "Statement of Objections" – formal charges that it expected the company to answer. It accused the company of a breach of EU antitrust rules, abusing its dominant position by imposing restrictions on Android device manufacturers and mobile network operators.
Google, it said, had implemented a strategy on mobile devices to preserve and strengthen its dominance in general internet search. That strategy meant Google Search was pre-installed and as the default or exclusive search service on most Android devices sold in Europe – and also prevented rival search engines using competing mobile browsers and operating systems to enter the market.
It also accused Google of giving smartphone manufacturers and mobile network operators financial incentives to exclusively pre-install Google Search on their devices, or of making such installation a condition for access to the Play store.
A Statement of Objections is a formal document issued by the European Union's antitrust authority, the European Commission, in cases of anticompetitive practices or abuse of market dominance. It sets out how the Commission believes a company has breached EU law, and gives the company a chance to defend itself, either in writing or in an oral hearing.
The next steps
If, after reviewing the company's response, the Commission still feels it has a case, it either invites the company to make formal commitments to remedy the situation, or it publishes a decision of its own imposing remedies, a fine, or both.
There's no deadline for the Commission to complete its investigation, but indications from Brussels are that it will publish a decision in the Android case before August 2018.
In the Google Android case, the Commission could theoretically fine it up to $11 billion, or 10 percent of parent company Alphabet's $110 billion worldwide revenue in 2017 – but recent antitrust fines have come nowhere near that level.
There's a separate investigation ongoing into the company's AdSense online advertising service, looking at the restrictions it places on the ability of third-party websites to display search ads from its competitors. That could expose the company to a similar-size fine.
And, of course, the Commission has already hit Google with one antitrust fine, for abusing the dominance of its search engine to promote its own comparison shopping services. That cost it $2.7 billion in June 2017, around 3% of its prior-year revenue.
Other recent fines for abuse of a dominant market position are in the same ballpark. In January 2018 it fined Qualcomm $1.2 billion, or just under 5% of annual revenue, while Intel's $1.3 billion fine in June 2014 represented about 3.8% of revenue.
Given the nature of the Commission's complaints, it could impose remedies requiring Google to change the way it licenses the GMS add-ons to Android, including its search engine and the Play store, or seek commitments from the company that it will make such changes.
That could mean mobile phones with access to the Play store, but with some other search engine or browser set as the default in place of Google Search or Chrome, appearing on the market from major manufacturers.
Source:  Computer World