Xiaomi Mi NOTE 2 DETAILED SPECIFICATIONS AND PRICE LEAKED; IRIS SCANNER SPOTTED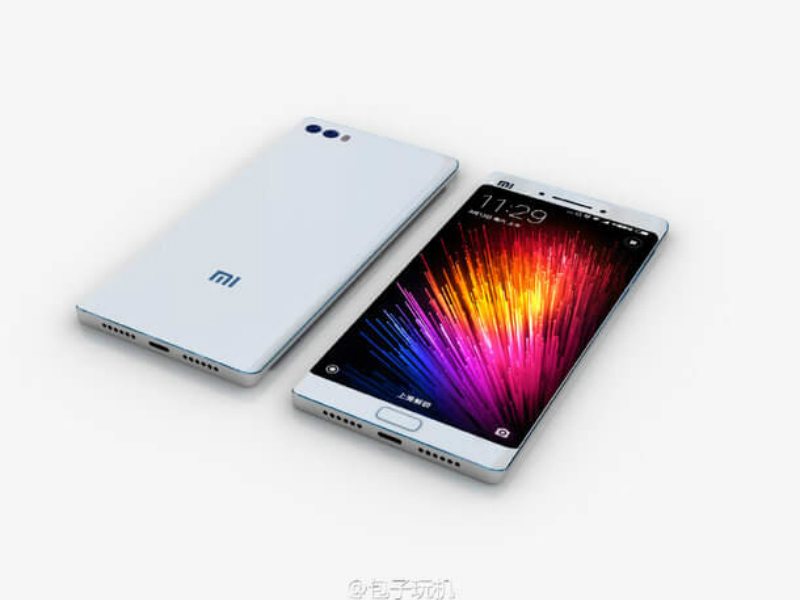 There are been many contrasting rumours about the Mi Note 2. Some claim that the smartphone will sport dual edge display and a dual camera setup, while the others claim only one of them will make it to the smartphone. In any case, Xiaomi has scheduled an event on October 25 where all the official details of the Mi Note successor will be out of the bag once and for all. But before that happens, presentation slides claimed to be for the upcoming event have been leaked on Weibo, revealing all specifications and pricing details of the Mi Note 2.
This leak, first spotted by PhoneArena, leaves very little to the imagination. The slides reveal that the Xiaomi Mi Note 2 will feature a 5.7-inch Super Amoled (1440×2560 pixels) display with Force Touch technology. For those unaware, Force Touch (or rather, 3D Touch) was first introduced by Apple on the iPhone 6s, and is a pressure sensitive display technology that Apple uses to provide additional interface options to users. The smartphone is listed as powered by a 64-bit Snapdragon 821 quad-core processor paired with Adreno 530GPU. The smartphone is expected to come in two bundles – 4GB of RAM/ 64GB of storage, and 6GB of RAM/ 128GB of storage.
This leak claims that a dual camera setup is indeed going to be introduced, and the Mi Note 2 will sport two sensors at the back. The first one will be a 23-megapixel Sony IMX318 sensor, and the other one will be a 12-megapixel Sony IMX378 sensor. It will feature a dual-tone LED Flash, support OIS, and 4K video recording. The front camera is said to sport an 8-megapixel sensor.
It packs a huge 4100mAh battery and is backed by the Quick Charge fast charging technology. The Mi Note 2 will support Mi Pay i.e will be NFC-enabled. There's an ultrasonic fingerprint scanner integrated under the display, though we wonder if it's instead under glass but not under the display panel itself, as seen in the Mi 5s. According to the slides, an iris scanner has also been introduced at the front. Apart from NFC, other connectivity options include 4G VoLTE , Bluetooth 4.1, WiFi 802.11 ac (2.4/5 GHz) MU-MIMO, GPS, and USB Type-C port. The Mi Note 2 runs on Android 6.0 Marshmallow-based MIUI 8, and supports dual-SIM slots (Nano + Nano).
INDUSTRY GROUPS SUE TO STOP CALIFORNIA NET NEUTRALITY LAW
The broadband industry's four main lobbying groups are joining forces to stop California's state net neutrality law from taking effect.
On Wednesday, mobile-industry lobbyist the CTIA; USTelecom, which lobbies for the telecommunications industry; and the two lobbying organizations for the cable industry, NCTA and the American Cable Association, jointly filed a lawsuit in federal court against the state of California to block its new law.
Collectively, the groups represent almost every broadband provider in the country, including mobile operators like T-Mobile and Sprint as well as cable and telecom companies such as AT&T, Comcast, Charter, Verizon, Frontier and CenturyLink.
The suit, filed in the US District Court for the Eastern District of California, asserts that California's net neutrality protections are illegal because they're pre-empted by the Federal Communications Commission, which rolled back federal net neutrality rules earlier this year.
The trade groups' suit calls California's law a "classic example of unconstitutional state regulation," and it's asking the court to block the rules from taking effect on Jan. 1.
This is the second lawsuit filed against California since Gov. Jerry Brown signed the bill into law on Sunday. The Trump administration's Department of Justice is also suing California and seeking a preliminary injunction to stop the law from going into effect.
At issue is whether California and other states have the right to pass net neutrality laws, which they claim are necessary to protect their citizens. As part of its roll-back of federal net neutrality rules in June, the FCC included a provision in its order that pre-empted states from creating their own regulations. The DOJ and the broadband industry argue it would be too complicated for internet service providers to follow different net neutrality rules in 50 states.
US Attorney General Jeff Sessions said California's law violated the Commerce Clause of the US Constitution.
"Under the Constitution, states do not regulate interstate commerce — the federal government does," he said in a statement.
But net neutrality supporters argue that since the FCC has refused to regulate these services and because the agency actually abdicated its authority for such regulation to the Federal Trade Commission, states can impose their own rules for services delivered in their states.
California style
California's law, which prohibits internet service providers from slowing down or blocking access to websites or charging companies like Netflix extra to deliver their services faster, is based on Obama-era net neutrality protections that the Republican-led FCC rolled back earlier this year. But California's law goes further, also outlawing some zero-rating offers, such as AT&T's offer, which exempts its own streaming services from its wireless customers' data caps. The law also applies the net neutrality rules to so-called "interconnection" deals between network operators, something the FCC's 2015 rules didn't explicitly do.
The legislation has been opposed by the broadband industry, which considers it too restrictive.
California is just one of several states looking to enact its own rules governing an open internet, after the FCC, under Pai, rolled back the Obama-era net neutrality rules in June. States such as Washington have pushed through a net neutrality law, while others are considering doing so.
Meanwhile, attorneys general of 22 states and the District of Columbia have already filed a brief to a US Appeals Court to reverse the FCC's move. Companies like Firefox publisher Mozilla and trade groups also filed arguments.
Net neutrality, the principle that all internet traffic is treated fairly, has been one of the hottest topics of debate over the past several years. Consumers, tech companies and Democrats have pushed for stricter regulations prohibiting the prioritization of traffic, which resulted in the rules put in place by the previous FCC. But the Trump-era FCC has agreed with ISPs and Republicans who fear the regulations are onerous and hurt capital investment.
Taking It to Extremes: Mix insane situations — erupting volcanoes, nuclear meltdowns, 30-foot waves — with everyday tech. Here's what happens.
Source: https://www.cnet.com/news/industry-groups-sue-to-stop-california-net-neutrality-law/
WITH WATSON, TECHNICIANS ARE EMPOWERED TO MAKE THE RIGHT REPAIRS. THE FIRST TIME. ANYWHERE.
Since 2014 Apple and IBM have been working with clients to usher in a new era of smart enterprise. The latest collaboration offers companies interested in artificial intelligence (AI) and machine learning (ML) a chance to be a part of the next big shift in enterprise mobile intelligence — by bringing the power of IBM's Watson AI services and Apple's machine learning framework, Core ML, to native iOS apps. IBM Watson Services for Core ML delivers native iOS apps that give developers access to vast amounts of data, both on their device and through the cloud. This means that users can access information and deep insights directly on their iPhone or iPad, even when it's not connected to a network.
AI Everywhere with IBM Watson and Apple Core ML →
The Coca-Cola Company is always innovating across their technology landscape, and AI is a key focus area. When presented with the opportunity to explore the value of IBM Watson services and machine learning, they quickly engaged. With the Coca-Cola emphasis on quality, they are currently partnering with IBM, working on prototypes for how IBM Watson Services for Core ML may transform in-field capabilities. Initial functionalities being analyzed are visual recognition problem identification, cognitive diagnosis and augmented repair. Early exploration is promising, and Coca-Cola and IBM continue to determine next steps.
Challenges in the field
Field technicians are deployed to service and repair beverage dispensing machines at restaurants and venues around the world. Once on site, the tech must be able to diagnose and correct an enormous array of problems, relying ultimately on their personal expertise and experience. If the system is not one the technician is familiar with – an uncommon water filter, for example – then routine repairs can become frustrating and time-consuming. Adding to the challenges, many sites are in remote or rural locations with no data connectivity, meaning no access to support, and therefore limited ability to make repairs. In these cases, the tech would need to spend time searching through informational databases, product manuals, and might even need to call in or consult with a colleague or specialist – resulting in lost productivity and prolonged system downtime.
Enter Watson Services for Core ML
With the AI capabilities of IBM Watson and Core ML, relevant information is put directly into a tech's hands the moment she needs it, allowing her to resolve the issue quickly. Coca-Cola used Watson Services for Core ML to build an app that leverages visual recognition and augmented reality to identify equipment issues, diagnose problems, and troubleshoot repairs.
Through the app, the tech can use their iPhone or iPad camera to diagnose system problems via a virtual overlay and guided instructions pulled from the cloud, with zero latency, and even in areas with no network connectivity. Watson Visual Recognition on the device helps the technician identify older or poorly differentiated systems, or unfamiliar parts, and pinpoint the problem right away. Then, Watson Discovery Service helps identify possible solutions for the specific systems and type of malfunction.
Using ARKit, an iOS framework with resources to help create augmented reality experiences for the iPhone and iPad, developers are able to integrate apps with augmented reality models that help the technician solve complex problems on less-familiar systems.
As the technician is working on the job, data is captured. That data is then sent to the cloud once the device is back on the network, so Watson can learn from the interaction and make the learning available to other technicians in near real-time. Using the guided repair system, the technician is empowered to solve the problem the first time, increasing productivity, and elevating customer service – all without needing to call for assistance or reschedule the repair.
With Watson, the technician can identify the problem and determine a solution in less time, no matter their location. Watson Services for Core ML provides developers with the tools to build apps that can give technicians in the field the right data, knowledge, and capabilities to do their best work. Coca-Cola is piloting the app with its field technicians now.
Watch the IBM Watson Services for Core ML announcement at Think 2018
Watson Technology being used:
Watson Visual Recognition
Watson Studio
With the help of Watson, field technicians can now:
Leverage the power of Apple Core ML to diagnose and correct an enormous array of problems on-site, with little or no network connectivity
Save time and increase productivity
Use cutting-edge augmented-reality from ARKit merged with Watson's advanced visual recognition and detection technology to accurately find possible solutions and avoid lengthy delays
Learn from other technicians' experience in near real time
E. & J. GALLO WINERY IS WORKING WITH WATSON TO DEVELOP AN INTELLIGENT IRRIGATION SYSTEM THAT INCREASES THE QUALITY OF ITS GRAPES.
Having farmed in California for more than 80 years, E. & J. Gallo Winery knows that no resource is more important than water, which is why water management has been a top priority for the company for decades.
Enter Watson
E. & J. Gallo Winery and Watson are now using weather reports and remote sensor data to deliver precise amounts of water to each vine, optimizing growth. The secret is located above the clouds, in a satellite looking down on the vineyard.
This allows the exact needed amount of water – based on highly targeted irrigation requirements – to be dispensed to each grapevine. As the weather changes, the irrigation methods react to ensure vines only receive water when needed.
Powered by IBM Cloud
IBM Cloud is built to handle cognitive workloads, such as the immense amount of data from satellites and IoT sensors. It also uses The Weather Company data from 2.2 Billion locations, which is combined with E. & J. Gallo Winery's other data sources to help perfect individualized irrigation plans.
A competitive advantage
Because of this tailored watering, E. & J. Gallo Winery reduced its water use by 25%, while also improving the quality of its wine.
Wineries, hospitals, businesses, educators and governments are now working with Watson. In 45 countries and 20 industries, Watson is helping people make sense of data so they can make better decisions while uncovering new ideas.
How a vineyard is working with Watson
Watson ingests data from weather, satellite, and sensor data on the IBM Cloud.
The data helps identify conditions in the vines and atmosphere.
After determining specific needs of the vines, given situational data, the system adapts irrigation levels.
The watering is tailored for precise areas to ripen grapes in sync and with improved quality.
With improved water efficiency, the largest family- owned winery in the world creates a superior product and reduces its water use by 25% in the process.