Xiaomi Mi NOTE 2 DETAILED SPECIFICATIONS AND PRICE LEAKED; IRIS SCANNER SPOTTED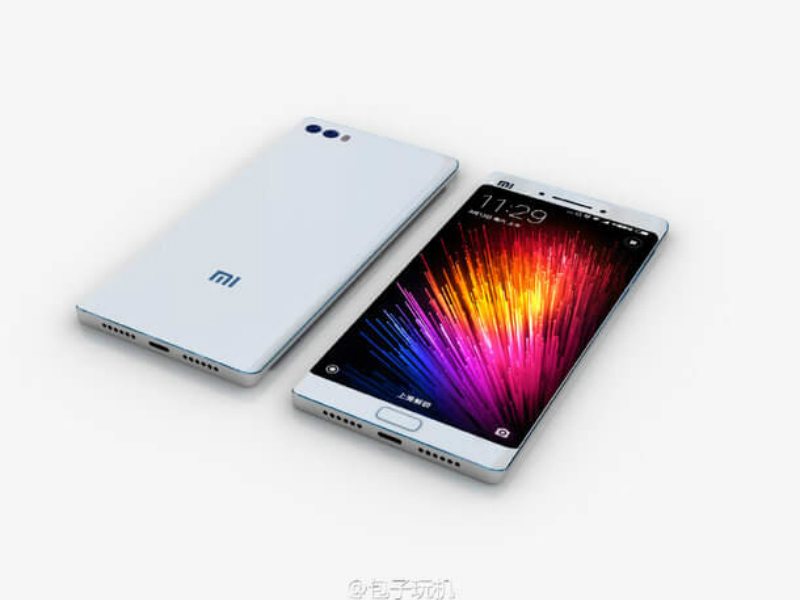 There are been many contrasting rumours about the Mi Note 2. Some claim that the smartphone will sport dual edge display and a dual camera setup, while the others claim only one of them will make it to the smartphone. In any case, Xiaomi has scheduled an event on October 25 where all the official details of the Mi Note successor will be out of the bag once and for all. But before that happens, presentation slides claimed to be for the upcoming event have been leaked on Weibo, revealing all specifications and pricing details of the Mi Note 2.
This leak, first spotted by PhoneArena, leaves very little to the imagination. The slides reveal that the Xiaomi Mi Note 2 will feature a 5.7-inch Super Amoled (1440×2560 pixels) display with Force Touch technology. For those unaware, Force Touch (or rather, 3D Touch) was first introduced by Apple on the iPhone 6s, and is a pressure sensitive display technology that Apple uses to provide additional interface options to users. The smartphone is listed as powered by a 64-bit Snapdragon 821 quad-core processor paired with Adreno 530GPU. The smartphone is expected to come in two bundles – 4GB of RAM/ 64GB of storage, and 6GB of RAM/ 128GB of storage.
This leak claims that a dual camera setup is indeed going to be introduced, and the Mi Note 2 will sport two sensors at the back. The first one will be a 23-megapixel Sony IMX318 sensor, and the other one will be a 12-megapixel Sony IMX378 sensor. It will feature a dual-tone LED Flash, support OIS, and 4K video recording. The front camera is said to sport an 8-megapixel sensor.
It packs a huge 4100mAh battery and is backed by the Quick Charge fast charging technology. The Mi Note 2 will support Mi Pay i.e will be NFC-enabled. There's an ultrasonic fingerprint scanner integrated under the display, though we wonder if it's instead under glass but not under the display panel itself, as seen in the Mi 5s. According to the slides, an iris scanner has also been introduced at the front. Apart from NFC, other connectivity options include 4G VoLTE , Bluetooth 4.1, WiFi 802.11 ac (2.4/5 GHz) MU-MIMO, GPS, and USB Type-C port. The Mi Note 2 runs on Android 6.0 Marshmallow-based MIUI 8, and supports dual-SIM slots (Nano + Nano).
THE FINTECH REVOLUTION IN INSURANCE
Advancing technology has collided with longstanding customer issues to create a series of deep, lasting, systemic challenges for insurance. How will these trends impact insurers' businesses and the industry overall?
The rise of fintech, changing consumer behavior, and advanced technologies are disrupting the insurance industry. Additionally, Insurtechs and technology startups continue to redefine customer experience through innovations such as risk-free underwriting, on-the-spot purchasing, activation, and claims processing.
The report from Deloitte Global examines forces that are disrupting the insurance industry and presents four possible scenarios for the future. We explore:
Changing the channel: Partnerships with product makers and distributors, and embedding insurance into other products and services may enable customers to select products that best fit their lifestyle.
Underwriting by machine: Technology advancements including AI innovations and algorithms will likely individualize risk selection and pricing, and customers can select products based on a wider range of price points.
Rise of the flexible product: Time-flexible, event-driven, modular and adjustable coverage may evolve to accommodate life stage, lifestyle, and wellness changes among consumers.
E-Z life insurance: Given the growth and shopping patterns in emerging markets, insurers who introduce flexible term products, and master digital distribution without compromising underwriting are likely to win in the marketplace.
Read the report to understand what the future holds for the insurance industry.
Key Contact
GOOGLE NEVER REALLY LEFT CHINA: A LOOK AT THE CHINESE WEBSITE GOOGLE'S BEEN QUIETLY RUNNING
More information is leaking out about just how Google is planning to re-enter the Chinese market with a mobile search engine application that complies to the country's censorship laws.
The Intercept first broke this story when a whistleblower provided them documentation detailing the secret censored search project (codenamed Dragonfly). According to them, an overlooked Google acquisition from 2008 — 265.com — has been quietly laying down the foundation for the endeavor.
WHISTLEBLOWER REVEALS GOOGLE'S PLANS FOR CENSORED SEARCH IN CHINA
The search engine would filter sites like Wikipedia and information about topics like freedom of speech
Google is reportedly planning to relaunch its search engine in China, complete with censored results to meet the demands of the Chinese government. The company originally shut down its Chinese search engine in 2010, citing government attempts to "limit free speech on the web." But according to a report from The Intercept, the US tech giant now wants to return to the world's biggest single market for internet users.
According to internal documents provided to The Intercept by a whistleblower, Google has been developing a censored version of its search engine under the codename "Dragonfly" since the beginning of 2017. The search engine is being built as an Android mobile app and will reportedly "blacklist sensitive queries" and filter out all websites blocked by China's web censors (including Wikipedia and BBC News). The censorship will extend to Google's image search, spell check, and suggested search features.
The web is heavily censored in China, with the country's so-called Great Firewall stopping citizens from accessing many sites. Information on topics like religion, police brutality, freedom of speech, and democracy are heavily filtered, while specific search topics (like the 1989 Tiananmen Square protests and Taiwanese independence) are censored completely. Advocacy groups report that censorship in the country has increased under President Xi Jinping, extending beyond the web to social media and chat apps.
The whistleblower who spoke to The Intercept said they did so because they were "against large companies and governments collaborating in the oppression of their people." They also suggested that "what is done in China will become a template for many other nations."
Patrick Poon, a researcher with Amnesty International, agreed with this assessment. Poon told The Intercept that if Google launches a censored version of its search engine in China it will "set a terrible precedent" for other companies. "The biggest search engine in the world obeying the censorship in China is a victory for the Chinese government — it sends a signal that nobody will bother to challenge the censorship any more," said Poon.
In a statement given to The Verge, a spokesperson said: "We provide a number of mobile apps in China, such as Google Translate and Files Go, help Chinese developers, and have made significant investments in Chinese companies like JD.com. But we don't comment on speculation about future plans."
According to The Intercept, Google faces a number of substantial barriers before it can launch its new search app in China, including approval from officials in Beijing and "confidence within Google" that the app will be better than its main rival in China, Baidu.
Google previously offered a censored version of its search engine in China between 2006 and 2010, before pulling out of the country after facing criticism in the US. (Politicians said the company was acting as a "functionary of the Chinese government.") In recent months, though, the company has been attempting to reintegrate itself into the Chinese commercial market. It launched an AI research lab in Beijing last December, a mobile file management app in January, and an AI-powered doodle game just last month.
Although this suggests Google is eager to get a slice of China's huge market of some 750 million web users, ambitions to relaunch its search engine may yet go nowhere. Reports in past years of plans to bring the Google Play mobile store to China, for example, have so far come to nothing, and Google regularly plans out projects it ultimately rejects.
Notably, relations between China and the US have worsened in recent weeks due to trade tariffs imposed by President Trump. The Interceptreports that despite this Google staff have been told to be ready to launch the app at short notice. The company's search engine chief, Ben Gomes, reportedly told employees last month that they must be prepared in case "suddenly the world changes or [President Trump] decides his new best friend is Xi Jinping."