NEW MASTERCARD APP LETS USERS VERIFY TRANSACTIONS WITH A SELFAIE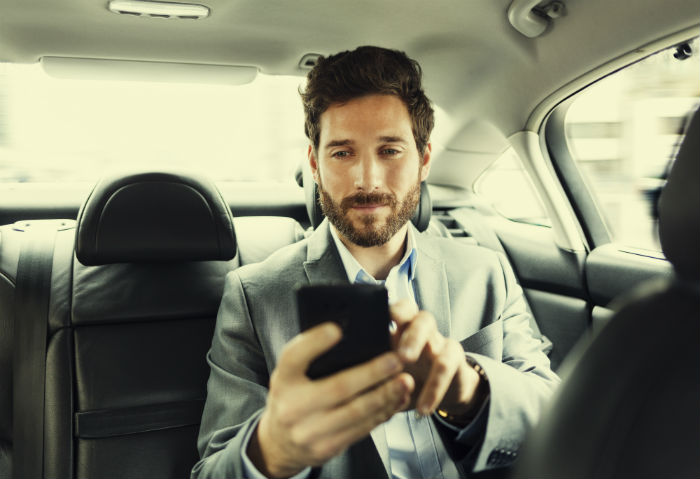 At the Mobile World Congress, MasterCard announced its plan to roll out its "pay-by-selfie" facial recognition program as an alternative to passwords when verifying IDs for online payments. The technology is expected to be pushed this summer to 15 countries including the UK, Netherlands, Belgium, Spain, Italy, France, Germany, Switzerland, Norway, Sweden, and Finland.
To use the new feature, customers will have to download MasterCard's app to their device. After entering their credit card information during online payment, users have to hold up their device and take a quick selfie to verify the transaction.
The app already has a number of ways to make sure that it isn't used for fraud. In order to prove that the picture is not just a photograph, the user has to blink. MasterCard also says that its algorithms can determine if someone is trying to trick the system by using a video. MasterCard chief of security solutions Ajay Bhalla, says "Nobody likes being falsely accused of something, but that's what it feels like when a transaction is falsely declined. As criminals have become smarter, efforts to prevent fraud have resulted in an increase in genuine transactions being declined."
MasterCard's move towards using biometrics to verify payments follows a pilot project with Dutch credit card firm International Card Services (ICS), with participants being able to complete online purchases without the need for PIN codes, confirmation codes, and passwords. The use of fingerprint or facial verification allows mobile users—most of whom already have devices with the hardware to do it—a more convenient means to do that. MasterCard says that the pilot has resulted in commercial interest from around the world, and that it projects to launch the technology in the US later this year.
Since the boom of e-commerce, traditional credit cards have been the target of cybercriminals who have found numerous ways—from malware to phishing schemes and skimmers—to take advantage of the weak security behind traditional credit card payment systems. The numerous threats that have plagued credit card payment systems has since led to the development of different payment processing technologies that allow for more convenient and more secure transactions.
In October 2015, the US has implemented a set of rules where the liability for credit card fraud shifts from the card issuers to the merchants unless they upgrade their payment processing systems to those that support EMV chip technology, with PIN-based authentication that can address fraud incidents that involve lost and stolen cards. MasterCard's new solutions could help pave the way for more secure mobile transactions, with the use of verification methods that are harder to cheat.
EUROPEAN INVESTMENT BANK RUNS BLOCKCHAIN HACKATHON
A team from EY triumphed in a 48-hour European Investment Bank (EIB) hackathon designed to find ways to use blockchain technologies to redesign the transaction processing of commercial paper.
The EIB brought together 56 coders from 15 countries in 12 teams for the hackathon, run alongside the bank's annual forum dedicated to treasury issues.
While the conference was running, the coders were locked in an adjacent room, trying to prove that blockchain tech can improve the transaction process of commercial paper – a short-term financing instrument that is used worldwide in treasury operations and still relies on an 'archaic' and complex process.
In the pitching session, the EY team won the contest with an effort that taps a combination of blockchain, robotics and business AI tools to optimise the issuance process and reduce the number of exchanges between the EIB and its counterparties while maintaining each one's role within the ecosystem.
The EY team won a EUR5000 cash prize and a contract with the EIB to further develop its solution into a proof of concept.
Alexander Stubb, vice president, EIB, say: "There will be major gains from the use of new technologies such as blockchain, generated from the simplification and streamlining of existing financial processes. The new perspectives opened up by digitalisation and Distributed Ledger Technology must be assessed and we must all be ready to make use of them and embark on this new venture.
"As the EU's financial arm, we decided to be on the active side, learn by experience and make things happen, to be a facilitator and join with our banking partners to pave the way for tomorrow's financial industry."
Separately, Barclays is planning a hackathon that will see coders use blockchain technology for post-trade processing of derivatives contracts. The event will take place over two days in September in London and New York, according to Coindesk.
GOOGLE WILL PAY YOU $100,000 IF YOU CAN HACK A CHROMEBOOK
Since 2010, Google has been paying money to hackers who have found vulnerabilities in its hardware or software. And after a call last year to crack its Chromebook's security system went unanswered, Google is now doubling its reward to $100,000.
The $100,000 payout specifically applies to anyone who can crack the yet-uncrackable Chromebook, but Google also has a wide range of bounties for smaller bugs. Payouts start at $500, and if you provide a fix with your bug submission you're rewarded with the hacker-friendly sum of $1,337 (the digits appear similar to the word "leet," which is hacker slang for "elite hacker").
Google also says that any vulnerabilities — regardless of whether there's an official bounty — are potentially eligible for a reward, although the rules for qualifying submissions are relatively strict.
Bub bounty rewards programs like these are becoming more and more common among tech companies, which is good for those of us hoping for safer hardware and software. Google even ended its bounty announcement with an encouraging note: "Happy hacking!"
THE STORY BEHIND GOOGLE'S SECRET OFFER TO SETTLE EU'S ANDROID PROBE
European Union Competition Commissioner Margrethe Vestager coolly hit Google with a 4.3 billion-euro ($5 billion) fine last week, the biggest penalty in the history of antitrust enforcement.
It didn't have to be that way. Months earlier, when the company — already reeling from a 2.4 billion-euro fine in another EU case — made quiet attempts to settle the probe into deals it has with Android phone makers, the response was equally chilly.
The Silicon Valley search giant had waited at least a year too long to broach the subject of a settlement, the 50-year-old Vestager said in an interview. When a company wants to settle, it needs to "reach out immediately after" getting the EU's initial complaint or statement of objections.
"That didn't happen in this case and then of course it takes the route that it has now taken," Vestager said of the settlement talks, which haven't been previously reported. "So no surprises."
Google, a unit of Alphabet Inc., has been one of the EU's biggest antitrust targets, with three probes, countless headlines and a steady drumbeat of smaller rivals and customers demanding action. The company has now twice failed to strike settlements that would resolve cases into its shopping services and Android that have resulted in a total of 6.7 billion euros in fines — with a looming threat of more still to come.
Google declined to comment on the settlement attempts. Google will appeal the EU decision, Chief Executive Sundar Pichai said in a blog post. The company has "shown that we're willing to make changes," he said.
In the weeks after the June 2017 fine in the shopping case, Google lawyers began to make overtures to their EU counterparts to express a willingness to settle the probe into Android, one of the company's flagship products. Previous attempts to start a conversation with the EU on ways to end the probe had failed to catch fire, with officials stonewalling or saying it was too early to negotiate, people familiar with the negotiations said.
The Mountain View, California-based company's incentive to settle the Android probe was easy to see.
Google gives Android software for free to mobile phone makers but coerces them to pre-install Google's apps if they want the Play app store, which offers more than a million programs. The search giant also pays phone manufacturers, telecommunications carriers and other browser makers to run Google's search engine which collects user data. Thanks to those agreements, Google has captured almost $50 billion in yearly mobile ad-market sales, or a third of the global market, according to research firm EMarketer.
Google executives believed Vestager left the door open to a deal when she refused to rule out a settlement at the June 27, 2017, press conference where she announced the fines in the shopping case.
"Each case is separate," she told reporters. "And obviously I have taken no conclusions in the cases that are still open."
Encouraged, Google's lawyers drafted a letter suggesting possible changes to address the EU concerns, according to the people familiar with the discussions.
Some people said contacts started in August. Two others said a discussion started later in the year and a formal letter wasn't sent until shortly after Pichai's Nov. 16 meeting with Vestager in Brussels.
Google said it was prepared to adjust contracts to loosen restrictions the EU didn't like, even weighing distributing apps in two different ways going forward. The letter didn't go into detail, only setting out an outline to kickstart talks, according to the people, who declined to be identified because the initial conversations with regulators were confidential.
The lawyers never received a formal response, hearing from officials by phone months later that a settlement was no longer an option. That prevented them from even discussing whether the company would be willing to pay a fine as part of a deal, the people said.
EU officials didn't find the offer convincing and viewed it as too little too late, two other people said.
Moving to a cease-and-desist order for Google "seemed to be the best thing to do in this case in order to enable mobile manufacturers to have a real choice," Vestager said in the interview. "It's a very serious legal infringement and you see how it has worked. It has cemented Google's position in search and it has de-facto locked down Android in a completely Google-controlled ecosystem."
Vestager indicated in the interview that any settlement offer should have been made in 2016, after the company received the EU's statement of objections, which detailed the antitrust problems with Android. The EU said the company might breach competition rules by unfairly pushing search and browser apps onto Android phones.
That might have been the narrow window to settle the case, but Google's legal team were spinning dozens of plates in 2016. They had deadlines to respond to the Android charges, the shopping probe was still a major priority and there were new complaints filed to the EU by News Corp. and other rivals.
After the rebuff, the EU stepped up its probe, sending a formal "letter of facts" in November 2017, adding new evidence, two people said. There was little substantive contact between the two sides until Google representatives talked with EU officials in April during a so-called state of play meeting about the case, which was well on the way to the record fine.
Google hasn't had much luck trying to find a path to peace with the EU. It spent two years trying to negotiate a settlement in the shopping probe. But a tentative deal came under heavy fire from publishers and politicians, forcing the EU to abandon it shortly before Vestager became commissioner in November 2014.
One of Vestager's first acts was to restart the Google shopping investigation, putting a final end to the botched settlement attempt. She quickly racked up a fearsome reputation as the scourge of U.S. tech giants, She ordered Apple Inc. to pay 13 billion euros in back taxes and fined Facebook Inc. 110 million euros over allegations the company misled regulators during a merger review.
"Android, as compared to shopping, is a Vestager case, one not inherited," said Nicolas Petit, a visiting fellow at the Hoover Institution and a law professor at the University of Liege in Belgium. "Her incentives to make this case the emblem of her tenure were presumably higher. So the odds of a settlement were, to me, lower."
The EU isn't always averse to thrashing out a deal even after a long investigation. The nation's state-controlled gas export giant Gazprom PJSCside-stepped a potentially huge EU penalty after seven-year-long probe by agreeing in May to change how it sells gas to Europe. Vestager said Gazprom had "reached out very very quickly" to the EU to negotiate a settlement after receiving objections in April 2015.
Google had a better time in Moscow. Russia's Federal Antimonopoly Service fined the company $7.8 million as part of an April 2017 settlement to end a probe into similar Android concerns.