6 WAYS TO JUSTIFY HIRING A UI DESIGNER
Key stakeholders will perk up when they hear about lowering development costs and increasing revenue.
User interface is the most significant component of successful software. Ease of use is of the utmost importance. It truly can make or break your product. Feature-rich software that fails to meet the user's expectations can't compete with straightforward software. The importance of UI cannot be overstated. Still, many companies fail to see just how crucial UI designers are.
One famous example is the $300 Million Button, in which a major ecommerce site redesigned one button and saw a massive spike in revenue. "The form was simple," wrote Jared Spool. "The fields were email address and password. The buttons were login and register. How could they have problems with it?" After conducting a few rounds of usability testing, they found that new users begrudged the register button, and returning customers were prone to forgetting their passwords. "The designers fixed the problem simply. They took away the register button." The register button was replaced with a more user-friendly "continue" button, which promptly resulted in a 45 percent increase in sales.
Something as simple as a button could be costing you millions in revenue a year. Programmers don't catch key usability issues like this, designers do. Every tech company needs a UI designer desperately; it's just a matter of whether they are aware of it or not.
Here are six ways you can justify hiring a UI designer:
1. Brands that invest in UI outperform those that don't.
You don't have to look too far to find examples of UI benefitting big brands. Apple is the perfect prototype of a company continually committed to creating products that are extraordinarily simple to use. They consistently beat out competitors who focus on features rather than usability. Microsoft's doomed Zune, for example, fought and struggled to claim just an eighth of the MP3 player market share. While the Zune was arguably more robust than the iPod, it simply couldn't compete with a well-executed UI.
2. They reduce development time.
According to IEEE, up to 50 percent of software specialists' time is spent on avoidable rework. UI designers cut down on rework as they help catch usability issues early. This greatly reduces the development time since programmers can spend their time doing work that adds value rather than reworking unnecessarily.
3. They improve performance.
UI designers concentrate on creating interfaces that are easy to understand. Ideally, a user interface is intuitive and feels natural. When an intuitive, easy-to-use interface is implemented, user error is markedly reduced, which greatly improves overall product performance.
4. They lower development costs.
UI designers test and develop interfaces alongside programmers. They take the usability guidelines set out by the UX designer and put them into action. UI designers tweak buttons, sliders and text boxes during the development of the product, which is far less expensive than fixing user interface issues after deployment. A whopping 80 percent of unforeseen fixes are attributed to user interface issues. A UI expert can help catch these fixes before they cost you a fortune.
5. They increase revenue.
Investment in greater usability for mobile devices prompted a 70 percent increase in products sold for one ecommerce site as well as decreasing bounce rate and increasing overall traffic. This case is no exception, either. Several studies have shown that enhancing UI drives remarkable revenue growth.
6. Easy-to-use design fosters customer loyalty.
User interface is the art of crafting perception. Even if your software is solidly built, if your users can't understand it, they won't perceive it as credible. The user's experience with your product is what builds its credibility. Effective user interfaces are simple to learn and even easier to use. The less time and energy it takes to use your product, the more willing and able customers are to perceive it as higher quality. Furthermore, once you've captured these customers with great UI, they are less likely to be torn away from your product by competitors.
It's easy to justify hiring UI designers when you consider their staggering ROI, with some estimates purporting a $100 return on every $2 spent. UI designers endeavor to make complex, contrived software as simple and intuitive as they possibly can, and their work almost always pays off. Hiring a UI designer will decrease development costs and development time, improve public perception and product performance, as well as increase revenue. They save teams a tremendous amount of time and money because they force programmers to think of the end user, who is, ultimately, the one who decides whether your product lives or dies. As E.F. Schumacher, an influential British economist, once said, "Any intelligent fool can make things bigger and more complex. …It takes a touch of genius and a lot of courage to move in the opposite direction.
source:https://www.entrepreneur.com/article/289897
3 HUGE WAYS ANDROID'S GESTURE NAVIGATION JUST GOT BETTER
Google's second Android P beta delivers subtle touches that add up to a major leap forward for the platform's new gesture navigation system.
Let's not beat around the bush: In the first Android P beta release, Google's new gesture navigation system was a steamin' hot mess. It was glitchy, inconsistent, and confusing.
It was also, however, part of Android P's first public beta — software not intended for widespread public use — and so we have to expect a certain amount of imperfection. You can't judge a product when the recipe's still in flux and the baking's nowhere near finished.
With the launch of Android P's second official beta this week, we're a step closer to completion — and after using the new software for nearly a day now, I'm happy to report that the new gesture navigation system has, in fact, gotten better. Much better.
It's still not perfect, mind you, and it still has its share of foundational issues — but boy howdy, is the experience of using this thing now a far cry from what it was like at the start.
Let me explain.
1. It's much easier now to figure out what you're supposed to do
One of my biggest gripes with gesture nav in the first Android P beta was, quite simply, how hard it was to know how the damn thing worked. The system was a complicated concoction of hidden commands and overlapping ideas, without any real visual cues to guide you — and it was anything but intuitive.
In Android P's second beta, it's a whole other story. First of all, after you've been using the software for a few minutes, a prompt appears near the new Android Home button that gently encourages you to swipe up to switch apps. When you think about how this setup will come across at first to most Android phone-owners — y'know, the type of people who don't closely follow Android development and are gonna have no earthly idea what's up with this weird new interface in front of 'em — a simple introduction like that could make a massive difference.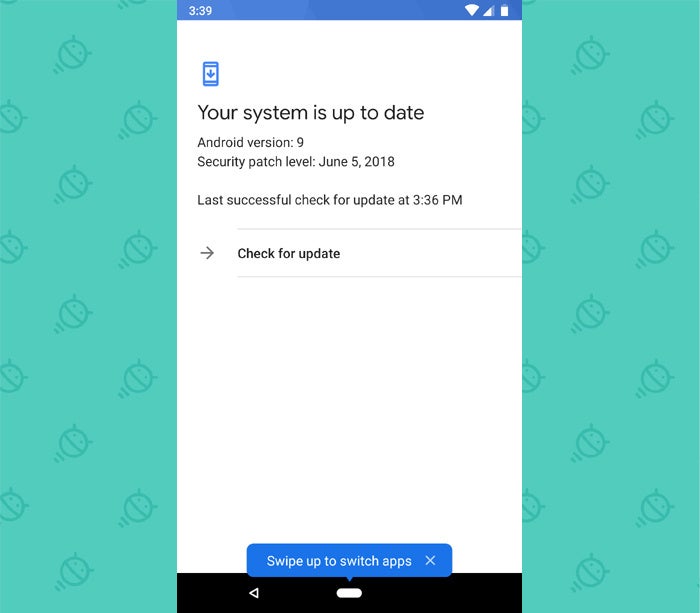 Beyond that initial nudge, Google's Android P home screen now features an upward-facing arrow above the docked row of apps at the bottom of the home screen — a visual indication that reminds you, again, to swipe up from that area instead of just assuming you'll magically know to do it.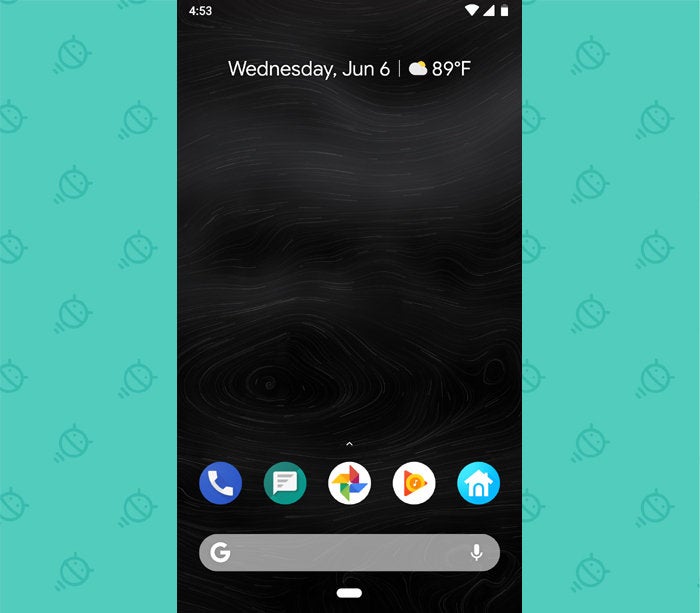 The trend of increased user-friendliness continues into the new Overview interface itself, which is where the real confusion began in the first Android P beta release. Google has implemented several significant steps there that add up to a meaningful improvement in usability.
First, the lower part of the screen — with a search bar and series of suggested apps — now features a frosted, card-like background with an upward-facing arrow at its top. That makes it abundantly clear that it's meant to be swiped upward further, unlike before, when you just had to figure that out on your own.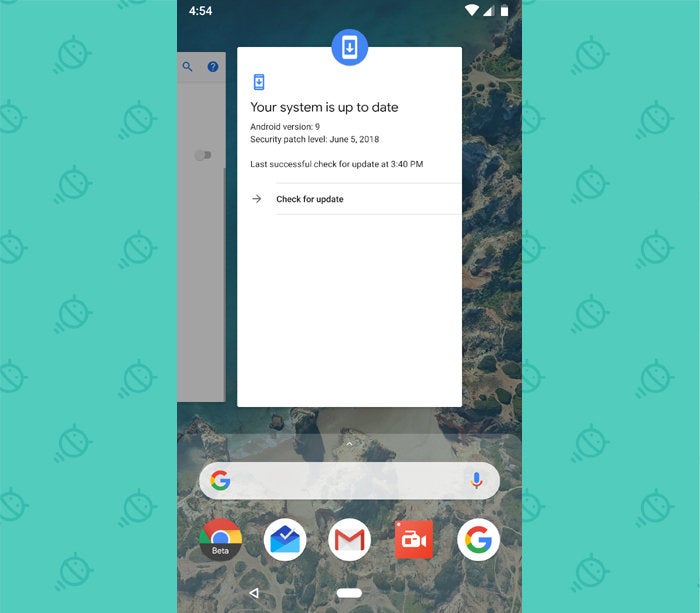 And it doesn't stop there, either: The first time you open the new Overview section, that card in the lower part of the screen pulsates — moving up and down repeatedly — to make it absolutely apparent, beyond all the other signals, that you should swipe upward on that element to reveal more. And in case you later forget, the card bounces up a touch higher than its final resting point and then slides back down every time you open the section, again giving you an obvious cue that swiping up on it leads to something worthwhile.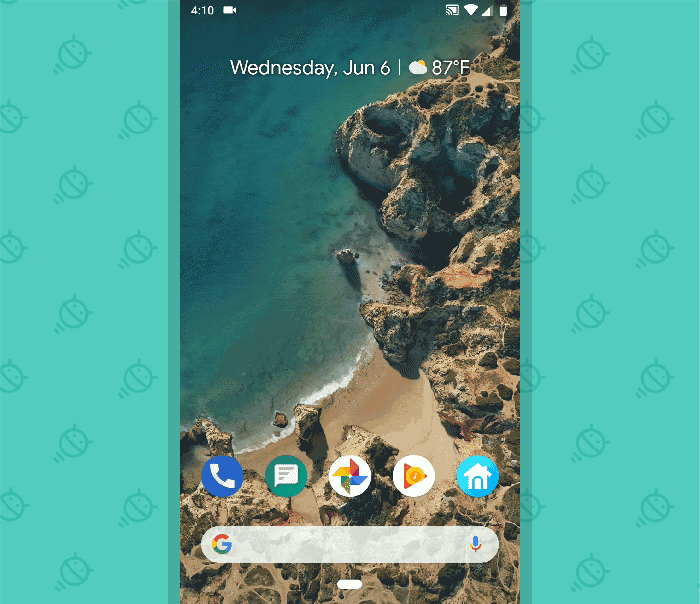 All in all, it's an immeasurable leap forward from the convoluted mishmosh we encountered in the first public P beta.
2. The areas of the new interface are now more distinct — and less confusing
Hidden commands aside, the earlier incarnation of Android P's gesture navigation system had a lot of similar-looking visual elements, which caused more than a little confusion. When you first opened the Overview area, for instance, you'd see a row of suggested apps that were in the same basic area as the custom dock icons on your home screen. That made for a really jarring transition — because every time I swiped up to open the Overview section, I expected the shortcuts in that area to be the same ones that were on my home screen a second earlier. But they weren't.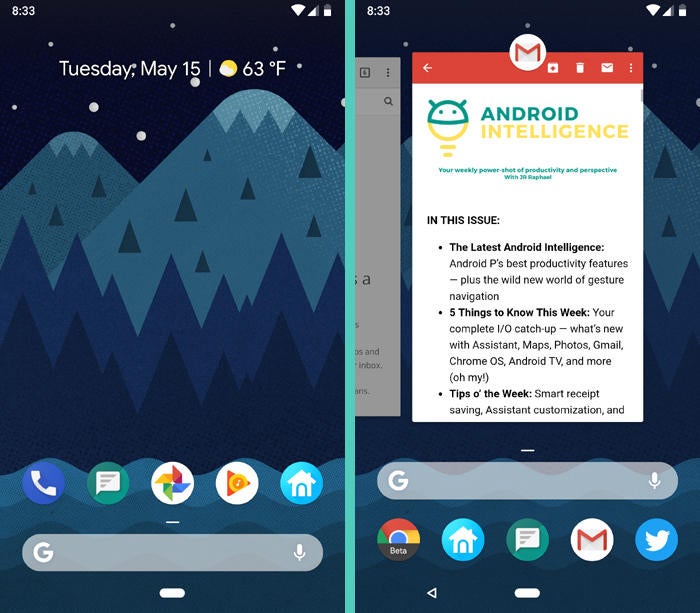 Google listened, and it's made a noticeable improvement to this issue in the latest Android P beta. With that lower area of the Overview interface now having a frosted, card-like background — and with it bouncing up a bit upon being opened instead of just flatly appearing, as it did previously — it no longer feels like it should be an extension of the home screen dock area. It feels like its own separate element instead, just like it should. Once more, a simple change made a big difference.
The card-like appearance of that area also really gives the impression that you're seeing the start of something — which you actually are: You're seeing the top portion of the app drawer, something that now becomes immediately apparent as you swipe up on it.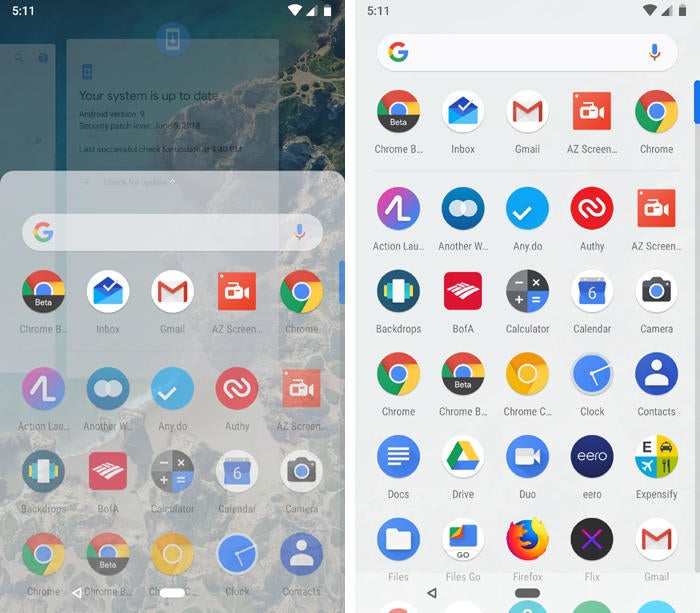 In the app drawer itself, meanwhile, the row of suggested shortcuts at the top is more clearly set apart from the other apps — with a prominent divider and an "All Apps" label even appearing below the divider the first few times you see it. That makes it completely clear that you're looking at a separate element that's unrelated to the main app list and unrelated to the icons within the dock on your home screen.
And there's more yet: Functionally, Google has refined the actual gestures to make some of the overlap between them a bit less awkward. In my first, erm, overview of the new Overview, I talked about how close some of the new Home button gestures were to each other: You'd swipe up once from the Home key to open the Overview screen, for instance, and long-swipe or double-swipe to get to the app drawer. It was way too easy to try to regular swipe and then end up long-swiping instead, or vice-versa. (Heck, even talking about that is confusing!)
In this latest beta, Google has drawn a more prominent line between those actions: The long-swipe happens only if you swipe waaaaaay up high, past the halfway point of your screen — which is clearly a deliberate long-swipe. Otherwise, the system interprets your gesture as a regular swipe and opens up the Overview interface normally.
Long story short, once you get used to it, it's all easier to use. And that's a good thing.
3. The system is generally just a lot smoother — and less glitchy
So we've covered all the "getting more intuitive" parts of the tale, but there's one more side to this story: With Android P's second beta, the act of using the new gesture nav system is a lot more pleasant simply because much of the initial glitchiness has been worked out. Things feel smoother, and I haven't seen any weird screen flashes or unexpected results in the time I've been using the new system so far.
Mind you, the new gesture nav system is still far from perfect. The sometimes-there, sometimes-not nature of the Back button (and the lopsided effect that creates on that bottom-of-screen bar) still feels somewhat clumsy and not entirely ideal. As a result of that part of the setup, the nav bar also still takes up permanent screen space — whereas it seems like a system of this nature should free up that area of the display. And the new fast-switch gesture of flicking right on the Home key is still less snappy and effective than the command it's replacing, though it does feel a bit smoother than it did in P's first beta release (and I think I'm also just getting used to using it instead of constantly comparing it to the zippiness of its predecessor).
However you look at it, one thing's for sure: When it comes to gesture nav, this second beta packs some serious progress — and significant improvements. And we're still a fair way from the finish line yet.
Source:  Computer World
WWDC: WHEN APPLE WATCH BECAME A PLATFORM
Many incremental improvements mean Apple Watch is becoming more effective for communication, augmentation and more.
Apple's watchOS 5 plays to the strengths of Apple Watch and opens up some new and interesting ways to develop for and make use of the device.
The enterprise case for Apple Watch
Apple always says its goal with the Apple Watch is to deliver brief and meaningful interactions at exactly the right time.
This dedication to context and convenience means that when the company ships the next iteration of the OS, it will make its solution much more essential to anyone who needs to stay up to date while remaining focused on the matter at hand, or who needs to stay in touch while leaving the phone behind.
Communications boost
Apple Watch is becoming a viable alternative to an iPhone. watchOS 5 builds on the built-in SIM the company put inside the device last year with a series of enhancements:
The most immediately useful improvement for most of us will be the ability to connect to a Wi-Fi network straight from the Apple Watch.
Walkie-talkie lets you contact friends and family just by pushing a button on your device, once you set them up. This works over Wi-Fi and cellular connections, and it can connect people worldwide.
You can answer FaceTime and Group FaceTime calls as audio calls on your watch.
In combination with the device's existing ability to dictate notes and messages, and the new addition of support for looking at websites (see below), Apple Watch has become a powerful communications tool in its own right.
Take notifications
There was a huge cheer at WWDC when Apple announced the introduction of Grouped Notifications on iPhone. This extends to Apple Watch, making it far easier to manage and control the alerts you receive.
The newly introduced Dynamic Notifications feature is something that both public-facing business offering front-end app support to customers and enterprise firms deploying their own proprietary iOS apps will want to explore.
This lets developers add additional steps to a notification — a restaurant may remind you of your booking and ask you to confirm (or change) your arrival time or the number of guests that should be expected. Or a ride sharing app may let you pay, rate, and tip for your ride — all from within the notification.
Finally, Critical Alerts are a new kind of notification intended for extremely urgent alerts. These need to be given explicit user permission to work and are intended to alert wearers to things such as heart rate anomalies or diabetes-related blood sugar warnings.
Siri gets lots better
The updated Siri watch face is a great illustration to show how much smarter Siri has become across all Apple platforms.
Siri will use the watch to provide the wearer with a host of additional predictive and proactive shortcuts throughout the day "… based on routines, locations and information such as heart rate after a workout, commute time with Maps at the appropriate time of day, or sports scores for a favorite team."
What makes this even more interesting is that it will now show actionable content from third-party apps, which is great for consumer and specialized enterprise apps.
Siri Shortcuts also makes it to the new Apple Watch OS.
Apple is pushing developers to ensure the Apple Watch shortcuts they provide are to the most relevant tasks. The basis for deciding this might be time, location, or app utility (a recipe app may provide a recipe of the day, for example).
What Apple sees as critical is that these notifications are interacted with and truly represent what Apple Watch users need.
App developers need to note that when Siri decides which Shortcuts it will offer on the Siri Watchface, Siri will pay particular attention to how the user has interacted with your app in the past.
Also, you don't need to say "Hey, Siri" to activate the assistant. All you need to do is start speaking to Siri as you raise the Watch towards you.
The intention is that you will be able to use Siri to get essential tasks done from your Watch, and you will be able to explore new ways to enhance customer and employee experiences when using your app.
The tiny web
Do you remember how Steve Jobs — when announcing the original iPhone — boasted that the iPhone offered people access to the real internet, rather than some stripped-down version?
watchOS 5 brings a little of that same delight and now integrates WebKit support, which means you can use your watch to glance at things such as web links or other items sent to you.
You can control the content, too:
Turn the Digitial Crown to scroll the page.
Double-tap to zoom in and out.
Use Force Touch (a firm press) to invoke back and forward buttons you can use to navigate through your viewing history.
It's not perfect — you can't access video playback or web fonts, though you can use your Watch to fill in HTML-based forms. Apple will render pages in Reader Mode when that mode is available.
All the same, some people will wonder if web designers will now need to figure out how to design websites that scale all the way from a Watch to a 30-inch display.
Health and wellness
There are lots of workout improvements in Apple Watch, including auto-workout detection. Not only does your Watch figure out when you are exercising, but it will also terminate a workout once it detects the activity is over. New yoga and hiking workouts and helpful tools for runners makes the device even more useful as part of your general scheme to stay well. And Activity Sharing competitions let you invite others to compete in meeting those activity challenges.
Additional improvements
Control Center lets you put all your toggles in the order you most prefer. You can also get to Notifications and/or Control Center while in any app.
Apple Watch users will gain a new Podcasts app. This will sync with shows, as well as stream any new shows Siri can find on your behalf. Enterprise users and developers will need to know that Apple will now allow audio from third-party apps to sync to the watch for offline playback.
Source: Computer World
MICROSOFT IS GETTING READY FOR THE NEXT XBOX VS. PLAYSTATION CONSOLE WAR
Microsoft's gaming chief, Phil Spencer, didn't spend a lot of time talking at the company's E3 press conference last night, preferring to let the games speak for themselves. Microsoft showed off 52 games onstage, including Halo Infinite, Gears 5, Forza Horizon 4, and titles from third parties like Fallout 76 and Cyberpunk 2077. While Spencer let the pace of the games dazzle the 6,000 people in the crowd, in his less than 15 minutes of stage time, he also made it very clear Microsoft is ready to battle. With new Xbox consoles, cloud streaming, and a fresh commitment to original games, Microsoft is getting ready for the next console war and beyond.
The Xbox One fell behind Sony's PlayStation 4 for a number of reasons (pricing and Kinect didn't help initially), but Microsoft is now facing a lack of exclusive titles to really boost its new Xbox One X console. Microsoft is finally responding to that negative feedback, and one of the surprise announcements at last night's Xbox E3 briefing was the company's commitment to first-party games. Microsoft is acquiring Undead Labs (makers of State of Decay), Playground Games (Forza Horizon developers), Ninja Theory (Hellblade: Senua's Sacrifice), and Compulsion Games (We Happy Few). These developers will join Microsoft Studios, alongside the formation of a newly founded Santa Monica-based studio, The Initiative, that will be led by former Crystal Dynamics head of studio Darrell Gallagher.
While two of the studios already develop exclusive Xbox games for Microsoft, the rest will add to Microsoft's original games list. "We know that exclusive games from our Microsoft Studios are what originally turned so many of us into Xbox fans. My team and I take our commitment to you seriously," said Phil Spencer. "By joining us at Microsoft Studios, these five new teams will have the resources, the platform, and creative independence to take bigger risks, create even bolder worlds for you."
These studio acquisitions are clearly a reaction to a lack of solid first-party games, but they're also a commitment to Xbox fans that Microsoft isn't about to give up on gaming. Microsoft is already embracing a world beyond Windows PCs, reducing its consumer focus, and trying to win back developers. A lot of these moves have Microsoft and Xbox fans concerned about the future of its gaming commitments, and Spencer ended Microsoft's E3 showing with a very clear message.
"We commit and harness the full breadth of our resources at Microsoft to deliver on the future of play," revealed Spencer, before detailing Microsoft's plans for a game streaming network and new Xbox consoles. "The same team that delivered unprecedented performance with Xbox One X is deep into architecturing the next Xbox consoles, where we will once again deliver on our commitment to set the benchmark for console gaming." If that wasn't enough of a message, Spencer ended with a clear signal that Microsoft is here to stay with Xbox for years to come.
"We have committed our team, our company, our technical resources so we can declare to you today, and next year, and all the years after that: you will always experience the best in gaming on Xbox." Spencer's strong message felt like a reassuring one to Xbox fans, but it was also a realization that Microsoft isn't ready to offer the best games on Xbox One just yet. The Xbox One is the best console if you don't care about new exclusive games, and it's obvious that Microsoft's deep focus on backward compatibility will continue with its future consoles.
These new studios will take time to create the games Microsoft needs, and this isn't going to be a quick turnaround. Microsoft will once again have to mostly rely on third-party studios to fill the gaps this year, with massive games that can also be played on rival hardware.
It might be another tricky year for the Xbox One, especially as Sony has already delivered exclusive games like Detroit: Become Human, God of War, and Shadow of the Colossus this year. Sony is also expected to show off more big exclusives at its own E3 event tonight, including Death Stranding, The Last of Us: Part II, Ghost of Tsushima, and Spider-Man. Microsoft showed at E3 that it's ready to play the long game, and that will inevitably lead it toward the next big console battle with Sony.
Source: The Verge