BEST WORDPRESS HOSTING PROVIDERS IN 2018
Need a managed WordPress plan? Start here…
Getting started with WordPress doesn't have to be expensive, after all the 15-year old WordPress is free (and open source). Even the cheapest shared hosting plan usually comes with a one-click WordPress installer, allowing the greenest of blogging newbies to have their first post ready in less than 60 seconds (we tried it).
Managing a blog over time is much more challenging, though. You'll need to find your own themes and plugins. And also keep them, and WordPress itself, up-to-date (although you can even get that done automatically).
Blogs are often targeted by malware, so it's important you have some way to detect and remove any threats, and you'll want regular backups to help get a broken blog working again.
If you don't have the time or technical experience for all that, you might prefer to buy a managed WordPress plan, and have the hosting company handle all the technical bits for you.
The host will often import your previous WordPress blog, if you have one. Usually you'll get some preinstalled themes and plugins to simplify customization. There should at least be an option to automatically update the site, a security service like SiteLock will be on hand to keep your blog malware-free, and we would expect 24/7 support from a team with real WordPress knowledge.
The best hosts go even further, optimizing their servers to boost WordPress performance, and sometimes throwing in extras like a content delivery network(CDN) to deliver great speeds worldwide (hopefully).
There's a long list of hosting companies offering managed WordPress plans, but we've picked out five of the best to point you in the right direction. Whether you're a first-time user or a big business, there's something for you here, and with prices starting at around a pound per month, it's well worth taking the time to find out more.
These are the best WordPress hosting services of 2018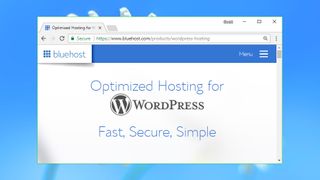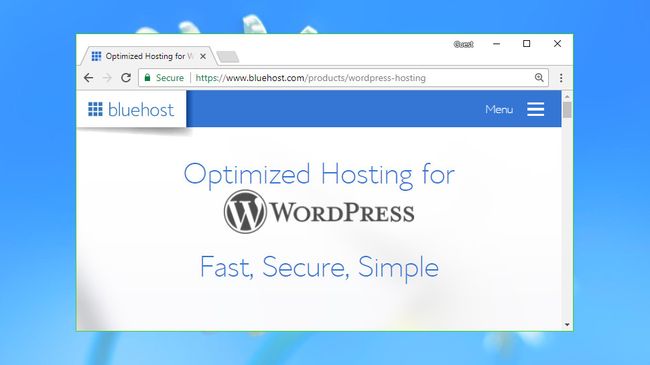 Best professional-level host
Optimized low-level setup
Many powerful extras
Not cheap
Budget WordPress hosting can have a lot of appeal, but it usually won't deliver the features, performance or reliability that high traffic sites need. If you're the demanding type, opting for a premium hosting plan will give you much better results.
Bluehost has created its own VPS-based architecture to deliver optimum WordPress performance via NGINX, a custom PHP-FPM setup and intelligently allocated resources through KVM hypervisor. (If you're not a hosting geek, this just means Bluehost has taken the time to optimize the low-level setup of its platform for WordPress, rather than simply making do with a standard configuration.)
The company doesn't waste time by pretending to offer 'unlimited' resources, and instead tells you exactly what you're going to get. For the WP Standard plan, this means 30GB storage, 1TB bandwidth, and key resources – 2GB RAM, two CPU cores – which are allocated to you, and not shared with anyone else.
Premium features include SiteLock Pro to keep your website malware-free, SiteLock CDN to optimize performance, a dedicated IP, and the ability to manage multiple sites with the excellent ManageWP.
This isn't cheap, with even the baseline Standard plan costing $19.99 (£14.30) a month for the initial term, rising to $39.99 (£28.60) afterwards. But you are getting a lot for your money, and if you're more interested in power than price, Bluehost has even more available.
The top-of-the-range Ultimate plan, for instance, gives you four CPU cores, 8GB RAM, 240GB storage and a monster 4TB bandwidth. SiteLock Enterprise handles all your security and CDN needs, and there's a wildcard SSL thrown in. Ultimate costs $49.99 (£35.70) a month initially, $129.99 (£93) after that, but that's a fair price for this spec, and Bluehost offers a 30-day money-back guarantee if you feel the service doesn't deliver.
Bluehost for $19.99 per month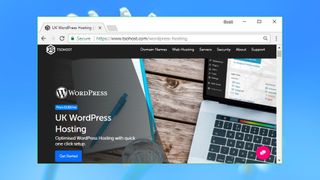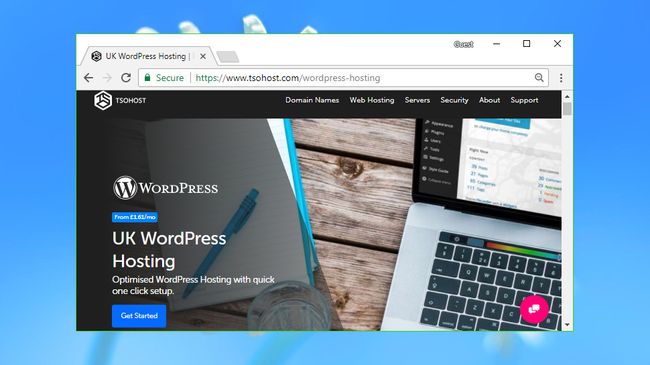 10% OFF WITH CODE TECHRADAR
TSOHost Personal
Great value pricing
24/7 support on basic plan
Not much in the way of extras
Managed WordPress packages can often feel overpriced. Many hosts charge significant premiums for impressive sounding claims – optimized servers, malware scanning – that are difficult to evaluate or confirm.
The UK-based Tsohost isn't interested in any of that, instead focusing on providing the core WordPress essentials at a very fair price.
The baseline Personal plan gives you a free domain name, will migrate your existing site, includes Let's Encrypt SSL support and has no limits on bandwidth. You get daily backups and can restore any of the last 30 days with a click. There's 24/7 support via ticket and email, and phone and live chat is available from 7am to midnight.
There are some limits. You only get five 200MB mailboxes, and the plan restricts you to 500MB storage and 25,000 page views a month. But it's hard to complain about a plan which costs only ~$1.99(£1.49) a month paid annually, or ~$1.79(£1.34) if you pay for two years upfront.
If that's just too underpowered, opting for the Startup plan gets you 15GB of storage, 100 mailboxes, and up to 100,000 page views over a maximum of three websites. That's significantly more capable, yet still very reasonably priced at ~$5.1(£3.82) a month.
The  ~$11.71(£8.78) a month Business plan supports 50GB storage, 500,000 page views and a hundred 1GB mailboxes, and the eCommerce plan ~$31.99(£23.98) lifts the limits to 100GB, 1,000,000 page views and unlimited 10GB mailboxes.
Tsohost doesn't offer all the frills and extras you'll get with some products. There's no talk of SiteLock malware protection, optimized WordPress add-ons or a custom CDN. But it's hard to complain at this price, and Tsohost is still delivering a capable service with more than enough power for smaller sites.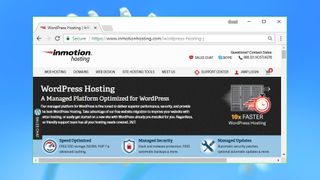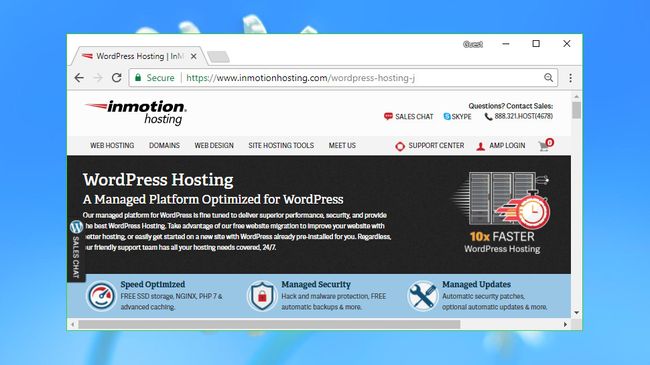 Best host for choice of plans
Low-end plans have key features
Reliable hosting provider
Not the cheapest host
Most web hosts offer only a few WordPress plans, and even these might be set up to point you in a particular direction. You'll often see an underpowered plan, an overpriced one, and a special deal on the mid-range plan they really want you to buy. That makes it easy to decide, but it also limits your upgrade options if your site grows over time.
InMotion Hosting is unusual in offering six WordPress plans, covering everything from small personal blogs to resellers and big business. Figuring out which is the best product for you will take a little more thought, but at least there's room to upgrade – or downgrade – if your circumstances change.
Better still, InMotion hasn't artificially limited the low-end plans by removing key features. Even the baseline WP-1000S plan – which costs $6.99 (£5) a month initially, $8.99 ($6.40) on renewal – gives you 40GB storage, unlimited bandwidth and email addresses, preinstalled WordPress, SSL, backups, automatic updates, SiteLock security, cPanel site management, and extras like BoldGrid and WP-CLI. The only significant issue is InMotion's suggestion that the plan works best for blogs with up to 20,000 monthly visits, and even that won't be a problem for many smaller sites.
Upgrading your plan gets you some extras – premium themes and plugin subscriptions, a dedicated IP address, support for hosting more sites – but it's mostly about giving you more resources. For example, the top-of-the-range WP-6000S plan supports 1,200,000 monthly visitors across up to 20 sites for $114.99(£82) a month initially (1-year plan), $142.99 (£102) on renewal.
There are cheaper deals around, but in previous reviews we've found InMotion to be reliable, professional and honest, and any price premium is likely to be worth paying. You don't have to take our word for it, though – an exceptional 90-day money-back guarantee gives you plenty of opportunity to find out for yourself.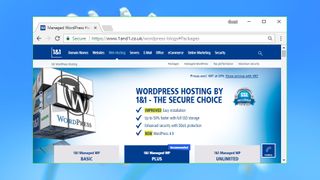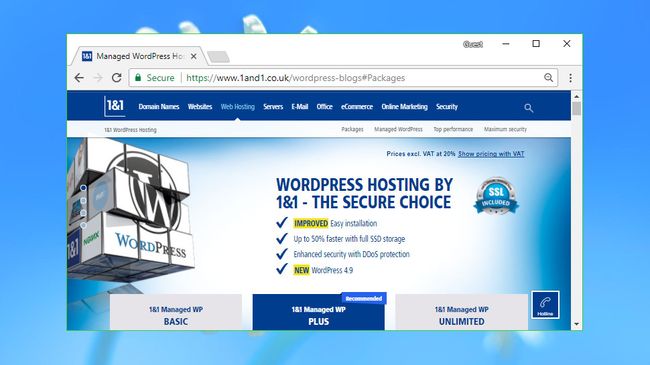 Very tempting price for first year
SSL and free domain
24/7 support including phone
Web giant 1&1 seems to have a hosting product for every possible need, and WordPress is no exception. Novice users can try out its service for a nominal $1.40(£0.99)  a month over the first year ($7 or £4.99 afterwards), yet the plan still outperforms many competitors.
The bundled 50GB of storage means you won't be running out of space in a hurry, for example. There are no bandwidth or visitor limits, and you can set up as many email accounts as you need.
1&1 offers the core WordPress management functions that you would expect: a setup wizard, preinstalled plugins, automatic updates and 24/7 support (including by telephone).
All this is built on a capable platform – NGINX, PHP 7.2, OPcache, up to 2GB RAM guaranteed – to enhance your blog's performance.
There's SSL included and even a free domain thrown in, which is ridiculously good value at this price.
If you're a WordPress novice, it might be worth taking out the plan for an initial year, claiming your free domain and taking the time to learn how the blog works. When you time is up, renew if you're happy, or if you're not, use your knowledge and experience to find a better plan.
1&1 isn't just about newbies, though: there's value for more demanding users, too. In particular, the Unlimited plan has no limits on websites, storage space, the number of databases (1GB max), visitors, email or SFTP accounts. Bonus features include a CDN and SiteLock malware scanning, and the price looks good at $9.80(£6.99)  a month for the first year, $14(£9.99)  on renewal.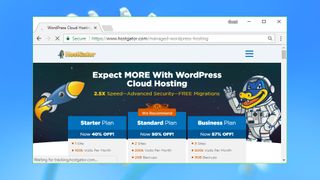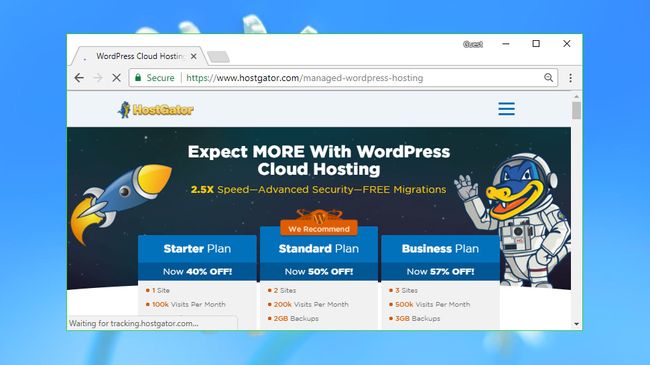 Free site migration
Automatic malware detection and removal
CDN benefits
Choosing the best WordPress hosting package can seem like a complicated business, with a stack of low-level details and issues to consider. But it doesn't have to be that way. If you don't have special requirements then opting for a reliable web hosting company will get you capable mid-range products that can handle everything most users need.
HostGator generally delivers powerful hosting plans for a fair price, and its managed WordPress range is no exception. Its Starter product may only cost $5.95 (£4.25) for three years, $9.95 (£7.10) afterwards, but you still get a free site migration, an SSL certificate, automatic malware detection and removal, unlimited email addresses and unmetered storage and bandwidth, and it can handle up to 100,000 visits a month.
Ramping up to the high-end Business plan gets you more CPU power, support for up to three sites and 500,000 visits a month, yet still costs only $9.95 (£7.10) a month initially  (first three years), $22.95 (£16.40) a month afterwards.
Smart caching and a CDN are on hand to enhance your website's performance, 24/7 support helps keep your site up and running, and surprise bonus features include free domain privacy to protect from identity theft and reduce annoying spam.
We've had good experiences with HostGator's service, but if you're not so lucky, there's a generous 45-day money-back guarantee. As with other hosting companies, this won't cover any domain registration fees, but it's still a better deal than you'll often find elsewhere.
You might also want to check out our other hosting guides:
Source: Tech Radar
EUROPEAN INVESTMENT BANK RUNS BLOCKCHAIN HACKATHON
A team from EY triumphed in a 48-hour European Investment Bank (EIB) hackathon designed to find ways to use blockchain technologies to redesign the transaction processing of commercial paper.
The EIB brought together 56 coders from 15 countries in 12 teams for the hackathon, run alongside the bank's annual forum dedicated to treasury issues.
While the conference was running, the coders were locked in an adjacent room, trying to prove that blockchain tech can improve the transaction process of commercial paper – a short-term financing instrument that is used worldwide in treasury operations and still relies on an 'archaic' and complex process.
In the pitching session, the EY team won the contest with an effort that taps a combination of blockchain, robotics and business AI tools to optimise the issuance process and reduce the number of exchanges between the EIB and its counterparties while maintaining each one's role within the ecosystem.
The EY team won a EUR5000 cash prize and a contract with the EIB to further develop its solution into a proof of concept.
Alexander Stubb, vice president, EIB, say: "There will be major gains from the use of new technologies such as blockchain, generated from the simplification and streamlining of existing financial processes. The new perspectives opened up by digitalisation and Distributed Ledger Technology must be assessed and we must all be ready to make use of them and embark on this new venture.
"As the EU's financial arm, we decided to be on the active side, learn by experience and make things happen, to be a facilitator and join with our banking partners to pave the way for tomorrow's financial industry."
Separately, Barclays is planning a hackathon that will see coders use blockchain technology for post-trade processing of derivatives contracts. The event will take place over two days in September in London and New York, according to Coindesk.
GOOGLE WILL PAY YOU $100,000 IF YOU CAN HACK A CHROMEBOOK
Since 2010, Google has been paying money to hackers who have found vulnerabilities in its hardware or software. And after a call last year to crack its Chromebook's security system went unanswered, Google is now doubling its reward to $100,000.
The $100,000 payout specifically applies to anyone who can crack the yet-uncrackable Chromebook, but Google also has a wide range of bounties for smaller bugs. Payouts start at $500, and if you provide a fix with your bug submission you're rewarded with the hacker-friendly sum of $1,337 (the digits appear similar to the word "leet," which is hacker slang for "elite hacker").
Google also says that any vulnerabilities — regardless of whether there's an official bounty — are potentially eligible for a reward, although the rules for qualifying submissions are relatively strict.
Bub bounty rewards programs like these are becoming more and more common among tech companies, which is good for those of us hoping for safer hardware and software. Google even ended its bounty announcement with an encouraging note: "Happy hacking!"
THE STORY BEHIND GOOGLE'S SECRET OFFER TO SETTLE EU'S ANDROID PROBE
European Union Competition Commissioner Margrethe Vestager coolly hit Google with a 4.3 billion-euro ($5 billion) fine last week, the biggest penalty in the history of antitrust enforcement.
It didn't have to be that way. Months earlier, when the company — already reeling from a 2.4 billion-euro fine in another EU case — made quiet attempts to settle the probe into deals it has with Android phone makers, the response was equally chilly.
The Silicon Valley search giant had waited at least a year too long to broach the subject of a settlement, the 50-year-old Vestager said in an interview. When a company wants to settle, it needs to "reach out immediately after" getting the EU's initial complaint or statement of objections.
"That didn't happen in this case and then of course it takes the route that it has now taken," Vestager said of the settlement talks, which haven't been previously reported. "So no surprises."
Google, a unit of Alphabet Inc., has been one of the EU's biggest antitrust targets, with three probes, countless headlines and a steady drumbeat of smaller rivals and customers demanding action. The company has now twice failed to strike settlements that would resolve cases into its shopping services and Android that have resulted in a total of 6.7 billion euros in fines — with a looming threat of more still to come.
Google declined to comment on the settlement attempts. Google will appeal the EU decision, Chief Executive Sundar Pichai said in a blog post. The company has "shown that we're willing to make changes," he said.
In the weeks after the June 2017 fine in the shopping case, Google lawyers began to make overtures to their EU counterparts to express a willingness to settle the probe into Android, one of the company's flagship products. Previous attempts to start a conversation with the EU on ways to end the probe had failed to catch fire, with officials stonewalling or saying it was too early to negotiate, people familiar with the negotiations said.
The Mountain View, California-based company's incentive to settle the Android probe was easy to see.
Google gives Android software for free to mobile phone makers but coerces them to pre-install Google's apps if they want the Play app store, which offers more than a million programs. The search giant also pays phone manufacturers, telecommunications carriers and other browser makers to run Google's search engine which collects user data. Thanks to those agreements, Google has captured almost $50 billion in yearly mobile ad-market sales, or a third of the global market, according to research firm EMarketer.
Google executives believed Vestager left the door open to a deal when she refused to rule out a settlement at the June 27, 2017, press conference where she announced the fines in the shopping case.
"Each case is separate," she told reporters. "And obviously I have taken no conclusions in the cases that are still open."
Encouraged, Google's lawyers drafted a letter suggesting possible changes to address the EU concerns, according to the people familiar with the discussions.
Some people said contacts started in August. Two others said a discussion started later in the year and a formal letter wasn't sent until shortly after Pichai's Nov. 16 meeting with Vestager in Brussels.
Google said it was prepared to adjust contracts to loosen restrictions the EU didn't like, even weighing distributing apps in two different ways going forward. The letter didn't go into detail, only setting out an outline to kickstart talks, according to the people, who declined to be identified because the initial conversations with regulators were confidential.
The lawyers never received a formal response, hearing from officials by phone months later that a settlement was no longer an option. That prevented them from even discussing whether the company would be willing to pay a fine as part of a deal, the people said.
EU officials didn't find the offer convincing and viewed it as too little too late, two other people said.
Moving to a cease-and-desist order for Google "seemed to be the best thing to do in this case in order to enable mobile manufacturers to have a real choice," Vestager said in the interview. "It's a very serious legal infringement and you see how it has worked. It has cemented Google's position in search and it has de-facto locked down Android in a completely Google-controlled ecosystem."
Vestager indicated in the interview that any settlement offer should have been made in 2016, after the company received the EU's statement of objections, which detailed the antitrust problems with Android. The EU said the company might breach competition rules by unfairly pushing search and browser apps onto Android phones.
That might have been the narrow window to settle the case, but Google's legal team were spinning dozens of plates in 2016. They had deadlines to respond to the Android charges, the shopping probe was still a major priority and there were new complaints filed to the EU by News Corp. and other rivals.
After the rebuff, the EU stepped up its probe, sending a formal "letter of facts" in November 2017, adding new evidence, two people said. There was little substantive contact between the two sides until Google representatives talked with EU officials in April during a so-called state of play meeting about the case, which was well on the way to the record fine.
Google hasn't had much luck trying to find a path to peace with the EU. It spent two years trying to negotiate a settlement in the shopping probe. But a tentative deal came under heavy fire from publishers and politicians, forcing the EU to abandon it shortly before Vestager became commissioner in November 2014.
One of Vestager's first acts was to restart the Google shopping investigation, putting a final end to the botched settlement attempt. She quickly racked up a fearsome reputation as the scourge of U.S. tech giants, She ordered Apple Inc. to pay 13 billion euros in back taxes and fined Facebook Inc. 110 million euros over allegations the company misled regulators during a merger review.
"Android, as compared to shopping, is a Vestager case, one not inherited," said Nicolas Petit, a visiting fellow at the Hoover Institution and a law professor at the University of Liege in Belgium. "Her incentives to make this case the emblem of her tenure were presumably higher. So the odds of a settlement were, to me, lower."
The EU isn't always averse to thrashing out a deal even after a long investigation. The nation's state-controlled gas export giant Gazprom PJSCside-stepped a potentially huge EU penalty after seven-year-long probe by agreeing in May to change how it sells gas to Europe. Vestager said Gazprom had "reached out very very quickly" to the EU to negotiate a settlement after receiving objections in April 2015.
Google had a better time in Moscow. Russia's Federal Antimonopoly Service fined the company $7.8 million as part of an April 2017 settlement to end a probe into similar Android concerns.