BEST WORDPRESS HOSTING PROVIDERS IN 2018
Need a managed WordPress plan? Start here…
Getting started with WordPress doesn't have to be expensive, after all the 15-year old WordPress is free (and open source). Even the cheapest shared hosting plan usually comes with a one-click WordPress installer, allowing the greenest of blogging newbies to have their first post ready in less than 60 seconds (we tried it).
Managing a blog over time is much more challenging, though. You'll need to find your own themes and plugins. And also keep them, and WordPress itself, up-to-date (although you can even get that done automatically).
Blogs are often targeted by malware, so it's important you have some way to detect and remove any threats, and you'll want regular backups to help get a broken blog working again.
If you don't have the time or technical experience for all that, you might prefer to buy a managed WordPress plan, and have the hosting company handle all the technical bits for you.
The host will often import your previous WordPress blog, if you have one. Usually you'll get some preinstalled themes and plugins to simplify customization. There should at least be an option to automatically update the site, a security service like SiteLock will be on hand to keep your blog malware-free, and we would expect 24/7 support from a team with real WordPress knowledge.
The best hosts go even further, optimizing their servers to boost WordPress performance, and sometimes throwing in extras like a content delivery network(CDN) to deliver great speeds worldwide (hopefully).
There's a long list of hosting companies offering managed WordPress plans, but we've picked out five of the best to point you in the right direction. Whether you're a first-time user or a big business, there's something for you here, and with prices starting at around a pound per month, it's well worth taking the time to find out more.
These are the best WordPress hosting services of 2018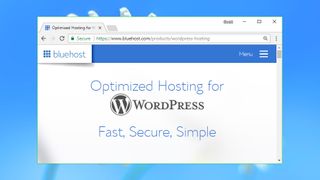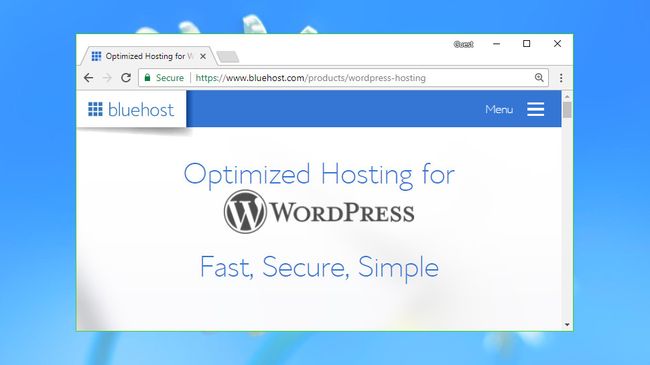 Best professional-level host
Optimized low-level setup
Many powerful extras
Not cheap
Budget WordPress hosting can have a lot of appeal, but it usually won't deliver the features, performance or reliability that high traffic sites need. If you're the demanding type, opting for a premium hosting plan will give you much better results.
Bluehost has created its own VPS-based architecture to deliver optimum WordPress performance via NGINX, a custom PHP-FPM setup and intelligently allocated resources through KVM hypervisor. (If you're not a hosting geek, this just means Bluehost has taken the time to optimize the low-level setup of its platform for WordPress, rather than simply making do with a standard configuration.)
The company doesn't waste time by pretending to offer 'unlimited' resources, and instead tells you exactly what you're going to get. For the WP Standard plan, this means 30GB storage, 1TB bandwidth, and key resources – 2GB RAM, two CPU cores – which are allocated to you, and not shared with anyone else.
Premium features include SiteLock Pro to keep your website malware-free, SiteLock CDN to optimize performance, a dedicated IP, and the ability to manage multiple sites with the excellent ManageWP.
This isn't cheap, with even the baseline Standard plan costing $19.99 (£14.30) a month for the initial term, rising to $39.99 (£28.60) afterwards. But you are getting a lot for your money, and if you're more interested in power than price, Bluehost has even more available.
The top-of-the-range Ultimate plan, for instance, gives you four CPU cores, 8GB RAM, 240GB storage and a monster 4TB bandwidth. SiteLock Enterprise handles all your security and CDN needs, and there's a wildcard SSL thrown in. Ultimate costs $49.99 (£35.70) a month initially, $129.99 (£93) after that, but that's a fair price for this spec, and Bluehost offers a 30-day money-back guarantee if you feel the service doesn't deliver.
Bluehost for $19.99 per month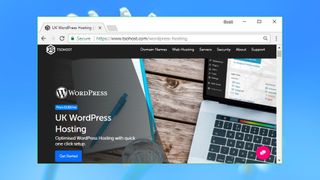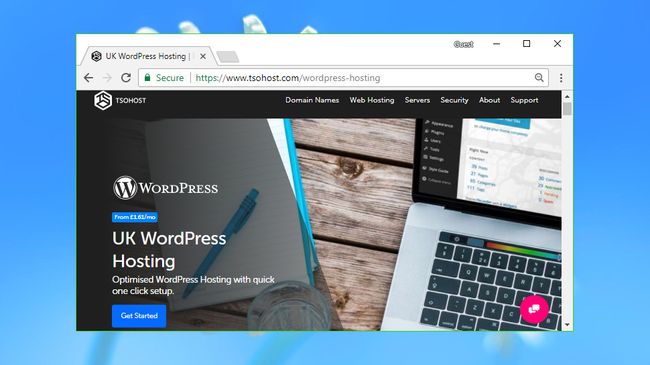 10% OFF WITH CODE TECHRADAR
TSOHost Personal
Great value pricing
24/7 support on basic plan
Not much in the way of extras
Managed WordPress packages can often feel overpriced. Many hosts charge significant premiums for impressive sounding claims – optimized servers, malware scanning – that are difficult to evaluate or confirm.
The UK-based Tsohost isn't interested in any of that, instead focusing on providing the core WordPress essentials at a very fair price.
The baseline Personal plan gives you a free domain name, will migrate your existing site, includes Let's Encrypt SSL support and has no limits on bandwidth. You get daily backups and can restore any of the last 30 days with a click. There's 24/7 support via ticket and email, and phone and live chat is available from 7am to midnight.
There are some limits. You only get five 200MB mailboxes, and the plan restricts you to 500MB storage and 25,000 page views a month. But it's hard to complain about a plan which costs only ~$1.99(£1.49) a month paid annually, or ~$1.79(£1.34) if you pay for two years upfront.
If that's just too underpowered, opting for the Startup plan gets you 15GB of storage, 100 mailboxes, and up to 100,000 page views over a maximum of three websites. That's significantly more capable, yet still very reasonably priced at ~$5.1(£3.82) a month.
The  ~$11.71(£8.78) a month Business plan supports 50GB storage, 500,000 page views and a hundred 1GB mailboxes, and the eCommerce plan ~$31.99(£23.98) lifts the limits to 100GB, 1,000,000 page views and unlimited 10GB mailboxes.
Tsohost doesn't offer all the frills and extras you'll get with some products. There's no talk of SiteLock malware protection, optimized WordPress add-ons or a custom CDN. But it's hard to complain at this price, and Tsohost is still delivering a capable service with more than enough power for smaller sites.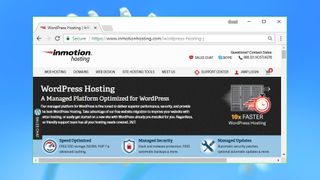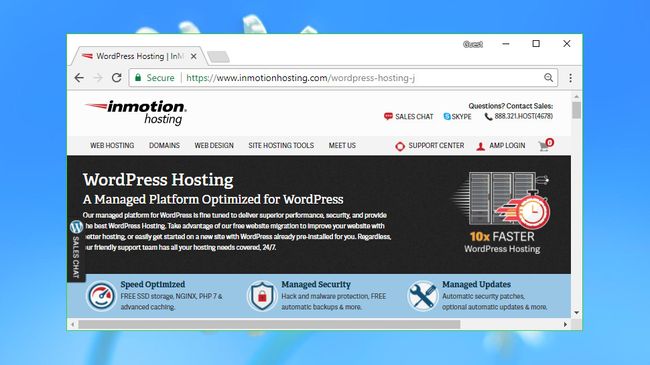 Best host for choice of plans
Low-end plans have key features
Reliable hosting provider
Not the cheapest host
Most web hosts offer only a few WordPress plans, and even these might be set up to point you in a particular direction. You'll often see an underpowered plan, an overpriced one, and a special deal on the mid-range plan they really want you to buy. That makes it easy to decide, but it also limits your upgrade options if your site grows over time.
InMotion Hosting is unusual in offering six WordPress plans, covering everything from small personal blogs to resellers and big business. Figuring out which is the best product for you will take a little more thought, but at least there's room to upgrade – or downgrade – if your circumstances change.
Better still, InMotion hasn't artificially limited the low-end plans by removing key features. Even the baseline WP-1000S plan – which costs $6.99 (£5) a month initially, $8.99 ($6.40) on renewal – gives you 40GB storage, unlimited bandwidth and email addresses, preinstalled WordPress, SSL, backups, automatic updates, SiteLock security, cPanel site management, and extras like BoldGrid and WP-CLI. The only significant issue is InMotion's suggestion that the plan works best for blogs with up to 20,000 monthly visits, and even that won't be a problem for many smaller sites.
Upgrading your plan gets you some extras – premium themes and plugin subscriptions, a dedicated IP address, support for hosting more sites – but it's mostly about giving you more resources. For example, the top-of-the-range WP-6000S plan supports 1,200,000 monthly visitors across up to 20 sites for $114.99(£82) a month initially (1-year plan), $142.99 (£102) on renewal.
There are cheaper deals around, but in previous reviews we've found InMotion to be reliable, professional and honest, and any price premium is likely to be worth paying. You don't have to take our word for it, though – an exceptional 90-day money-back guarantee gives you plenty of opportunity to find out for yourself.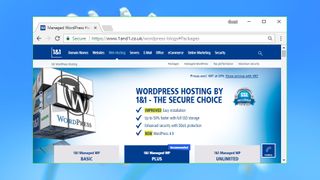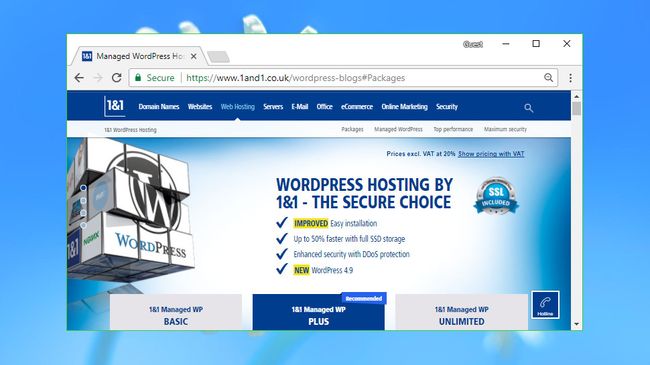 Very tempting price for first year
SSL and free domain
24/7 support including phone
Web giant 1&1 seems to have a hosting product for every possible need, and WordPress is no exception. Novice users can try out its service for a nominal $1.40(£0.99)  a month over the first year ($7 or £4.99 afterwards), yet the plan still outperforms many competitors.
The bundled 50GB of storage means you won't be running out of space in a hurry, for example. There are no bandwidth or visitor limits, and you can set up as many email accounts as you need.
1&1 offers the core WordPress management functions that you would expect: a setup wizard, preinstalled plugins, automatic updates and 24/7 support (including by telephone).
All this is built on a capable platform – NGINX, PHP 7.2, OPcache, up to 2GB RAM guaranteed – to enhance your blog's performance.
There's SSL included and even a free domain thrown in, which is ridiculously good value at this price.
If you're a WordPress novice, it might be worth taking out the plan for an initial year, claiming your free domain and taking the time to learn how the blog works. When you time is up, renew if you're happy, or if you're not, use your knowledge and experience to find a better plan.
1&1 isn't just about newbies, though: there's value for more demanding users, too. In particular, the Unlimited plan has no limits on websites, storage space, the number of databases (1GB max), visitors, email or SFTP accounts. Bonus features include a CDN and SiteLock malware scanning, and the price looks good at $9.80(£6.99)  a month for the first year, $14(£9.99)  on renewal.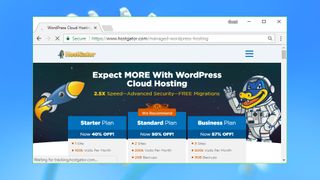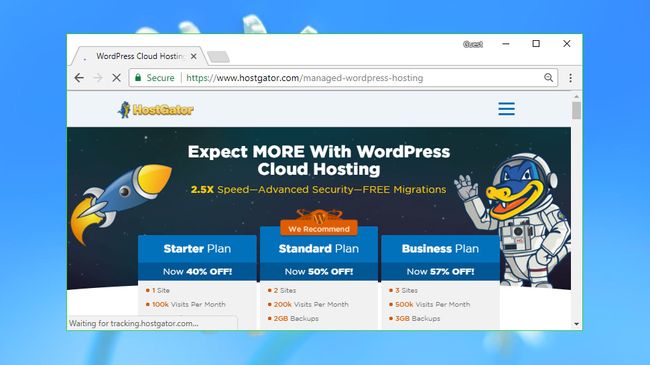 Free site migration
Automatic malware detection and removal
CDN benefits
Choosing the best WordPress hosting package can seem like a complicated business, with a stack of low-level details and issues to consider. But it doesn't have to be that way. If you don't have special requirements then opting for a reliable web hosting company will get you capable mid-range products that can handle everything most users need.
HostGator generally delivers powerful hosting plans for a fair price, and its managed WordPress range is no exception. Its Starter product may only cost $5.95 (£4.25) for three years, $9.95 (£7.10) afterwards, but you still get a free site migration, an SSL certificate, automatic malware detection and removal, unlimited email addresses and unmetered storage and bandwidth, and it can handle up to 100,000 visits a month.
Ramping up to the high-end Business plan gets you more CPU power, support for up to three sites and 500,000 visits a month, yet still costs only $9.95 (£7.10) a month initially  (first three years), $22.95 (£16.40) a month afterwards.
Smart caching and a CDN are on hand to enhance your website's performance, 24/7 support helps keep your site up and running, and surprise bonus features include free domain privacy to protect from identity theft and reduce annoying spam.
We've had good experiences with HostGator's service, but if you're not so lucky, there's a generous 45-day money-back guarantee. As with other hosting companies, this won't cover any domain registration fees, but it's still a better deal than you'll often find elsewhere.
You might also want to check out our other hosting guides:
Source: Tech Radar
MICROSOFT HAS KILLED MINECRAFT FOR APPLE TV
Microsoft is no longer supporting the Apple TV version of Minecraft. The app has has been pulled from the App Store, and an in-game message notes that it won't receive any further updates, though it'll continue to be playable. Refunds will be issued for any purchases made up to 90 days before the announcement comes into effect. And it actually went into effect on September 24th, so it's even more of an indictment of the state of Apple TV gaming that no-one really seemed to notice until this week.
Minecraft is one of the biggest games in history and has managed to find an audience on virtually every console, phone, and computer out there — including the iPhone, from which the Apple TV version was derived. But the Apple TV has been hampered as a games platform ever since Apple bungled the launch by unexpectedly requiring developers to support the Siri Remote. The company backtracked the following year, but the damage was done.
Apple hasn't entirely given up on Apple TV gaming. Last year's iPhone keynote saw Sky, the next game from Journey and Flower studio Thatgamecompany, shown off for the first time on the Apple TV 4K. But even that game is yet to see release, and it's clear that Apple's focus is elsewhere.
UBER'S NEXT CONQUEST: YOUR DATA
After replacing Travis Kalanick in August 2017, Uber CEO Dara Khosrowshahi is shifting the company's focus. Though the company has always sought to become a world-class transportation platform, it has recently begun to describe itself as "Amazon for transportation" — an ambition which indicates the company is making a monopolistic data play.
Amazon has always been an inspiration for Uber's leadership, but the form of that inspiration has shifted over the course of the company's growth. Kalanick wanted to emulate Amazon's strategy of pursuing market share and growth at the expense of profits — or, more accurately, with massive losses before using scale to reduce the marginal cost of expansion to turn a profit. Unfortunately for Kalanick, that strategy didn't translate to Uber's ride-hailing business.
Scale economies work for companies like Google, Facebook, and Amazon because the digital nature of their operations allows growth at little marginal cost in many aspects of their businesses. This is why many of these digital companies have so few employees compared to traditional auto companies. However, as transportation expert Hubert Horan explained: "Drivers, vehicles and fuel account for 85% of urban car service costs," making scale economies very difficult for Uber's ride-hailing service to achieve even as it outsources the ownership and maintenance of vehicles to its drivers.
Uber's leadership is inspired by Amazon's platform and the power and dominance that has come with it.
Uber's margin improvements have typically come from cutting driver pay, not scale economies, and Kalanick's plan to reach profitability relied on further reducing the share of revenue going to drivers. In the last few years that Kalanick served as CEO, the company became focused not just on developing autonomous vehicles, but on winning the self-driving race. We now know that autonomous vehicles will not be able to replace drivers nearly to the degree Kalanick had hoped, nor on the accelerated timeline he was relying on. This necessitates a new plan for the company's future.
We don't know whether Kalanick was in the process of formulating a new strategy, but over the past few months Khosrowshahi's vision has become increasingly clear. He wants to make Uber into the "Amazon for transportation." This time, instead of taking the wrong lessons from Amazon on scale economies, Uber's leadership is inspired by Amazon's platform and the power and dominance that has come with it.
From Ride-Hailing to Transportation Platform
Though Uber's ride-hailing service has always been the center of its business, Khosrowshahi's plan shifts the focus to its app — or, rather, its platform. He's no longer just talking about the ride-hailing business, but about existing food delivery and freight services along with it, new scooters and bike offerings from Lime, car rentals from Getaround, public transit ticketing through Masabi, and the prospect of flying cars. Basically, the more services available, the more people the platform can serve.
Uber's approach to autonomous vehicles has also shifted. Rather than trying to win the race to develop self-driving tech, Khosrowshahi has said his ultimate goal is to have "access" to the technology. He opened the door for Google's Waymo and GM's Cruise to offer their autonomous vehicle services on Uber's platform, and Ford AV CEO Sherif Marakby recently told the Vergecast that they'd be open to offering their autonomous service on the platform as well.
Khosrowshahi predicts the traditional ride-hailing service to be only 50 percent of its future business, as scooters and bikes cannibalize the short trips currently made in vehicles. It's hard to imagine Kalanick making a similar statement, but that doesn't mean Khosrowshahi's ultimate goal is any less inspired by monopolistic ideals.
Uber Wants to Control Urban Transportation Data
Uber is a private company with plans to go public in 2019. It has yet to turn a profit. Khosrowshahi has encouraged investors to commit for the long haul, as his plans to diversifying the company's transportation options will not deliver short-term profits. At the same time, his value proposition to investors has changed: Now, they have access to Amazon-like power exerted on urban transportation networks.
In his book on these new digital monopolies, Platform Capitalism, Nick Srnicek identifies the importance of network effects in increasing a platform's value. For platforms, data is raw material that can "be extracted, refined, and used in a variety of ways. The more data one has, the more uses one can make of them."
Uber will not only use data on its own services, but data from every third-party service offered through its platform.
Uber already has a large, global user base (and dataset). The expansion of transportation options on its platform — both its own and those of other companies — adds value for existing users while attracting new ones interested in getting around by anything other than a car. New modes of transport and a growing user base will produce more data, showing the company where more people are going and how additional transport modes are used. Uber will not only use data on its own services, but data from every third-party service offered through its platform. All of this data feeds a flywheel that will improve Uber's service exponentially over time.
In a recent interview with TechCrunch, Khosrowshahi was asked why he was allowing other services onto Uber's platform. He likened it to Amazon offering branded products while letting other businesses sell their products through the Amazon marketplace. He left out how Amazon uses its sales data to see which third-party products are selling well and make cheaper versions of its own, undercutting the original product and leaving its seller with no means of challenging Amazon. Will Uber eventually do the same to Lime's scooters or Getaround's car rentals? It's not impossible to imagine.
Cities Need to Act Now
City governments around the globe have struggled to effectively regulate ride-hailing apps, but there's been some recent progress. In August, New York City passed new regulations limiting the number of ride-hailing vehicles, at least for a 12-month period as it further studies the issue. It will also ensure that drivers are paid the minimum wage of $15 per hour with a bit extra to cover vehicle costs.
Another regulatory bright spot: bikes and scooters. Having learned their lesson from letting ride-hailing companies evade regulation, city governments were quick to develop policies for new micromobility services. Mayors make it known that they, not tech companies, had ultimate authority over what happened on city streets.
As Uber sets out to capture a significant chunk of urban transportation data with its new Amazon-inspired platform model, city governments need to make clear that data from activities occurring on the street is not proprietary information. This data belongs to the people as represented by their government. Uber should not have a better idea of how different transportation data modes are operating than governments themselves.
Under Khosrowshahi's leadership, Uber's tone has undoubtedly changed — probably for the better. Bikes and scooters will likely capture a significant portion of the ride-hailing service's current users. However, Uber's push to become the world's dominant transportation platform is cause for concern. City officials must establish their right to transportation data. At the very least, they should build publicly owned alternatives that serve the interests of residents — not multinational companies.
JEFF BEZOS UNSEATS BILL GATES ON FORBES LIST OF RICHEST AMERICANS
For the first time in 24 years, Bill Gates is no longer the richest American on the Forbes 400 list.
Gates lost his standing this year to Amazon CEO Jeff Bezos, whose net worth is $160 billion, compared with Gates' $97 billion. That makes the Microsoft founder the second richest American.
The shakeup isn't an overnight surprise. In July 2017, Bezos became the richest person in the world, briefly, when his net worth hit just north of $90 billion. It happened again in October 2017 when his net worth clocked in at $93.8 billion compared with Gates' $88.7 billion. In July 2018, Bloomberg reported that Bezos overtook Gates on its Bloomberg Billionaires Index, which pinned his net worth at $150 billion.
Bezos didn't immediately respond to a request for comment.
Other tech figures on the list include Facebook's Mark Zuckerberg coming in at No. 4, Oracle's Larry Ellison at No. 5, and Google's Larry Page and Sergey Brin at No. 6 and No. 9, respectively.