VPN TUNNEL : WHAT IS IT, HOW CAN IT KEEP YOUR INTERNET DATA SECURE
With growing censorship and regulations threatening global internet freedom and security, in turn, we've seen an increasing number of services become available to protect your online web browsing.
Virtual Private Networks (or VPNs) have become increasingly popular in recent years for their ability to bypass government censorship and geo-blocked websites and services, and do so without giving away who is doing the bypassing.
For a VPN to do this, it creates what is known as a tunnel between you and the internet, encrypting your internet connection and stopping ISPs, hackers, and even the government from nosing through your browsing activity.
We explain the basics of what a VPN is here
What is a VPN Tunnel?
When you connect to the internet with a VPN, the VPN creates a connection between you and the internet that surrounds your internet data like a tunnel, encrypting the data packets your device sends.
While technically created by a VPN, the tunnel on its own can't be considered private unless it's accompanied with encryption strong enough to prevent governments or ISPs from intercepting and reading your internet activity.
The level of encryption the VPN tunnel has depends on the type of tunneling protocol used to encapsulate and encrypt the data going to and from your device and the internet.
Types of VPN tunneling protocols
There are many types of VPN tunneling protocols that offer varying levels of security and other features. The most commonly used tunneling protocols in the VPN industry are PPTP, L2TP/IPSec, SSTP, and OpenVPN. Let's take a closer look at them.
1. PPTP
Point to Point Tunneling Protocol (PPTP) is one of the oldest protocols still being used by VPNs today. Developed by Microsoft and released with Windows 95, PPTP encrypts your data in packets and sends them through a tunnel it creates over your network connection.
PPTP is one of the easiest protocols to configure, requiring only a username, password, and server address to connect to the server. It's one of the fastest VPN protocols because of its low encryption level.
While it boasts fast connection speeds, the low level of encryption makes PPTP one of the least secure protocols you can use to protect your data. With known vulnerabilities dating as far back as 1998, and the absence of strong encryption, you'll want to avoid using this protocol if you need solid online security and anonymity – government agencies and authorities like the NSA have been able to compromise the protocol's encryption.
2. L2TP/IPSec
Layer 2 Tunneling Protocol (L2TP) is used in conjunction with Internet Protocol Security (IPSec) to create a more secure tunneling protocol than PPTP. L2TP encapsulates the data, but isn't adequately encrypted until IPSec wraps the data again with its own encryption to create two layers of encryption, securing the confidentiality of the data packets going through the tunnel.
L2TP/IPSec provides AES-256 bit encryption, one of the most advanced encryption standards that can be implemented. This double encapsulation does, however, make it a little slower than PPTP. It can also struggle with bypassing restrictive firewalls because it uses fixed ports, making VPN connections with L2TP easier to block. L2TP/IPSec is nonetheless a very popular protocol given the high level of security it provides.
3. SSTP
Secure Socket Tunneling Protocol, named for its ability to transport internet data through the Secure Sockets Layer or SSL, is supported natively on Windows, making it easy for Windows users to set up this particular protocol. SSL makes internet data going through SSTP very secure, and because the port it uses isn't fixed, it is less likely to struggle with firewalls than L2TP.
SSL is also used in conjunction with Transport Layer Security (TLS) on your web browsers to add a layer to the site you're visiting to create a secure connection with your device. You can see this implemented whenever the website you visit starts with 'https' instead of 'http'.
As a Windows-based tunneling protocol, SSTP is not available on any other operating system, and hasn't been independently audited for potential backdoors built into the protocol.
4. OpenVPN
Saving the best for last, we have OpenVPN, a relatively recent open source tunneling protocol that uses AES 256-bit encryption to protect data packets. Because the protocol is open source, the code is vetted thoroughly and regularly by the security community, who are constantly looking for potential security flaws.
The protocol is configurable on Windows, Mac, Android, and iOS, although third-party software is required to set up the protocol, and the protocol can be hard to configure. After configuration, however, OpenVPN provides a strong and wide range of cryptographic algorithms that will allow users to keep their internet data secure and to even bypass firewalls at fast connection speeds.
Which tunneling protocol should I use?
Advertisement
Even though it's the fastest, you should steer clear of PPTP if you want to keep your internet data secure. L2TP/IPSec provides 256-bit encryption but is slower and struggles with firewalls given its fixed ports. SSTP, while very secure, is only available on Windows, and closed off from security checks for built-in backdoors.
OpenVPN, with its open source code, strong encryption, and ability to bypass firewalls, is the best tunneling protocol to keep your internet data secure. While it requires third-party software that isn't available on all operating systems, for the most secure VPN connection to the internet, you'll want to use the OpenVPN protocol.
A good VPN service should offer you the choice of at least these four types of tunneling protocols when going online. We've compiled a list of the best VPNs in the industry for you to get started on protecting your internet data.
Source: Tech Radar
BANK OF CHILE HIT BY CYBER-ATTACK, HACKERS ROB MILLIONS
Shares in the Bank of Chile were down on Monday after it confirmed hackers had syphoned off $10 million (roughly Rs. 67 crores) of its funds, mainly to Hong Kong, though the country's second-largest commercial bank said no client accounts had been impacted.
The cyberheist is the latest in a string of such attacks, including one in May in Mexico in which thieves used phantom orders and fake accounts to steal hundreds of millions of Mexican pesos out of the country's banks, including Banorte.
Shares in the Bank of Chile, which is controlled by the Chilean Luksic family and Citigroup, were down 0.47 percent at CLP 100.4 ($.16) in mid-day trading.
Bank CEO Eduardo Ebensperger told Chilean daily La Tercera in an interview on Saturday that hackers had initially used a virus as a distraction, prompting the bank to disconnect 9,000 computers in branches across the country on May 24 to protect customer accounts.
Meanwhile, the hackers quietly used the global SWIFT bank messaging service to initiate a series of fraudulent transactions that were eventually spotted by the bank and cancelled but not before millions were funnelled to accounts abroad.
"The [attack] was meant to hurt the bank, not our customers," Ebensperger said.
Ebensperger said a forensic analysis conducted by Microsoft had determined the attack was the work of a sophisticated international group of hackers, likely from eastern Europe or Asia, and that the bank had filed a criminal complaint in Hong Kong.
The bank said in a May financial statement that it would work with insurers to recoup the lost funds.
source: Gadgets 360
5 COMMON MISTAKES TO AVOID WHEN CHOOSING A WEB HOSTING SERVICE
If you are relatively new to the world of web hosting, you will be bombarded by advices and tips once you start looking into ways to host your brand new website (or indeed, even when you are at the planning stage or trying to find out whether you actually need a website or should simply go to a website builder). This article will hopefully help you avoid making them.
1. Using a free hosting service
A free hosting service might be useful if you are running your blog/website as a hobby or a community group. It will likely come with banners and pop-up ads though and search engines tend not to like websites hosted on free services. Note that there are good free web hosting services too but it is a very tough market to survive.
They are notoriously unreliable when it comes to speed, uptime and availability and because you haven't paid for anything, don't expect any compensation if they disappear or suffer from downtime.
Expect support to be minimal with no advanced features like free databases. You also risk losing credibility, particularly if you are hosted on a domain name like yourbusiness.get-free-hosting.com, rather than using a genuine domain name (although, some free web hosting providers do allow you to park your domain).
The bottom line is you usually get what you paid for and if you paid nothing then don't expect much. And web hosting doesn't have to be expensive. We even compiled a list of the best cheap web hosting services here.
2. Choosing a web hosting package with no refund guarantee
Some web hosting companies do not provide a refund guarantee for their starter packages. Choose one that offers a money back guarantee in case you select the wrong package.
A good hosting company will gladly refund you or move you onto a new package that suits your needs. After all, it is in their interests to make sure that you are a happy customer even if you leave them as you may well come back in the future should your circumstances change.
3. Choosing a shared web hosting package when you need a VPS, or vice versa.
The two main types of web hosting packages you can select are shared or VPS. If your website is small and straightforward, shared hosting is the one for you. A Virtual Private Server is only required for websites with high traffic. If your small website grows in the future, you can always switch over to VPS or dedicated hosting, in the meantime save your hard-earned money with some shared hosting.
4. Buying based solely on price
There are two different ways you could go with this:
1. Assume all web hosting is the same, so buy the cheapest you can find
2. Assume the best hosting packages cost more, so go for a higher priced package in the hope of getting better quality hosting.
Hosting is a commodity, so it's tempting to go for the cheapest plan available, on the other hand you might be tempted by some of the marketing jargon used to up-sell more expensive packages.
In a very competitive market, price cuts and special offers will often be used to win customers, so don't pay more than you need to and keep your eyes open for discount codes. The saying "you get what you pay for" doesn't necessarily apply to paid web hosting, as a cheap package will quite often be perfectly adequate for a start-up website or personal blog.
Keep in mind that the price you see advertised is a monthly price. When you get to the checkout that figure will be multiplied by 12 months and have VAT added on top. This is standard industry practice and most hosts will advertise pricing this way. You may also get a discount for going for longer periods (annual or bi-annual).
5. Not knowing your limitations
You will come across terms like "unlimited" and "free" while searching for shared hosting packages. If it seems too good to be true, it probably is. "Unlimited" bandwidth and storage will have a limit.
Check the terms and conditions to find out more, but restrictions of personal file storage are common, as are rules about certain types of media or streaming. Hosting companies have to implement these restrictions to ensure the smooth running of the service for everyone on a shared server since resources (the electricity the server consumes, the bandwidth used by the server, the hard drives) do cost money.
Ask your web host if you can do the following before signing up for a package: Maintain multiple POP accounts, add statistics to your account, install new software on your own, use a shopping cart on your website
Source: Tech Radar
BEST WORDPRESS HOSTING PROVIDERS IN 2018
Need a managed WordPress plan? Start here…
Getting started with WordPress doesn't have to be expensive, after all the 15-year old WordPress is free (and open source). Even the cheapest shared hosting plan usually comes with a one-click WordPress installer, allowing the greenest of blogging newbies to have their first post ready in less than 60 seconds (we tried it).
Managing a blog over time is much more challenging, though. You'll need to find your own themes and plugins. And also keep them, and WordPress itself, up-to-date (although you can even get that done automatically).
Blogs are often targeted by malware, so it's important you have some way to detect and remove any threats, and you'll want regular backups to help get a broken blog working again.
If you don't have the time or technical experience for all that, you might prefer to buy a managed WordPress plan, and have the hosting company handle all the technical bits for you.
The host will often import your previous WordPress blog, if you have one. Usually you'll get some preinstalled themes and plugins to simplify customization. There should at least be an option to automatically update the site, a security service like SiteLock will be on hand to keep your blog malware-free, and we would expect 24/7 support from a team with real WordPress knowledge.
The best hosts go even further, optimizing their servers to boost WordPress performance, and sometimes throwing in extras like a content delivery network(CDN) to deliver great speeds worldwide (hopefully).
There's a long list of hosting companies offering managed WordPress plans, but we've picked out five of the best to point you in the right direction. Whether you're a first-time user or a big business, there's something for you here, and with prices starting at around a pound per month, it's well worth taking the time to find out more.
These are the best WordPress hosting services of 2018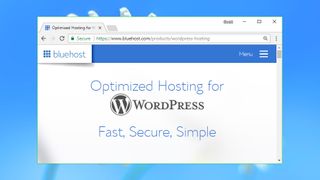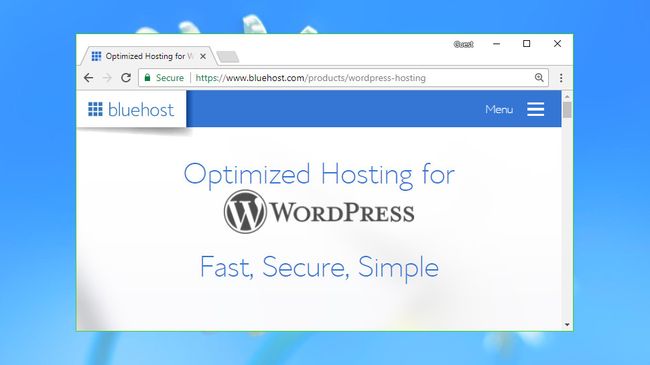 Best professional-level host
Optimized low-level setup
Many powerful extras
Not cheap
Budget WordPress hosting can have a lot of appeal, but it usually won't deliver the features, performance or reliability that high traffic sites need. If you're the demanding type, opting for a premium hosting plan will give you much better results.
Bluehost has created its own VPS-based architecture to deliver optimum WordPress performance via NGINX, a custom PHP-FPM setup and intelligently allocated resources through KVM hypervisor. (If you're not a hosting geek, this just means Bluehost has taken the time to optimize the low-level setup of its platform for WordPress, rather than simply making do with a standard configuration.)
The company doesn't waste time by pretending to offer 'unlimited' resources, and instead tells you exactly what you're going to get. For the WP Standard plan, this means 30GB storage, 1TB bandwidth, and key resources – 2GB RAM, two CPU cores – which are allocated to you, and not shared with anyone else.
Premium features include SiteLock Pro to keep your website malware-free, SiteLock CDN to optimize performance, a dedicated IP, and the ability to manage multiple sites with the excellent ManageWP.
This isn't cheap, with even the baseline Standard plan costing $19.99 (£14.30) a month for the initial term, rising to $39.99 (£28.60) afterwards. But you are getting a lot for your money, and if you're more interested in power than price, Bluehost has even more available.
The top-of-the-range Ultimate plan, for instance, gives you four CPU cores, 8GB RAM, 240GB storage and a monster 4TB bandwidth. SiteLock Enterprise handles all your security and CDN needs, and there's a wildcard SSL thrown in. Ultimate costs $49.99 (£35.70) a month initially, $129.99 (£93) after that, but that's a fair price for this spec, and Bluehost offers a 30-day money-back guarantee if you feel the service doesn't deliver.
Bluehost for $19.99 per month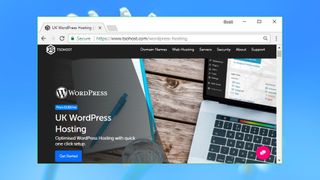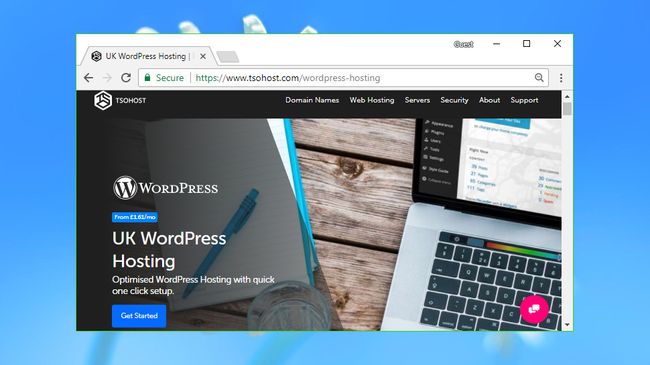 10% OFF WITH CODE TECHRADAR
TSOHost Personal
Great value pricing
24/7 support on basic plan
Not much in the way of extras
Managed WordPress packages can often feel overpriced. Many hosts charge significant premiums for impressive sounding claims – optimized servers, malware scanning – that are difficult to evaluate or confirm.
The UK-based Tsohost isn't interested in any of that, instead focusing on providing the core WordPress essentials at a very fair price.
The baseline Personal plan gives you a free domain name, will migrate your existing site, includes Let's Encrypt SSL support and has no limits on bandwidth. You get daily backups and can restore any of the last 30 days with a click. There's 24/7 support via ticket and email, and phone and live chat is available from 7am to midnight.
There are some limits. You only get five 200MB mailboxes, and the plan restricts you to 500MB storage and 25,000 page views a month. But it's hard to complain about a plan which costs only ~$1.99(£1.49) a month paid annually, or ~$1.79(£1.34) if you pay for two years upfront.
If that's just too underpowered, opting for the Startup plan gets you 15GB of storage, 100 mailboxes, and up to 100,000 page views over a maximum of three websites. That's significantly more capable, yet still very reasonably priced at ~$5.1(£3.82) a month.
The  ~$11.71(£8.78) a month Business plan supports 50GB storage, 500,000 page views and a hundred 1GB mailboxes, and the eCommerce plan ~$31.99(£23.98) lifts the limits to 100GB, 1,000,000 page views and unlimited 10GB mailboxes.
Tsohost doesn't offer all the frills and extras you'll get with some products. There's no talk of SiteLock malware protection, optimized WordPress add-ons or a custom CDN. But it's hard to complain at this price, and Tsohost is still delivering a capable service with more than enough power for smaller sites.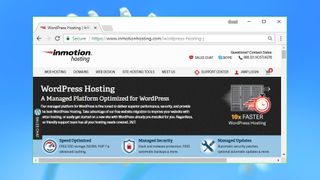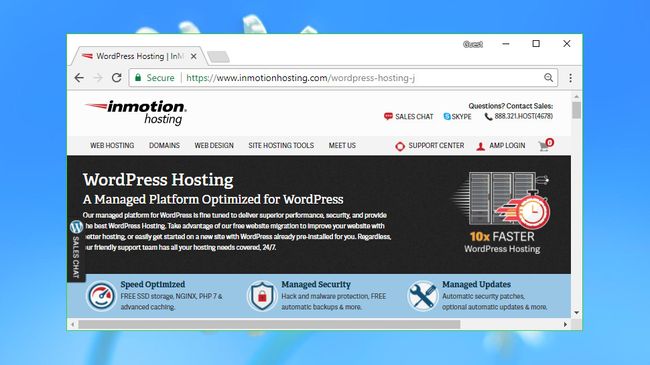 Best host for choice of plans
Low-end plans have key features
Reliable hosting provider
Not the cheapest host
Most web hosts offer only a few WordPress plans, and even these might be set up to point you in a particular direction. You'll often see an underpowered plan, an overpriced one, and a special deal on the mid-range plan they really want you to buy. That makes it easy to decide, but it also limits your upgrade options if your site grows over time.
InMotion Hosting is unusual in offering six WordPress plans, covering everything from small personal blogs to resellers and big business. Figuring out which is the best product for you will take a little more thought, but at least there's room to upgrade – or downgrade – if your circumstances change.
Better still, InMotion hasn't artificially limited the low-end plans by removing key features. Even the baseline WP-1000S plan – which costs $6.99 (£5) a month initially, $8.99 ($6.40) on renewal – gives you 40GB storage, unlimited bandwidth and email addresses, preinstalled WordPress, SSL, backups, automatic updates, SiteLock security, cPanel site management, and extras like BoldGrid and WP-CLI. The only significant issue is InMotion's suggestion that the plan works best for blogs with up to 20,000 monthly visits, and even that won't be a problem for many smaller sites.
Upgrading your plan gets you some extras – premium themes and plugin subscriptions, a dedicated IP address, support for hosting more sites – but it's mostly about giving you more resources. For example, the top-of-the-range WP-6000S plan supports 1,200,000 monthly visitors across up to 20 sites for $114.99(£82) a month initially (1-year plan), $142.99 (£102) on renewal.
There are cheaper deals around, but in previous reviews we've found InMotion to be reliable, professional and honest, and any price premium is likely to be worth paying. You don't have to take our word for it, though – an exceptional 90-day money-back guarantee gives you plenty of opportunity to find out for yourself.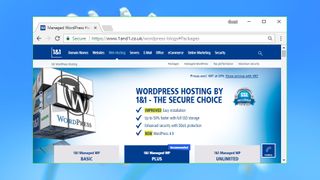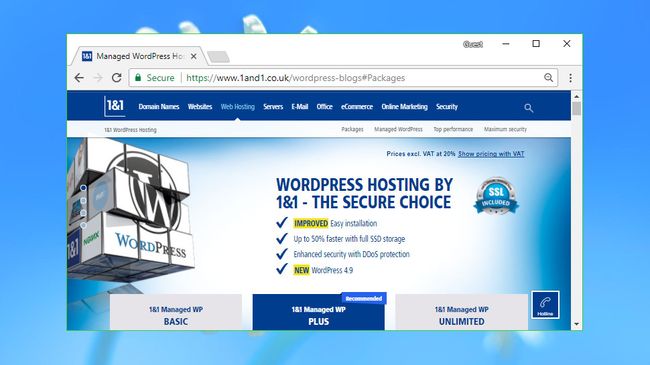 Very tempting price for first year
SSL and free domain
24/7 support including phone
Web giant 1&1 seems to have a hosting product for every possible need, and WordPress is no exception. Novice users can try out its service for a nominal $1.40(£0.99)  a month over the first year ($7 or £4.99 afterwards), yet the plan still outperforms many competitors.
The bundled 50GB of storage means you won't be running out of space in a hurry, for example. There are no bandwidth or visitor limits, and you can set up as many email accounts as you need.
1&1 offers the core WordPress management functions that you would expect: a setup wizard, preinstalled plugins, automatic updates and 24/7 support (including by telephone).
All this is built on a capable platform – NGINX, PHP 7.2, OPcache, up to 2GB RAM guaranteed – to enhance your blog's performance.
There's SSL included and even a free domain thrown in, which is ridiculously good value at this price.
If you're a WordPress novice, it might be worth taking out the plan for an initial year, claiming your free domain and taking the time to learn how the blog works. When you time is up, renew if you're happy, or if you're not, use your knowledge and experience to find a better plan.
1&1 isn't just about newbies, though: there's value for more demanding users, too. In particular, the Unlimited plan has no limits on websites, storage space, the number of databases (1GB max), visitors, email or SFTP accounts. Bonus features include a CDN and SiteLock malware scanning, and the price looks good at $9.80(£6.99)  a month for the first year, $14(£9.99)  on renewal.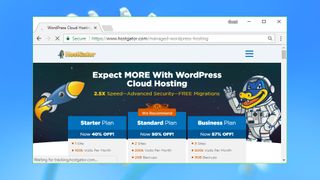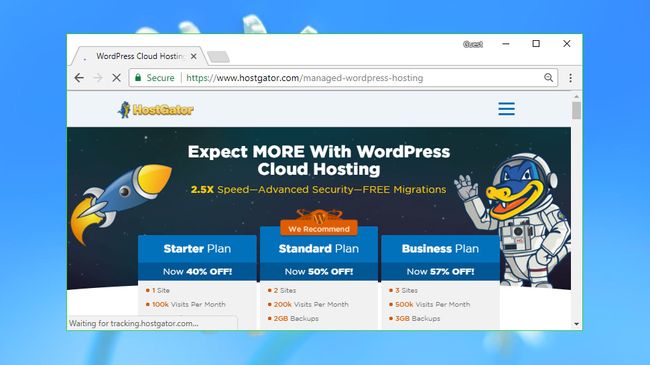 Free site migration
Automatic malware detection and removal
CDN benefits
Choosing the best WordPress hosting package can seem like a complicated business, with a stack of low-level details and issues to consider. But it doesn't have to be that way. If you don't have special requirements then opting for a reliable web hosting company will get you capable mid-range products that can handle everything most users need.
HostGator generally delivers powerful hosting plans for a fair price, and its managed WordPress range is no exception. Its Starter product may only cost $5.95 (£4.25) for three years, $9.95 (£7.10) afterwards, but you still get a free site migration, an SSL certificate, automatic malware detection and removal, unlimited email addresses and unmetered storage and bandwidth, and it can handle up to 100,000 visits a month.
Ramping up to the high-end Business plan gets you more CPU power, support for up to three sites and 500,000 visits a month, yet still costs only $9.95 (£7.10) a month initially  (first three years), $22.95 (£16.40) a month afterwards.
Smart caching and a CDN are on hand to enhance your website's performance, 24/7 support helps keep your site up and running, and surprise bonus features include free domain privacy to protect from identity theft and reduce annoying spam.
We've had good experiences with HostGator's service, but if you're not so lucky, there's a generous 45-day money-back guarantee. As with other hosting companies, this won't cover any domain registration fees, but it's still a better deal than you'll often find elsewhere.
You might also want to check out our other hosting guides:
Source: Tech Radar