3 HUGE WAYS ANDROID'S GESTURE NAVIGATION JUST GOT BETTER
Google's second Android P beta delivers subtle touches that add up to a major leap forward for the platform's new gesture navigation system.
Let's not beat around the bush: In the first Android P beta release, Google's new gesture navigation system was a steamin' hot mess. It was glitchy, inconsistent, and confusing.
It was also, however, part of Android P's first public beta — software not intended for widespread public use — and so we have to expect a certain amount of imperfection. You can't judge a product when the recipe's still in flux and the baking's nowhere near finished.
With the launch of Android P's second official beta this week, we're a step closer to completion — and after using the new software for nearly a day now, I'm happy to report that the new gesture navigation system has, in fact, gotten better. Much better.
It's still not perfect, mind you, and it still has its share of foundational issues — but boy howdy, is the experience of using this thing now a far cry from what it was like at the start.
Let me explain.
1. It's much easier now to figure out what you're supposed to do
One of my biggest gripes with gesture nav in the first Android P beta was, quite simply, how hard it was to know how the damn thing worked. The system was a complicated concoction of hidden commands and overlapping ideas, without any real visual cues to guide you — and it was anything but intuitive.
In Android P's second beta, it's a whole other story. First of all, after you've been using the software for a few minutes, a prompt appears near the new Android Home button that gently encourages you to swipe up to switch apps. When you think about how this setup will come across at first to most Android phone-owners — y'know, the type of people who don't closely follow Android development and are gonna have no earthly idea what's up with this weird new interface in front of 'em — a simple introduction like that could make a massive difference.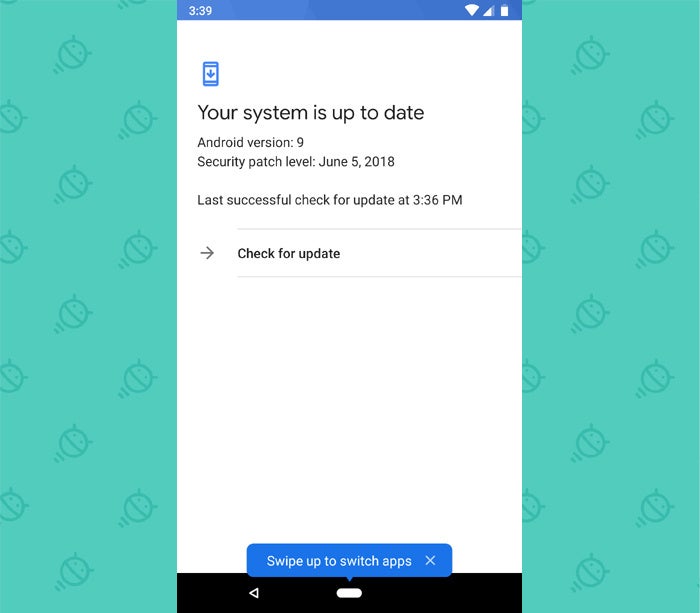 Beyond that initial nudge, Google's Android P home screen now features an upward-facing arrow above the docked row of apps at the bottom of the home screen — a visual indication that reminds you, again, to swipe up from that area instead of just assuming you'll magically know to do it.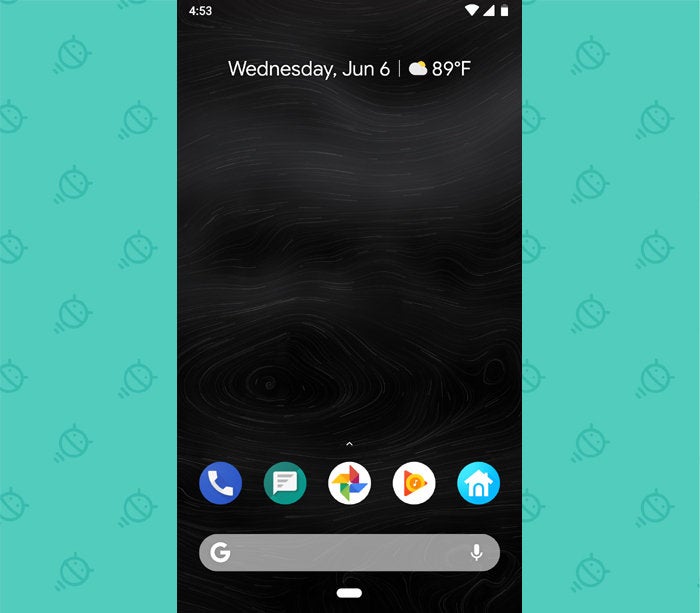 The trend of increased user-friendliness continues into the new Overview interface itself, which is where the real confusion began in the first Android P beta release. Google has implemented several significant steps there that add up to a meaningful improvement in usability.
First, the lower part of the screen — with a search bar and series of suggested apps — now features a frosted, card-like background with an upward-facing arrow at its top. That makes it abundantly clear that it's meant to be swiped upward further, unlike before, when you just had to figure that out on your own.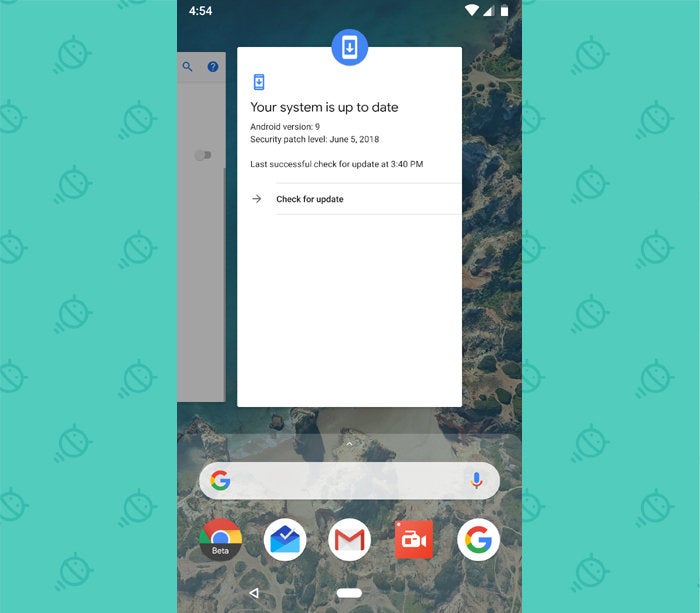 And it doesn't stop there, either: The first time you open the new Overview section, that card in the lower part of the screen pulsates — moving up and down repeatedly — to make it absolutely apparent, beyond all the other signals, that you should swipe upward on that element to reveal more. And in case you later forget, the card bounces up a touch higher than its final resting point and then slides back down every time you open the section, again giving you an obvious cue that swiping up on it leads to something worthwhile.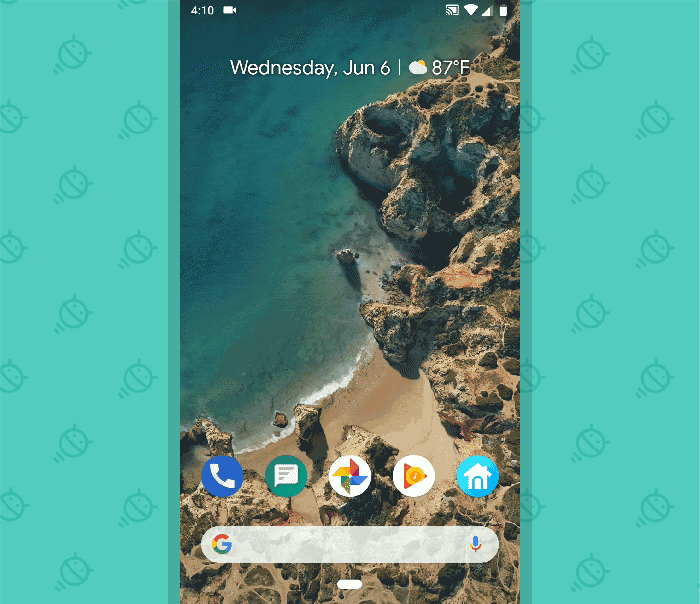 All in all, it's an immeasurable leap forward from the convoluted mishmosh we encountered in the first public P beta.
2. The areas of the new interface are now more distinct — and less confusing
Hidden commands aside, the earlier incarnation of Android P's gesture navigation system had a lot of similar-looking visual elements, which caused more than a little confusion. When you first opened the Overview area, for instance, you'd see a row of suggested apps that were in the same basic area as the custom dock icons on your home screen. That made for a really jarring transition — because every time I swiped up to open the Overview section, I expected the shortcuts in that area to be the same ones that were on my home screen a second earlier. But they weren't.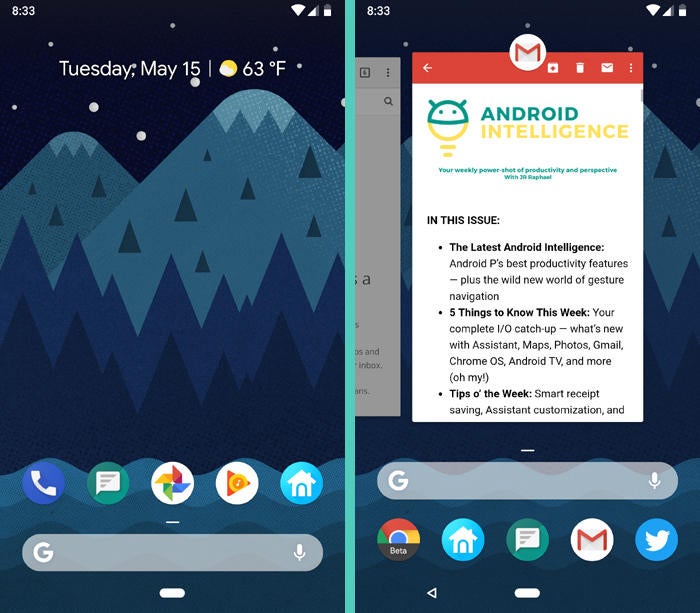 Google listened, and it's made a noticeable improvement to this issue in the latest Android P beta. With that lower area of the Overview interface now having a frosted, card-like background — and with it bouncing up a bit upon being opened instead of just flatly appearing, as it did previously — it no longer feels like it should be an extension of the home screen dock area. It feels like its own separate element instead, just like it should. Once more, a simple change made a big difference.
The card-like appearance of that area also really gives the impression that you're seeing the start of something — which you actually are: You're seeing the top portion of the app drawer, something that now becomes immediately apparent as you swipe up on it.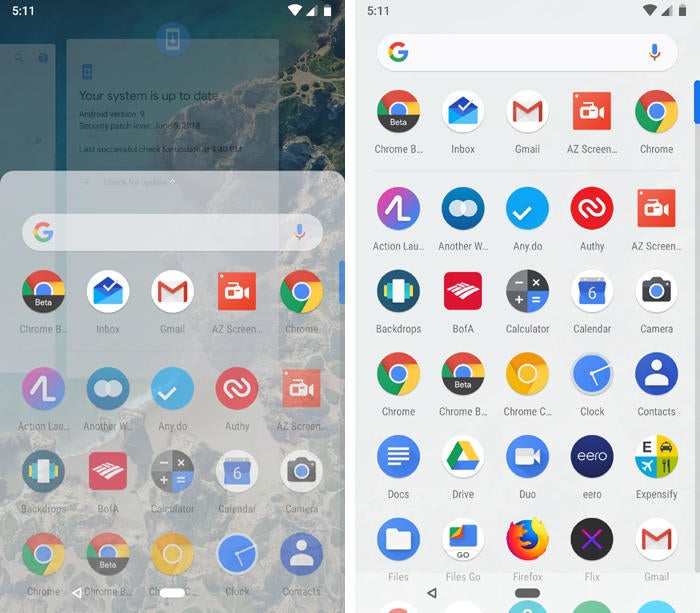 In the app drawer itself, meanwhile, the row of suggested shortcuts at the top is more clearly set apart from the other apps — with a prominent divider and an "All Apps" label even appearing below the divider the first few times you see it. That makes it completely clear that you're looking at a separate element that's unrelated to the main app list and unrelated to the icons within the dock on your home screen.
And there's more yet: Functionally, Google has refined the actual gestures to make some of the overlap between them a bit less awkward. In my first, erm, overview of the new Overview, I talked about how close some of the new Home button gestures were to each other: You'd swipe up once from the Home key to open the Overview screen, for instance, and long-swipe or double-swipe to get to the app drawer. It was way too easy to try to regular swipe and then end up long-swiping instead, or vice-versa. (Heck, even talking about that is confusing!)
In this latest beta, Google has drawn a more prominent line between those actions: The long-swipe happens only if you swipe waaaaaay up high, past the halfway point of your screen — which is clearly a deliberate long-swipe. Otherwise, the system interprets your gesture as a regular swipe and opens up the Overview interface normally.
Long story short, once you get used to it, it's all easier to use. And that's a good thing.
3. The system is generally just a lot smoother — and less glitchy
So we've covered all the "getting more intuitive" parts of the tale, but there's one more side to this story: With Android P's second beta, the act of using the new gesture nav system is a lot more pleasant simply because much of the initial glitchiness has been worked out. Things feel smoother, and I haven't seen any weird screen flashes or unexpected results in the time I've been using the new system so far.
Mind you, the new gesture nav system is still far from perfect. The sometimes-there, sometimes-not nature of the Back button (and the lopsided effect that creates on that bottom-of-screen bar) still feels somewhat clumsy and not entirely ideal. As a result of that part of the setup, the nav bar also still takes up permanent screen space — whereas it seems like a system of this nature should free up that area of the display. And the new fast-switch gesture of flicking right on the Home key is still less snappy and effective than the command it's replacing, though it does feel a bit smoother than it did in P's first beta release (and I think I'm also just getting used to using it instead of constantly comparing it to the zippiness of its predecessor).
However you look at it, one thing's for sure: When it comes to gesture nav, this second beta packs some serious progress — and significant improvements. And we're still a fair way from the finish line yet.
Source:  Computer World
THE APPLE WATCH STOLE THE SHOW FROM THIS YEAR'S NEW IPHONES
The most exciting announcement from Apple's annual iPhone event on Tuesday was not a set of three new smartphones, but a smartwatch. The Apple Watch Series 4 — with its rounded corners, larger display, and built-in EKG scanner — became undoubtedly the most sought-after gadget in the aftermath of Apple's fall hardware refresh. While many people have bemoaned having to choose between the iPhone XS and XR, or are simply forgoing a mobile upgrade entirely, the Series 4 stood out for how simple of a purchase it is for those who've been sitting on the sidelines of the wearable market.
For those like me who've had an older Apple Watch Series 0 or 1, it's a no-brainer, and it was what I was most excited about when I decided to stay up on Thursday night to claim a midnight order. The disparity is best illustrated by the fact that, after less than half a day of orders, every single tier of iPhone XS available right now has a September 28th to October 5th shipping window. Nearly every model of the Apple Watch Series 4, on the other hand, won't ship until October 12th to October 19th.
There's a number of reasons why the Apple Watch is outshining the iPhone these days. The first and most obvious is that the iPhone has become boring, trapped by the diminishing returns Apple can wring out of the device year after year. It would seem, 11 years after the introduction of the first iPhone, that Apple's marquee product has simply lost a majority of its luster. There are only so many upgrades and standout features you can add to a mobile product before its incremental changes are overshadowed by how much it costs.
Simply take a look back at the last four years of iPhones. In 2014, Apple introduced the Plus version of the iPhone when it released the iPhone 6, which helped cement the trend of ever-larger displays that Samsung and other Asian manufacturers had first promoted. In 2015, the phone was paired with the Apple Watch for the first time, giving diehard fans a better reason to incorporate more Apple hardware and software into their lives. The year after, the company removed the headphone jack and released the AirPods, kicking off a debate about how and when to force consumers and the industry toward a wireless vision for the future. Last year, we got the iPhone X. With its signature notch, bezel-less display, and FaceID, it became an industry trendsetter and facilitated a more interesting debate about smartphone design than we've enjoyed in years.
This year, which is admittedly an S upgrade year and so understandably less exciting, it doesn't seem like there's a lot of room for the iPhone to grow. That leads to the second most obvious reason why it's become harder to care about the iPhone: price. As the iPhone has stagnated in terms of new features, Apple has increased the average cost of its flagship device by more than $300, from around $775 to $1,100.
The company figured out last year with the iPhone X that customers would be willing to pay not for meaningful new features, but for design and aesthetic improvements. So it began using higher-quality materials, like OLED displays and glass back plates, and increasing the available storage tiers. This year, you can get an iPhone XS Max with 512GB of storage for $1,449, making it the most expensive iPhone ever made, just like the X was before it.
working out supply chain and manufacturing kinks.) There is an argument to make that the XR is the more interesting, mass market-friendly, and potentially successful phone of the three, but we won't know that until later this year.
As it stands today, Apple's flagship phone is the least exciting device it's put out in a long time, and it's easy to see why it's being outshined by the Apple Watch. What started as an underdog product arriving late to the wearable scene, the Apple Watch has since become not only the world's best-selling wearable, but the world's best-selling watch, period.
Apple has achieved that by consistently improving its hardware and software with each new annual iteration. Just like the early days of the iPhone, each new Apple Watch adds something exciting and legitimately impressive, from the water-resistance of the Series 2 to the cellular connectivity of the Series 3. Now, with the Series 4, Apple has added a built-in EKG scanner and the first hardware design overhaul the watch has had since its inception.
There will be a time when the Apple Watch, like the iPhone, becomes a stagnant product that simply becomes more exorbitant and expensive. Ironically, Apple's very first Apple Watch contained a line of now-discontinued models as expensive as $17,000. So there's quite a lot of room for the company to grow its smartwatch brand and expand it back into the luxury market. But until then, we can expect quite a few more years of novel innovations and design overhauls.
Perhaps Apple overcomes engineering and design hurdles to create a round-shaped Apple Watch. Maybe the company figures out how to extend the battery life by more than 24 hours. There's myriad ways the Apple Watch can improve and reach a more mass-market audience. But one thing is for sure right now: with the Series 4 out in the wild, it's probably a more invigorating time to be developing the next Apple Watch than the next iPhone, and customers seem to be responding visibly to that shift.
APPLE'S AIRPOWER WIRELESS CHARGING MAT REPORTEDLY PLAGUED BY OVERHEATING ISSUES
Overheating, communication, and interference issues are still plaguing the development of Apple's AirPower wireless charging pad, according to a pair of reports citing multiple sources close to the matter. The issues contributed to the AirPower's absence at last week's iPhone announcement.
AirPower was first teased over a year ago at the same event that Apple used to announce the iPhone X, the company's first handset to support wireless charging. AirPower was to be the firm's debut wireless charger, capable of charging your AirPods (with compatible case), Apple Watch, and iPhone simultaneously. The consensus seems to be that Apple has bitten off much more than it can chew with the ambitious device.
Writing on Daring Fireball, John Gruber points the blame squarely at the AirPower mat's multi-coil design, which is allegedly causing the device to overheat. These overheating rumors have been around since June, and it seems Apple is still struggling to find a solution.
Sonny Dickson corroborates these rumors and offers further details on the scale of the issues. As well as getting too hot to effectively charge the devices, the AirPower mat is also allegedly struggling to communicate with them, meaning it doesn't know the charge levels of the devices that it's filling with power.
Finally, attempting to charge multiple devices simultaneously has also lead to interference issues cropping up between them, according to Dickson.
Neither Gruber nor Dickson commit to saying whether the device has been delayed or cancelled entirely, but both agree that the situation isn't great for Apple. "Well and truly fucked," is how Gruber puts it, while "doomed to failure" is how Dickson describes the broad feeling at the company.
What's certain is that with all mention of the ill-fated device now scrubbed from Apple's website we probably shouldn't expect AirPower to return any time soon (at least not in this form, Dickson suggests we might see the name re-applied to an all-new product at a later date).
AirPower has always been an ambitious piece of engineering. While normal wireless chargers contain just a single coil designed to charge a single device at a time, Apple's first foray into the area reportedly contains between 16 and 24 overlapping coils of different sizes designed to charge multiple devices simultaneously. All of which adds up to a very 'Apple' device, wherein the company takes a pre-existing technology and gives it enough usability improvements to leapfrog the competition.
At least it would have been, had a working AirPower mat shipped on time.
SAMSUNG'S POWERFUL GALAXY S10 WILL DEFEAT APPLE'S SHINY NEW IPHONES
With modern production and design schedules, the geekerati already know what Apple is preparing for the iPhone XS launch. We also know what Samsung is cooking up for the Galaxy S10's launch in early 2019. It's clear that the Galaxy S10 has the specifications to beat the iPhone.
For me there are three key areas where the Galaxy S10 can not only compete against the iPhone, but comfortably come out on top.
The first is, curiously, reliability. Although Samsung has had one rather high-profile smartphone failure in recent memory (the tightly packed battery of the Note 7), it took visible action both immediately, during the investigations, and when reporting the fixes to the hardware. Compare that to Apple's own battery problems, the reluctance to admit to the problem, and the painful way Tim Cook and his team was dragged towards an acceptable outcome for consumers.
Now consider that the portfolios of the iPhone 6, the iPhone 7, and the iPhone 8 have all exhibited major flaws stemming from the hardware design of the smartphones. While past performance is no guide to future stability, consumers are more adept at recognising patterns. The reliability of the Galaxy range in the mainstream media is streets ahead of the iPhone.
Second is the flexibility. While most users will take their smartphone out of the box and never think again about the specifications, those looking for the biggest and best are going to see the Galaxy S10 outpacing the iPhone XS. More on board storage, more memory, more processing power on tap, it's all on Samsung's side.
And if Apple does move to 512 GB of storage on its smartphones, Samsung has the advantage of the second move – which will allow it to match the on board storage and then leverage the microSD card for even more capacity.
Finally, Samsung has managed to maintain its lead in the camera stakes over man-years over Apple. There's going to be an obvious comparison with the number of lens each phone in the respective portfolios will sport, but I'm expecting the South Korean expertise in the post-capture image processing, alongside the variable aperture lenses, to hand the visual victory to the Galaxy.
Much like politics, each camp has the diehards that will never move – lifelong affiliations to iOS or Android run as deep as Republican or Democratic affiliation – so the real fight is over the platform switchers who can navigate between the walled gardens of the two ecosystems. This is where details like image quality, hardware specifications, and reliability can contribute.
It's also where perceptions can sway opinions. With Apple looking to label the latest iPhone handsets as incremental 'S' updates the attraction of the iPhone XS family is going to be dulled compared to the 'all-new' tenth-anniversary Galaxy S10 marketing juggernaut.
Both handsets will make their supporters swoon, but the Galaxy S10 has the advantage in gathering the undecided middle ground.