3 HUGE WAYS ANDROID'S GESTURE NAVIGATION JUST GOT BETTER
Google's second Android P beta delivers subtle touches that add up to a major leap forward for the platform's new gesture navigation system.
Let's not beat around the bush: In the first Android P beta release, Google's new gesture navigation system was a steamin' hot mess. It was glitchy, inconsistent, and confusing.
It was also, however, part of Android P's first public beta — software not intended for widespread public use — and so we have to expect a certain amount of imperfection. You can't judge a product when the recipe's still in flux and the baking's nowhere near finished.
With the launch of Android P's second official beta this week, we're a step closer to completion — and after using the new software for nearly a day now, I'm happy to report that the new gesture navigation system has, in fact, gotten better. Much better.
It's still not perfect, mind you, and it still has its share of foundational issues — but boy howdy, is the experience of using this thing now a far cry from what it was like at the start.
Let me explain.
1. It's much easier now to figure out what you're supposed to do
One of my biggest gripes with gesture nav in the first Android P beta was, quite simply, how hard it was to know how the damn thing worked. The system was a complicated concoction of hidden commands and overlapping ideas, without any real visual cues to guide you — and it was anything but intuitive.
In Android P's second beta, it's a whole other story. First of all, after you've been using the software for a few minutes, a prompt appears near the new Android Home button that gently encourages you to swipe up to switch apps. When you think about how this setup will come across at first to most Android phone-owners — y'know, the type of people who don't closely follow Android development and are gonna have no earthly idea what's up with this weird new interface in front of 'em — a simple introduction like that could make a massive difference.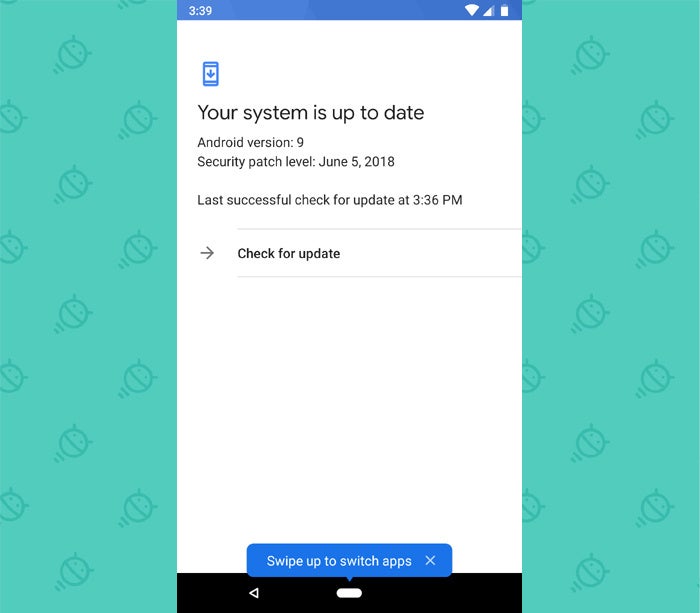 Beyond that initial nudge, Google's Android P home screen now features an upward-facing arrow above the docked row of apps at the bottom of the home screen — a visual indication that reminds you, again, to swipe up from that area instead of just assuming you'll magically know to do it.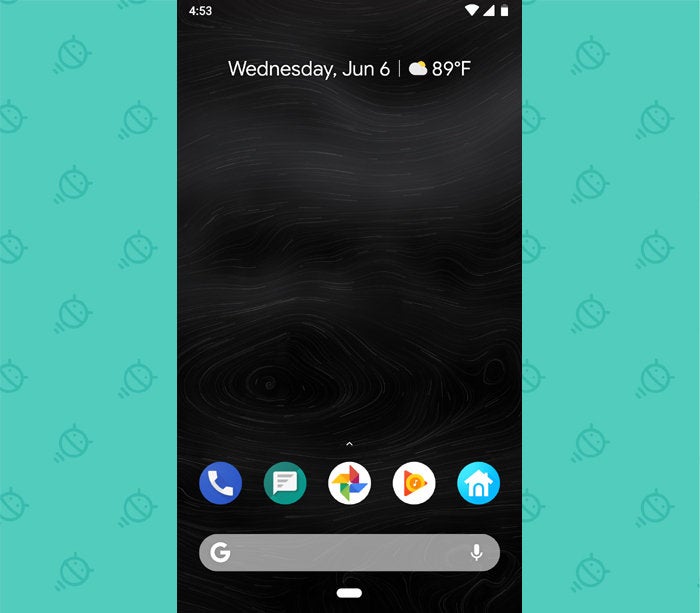 The trend of increased user-friendliness continues into the new Overview interface itself, which is where the real confusion began in the first Android P beta release. Google has implemented several significant steps there that add up to a meaningful improvement in usability.
First, the lower part of the screen — with a search bar and series of suggested apps — now features a frosted, card-like background with an upward-facing arrow at its top. That makes it abundantly clear that it's meant to be swiped upward further, unlike before, when you just had to figure that out on your own.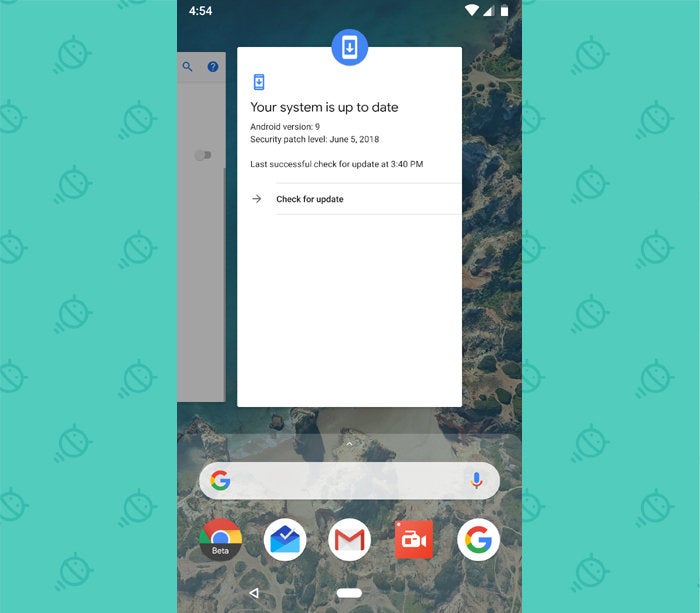 And it doesn't stop there, either: The first time you open the new Overview section, that card in the lower part of the screen pulsates — moving up and down repeatedly — to make it absolutely apparent, beyond all the other signals, that you should swipe upward on that element to reveal more. And in case you later forget, the card bounces up a touch higher than its final resting point and then slides back down every time you open the section, again giving you an obvious cue that swiping up on it leads to something worthwhile.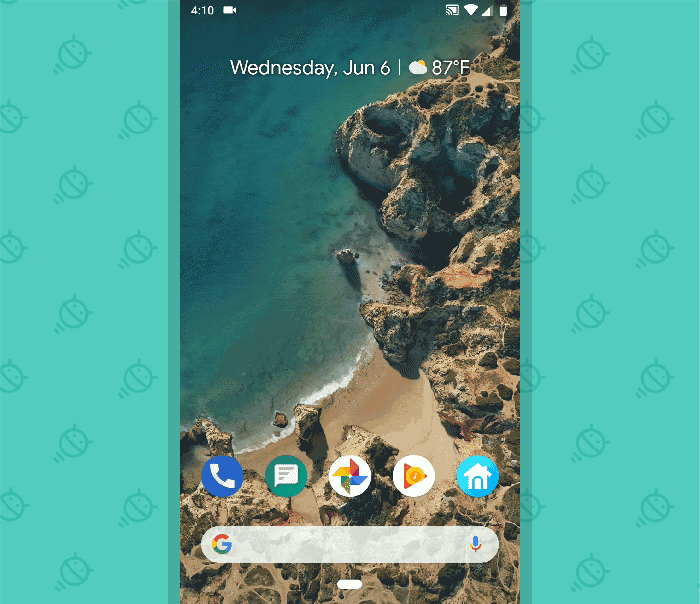 All in all, it's an immeasurable leap forward from the convoluted mishmosh we encountered in the first public P beta.
2. The areas of the new interface are now more distinct — and less confusing
Hidden commands aside, the earlier incarnation of Android P's gesture navigation system had a lot of similar-looking visual elements, which caused more than a little confusion. When you first opened the Overview area, for instance, you'd see a row of suggested apps that were in the same basic area as the custom dock icons on your home screen. That made for a really jarring transition — because every time I swiped up to open the Overview section, I expected the shortcuts in that area to be the same ones that were on my home screen a second earlier. But they weren't.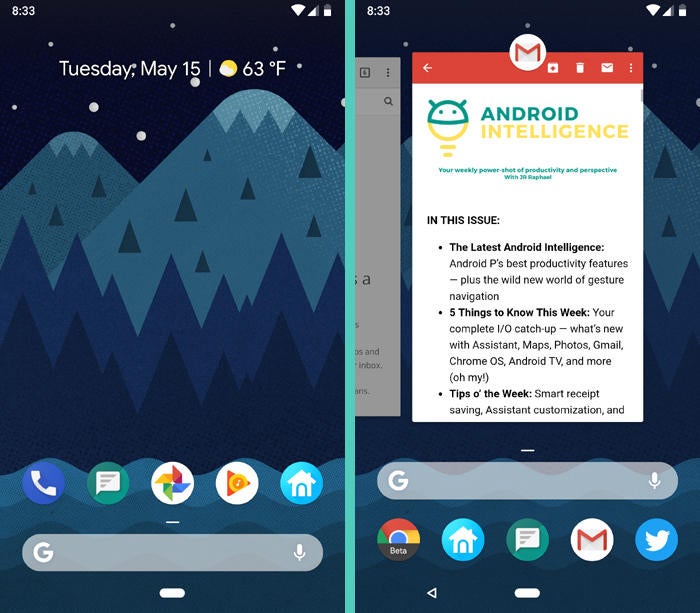 Google listened, and it's made a noticeable improvement to this issue in the latest Android P beta. With that lower area of the Overview interface now having a frosted, card-like background — and with it bouncing up a bit upon being opened instead of just flatly appearing, as it did previously — it no longer feels like it should be an extension of the home screen dock area. It feels like its own separate element instead, just like it should. Once more, a simple change made a big difference.
The card-like appearance of that area also really gives the impression that you're seeing the start of something — which you actually are: You're seeing the top portion of the app drawer, something that now becomes immediately apparent as you swipe up on it.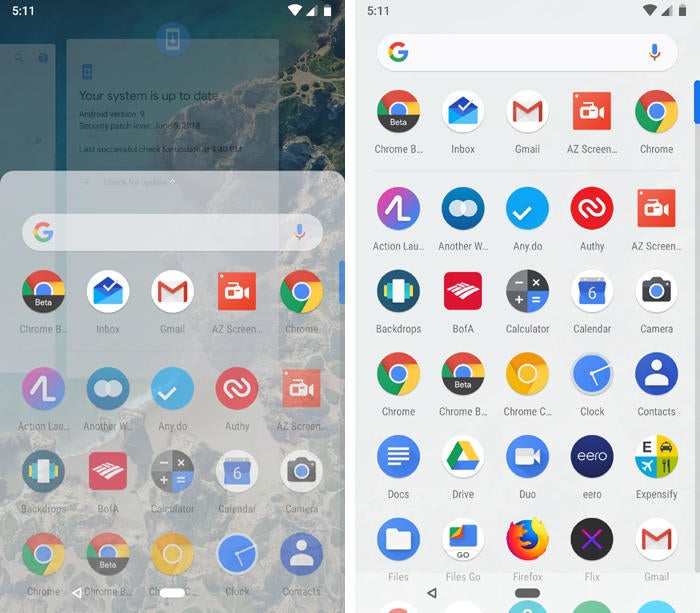 In the app drawer itself, meanwhile, the row of suggested shortcuts at the top is more clearly set apart from the other apps — with a prominent divider and an "All Apps" label even appearing below the divider the first few times you see it. That makes it completely clear that you're looking at a separate element that's unrelated to the main app list and unrelated to the icons within the dock on your home screen.
And there's more yet: Functionally, Google has refined the actual gestures to make some of the overlap between them a bit less awkward. In my first, erm, overview of the new Overview, I talked about how close some of the new Home button gestures were to each other: You'd swipe up once from the Home key to open the Overview screen, for instance, and long-swipe or double-swipe to get to the app drawer. It was way too easy to try to regular swipe and then end up long-swiping instead, or vice-versa. (Heck, even talking about that is confusing!)
In this latest beta, Google has drawn a more prominent line between those actions: The long-swipe happens only if you swipe waaaaaay up high, past the halfway point of your screen — which is clearly a deliberate long-swipe. Otherwise, the system interprets your gesture as a regular swipe and opens up the Overview interface normally.
Long story short, once you get used to it, it's all easier to use. And that's a good thing.
3. The system is generally just a lot smoother — and less glitchy
So we've covered all the "getting more intuitive" parts of the tale, but there's one more side to this story: With Android P's second beta, the act of using the new gesture nav system is a lot more pleasant simply because much of the initial glitchiness has been worked out. Things feel smoother, and I haven't seen any weird screen flashes or unexpected results in the time I've been using the new system so far.
Mind you, the new gesture nav system is still far from perfect. The sometimes-there, sometimes-not nature of the Back button (and the lopsided effect that creates on that bottom-of-screen bar) still feels somewhat clumsy and not entirely ideal. As a result of that part of the setup, the nav bar also still takes up permanent screen space — whereas it seems like a system of this nature should free up that area of the display. And the new fast-switch gesture of flicking right on the Home key is still less snappy and effective than the command it's replacing, though it does feel a bit smoother than it did in P's first beta release (and I think I'm also just getting used to using it instead of constantly comparing it to the zippiness of its predecessor).
However you look at it, one thing's for sure: When it comes to gesture nav, this second beta packs some serious progress — and significant improvements. And we're still a fair way from the finish line yet.
Source:  Computer World
SAMSUNG WILL REVEAL THE GALAXY NOTE 9 IN BROOKLYN ON AUGUST 9TH
It wouldn't be summer without a big Samsung announcement, and now we know when it's going down The company just sent out invitations out for an Unpacked event at the Barclays Center in Brooklyn on August 9th (as expected) and even by Samsung standards, that's a pretty massive venue. Then again, Samsung has some pretty dramatic tendencies when it comes to putting on launch events — after all, this is the company that turned a phone launch into a sort of faux-musical. If the invitation is any indication, though, the new Galaxy Note 9 will be the star of the show.
Obviously, Samsung hasn't specifically said the Note 9 will be revealed in Brooklyn, but consider the evidence. That's definitely an S Pen in the invite photo, the Note 8 was unveiled at roughly the same time last year, and we've heard that the Note 9 just recently passed through the FCC. Let's just call it a lock.
The particulars haven't fully revealed yet, but by now we have a pretty good sense of what to expect: in addition to the traditional, massive screen, the Note 9 will come bearing one of Qualcomm's flagship Snapdragon 845 chipsets, an overhauled virtual assistant. The really interesting bit is how closely Samsung's invitation focuses on the S Pen itself — it's a very tight shot of the stylus's button, and could signify that the company is working to expand the ways we use the S Pen. (This just so happens to dovetail with comments recently made by a fairly prominent leaker named Ice Universe.) Curiously, a tablet — likely the new Galaxy Tab S4 — went through the certification process alongside the phone, so we're likely looking at a very busy morning.
Source: Engadget
INSTAGRAM LAUNCHES A LITE APP FOR LOW-END ANDROID DEVICES
Instagram has released a lightweight version of its Android app that should be easier to install and browse on devices short on storage space and on spotty connections.
TechCrunch notes that the new app, which weighs in at just 573KB, is 1/55th the size of the original app at 33MB. Naturally, you'll find it a little lighter on functionality too: there's no messaging or the ability to upload videos right now.
The launch is part of Facebook's approach to reaching the next billion people who will come online for the first time in developing countries, mostly using low-cost mobile devices with limited access to connectivity and data.
Making its apps more easier to download and perform well on low-end devices is key to growing its user base around the world. To that end, Facebook made Lite versions of its apps for its social network and Messenger available years ago. Twitter has one too, and Google recently launched an optimized version of Android – complete with a suite of its essential apps – to address these needs in emerging markets.
Instagram's been on a roll lately. It added 300 million users in a little over a year to reach 1 billion last week, and has tacked on loads more features to its service recently, including group video calls, support for longer videos in what it's calling IGTV, tools for curating saved posts, and improving discovery.
Source: The NextWeb
THE BLACKBERRY KEY2 PROVES THE WORLD NO LONGER NEEDS A PHYSICAL KEYBOARD
It's 2018. Do people still want a phone with a physical keyboard?
That's the question TCL is trying to answer with its new BlackBerry Key2, a $650 smartphone with a 4.5-inch screen and an actual physical keyboard.
I spent about 10 days with the BlackBerry Key2 to test how it compares with other high-end smartphones on the market. I also wanted to see if, as a former BlackBerry user way back when, I still enjoyed using a physical keyboard.
Here's what it was like.
First things first: The BlackBerry Key2 is a good-looking phone, and it certainly doesn't look like anything else on the market.
I was surprised by how much I enjoyed the look and feel of the BlackBerry Key2. It has a grippy, textured back that feels rugged and vaguely pleasant, and I enjoyed the squared-off edges, chrome details, and overall businesslike aesthetic. Plus, the phone gets great battery life — I typically got about a day and a half out of it before it needed charging.
TCL says the device is lighter and slimmer than its predecessor, the BlackBerry KeyOne, but it's hard to tell. Compared with my aluminum iPhone 6S, the Key2 feels notably heavier.
The BlackBerry Key2 has a 4.5-inch LCD display, which is a hair smaller than the 4.7-inch display on the iPhone 6S. But it's a physically larger phone, thanks to the keyboard at the bottom of the device. That said, I have relatively small hands, and I didn't find the device to be too big for me — in fact, at about 6 inches long, it's likely to be the perfect size for most people.
One other note on the display: While it's sharp and incredibly vivid, it doesn't get very bright. This wasn't an issue most of the time, but I sometimes found myself squinting at the screen, even with the brightness turned all the way up.
A few other design choices stand out, for better or worse.
There were things that I liked about the design, and things that I really hated.
For instance, the BlackBerry Key2 does have a headphone jack, though it's at the top of the device rather than the bottom like most people are used to.
And while the phone may have physical keys, it doesn't have a physical home button. Instead, a digital home button is above the keyboard.
This is all well and good, but it's going to be a major adjustment for most people. Since most smartphones have a physical or digital home button at the bottom, that's where I automatically pressed when I was trying to hit the home button. But that's where the keyboard's space bar is, which does not double as a home button (though it does have a dual purpose — more on that in a minute).
Nine times out of 10, I would press the space bar first before remembering where the home button was. For me, it would probably take several weeks of using the phone to get out of that habit.
The keyboard's space bar doubles as a fingerprint scanner, but it doesn't do a great job.
I was excited to try the fingerprint scanner on the BlackBerry Key2, because I loved how subtly it was built into the phone's design. The scanner lives inside the space bar, meaning you should just be able to press it lightly to unlock your phone each time.
It's a great idea in theory, but it isn't very practical in real life.
The space bar is a long, narrow rectangle, and it's not ideal for capturing fingerprints. About 80% of the time, it took me several tries to get my phone unlocked using the scanner. If you didn't place your finger just right on the space bar, it refused to open your phone. This grew tiresome after a while, and I eventually resorted to using my passcode each time.
The BlackBerry Key2 has a solid rear camera, but it's nothing fancy.
I certainly wasn't wowed by the rear camera on the BlackBerry Key2, but I was pleasantly surprised by the images it captured.
TCL added a dual 12-megapixel rear camera this year; the BlackBerry KeyOne relied on a single lens. In general, I found the photos to be quite sharp, and I was continually impressed by how the camera handled close-up shots. The rear camera wasn't phenomenal, but to be perfectly honest, it was better than I expected from a BlackBerry.
The selfie camera, on the other hand, was one of the worst I've used on a smartphone in the past year. It has a fixed focus, and most of the time my selfies came out blurry. Even when the camera seemed to focus on my face, the images were rarely as sharp as they would be on an iPhone, a Google Pixel, or a Samsung Galaxy phone.
That said, I doubt the target audience for the BlackBerry Key2 consists of a lot of avid selfie-takers, so it isn't likely to be an issue for most people.
One surprising thing about the entire camera system is that it's unlike any other Android camera I've used lately. Most Android phones pack their cameras full of so many features, you feel as if you have a DSLR in the palm of your hand.
But the BlackBerry Key2 doesn't have any of that — only a few filters, no advanced camera adjustments, and none of the weird face-smoothing features I've found on phones like the Samsung Galaxy S9. It's the simplest smartphone camera I've used in years, and it was actually rather refreshing, since I rarely end up using those anyway.
Here's a photo I shot using the BlackBerry Key2. It's nice and sharp, and the colors are beautiful, but it did struggle a bit in bright sunlight — some of the leaves in the back are blown out.
The selfie camera consistently produced shots that looked like this: out of focus, bland, and unable to properly handle mixed lighting.
Which brings us to the keyboard.
Back in the mid-to-late aughts, I owned a BlackBerry Pearl and thought it was the best phone ever made. I adored the trackball, loved BBM-ing with my friends, and thought that getting rid of a physical keyboard would be the single dumbest move a smartphone company could make.
Oh, how times have changed.
My biggest takeaway after using the BlackBerry Key2 after about 10 days was that the physical keyboard is obsolete. My teenage self would be shocked to hear me say this, but an on-screen digital keyboard is simply a better invention. It's significantly faster and more agile, not to mention the fact that it frees up about 2 inches on the front of the phone.
The physical keyboard isn't totally stuck in the past. TCL built in the aforementioned fingerprint scanner on the space bar, and the entire keyboard is touch sensitive — when you swipe your finger over the keys to the left or right, it will work like a touchscreen.
My biggest frustrations with the keyboard were the slowness and the lack of flexibility.
I admit it's been about nine years since I used a BlackBerry, so I expected to be rusty when I tried typing on a real keyboard again. But even after about 10 days of using the phone, things haven't improved.
Typing on real keys took me about twice the amount of time it would have on digital keys. A one-paragraph email took me a little over five minutes to type on the BlackBerry Key2, something that would have taken less than a minute on a digital keyboard. Plus, the keys are tiny, and though I have relatively small fingers, I was constantly hitting the wrong button.
The other issue with a physical keyboard is that it's fixed. These days, it's easy to switch among letters, numbers, and symbols, or multiple keyboards on your phone. That's not possible with real keys, so BlackBerry's solution was to bring up an on-screen keyboard to help with symbols. This just created confusion, since it was hard to prioritize a physical keyboard when there was a perfectly good digital keyboard right there on the screen.
So while the physical keyboard is nice to have, I'm not sure I would end up using it most of the time. By the end of my time with the BlackBerry Key2, it started to feel more like a novelty item than a helpful feature.
Physical keyboard aside, the BlackBerry Key2 is made for speed and efficiency.
The BlackBerry Key2 seems aimed at a crowd that doesn't crave a lot of bells and whistles on smartphones. It's efficient, easy to use, and comes with a version of Android 8.1 Oreo that, while not stock, was on the simpler side and easy to adjust to as an iPhone user.
The device has multiple shortcut keys intended to help you get to your most-used apps and services without spending a ton of time hunting through your app drawer. A new shortcut key on the keyboard can be programmed to open any app (along with the press of a corresponding letter on the keyboard), and I found myself using it more than I expected. There's also a second shortcut key on the side of the device.
And since it's a BlackBerry phone, there's a lot of emphasis on privacy and security.
The Key2 comes with a few different ways to protect your device, like the DTEK app, which constantly monitors your phone's security. There's also a redactor app for hiding keywords or phrases in a document or email, an app that blacks out your entire screen except for the portion you're viewing, a built-in password keeper, and the Locker app, which lets you hide sensitive photos or open an incognito browser.
So should you buy it?
Yes and no.
Yes, you should buy the BlackBerry Key2 if you're someone who craves speed and efficiency and doesn't spend a lot of time on their phone scrolling through social media or watching Netflix. If you're someone who's all business and cares about security and privacy, it's the perfect phone for you. Plus, at $650, it's a relative bargain.
But the BlackBerry Key2 doesn't really feel like a mass-market device. It's not a great phone for watching videos, thanks to the smaller screen. It's hard to text on, and the camera isn't exactly top of the line.
Still, I think there's a niche group of people out there who would fall in love with the BlackBerry Key2. My barometer for the device was my dad, a longtime BlackBerry fan who reluctantly switched to iPhone a few years ago. When I showed him the Key2, he said, "I'd switch from my iPhone right now."
Source: BUSINESS INSIDER