SCAMMERS ABUSE MULTILINGUAL DOMAIN NAMES
Cyber-criminals are abusing multilingual character sets to trick people into visiting phishing websites.
The non-English characters allow scammers to create "lookalike" sites with domain names almost indistinguishable from legitimate ones.
Farsight Security found scam sites posing as banks, loan advisers and children's brands Lego and Haribo.
Smartphone users are at greater risk as small screens make lookalikes even harder to spot.
Targeted attack
The Farsight Security report looked at more than 100 million domain names that use non-English character sets – introduced to make the net more familiar and usable for non-English speaking nations – and found about 27% of them had been created by scammers.
It also uncovered more than 8,000 separate characters that could be abused to confuse people.
Farsight founder Paul Vixie, who wrote much of the software underpinning the net's domain names told the BBC: "Any lower case letter can be represented by as many as 40 different variations."
And many internationalised versions added just a tiny fleck or mark that was not easy to see.
Eldar Tuvey, founder and head of security company Wandera, said it had also seen an upsurge in phishing domains using different ways of forming characters.
In particular, it had seen an almost doubling of the number of scam domains created using an encoding system called punycode over the past few months.
And phishing gangs were using messages sent via mobile apps to tempt people into clicking on the similar-looking links.
"They are targeting specific groups," Mr Tuvey said.
And research had established people were three times more likely to fall for a phishing scam presented on their phone.
"To phish someone, you just have to fool them once," Mr Tuvey said. "Tricking them into installing malware is much more work."
GOOGLE MAKES $550M STRATEGIC INVESTMENT IN CHINESE E-COMMERCE FIRM JD.COM
Google has been increasing its presence in China in recent times, and today it has continued that push by agreeing to a strategic partnership with e-commerce firm JD.com, which will see Google purchase $550 million worth of shares in the Chinese firm.
Google has made investments in China, released products there and opened offices that include an AI hub, but now it is working with JD.com largely outside of China. In a joint release, the companies said they would "collaborate on a range of strategic initiatives, including joint development of retail solutions" in Europe, the U.S. and Southeast Asia.
The goal here is to merge JD.com's experience and technology in supply chain and logistics — in China, it has opened warehouses that use robots rather than workers — with Google's customer reach, data and marketing to produce new kinds of online retail.
Initially, that will see the duo team up to offer JD.com products for sale on the Google Shopping platform across the word, but it seems clear that the companies have other collaborations in mind for the future.
JD.com is valued at around $60 billion, based on its NASDAQ share price, and the company has partnerships with the likes of Walmart and it has invested heavily in automated warehouse technology, drones and other "next-generation" retail and logistics.
The move for a distribution platform like Google to back a service provider like JD.com is interesting since the company, through search and advertising, has relationships with a range of e-commerce firms, including JD.com's arch rival Alibaba.
But it is a sign of the times for Google, which has already developed relationships with JD.com and its biggest backer Tencent, the $500 billion Chinese internet giant. All three companies have backed Go-Jek, the ride-hailing challenger in Southeast Asia, while Tencent and Google previously inked a patent-sharing partnership and have co-invested in startups such as Chinese AI startup XtalPi.
Source: Tech Crunch.
INSTAGRAM'S NEW LONG-FORM VIDEO HUB IGTV TAKES ON YOUTUBE
Prepare to spend a lot more time on Instagram.
The Facebook (FB)-owned platform is rolling out a new hub for long-form, vertical video. Instagram announced the new feature at a press event on Wednesday.
The hub, called IGTV, will live within the regular Instagram app. It will also get its own standalone app in the coming days.
Anyone will be able to post to IGTV, but Instagram users with 10,000 followers or more will be able to post videos up to an hour long. Users with fewer followers can post up to 10 minutes of video. Instagram video posts were previously capped at 60 seconds.
The company has tapped celebrities such as Kim Kardashian West and Selena Gomez who will be among the first to upload longer-form content to their accounts on Wednesday.
How this energy firm is transforming this rural community
Experience the remarkable story of Nigeria's Green River Project.
In addition to IGTV, CEO Kevin Systrom announced a company milestone: 1 billion monthly active users now use Instagram, up from 800,000 active users in September.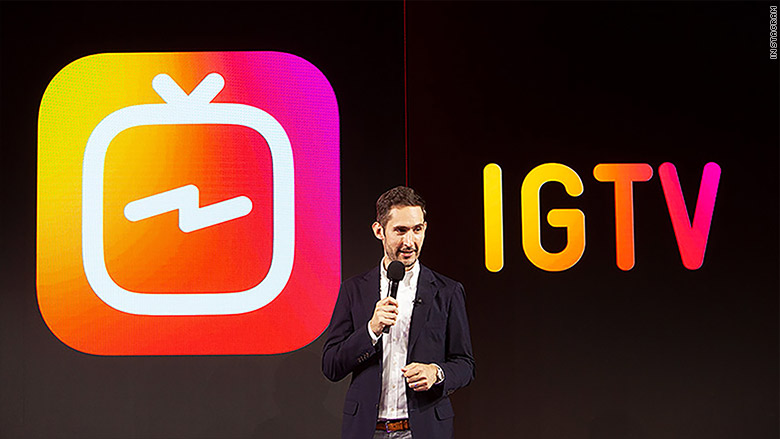 IGTV is reminiscent of Snapchat's Discover page, which features stories from publishers and creators, and curated posts from itscommunity. Snap, Snapchat's parent company, launched Discover in 2015 with a number of media partners, including CNN and Buzzfeed. It paid licensing fees to publishers up until recently when it reportedly shifted to an ad-based model only.
"Ads will not be part of IGTV at launch, but we'll be exploring and test ways to help creators monetize after launch," a spokesperson told CNNMoney.
Analysts are also comparing IGTV to Google-owned video platform YouTube.
According to media and technology analyst Rich Greenfield of BTIG, Instagram users were already using its Stories feature to link out to YouTube to direct followers to longer-form videos.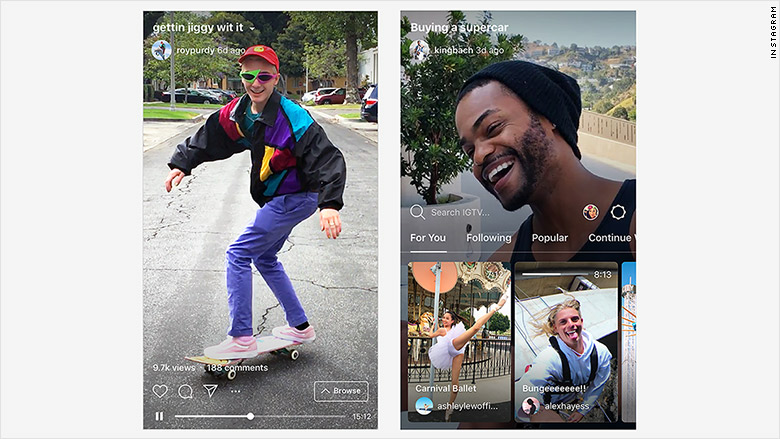 "Now, Instagram can keep that in-house, and drive greater engagement and time spent," Greenfield told CNNMoney. "I think this is a natural evolution from pictures to video, to stories and now to long-form video to capture as much human attention as possible."
Instagrammers are spending more time than ever looking at photos, videos and memes, the company previously told CNNMoney. Users under the age of 25 now spend more than 32 minutes each day on the platform, while users age 25 and older use the app for more than 24 minutes.
While IGTV may lead people to spend more time on Instagram, Systrom previously promised to roll out a tool that will tally time spent on its app.
"Any time should be positive and intentional," he tweeted last month.
FLIPKART OFFERS DISCOUNTS ON SAMSUNG GALAXY S8, GALAXY S8+, GALAXY ON NXT, AND MORE
Samsung is back with its Samsung Carnival offers and discounts on smartphones, headphones, and speakers. While the company hosted the sale on Amazon in 2017, it brought the Samsung Carnival to Flipkart earlier this year. The sale features offers and discounts on several Samsung Galaxy lineup of handsets and other products. The latest sale on Flipkart started on Tuesday (June 12) and will go on till Thursday (June 14). Notably, the discounts come alongside other exchange benefits and no-cost EMI schemes. The major Galaxy handsets that are available with discounts during the latest sale include the Galaxy S8, Galaxy S8+, Galaxy On Nxt, Galaxy On Max, Galaxy On5, and Galaxy J3 Pro. Also, there are offers on Smart TV models, refrigerators, and other electronic products. It is worth noting that the ongoing Flipkart sale on Samsung products also provides 10 percent instant discount on HDFC Bank debit and credit card transactions as well as EMIs.
During the Samsung Carnival sale on Flipkart, the Galaxy S8 is available with a Rs. 12,000 discount and is priced at Rs. 37,990. Meanwhile, the Galaxy S8+ is available with a Rs. 10,000 discount and will cost Rs. 43,990. Additionally, the Galaxy On Nxt 64GB inbuilt storage variant comes at a price of Rs. 10,900, down from the launch price of Rs. 17,900. Also, the 16GB inbuilt storage model of the smartphone can be purchased with a Rs. 2,009 discount, priced at Rs. 8,990.
Interested buyers looking for an affordable Galaxy model can go for the Galaxy J3 Pro 2GB RAM/ 16GB storage at Rs. 6,690, down from the launch price of Rs. 8,490. Flipkart has also listed the Galaxy S7 Edge 32GB variant at Rs. 32,900, down from the original price of Rs. 41,900. The smartphone had received an official price cut in February and is formally available with a starting price of Rs. 35,900. Also, the Galaxy On5 is available at Rs. 5,999, down from Rs. 8,990.
Apart from the discounts on smartphones, the Samsung Carnival sale on Flipkart features consumer durables as well, including the 32-inch Samsung 32J4003 Flat HD TV that is available at Rs. 16,999. Also, Samsung's Smart Convertible 5-in-1 Refrigerators are available for purchase with prices starting at Rs. 16,040.
The Samsung Carnival sale on Flipkart also features discounts on Samsung headphones and speakers, up to 50 percent discount on Samsung mobile accessories, cases, and chargers, and up to 40 percent discount on select Samsung monitors. Notably, the Gear Fit 2 Pro is now available at Rs. 10,990, down from the launch price of Rs. 13,590.