Why LinkedIn should be your first port of call for B2B marketing
LinkedIn is often overlooked in marketing campaigns – but that may be a missed opportunity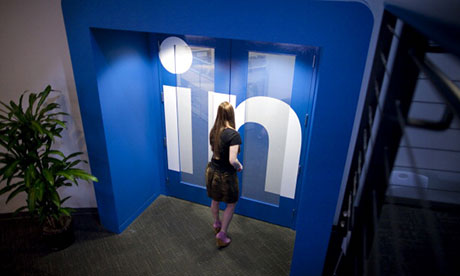 LinkedIn is popular among businesses wanting to use social media for B2B marketing, but it comes low down the list of platforms that brands consider for marketing to consumers. Photograph: Bloomberg
Samsung's launch of the Galaxy Note 2 "phablet" (a mobile phone of near-tablet size) at the beginning of this year made great use of LinkedIn, the professional networking site which is often overlooked in consumer marketing campaigns.
The mobile phone giant created a microsite and invited visitors to sign in with their LinkedIn membership profiles. They were then encouraged to share their thoughts about the phablet with their LinkedIn connections, enabling Samsung to reach a global audience of 20 million people. Samsung's director of social media marketing, Andy Hwang, points to LinkedIn's ability to precisely target audiences, adding: "It provided a platform for driving word of mouth and shifting perceptions among consumers worldwide."
Since its launch 10 years ago, LinkedIn has become the first port of call for businesses wanting to use social media for B2B marketing, staff recruitment and disseminating industry information. But it comes low down the list of social platforms that brands consider for marketing to consumers, a situation the company is seeking to remedy.
Its 239 million members worldwide tend to spend less time on the site compared with users of Facebook and Twitter, but LinkedIn's members are there for serious reasons. They are less likely to lie in their profiles and they visit the site to enhance their position in the world.
With 3m company pages, the marketing potential seems huge. LinkedIn's marketing solutions division accounts for about a quarter of the company's revenues, recruitment account for more than half of revenues, while subscriptions make up about a fifth. In the second quarter of this year, the marketing unit's profits grew 36% on the 2012 period to over $85m (£54m).
Josh Graff, head of LinkedIn Marketing Solutions across Europe, says this shows that advertising on LinkedIn "is truly coming of age". He adds: "The platform has changed. People used to think of it just as a place to secure a new job. But six times more impressions flow from people seeking information about companies than those specifically looking for a new job.
"More and more consumer brands such as Samsung and Mercedes are going on LinkedIn every day because they can target our members who are affluent, educated and influential and have a high disposable income." He says that a third of visits to the site come via mobile, up from a fifth a year ago.
Paul Armstrong at Digital Orange Consulting points to figures from digital analysts ComScore, which show that the 9.4 million unique UK visitors to LinkedIn in July were evenly spread across the age groups. But the site has an above-average proportion of high-income visitors. While nearly 6 million had incomes under £50,000 a year, 3.5 million earned in excess of 50K, according to ComScore. "People are getting to understand that it is a controlled space, there's not a lot of noise going on there and it is a simple eco-system. It is becoming a hub for high-quality business information," he says.
LinkedIn has recently introduced Sponsored Updates, where businesses can pay to ensure their posts appear in the news feeds of members, who they can target using a range of criteria.
Graff says this enables brands to promote new and relevant information, such as white papers, research and infographics, particularly important for companies seeking to build their reputations for thought leadership on business issues. This helps the site's B2B marketing strategy, positioning it as a resource for anyone in business who wants advice, data and contacts.
Computer giant HP uses LinkedIn to target small businesses through its Business Answers page, where firms can discuss areas of interest such as tax. Rebecca Shears, head of marketing for printing and personal systems at HP, says: "We had research which showed that more and more small businesses are turning to social media and are looking for peer-to-peer advice, so we launched the hub two years ago. Now we've got over 9,000 members. The main reason we are doing it is to position HP as a brand that supports businesses." She says members of the LinkedIn page are 20% more likely to recommend HP products than the average population.
Though the LinkedIn page is free for HP to run, the computer giant supports it with advertising. Shears says that if HP doesn't buy the ads, rival companies will.
Of course, B2B marketing also has a consumer spin off. Vodafone UK's business division uses LinkedIn to promote its Your Better Business website, which offers information and advice to business people. Helen Moon, head of Enterprise Brand at Vodafone UK, says LinkedIn is a powerful platform for disseminating business information. She adds: "There is a definite halo effect for consumers on LinkedIn. Business people are also consumers so they absorb information which shapes their personal and professional opinions."
In truth, all the social media sites are works in progress for marketing, says Leo Ryan, head of [email protected] "LinkedIn certainly is not a natural place for consumer marketing," he adds. "Though that's not to say you can't do something innovative there. Facebook's billion-strong membership is a hard number to ignore, so it is the default site for brands, while Twitter can have such an impact on the news cycle. LinkedIn is behind Instagram for consumer campaigns. But if B2B's your thing, it is the first stop."
LinkedIn's share price is soaring in the US. Investors seem to like LinkedIn's argument that the site's users go there for serious reasons and that this offers brands strong marketing potential.
source: http://www.theguardian.com/technology/2013/sep/11/why-linkedin-should-be-your-first-port-of-call-for-b2b-marketing
SAMSUNG IS BUILDING SOFTWARE TO CONTROL YOUR TV WITH YOUR BRAIN
Samsung has created smart TV software you can control with your brainwaves.
The research, called Project Pontis, aims to make Samsung's televisions more accessible for people with physical disabilities like quadriplegia. The company wants to enable "users with physical limitations to change channels and adjust sound volume with their brains."
Samsung's Swiss operations started the project three months ago in partnership with the Center of Neuroprosthetics of the Ecole Polytechnique Fédérale de Lausanne (EPFL) in Switzerland. The company demoed its second prototype TV on Thursday at its developer conference in San Francisco.
"How can we provide accessibility to people who cannot move or who have extreme limitations on their movements," Ricardo Chavarriaga, a senior scientist at EPFL who's working on the project with Samsung, said during a panel at Samsung Developer Conference.
"We're making tech that is more complex, that is more intelligent, but we should not forget this tech is being made to interface with humans," he added.
The first step in making the brainwave-controlled TV software is to collect a sample of how the brain behaves when the user wants to do something like select a movie. Samsung and EPFL combine indicators from both the environment and brain scans to build a model and apply machine learning to let the user select shows using eye movements and brainwaves.
To collect the brainwaves in the prototype, a user wears a headset covered with 64 sensors while looking at an eye tracker. The headset is connected to a computer that's mirrored to the TV.
The current prototype uses eye tracking to determine when a user has selected a particular movie. The system then builds a profile of videos the user gravitates toward, making it easier to provide lists of content in the future. The user ultimately makes a selection using eye tracking.
Samsung and EPFL are also working on a system that goes further and relies on brain signals alone for users who aren't able to control their eyes or other muscles reliably, Chavarriaga said.
"One thing we have to take in account is everybody is different," he said. Currently, the technology has to be tailored to each person because of variations in brains. "We believe we have to do the best for the person, so we have to personalize," Chavarriaga told CNET.
Samsung this week has been hosting its annual developer conference in San Francisco. SDC reflects Samsung's big push to get developers to make software specifically for its devices. In the past, that's meant making apps that work on the edge of Samsung's curved smartphone displays or take advantage of its S Pen stylus. This year, that focus has turned to Bixby and artificial intelligence. But Samsung also has pushed developers to make apps for its other products, like its TVs and home appliances.
Brain power
While developers aren't yet making apps that can be controlled with the brain, Samsung's doing research into the area. And it's not the only company trying to use brainwaves to control devices. SpaceX and Tesla CEO Elon Musk in March 2017 launched Neuralink, a company dedicated to creating "neural lace," which involves installing tiny electrodes in the brain to transmit thoughts.
And neuroscientists around the globe have been researching ways to make a digital interface for the brain. The technology is still early days, but it could one day replace touch screens and voice assistants in devices. Currently, most brain-computer interfaces (BCIs) are currently being created only for people who have suffered debilitating injuries that left them partially or completely paralyzed.
While Samsung's first prototype also is targeted at accessibility, it's too soon to say whether we'll all one day be controlling our devices with our brainwaves, said Martin Kathriner, head of public affairs for Samsung Electronics Switzerland GmbH. There are limitations with the current hardware. The sensor helmet requires a layer of gel applied to the head, something consumers likely aren't going to do at home.
"To us it's an accessibility idea," he told CNET after Samsung's SDC panel. "If it's applicable to us one day as pro couch potatoes, I have no idea."
Samsung initially considered building the technology into a smartphone but opted for the TV in part because of its bigger screen and because most homes have a TV, Kathriner said. He added that TVs also can be used as smart home hubs, which could be attractive for the brainwave technology.
Samsung plans to work on its second prototype through the first quarter of 2019 and then start tests in Swiss hospitals "where we start to explore how this situation, currently a prototype, … is perceived by patients," Kathriner said.
Originally published at 3:05 p.m. PT
Update at 4:30 p.m. PT with additional details and executive comments.
CNET's Gift Guide: The best place to find the perfect gift for everyone on your list this season.
5G is your next big upgrade: Everything you need to know about the 5G revolution.
Source:  https://www.cnet.com/news/samsung-is-making-a-tv-you-control-with-your-brain-at-sdc-samsung-developer-conference/
FACEBOOK RAMPS UP EFFORTS TO REMOVE TERRORIST CONTENT
Facebook says it's been trying to do a better job of finding and pulling down terrorist content, and on Thursday the world's largest social network said it's seen signs of success.
Facebook said that in the third quarter, it pulled down 3 million posts related to terrorism, a drop from the 9.4 million posts Facebook removed in the second quarter. The median amount of time terrorist content stayed on the platform after users reported it also dropped, from 43 hours in the first quarter to 18 hours in the third quarter, the company said.
Social networks are under pressure to remove terrorist content before violence spills into the real world. As they increase their efforts, though, bad actors are constantly changing strategy to evade detection, the companies say. Some terrorists try to create new accounts or break up their messages, Facebook said.
"We can reduce the presence of terrorism on mainstream social platforms, but eliminating it completely requires addressing the people and organizations that generate this material in the real world," Monika Bickert, Facebook's global head of policy management, and Brian Fishman, the company's head of counterterrorism policy, wrote in a blog post.
Facebook relies on machine learning to detect terrorist content its reviewers should prioritize. Sometimes the company will automatically pull down posts, if the system determines there's "high confidence" the post contains support for terrorism. The company has also been expanding some of its tools to more languages.
In the third quarter, about 99 percent of content related to ISIS and al-Qaeda was pulled down by the tech firm before a user reported it, Facebook said.
Infowars and Silicon Valley: Everything you need to know about the tech industry's free speech debate.
Cambridge Analytica: Everything you need to know about Facebook's data mining scandal.
FACEBOOK BANS PAGES LINKED TO FAR-RIGHT PROUD BOYS GROUP AFTER ARRESTS
Facebook is banning individual accounts, pages and groups linked to far-right extremists the Proud Boys.
People started reporting the takedown on Twitter on Tuesday, according to Business Insider, in the wake of Proud Boys members' arrests following a brawl on Manhattan's Upper East Side earlier this month.
The group and its founder Gavin McInnes were removed from Facebook and Instagram, the social network confirmed, highlighting its policies on hate groups.
"Our team continues to study trends in organized hate and hate speech and works with partners to better understand hate organizations as they evolve," a Facebook spokesperson said in an emailed statement.
"We ban these organizations and individuals from our platforms and also remove all praise and support when we become aware of it. We will continue to review content, Pages, and people that violate our policies, take action against hate speech and hate organizations to help keep our community safe."
The Proud Boys' main US page and McInnes' personal page are offline, but some smaller pages linked to the group are still up at time of writing.
McInnes, who co-founded Vice Media and left in 2008, created Proud Boys during the 2016 presidential election, and was suspended from Twitter in August. The self-described "western chauvinist" group was designated as a hate group by extremism watchdog Southern Poverty Law Center.
These bans come months after far right commentator and conspiracy theorist Alex Jones was kicked off multiple online platforms for hate speech.
The great Facebook exodus
Taking It to Extremes: Mix insane situations — erupting volcanoes, nuclear meltdowns, 30-foot waves — with everyday tech. Here's what happens.
Fight the Power: Take a look at who's transforming the way we think about energy.