Z10 Tips, Tricks and Shortcuts
For the new Z10 user, you'll find some good stuff here and I urge you to just sit down for 20 miutes and go through each of these. They'll stick with you that way.

For the experienced user

, please feel free to post your own tips in this thread! I'd ask that we stay on topic, and let's get as many as possible posted here.
 Settings
First, find your SETTINGS easily by swiping down from the top bezel. There you will see Settings, Bluetooth, Alarm, Rotation Lock, WiFi and Notifications. In your Settings, you will find your About screen, Network Connections such as your mobile network, Mobile Hotspot, NFC, Airplane Mode, etc.; your email accounts setup, Language and Input, BlackBerry Protect, and many other key settings.
Name your Z10 at Settings > About > Device Name. This is the name of the device a WiFi router will see, when using the BlackBerry Link on your desktop, or when sharing media files.

Remember the Overflow icon

, which is noted by the 

⁞

icon (three horizontal dots) This icon is often seen in the Hub, at the bottom of email compose screens and in many core BB10 apps and will lead you to more settings, options or actions for that screen.
Take a screen shot of your Z10 screen by pressing both the UP and DOWN volumes keys simultaneously. The screen shot is saved in your Pictures folder.
Stop the red LED quickly by tapping the top edge Standby button. Sometimes I don't have time to even peek at the Hub, and a quick tap of the standby button let's me get back to work for a few more minutes.
Hub Quick Controls: While in your Hub view, tap the overflow icon ⁞ and then Settings > to find your settings for Hub Display and Actions (change the sort order of messages, download images automatically and more), Hub Management (you can enable and disable which email accounts, Facebook, and Twitter to appear or no in the Hub.
Application settings can often be found by swiping down from the top bezel to find more Settings, Help, or About that third party application.
Disable the Delete Message Confirmation from your Hub screen > tap the overflow icon ⁞ > Settings > Display and Actions > scroll down to and disable the Delete Message Confirmation.
Peek when busy! If your actively in an email or other app like Twitter, you can use one finger swiping slowly up from the bottom bezel to view any mail, BBM or Hub notifications on the left or right of the pane. Keep your finger on the app and swipe back down to continue in the active app, or let go to move to another app. Swiping up from the bottom and over to the right all in one action hides that active app and takes you directly to your Hub.
Check your battery percentage at Settings > About > change the top Category from General to Hardware and the battery percentage is at the bottom of the screen. I've downloaded "Battery Watch" from BlackBerry World for free, as an icon on my screen.
Speed Dial settings are found by opening your Phone application and while in the Call List or Contacts view, touch and hold the desire contact to add to your Speed Dial and on the popup side bar, touch the Star icon (Add to Speed Dial).
Typing/Keyboard
Word Substitution on your Z10 works beautifully! Find it in your Settings > Language and Input > Automated Assistance > Word Substitution. We formerly called this AutoText, and it works all the same as before. There are a few pre-loaded, and I make my own, for things such as creating an entry of "hh" which becomes "Headed Home" I often use to let family know I've left the office at the end of the day. You can create Twitter hashtags, such as "bbt" becomes "#BlackBerry10", "myadd" instantly enters my physical office address. Learn to use the pre-loaded entries such as "ld" for today's date, "lt" for the current time, "mypin" to enter your Z10 PIN, or "myver" to instantly enter your BlackBerry model and OS version installed.
Hide the keyboard on any screen by wiping down with two fingers on the keyboard. Now you can see more of the long BBMessenger chat.
Format your Email to add colored fonts, Bold, bullets, or numbering… While in the email compose screen, swipe two fingers down to hide the keyboard and you'll see the Attach, Format, Importance and the overflow [⁞] icon… which allows you do BCC: a contact in the email.
Minize the keyboard

quickly by touching the space key for two seconds, or by using two fingers to swipe downward on the keyboard.

Switch Keyboards quickly between the QWERTY keyboard and the numeric/symbol keyboard by swiping down on the keyboard with one finger.

Delete whole words by swiping left across the keyboard. Delete two words by swiping leftward with two fingers, three words with three fingers.

Select a word by touching and holding the word, the blue selection box will surround the word. Hold that word a second longer and the entire sentence will be selected. Another second, the entire paragraph will select; a second longer and the next paragraph will select with it, and so on.
Media
Use the Camera on the Lock Screen by touching the camera icon for five seconds… instant camera for the quick shots without unlocking!

Camera Tips

: Use the up or down volume to activate the shutter, or simply touch the screen. Touch the Overflow icon for the camera's Burst mode (touch and hold for sports shots!) or to change the front-facing camera, or the Stabilization mode for shaky hands. The up/down volume keys also stop and start the video camera.
Set your Music Controls to your volume keys by going to your Settings > System Volume > to set the Music Shortcuts to On. Now your device volume up/down keys can be pressed to take you to the next or previous track in your music library.
Calendar
Switch calendar views quickly between the single day view to the week view, tap the screen twice quickly

A six month calendar

is viewable, from the month view, by dragging down from top blue month title. From there you can swipe left or right to the previous or future six months, and touch a month to view that month.
Miscellaneous
Customize your icon layout by

touching and holding an icon for two seconds until they pulsate… Touch and drag an icon within the current screen and let go to place it; drag an icon across the edge right or left to another panel, or drag one icon onto another to create a new folder with both icons located in that folder (you'll have a New Folder box pop up where you can name the folder). Rename a folder by touching it a few seconds.

Voice Control can quickly access from any screen by pressing the side MUTE key for two seconds (this is the button between the up and down volume keys).
Just Type! I am amazed at the ease of typing and self-correction of my typing mistakes on the Z10. I just seem to enter gibberish and the Z10 makes sense of it all in 99% of the words. Take time the first two weeks to use the word flick as you type and the Z10 will learn even better your typing and writing habits.
Just Speak! I have never been a big user of my former BlackBerry voice to text apps or services. They just never worked right for me. But WOW, this Z10 is actually getting better and better each time I use the Voice Control. Just like typing, it's learning my speech pattern, southern accent and idiosyncrasies. Take some time aside to create SMS messages or emails with the Voice Control and then as you do, make the corrections needed. Doing so will make a world of difference in how Voice Control reacts and transcribes your voice input.
Reset the BlackBerry10 Hub by swiping from the top right bezel to the center of the screen, five times in a row. This will often reset any ghost notifications, your email or social media notifications. You'll see a quick black screen then "Preparing BlackBerry Hub".
Got your own tip? Post it in this thread. If you're copying from another blog or source, be sure to give credit where due, with a link.
Other great Z10 and BlackBerry10 resources can found at the BlackBerry HelpBlog, The BlackBerry YouTube Channel, the BlackBerry Twitter Support, and at Getting Started with the Z10.
Huawei's Mate 30 contains no American parts
When the extent of the Trump administration's sanctions targeting Huawei became clear, we wondered whether the Chinese telecoms giant would be able to make a smartphone without American components. The answer, according to a new report by The Wall Street Journal, is apparently yes.
The analysis by UBS and Fomalhaut Techno Solutions says that Huawei's Mate 30 contains no US parts at all. Huawei appears to have found non-American suppliers for several critical components. For example, it's now sourcing audio amplifiers from the Netherlands' NXP rather than Cirrus Logic, relying entirely on its own HiSilicon semiconductor division for Wi-Fi and Bluetooth chips rather than Broadcom, and using other companies like Japan's Murata and Taiwan's MediaTek for other parts previously supplied by US manufacturers.
New Huawei Mate 30 used zero US suppliers, teardown analysis shows

Intel
Broadcom
Qualcomm
Qorvo
Skyworks
Cirrus Logic

all provide parts to Huawei https://www.wsj.com/articles/huawei-manages-to-make-smartphones-without-american-chips-11575196201 …Huawei Manages to Make Smartphones Without American ChipsAmerican tech companies are getting the go-ahead to resume business with Chinese smartphone giant Huawei, but it may be too late: it is now building smartphones without U.S. chips.wsj.com
UBS: Huawei's internalization effort looks to have progressed faster than expected, as we now see some Huawei 4G models (Y9 Prime 2019 and Mate 30) which are not using any US components anymore

h/t @WigglesPalmer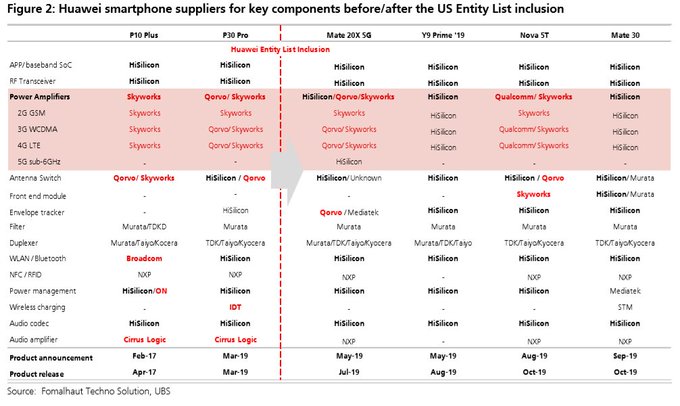 72:30 PM – Dec 2, 2019Twitter Ads info and privacySee Sally Shin's other Tweets
Huawei has a "clear preference to continue to integrate and buy components from U.S. supply partners," a company spokesperson told the WSJ. "If that proves impossible because of the decisions of the US government, we will have no choice but to find alternative supply from non-US sources."
Huawei hasn't been able to divest itself of US suppliers entirely, even though it's banned from doing business with most of them. The company said it had been stockpiling components in anticipation of sanctions, and separate teardowns reveal that some newer devices are still reliant on American parts. TechInsights, for example, shows that the higher-end Mate 30 Pro 5G uses chips from Qualcomm and Texas Instruments.
This could be for any number of reasons; presumably Huawei would want to use up the chips it saved for this scenario regardless of whether it had any other options. It's also not surprising that the company would be making big moves to diversify its supply chain. What the UBS teardown does demonstrate, however, is that Huawei is entirely capable of manufacturing high-end smartphones without American suppliers. The question remains whether anyone outside China will buy one.
Source:
https://www.theverge.com/2019/12/3/20993148/huawei-mate-30-no-american-components-manufacturers
Facebook buys maker of hit VR game 'Beat Saber'
Facebook-owned Oculus on Tuesday said it is buying the studio behind hit virtual reality game "Beat Saber" as it looks to expand VR technology to wider audiences.
Oculus, which makes Rift and Quest VR headgear, did not disclose financial terms of the deal to acquire Prague-based Beat Games.
"Beat Games is joining us in our quest to bring VR to more people around the world," Oculus director of augmented and virtual reality content Mike Verdu said in a blog post.
"Beat Games' accomplishments are already impressive, but Facebook and the Beat Games team know that there is so much more that can be done across VR, games, and music."
Verdu assured players that the studio would continue to ship content and updates for "Beat Saber" on platforms where it is already available.
In the virtual game, players use light sabers to slash oncoming, large cubes to the beat of the music, sometimes twisting or ducking to avoid oncoming walls.
"VR reimagines old genres and invents new ones," Verdu said.
Oculus is exploring ways, including acquisitions, to accelerate the adoption of virtual reality technology, which Facebook chief Mark Zuckerberg has heralded as the next major computing platform.
"With the resources and know-how that we can offer, Beat Games will be able to accelerate, adding more music and more exciting features to 'Beat Saber' as well as bringing the game to more people," Verdu said.
Facebook is planning a virtual social community where users of its Oculus headgear can "explore new places" via its Horizon virtual world, which is set for a beta launch in 2020.
Oculus users will be able to choose an avatar and interact with others in the virtual community, Facebook said earlier this year.
Horizon will replace earlier versions of the social VR community Facebook Spaces and Oculus Rooms.
Oculus remains a small part of Facebook, whose core social network and other platforms reach more than two billion people worldwide.
Analysts expect sales of 1.3 million units in 2019 of the Oculus Quest, a wireless VR headset unveiled last year.
Source:
https://guardian.ng/technology/facebook-buys-maker-of-hit-vr-game-beat-saber/
Samsung hesitant to use Qualcomm's unsecure ultrasonic fingerprint scanner in future phones
Samsung and other OEMs could have become wary of using Qualcomm's ultrasonic fingerprint scanner on their future devices next year due to recent security issues.
Samsung bucked the industry trend and went with Qualcomm's ultrasonic in-display fingerprint scanner for the Galaxy S10 and Note 10 which uses ultrasonic waves to read one's fingerprint in 3D, while almost every other OEM went with an optical in-display fingerprint scanner.
It was touted that Qualcomm's ultrasonic fingerprint scanner was faster, secure, and more reliable. However, the real-life experience turned out to be exactly the opposite as the Galaxy S10 and Note 10 series were panned for their slow fingerprint scanner performance.
Worse, a major security flaw was discovered with the fingerprint scanner on these flagship Galaxy devices which allowed almost anyone to unlock the phones. This security flaw led to many banks disabling the fingerprint sign-in feature in their app for the S10 and Note 10. Samsung was quick to roll out an update and fix the flaw but the issue had already had a negative impact on the company's image by then.
An official from a Korean telecommunications company says Samsung ended up going with Qualcomm's ultrasonic fingerprint scanner despite security issues. These same security concerns could make other OEMs hesitant to adopt the technology in their future devices. A local analyst also believes that Samsung could end up ditching the ultrasonic fingerprint scanner for optical in-display fingerprint scanners made by Korean companies in 2020.
Qualcomm is expected to announce its second generation ultrasonic fingerprint scanner at the upcoming Snapdragon Tech Summit which should address these security concerns and further improve the performance of the scanner. The company will also announce its flagship Snapdragon 865 chip for 2020 at the same event.
Source:
https://www.neowin.net/news/samsung-hesitant-to-use-qualcomms-unsecure-ultrasonic-fingerprint-scanner-in-future-phones