Z10 Tips, Tricks and Shortcuts
For the new Z10 user, you'll find some good stuff here and I urge you to just sit down for 20 miutes and go through each of these. They'll stick with you that way.

For the experienced user

, please feel free to post your own tips in this thread! I'd ask that we stay on topic, and let's get as many as possible posted here.
 Settings
First, find your SETTINGS easily by swiping down from the top bezel. There you will see Settings, Bluetooth, Alarm, Rotation Lock, WiFi and Notifications. In your Settings, you will find your About screen, Network Connections such as your mobile network, Mobile Hotspot, NFC, Airplane Mode, etc.; your email accounts setup, Language and Input, BlackBerry Protect, and many other key settings.
Name your Z10 at Settings > About > Device Name. This is the name of the device a WiFi router will see, when using the BlackBerry Link on your desktop, or when sharing media files.

Remember the Overflow icon

, which is noted by the 

⁞

icon (three horizontal dots) This icon is often seen in the Hub, at the bottom of email compose screens and in many core BB10 apps and will lead you to more settings, options or actions for that screen.
Take a screen shot of your Z10 screen by pressing both the UP and DOWN volumes keys simultaneously. The screen shot is saved in your Pictures folder.
Stop the red LED quickly by tapping the top edge Standby button. Sometimes I don't have time to even peek at the Hub, and a quick tap of the standby button let's me get back to work for a few more minutes.
Hub Quick Controls: While in your Hub view, tap the overflow icon ⁞ and then Settings > to find your settings for Hub Display and Actions (change the sort order of messages, download images automatically and more), Hub Management (you can enable and disable which email accounts, Facebook, and Twitter to appear or no in the Hub.
Application settings can often be found by swiping down from the top bezel to find more Settings, Help, or About that third party application.
Disable the Delete Message Confirmation from your Hub screen > tap the overflow icon ⁞ > Settings > Display and Actions > scroll down to and disable the Delete Message Confirmation.
Peek when busy! If your actively in an email or other app like Twitter, you can use one finger swiping slowly up from the bottom bezel to view any mail, BBM or Hub notifications on the left or right of the pane. Keep your finger on the app and swipe back down to continue in the active app, or let go to move to another app. Swiping up from the bottom and over to the right all in one action hides that active app and takes you directly to your Hub.
Check your battery percentage at Settings > About > change the top Category from General to Hardware and the battery percentage is at the bottom of the screen. I've downloaded "Battery Watch" from BlackBerry World for free, as an icon on my screen.
Speed Dial settings are found by opening your Phone application and while in the Call List or Contacts view, touch and hold the desire contact to add to your Speed Dial and on the popup side bar, touch the Star icon (Add to Speed Dial).
Typing/Keyboard
Word Substitution on your Z10 works beautifully! Find it in your Settings > Language and Input > Automated Assistance > Word Substitution. We formerly called this AutoText, and it works all the same as before. There are a few pre-loaded, and I make my own, for things such as creating an entry of "hh" which becomes "Headed Home" I often use to let family know I've left the office at the end of the day. You can create Twitter hashtags, such as "bbt" becomes "#BlackBerry10", "myadd" instantly enters my physical office address. Learn to use the pre-loaded entries such as "ld" for today's date, "lt" for the current time, "mypin" to enter your Z10 PIN, or "myver" to instantly enter your BlackBerry model and OS version installed.
Hide the keyboard on any screen by wiping down with two fingers on the keyboard. Now you can see more of the long BBMessenger chat.
Format your Email to add colored fonts, Bold, bullets, or numbering… While in the email compose screen, swipe two fingers down to hide the keyboard and you'll see the Attach, Format, Importance and the overflow [⁞] icon… which allows you do BCC: a contact in the email.
Minize the keyboard

quickly by touching the space key for two seconds, or by using two fingers to swipe downward on the keyboard.

Switch Keyboards quickly between the QWERTY keyboard and the numeric/symbol keyboard by swiping down on the keyboard with one finger.

Delete whole words by swiping left across the keyboard. Delete two words by swiping leftward with two fingers, three words with three fingers.

Select a word by touching and holding the word, the blue selection box will surround the word. Hold that word a second longer and the entire sentence will be selected. Another second, the entire paragraph will select; a second longer and the next paragraph will select with it, and so on.
Media
Use the Camera on the Lock Screen by touching the camera icon for five seconds… instant camera for the quick shots without unlocking!

Camera Tips

: Use the up or down volume to activate the shutter, or simply touch the screen. Touch the Overflow icon for the camera's Burst mode (touch and hold for sports shots!) or to change the front-facing camera, or the Stabilization mode for shaky hands. The up/down volume keys also stop and start the video camera.
Set your Music Controls to your volume keys by going to your Settings > System Volume > to set the Music Shortcuts to On. Now your device volume up/down keys can be pressed to take you to the next or previous track in your music library.
Calendar
Switch calendar views quickly between the single day view to the week view, tap the screen twice quickly

A six month calendar

is viewable, from the month view, by dragging down from top blue month title. From there you can swipe left or right to the previous or future six months, and touch a month to view that month.
Miscellaneous
Customize your icon layout by

touching and holding an icon for two seconds until they pulsate… Touch and drag an icon within the current screen and let go to place it; drag an icon across the edge right or left to another panel, or drag one icon onto another to create a new folder with both icons located in that folder (you'll have a New Folder box pop up where you can name the folder). Rename a folder by touching it a few seconds.

Voice Control can quickly access from any screen by pressing the side MUTE key for two seconds (this is the button between the up and down volume keys).
Just Type! I am amazed at the ease of typing and self-correction of my typing mistakes on the Z10. I just seem to enter gibberish and the Z10 makes sense of it all in 99% of the words. Take time the first two weeks to use the word flick as you type and the Z10 will learn even better your typing and writing habits.
Just Speak! I have never been a big user of my former BlackBerry voice to text apps or services. They just never worked right for me. But WOW, this Z10 is actually getting better and better each time I use the Voice Control. Just like typing, it's learning my speech pattern, southern accent and idiosyncrasies. Take some time aside to create SMS messages or emails with the Voice Control and then as you do, make the corrections needed. Doing so will make a world of difference in how Voice Control reacts and transcribes your voice input.
Reset the BlackBerry10 Hub by swiping from the top right bezel to the center of the screen, five times in a row. This will often reset any ghost notifications, your email or social media notifications. You'll see a quick black screen then "Preparing BlackBerry Hub".
Got your own tip? Post it in this thread. If you're copying from another blog or source, be sure to give credit where due, with a link.
Other great Z10 and BlackBerry10 resources can found at the BlackBerry HelpBlog, The BlackBerry YouTube Channel, the BlackBerry Twitter Support, and at Getting Started with the Z10.
A Chinese company reportedly created a photo with such high resolution, you can zoom from thousands of meters away to see people's facial expressions
You might call this the pinnacle of high-resolution images.
It is the brainchild of a setup called Jinkun Tech, or Bigpixel Technology Corporation , and it was taken from atop the Oriental Pearl Tower in Shanghai.
The photo resolution, which is the toughest part to wrap one's mind around, is reportedly 195 gigapixels.
A megapixel is one million pixels. The resolution of digital cameras and smartphones is often chopped up and measured in megapixels. For example, a 12-megapixel camera can produce images with 12 million total pixels. But, in this case, we're talking about gigapixels. One gigapixel is 1 billion pixels.
Hit the link below to try the zoom feature yourself.
Here is the brief story of an obscenely large picture.
It is the brainchild of a setup called Jinkun Tech, or Bigpixel Technology Corporation , and it was taken from atop the Oriental Pearl Tower in Shanghai.
What it is not, contrary to chatter on social media this week, is some evil new Chinese satellitequantum technology.
It's just a very, very big picture, and according to the company, more than 8 million people have explored it, and many more are about to.
The photo resolution, which is the toughest part to wrap one's mind around, is reportedly 195 gigapixels.
Some context: a megapixel is one million pixels. The resolution of digital cameras and smartphones is often chopped up and measured in megapixels. For example, a 12-megapixel camera can produce images with 12 million total pixels. But, in this case, we're talking about gigapixels. One gigapixel is 1 billion pixels.
Bigpixel reckons it is more than 2,000 more times precise than a photo captured from an ordinary, consumer-level camera, which makes this 360-degree snapshot of a surprisingly sunny Shanghai day the world's third-biggest photo. Bigpixel says it's Asia's largest.
It is a collection of images that have been integrated over a few months using image-stitching technology .
Bigpixel says this is its first panorama with hundreds of billions of pixels. The result is an unearthly, uncanny, unnecessarily fearsome zoom a zoom that takes you so close to the oblivious person on the street in this case, in Shanghai that, yes, you can literally see individual facial expressions.
The technology's potential for covert surveillance also becomes quite obvious.
Source: https://www.pulse.ng/bi/tech/a-chinese-company-reportedly-created-a-photo-with-such-high-resolution-you-can-zoom/j84emh7
11 new features coming to your iPad that will make it much better at replacing your laptop (AAPL)
Apple's software update for the iPad coming later this year will bring a handful of useful new features, such as improvements to the way the iPad multitasks and handles file management.

The company is calling the update iPadOS, making it the first time it's separating its tablet software from the iPhone's iOS software.
Although the iPad isn't meant to be a complete replacement for your laptop, Apple's tablet has slowly become a more viable productivity tool in recent years. That's truer than ever with iPadOS, the new software update Apple will be launching for the iPad later this year.
It marks the first time Apple has separated its iPad software from its iPhone operating system, a move that further distinguishes the two products from one another. It's a sensible move now that smartphones generally have much larger screens today than they did when the original iPad launched in 2010, people are using their phones for some of the tasks they may have turned to a tablet for in the past.
As such, companies like Apple, Microsoft, Samsung, and others have been positioning their tablets as productivity-oriented devices that offer larger screens than smartphones and better portability than laptops. The iPadOS update will provide new features that are critical in boosting the iPad's performance in this role as a work device.
Apple didn't say precisely when iPadOS will be released, but the company typically debuts new software updates across its products in the fall time frame.
From new copy and paste gestures to improved multitasking, here are our favorite new features coming to the iPad later this year.
You'll be able to pin widgets to the home screen.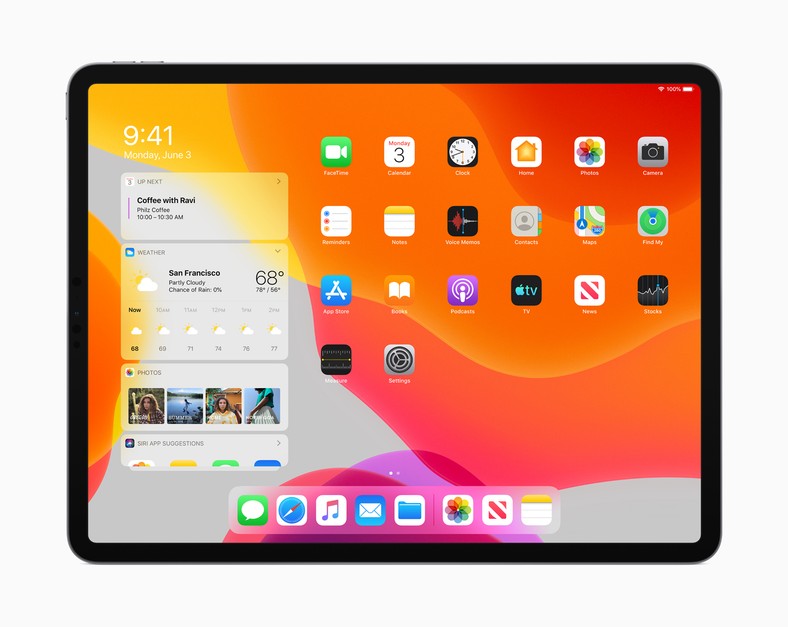 Widgets in iOS are usually just a swipe away from the home screen. But when iPadOS launches, you'll be able to pin certain widgets to the device's home screen, making it easy to see information like upcoming calendar appointments at just a glance.
You'll also be able to choose favorite widgets that will always appear on the home screen. It's a useful addition that can help you make the most out of the extra screen real estate the iPad has to offer.
Your iPad will be capable of functioning as a second display for your Mac.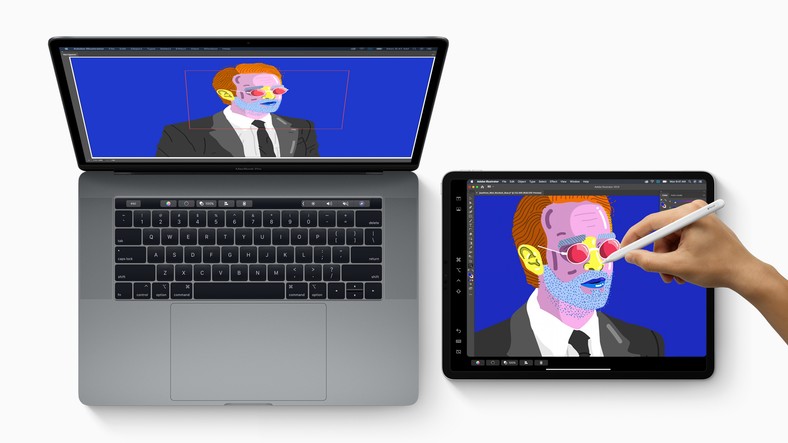 Third-party apps like Duet Display have made it possible to use your iPad as a secondary display for years, but now this functionality is finally coming to iOS natively. Apple's next big Mac update, called Catalina, and iPadOS will bring a new feature called Sidecar that turns your Apple tablet into a second Mac display.
That means you'll be able to extend your desktop so that it stretches across your Mac and your iPad, making it possible to drag content between both. You can also use the iPad to mirror your Mac's display, and to edit content on the iPad using the Apple Pencil while seeing the changes occur live on your Mac.
You'll be able to cycle through multiple apps that are open in Slide Over mode.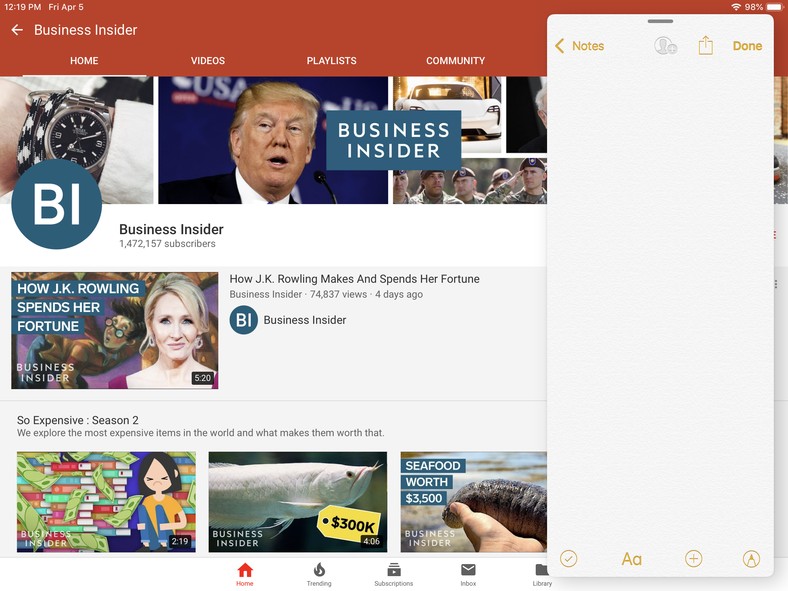 Apple's Slide Over feature, which allows you to pin an app to the side of your iPad's screen in a column view alongside another app, is getting a noteworthy update in iPadOS. When the update launches, you'll be able to open multiple apps in Slide Over simultaneously and cycle between them with a swipe.
The iPad is finally going to be compatible with thumb drives.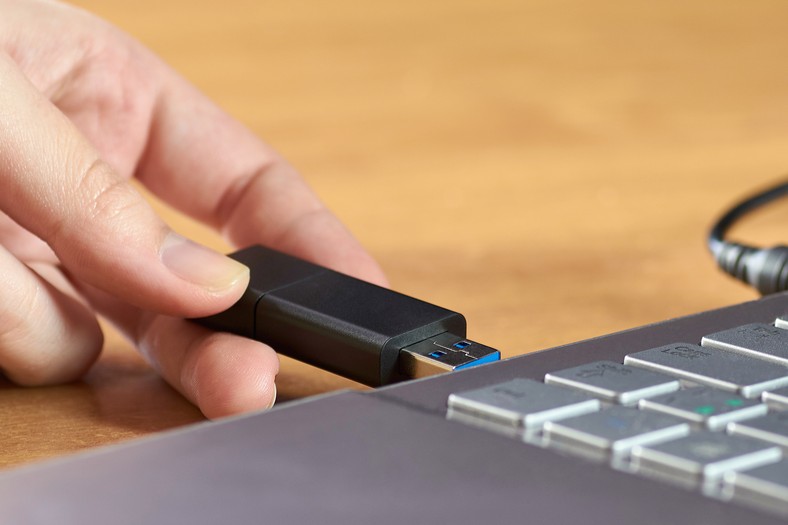 The iPad's inability to support external drives has always hampered its ability to serve as a work computer, but that's finally changing this year. The iPad will soon be compatible with external devices such as a USB drive, hard drive, and a microSD card, making it much easier to get content that isn't saved in the cloud onto your iPad. It's a feature that competing Windows tablets like Microsoft's Surface Pro have had for years.
The Files app is getting new views that make it easier to manage content.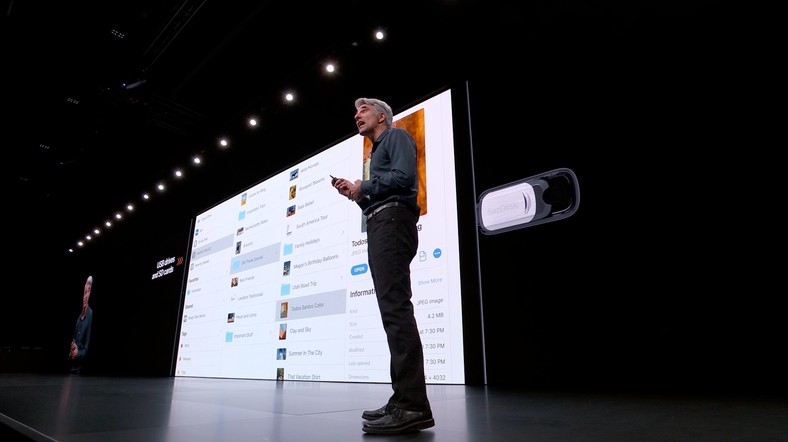 Apple launched the Files app for the iPad back in 2017, an addition that was necessary in order for the tablet to be taken seriously as a productivity machine. Now, with iPadOS, Apple is making the Files app even more robust and comprehensive with a new column view and other helpful features.
Based on Apple's presentation, it seems like the column view will make it much easier to find documents quickly without having to dig through your folders. You'll be able to view sub-folders in a column alongside your main folders, and a new preview pane lets you see images and other content without having to open it.
The Files app is also getting a new downloads folder for keeping your downloads from the Mail app and Safari all in one place.
You'll be able to view the progress of files downloaded in Safari.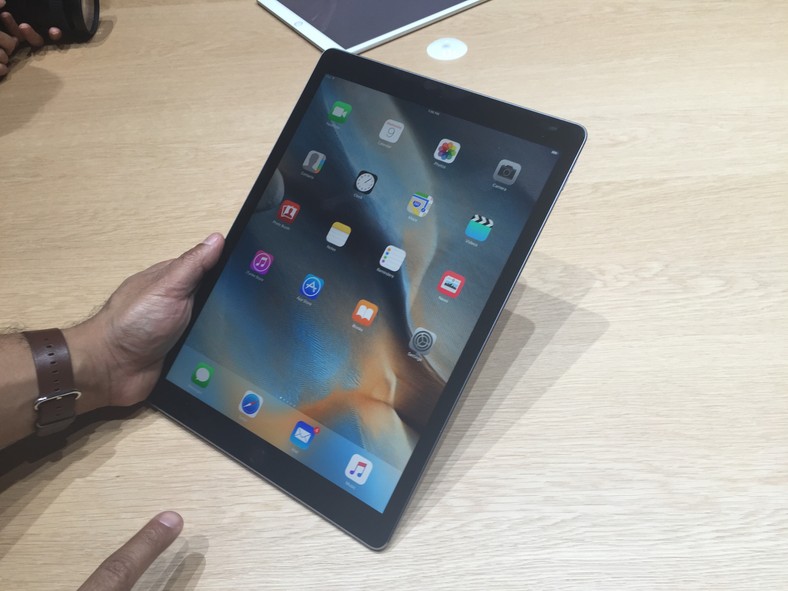 Apple's web browser will finally offer a means of easily managing downloads.
When iPadOS launches later this year, Safari will have a download manager that enables you to view download progress and quickly access recently downloaded files. That's a huge win for those who often use their iPad for work-oriented tasks and frequently download material from the web.
Safari will now show the desktop versions of a website on the iPad.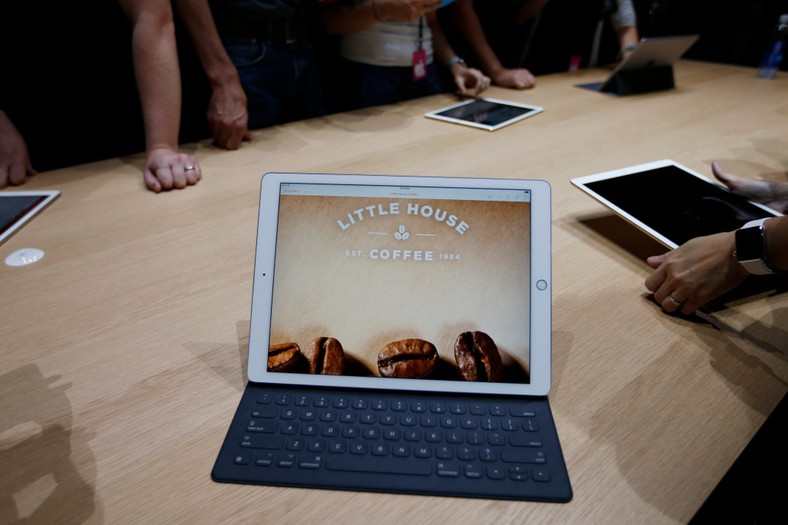 If you're going to use your iPad like a desktop computer, it should be better at behaving like one. That's presumably why Apple is adding the ability for Safari to automatically show the desktop version of websites on the iPad, making better use of its larger screen. Apple also says that despite being designed for the desktop, these websites will still be optimized for touch.
You'll be able to view the same app in different windows.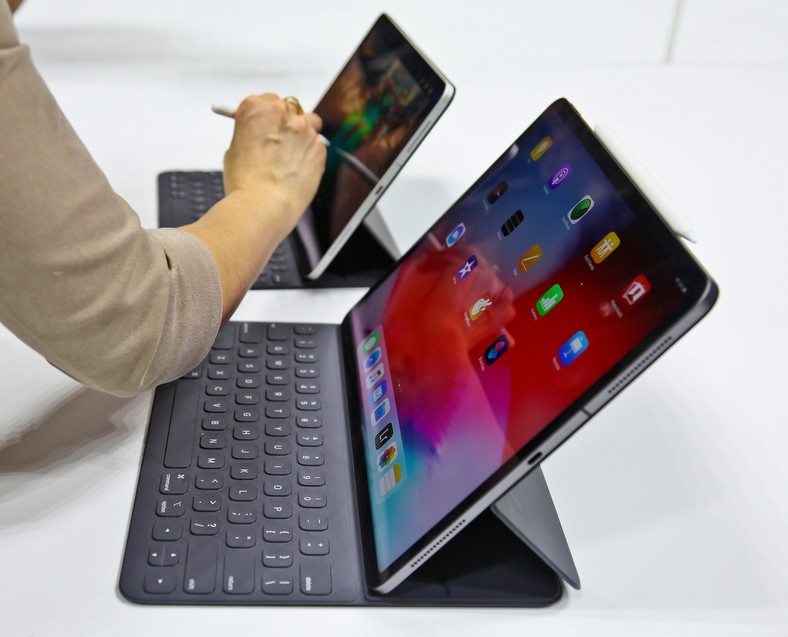 Apple's Split View feature for the iPad is limited in the sense that it's not possible to run the same app in multiple windows.
For example, if you want to open two documents in the Notes app side-by-side, or two tabs in Safari alongside one another, you're out of luck with Apple's current software.
But that's going to change soon enough, as iPadOS brings the ability to run multiple windows showing the same app. That should make it much easier to work on projects that require multitasking across several documents or websites.
You'll be able to navigate webpages and documents more precisely with a scroll bar.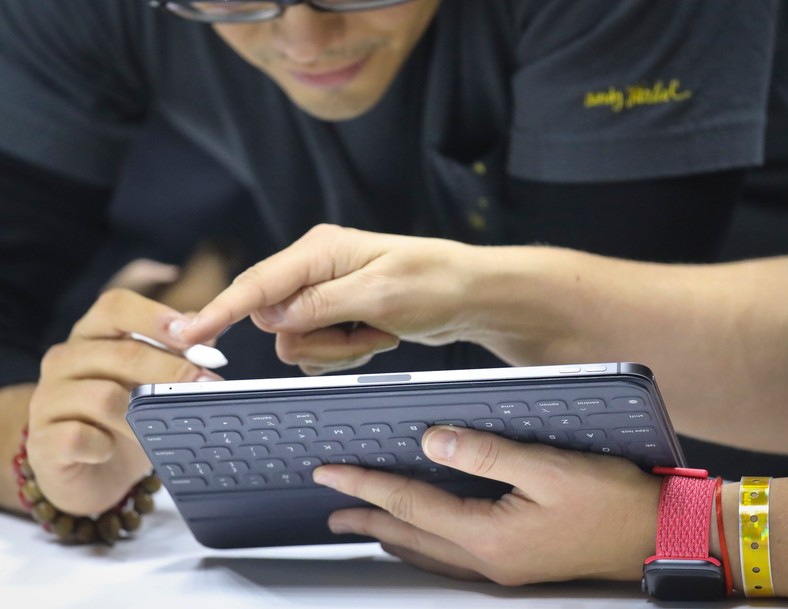 To make it easier to navigate through long documents, Apple is adding support for scroll bar scrubbing on the iPad. When iPadOS launches, you'll be able to drag the scroll bar to a designated area on a webpage or document, allowing for more precise scrolling just like on the desktop.
The iPad is getting new gestures for copy, paste, and other actions.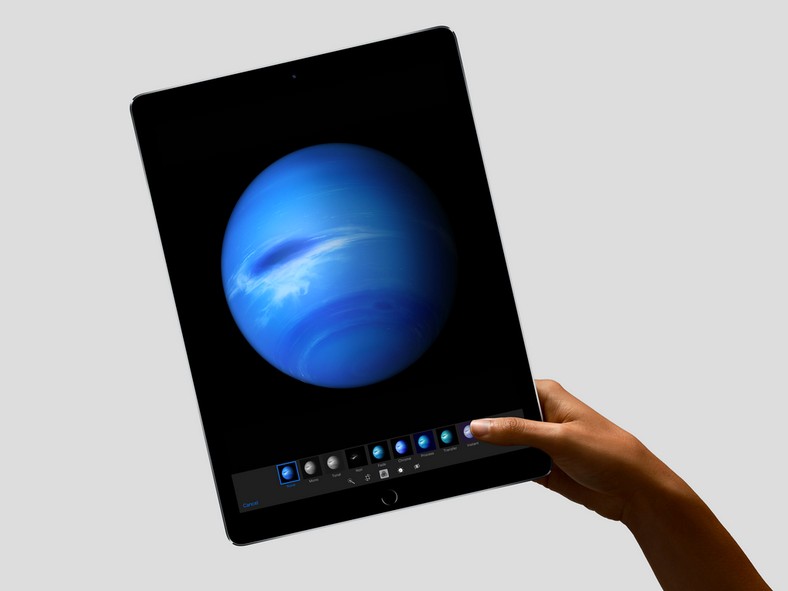 While mouse and touchpad is probably still the most natural form of input for work-related tasks, Apple is improving the way touch works on the iPad.
Consider the new copy and paste gestures in iPadOS, for example. You'll be able to copy text by pinching up from the screen with three fingers, while pinching outward with three fingers will paste the content in the location of your choosing. The gestures are meant to mimic the motion of picking something up and putting it back down, making it easy to remember.
Similarly, Apple is launching new gestures that make it possible to undo an action by swiping to the left with three fingers and redo by swiping to the right with three fingers.
The Apple Pencil is becoming more useful.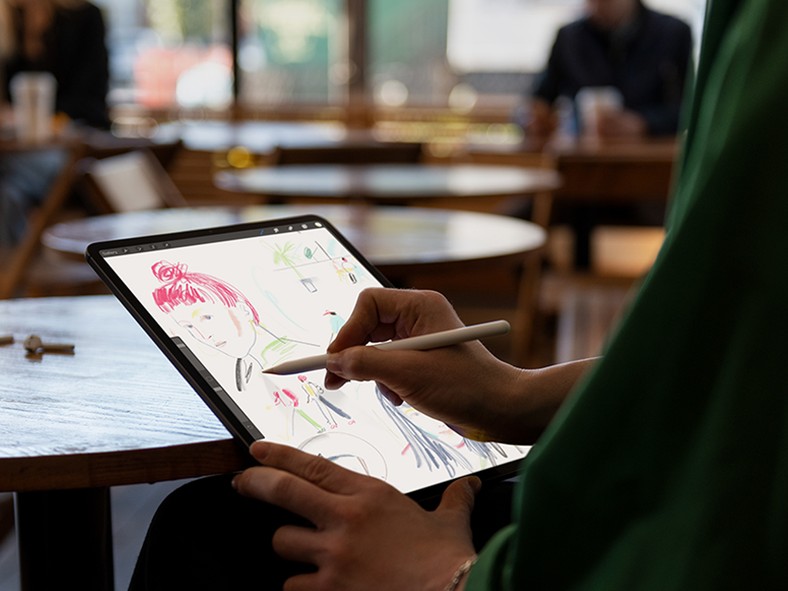 One advantage that Samsung's S Pen stylus has always had over the Apple Pencil is its ability to tie into Samsung's software to enable certain shortcuts and features.
With iPadOS, it looks like Apple Pencil owners will get a small taste of this type of functionality, too. You'll be able to take a screenshot in iPadOS by dragging the Apple Pencil from either bottom corner of the screen. While the Apple Pencil is still largely intended to be a tool for drawing, sketching, writing, and annotating rather than user interface shortcuts, it's refreshing to see another use case for Apple's stylus.
Other than the new screenshotting feature, the Apple Pencil will be capable of working at a lower latency thanks to Apple's improved prediction algorithms.
Source: https://www.pulse.ng/bi/tech/11-new-features-coming-to-your-ipad-that-will-make-it-much-better-at-replacing-your/8j70erf
3 VR Myths That Are Unreal
Virtual reality (VR) has generated a lot of interest over the years — some good and some not so good. It uses computer technology to create simulated environments that allow users to feel as though they're fully immersed — physically and mentally — in these compelling 3D spaces.
Not surprisingly, tech workers and other professionals who understand the ins and outs of technology have been among the first to dabble with VR software and hardware solutions. (For more on the hype surrounding VR, check out Tech's Obsession With Virtual Reality.)
"I'm actually an early adopter," says John Bruno, vice president of productmanagement at Elastic Path, an e-commerce company. "I've had a VR headset at home – PlayStation VR – for two years. I've also used other hardware setups to do everything from explore new destinations, consume educational content, build configurable products, and interact with a physical workspace."
Bruno, who previously served as senior analyst at market research firm Forrester, says that the VR solutions available today are only a glimpse of what'll be possible in the future.
But it's precisely this future that Bruno alludes to that have many critics questioning whether the benefits of VR outweigh what they say are the possible negatives. No technology is perfect, and any technology can be misused or abused — and VR is no exception. This does not mean, however, that criticisms leveled against the technology hold any water — literally or virtually.
What follows is a look at three VR myths or misconceptions that don't hold up to proper scrutiny.
Myth 1: VR Is a Passing Fad
According to Zion Market Research in a report early this year, the global VR market was worth $2.02 billion in 2016 and will be worth $26.89 billion by the end of the 2017-2022 forecast period. Looking at VR hardware and software for consumer and business applications, the research firm says that Oculus VR, Sony, HTC and Samsung Electronics are some of the key vendors of virtual reality worldwide. These players across the VR market are, it adds, focusing on innovation and on including advanced technologies in their existing products.
Dr. Hala ElAarag, who earned a Ph.D. in computer science at the University of Central Florida and who works as a professor of computer science at Stetson University, says that the convergence of artificial intelligence and VR will change both in important ways. (One area where VR and AI intersect is wearables. Learn more in How AI Is Enhancing Wearables.)
"The merging of artificial intelligence and VR will revolutionize both fields and will be very important for [the] entertainment industry," says ElAarag, also a senior member of the Association for Computing Machinery (ACM) and the Institute of Electrical and Electronics Engineers (IEEE).
It will also help the hearing impaired by detecting sounds and the visually impaired by detecting objects. The wide spread of 5G will empower VR. The high speed and the low latency of 5G technology will enable computationally intensive applicationsto be executed in the cloud. This will also have a significant impact on the esportindustry.
Perhaps it should not come as much of a surprise that VR has been on the receiving end of some pushback from different groups in society. After all, says Dr. Mehran Salehi, a computational fluid dynamics (CFD) analyst with Southland Engineering, this isn't the first time that a new technology has encountered opposition before eventually being widely accepted.
Salehi, who earned his doctoral degree in mechanical engineering from the University of Toledo, adds that negative sentiments surrounding VR will likely let up over time. In 10 years, for instance, VR could very well be the norm in the day-to-day lives of many people.
"My first experience in VR comes with the gaming industry," he says.
I loved it. I was in a tech exhibition and they were showing a virtual reality setup … I loved it. I was like, "Wow this is amazing." You go and by the time that you put on those, basically, glasses and the controller you really feel like you're inside that environment and the way that you interact with the game changes a lot. After that, when I heard that VR is basically finding its way towards industry, I became more interested. I was like, "Oh, yeah, there are people developing code in that area."
Myth 2: VR Is Just for Gamers & Tech Geeks
One research report shows that the size of the worldwide VR gaming segment is expected to climb to $45.09 billion by 2025. So growth is on the horizon, but it's not just about gaming.
Bruno, for instance, highlights how VR could revolutionize the car buying experience in the future. While there are some people who love heading down to the dealership lot, looking at vehicles, and haggling to get a great deal, many don't enjoy the process at all. But VR stands to make the entire process less overwhelming and more consumer friendly.
"VR doesn't just flood the user with the sensation of being transported," he says.
It floods the user with data. If you take the car purchasing process today, you identify a make and model you like and you then walk around a car lot to sit in different vehicles with different specs and trims. Imagine a VR experience of the future. Now if you want to see the difference between a black interior and a tan interior, instead of finding a different car with a potentially different exterior color, all of those options and others can change in front of you in real time.
And the benefits extend beyond dealership lots. VR technology will enable consumers to virtually pick up products, to spin the products around in their hands, and to examine every minute detail before making a purchasing decision.
Myth 3: VR Will Create Mindless Zombies Incapable of Living in the Real World
Will VR create a generation of people who are so removed from the real world that they can't relate to, much less empathize with, other people? Quite the contrary, according to recent research. A study shows that research participants who took part in a VR experience focusing on losing a job and becoming homeless demonstrated stronger and more sustained empathy towards people who are homeless compared to people who simply read an article focused on homelessness. Other benefits of VR include, but are not limited to, boosting retention and recall, simplifying complicated issues and situations, and helping people with different learning styles.
VR — The Road from Here
While there is plenty of upside on the VR front, that doesn't mean that it's perfect. A lot of the factors limiting the mass market appeal of VR are hardware related, notes Bruno. But he's hopeful that time will sort everything out.
"If Moore's law holds true, we're not too far off from closing these gaps and building truly immersive experiences," he says. "Today, VR is ideal for scenarios where the user can be stationary and where the cost of the real-world experience is exorbitant or simply not possible."
Source: https://www.techopedia.com/3-vr-myths-that-are-unreal/2/33864