FACEBOOK UNVEILS ANONYMOUS LOGIN

Are you uncomfortable with the information Facebook shares about you with third-party apps and websites? Good news: Facebook has a solution.
Facebook (FB, Fortune 500) on Wednesday unveiled an anonymous login feature that allows users to sign into apps without sharing their identities. The apps will be forbidden from collecting personal data from people who use the feature.
Facebook has become a kind of universal sign-in mechanism for websites and apps, allowing people to click one "login with Facebook" button rather than remembering an endless number of usernames and passwords. But Facebook also shares users' personal information with those apps and websites, making some people wary.
"By giving people more power and control, they're going to trust more apps," Facebook CEO Mark Zuckerberg said at the company's annual F8 developers conference in San Francisco.
The social network rolled out the new feature to a limited set of apps, including Flipboard, but Facebook said anonymous login will be available more broadly in the coming months.
For those who don't mind sharing their information with apps and sites but want to choose exactly what those third-parties can see, Facebook also plans to unveil a line-by-line privacy control option for its regular login feature. Users could choose to share their birthday but not their friends' list, for instance.
"We know some people are scared of pressing this blue button," Zuckerberg said pointing at the Facebook login button. "We want to do more to put control and power back in people's hands."
Facebook said that new feature will be ready in the coming months.
Also on Wednesday, Facebook launched a new mobile ad network, essentially making it easier for app developers to use mobile-optimized ad formats and partner with companies to target specific audiences with their ads.
Overall, this year's F8 was far less sexy than in years' past, during which the company has unveiled bold new features, including Graph Search and Timeline.
Even Facebook's new motto is kind of dull. The social network giant is ditching its familiar, "Move fast and break things" catch phrase for a less catchy one: "Move fast with stable infra" (short for "infrastructure").
Facebook created its new motto with the aim that it will make it easier for mobile developers to build apps atop Facebook's platform and make money. And rather than manufacture a phone or launch any "shiny consumer product," as Zuckerberg calls it, Facebook will instead focus on useful social tools for end users.
"We want to make sure we put people first," he said.
Massive change coming to WhatsApp with introduction of ads
WhatsApp will see a massive change by 2020 with the introduction of adverts into the instant messaging app.
It's been rumoured for a while and now WhatsApp looks set to finally bring adverts to its popular messaging app.
The Facebook-owned firm revealed the news during its annual Marking Summit in the Netherlands, with a rollout expected next year.
Photos of the way these new adverts will look have even been posted online with attendee Olivier Ponteville, giving fans a closer look at what's to come.
The image, which can be seen on Twitter, shows how ads currently appear on Facebook and Instagram with a WhatsApp screenshot then revealed with a full-screen advert.
According to technology website BGR, once the message appears users will be able to "swipe up when an ad appears for more information about the product or service being advertised."
Adverts in WhatsApp have been spoken about for a while but this is the first evidence that things are changing within the popular service.
How fans react is yet to been seen but it's unlikely to go down well with its billions of users.
The bad news is that it seems there's nothing that can be done to stop this new feature from arriving within the app.
It seems almost certain that there will be no way to switch them off or hide these paid-for messages which may prove to be hugely irritating.
Source: https://www.thenewsguru.com/technology/internet/article/massive-change-coming-whatsapp-introduction-ads/
Facebook Messenger finally adds quoted replies
Today Facebook Messenger has added a sorely missing feature – quoted replies. This allows you to reply to a specific message in a conversation, and is incredibly helpful when you're engaged in chats that have a big range of topics. Using the new feature, the people you're talking to will now know exactly what you were replying to with that "LOL", for example.
This has been a feature in WhatsApp, which is also owned by Facebook, for a very long time, and it's always been sort of a baffling omission in Messenger. So it's good to finally see it there too.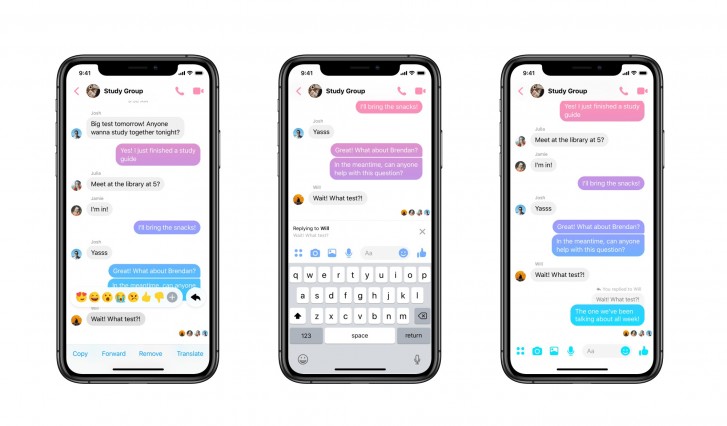 In order to quote a specific message, long tap on it and you'll see a new Reply button to the right of the reaction emojis. Tap that, write your reply, and, just like in WhatsApp, the message you're replying to will appear above your reply. Easy. This potentially means you'll have less misunderstandings with your friends as to which message was referencing what.
The feature is rolling out now on both iOS and Android.
Facebook's new privacy tool is a gamble that could backfire on its ad business (FB)
Facebook finally plans to launch its "clear history" privacy feature in 2019.
It was announced by CEO Mark Zuckerberg back in May 2018.
CFO Dave Wehner talked about it at a conference on Tuesday and warned that it could damage Facebook's capacity to target users with ads.
Facebook says its long-awaited "clear history" privacy feature will finally launch at some point in 2019 but it could prove problematic for its business.
Back in May 2018, as the Silicon Valley social networking giant battled with the aftermath of the Cambridge Analytica scandal, CEO Mark Zuckerberg announced the company was building a "clear history' feature that would let users instruct the social network to delete its records of what websites it had visited and links it had clicked.
Since then, the company has said little, but at a Morgan Stanley conference in San Francisco on Tuesday, CFO Dave Wehner confirmed that it's still in the works. And, he added, it could damage some of Facebook's efforts to target users with adverts.
Wehner brought up the pending feature after being asked about privacy headwinds facing Facebook. "Later this year, we'll be launching clear history which will also affect our ability to do third-party targeting for those who would clear history," he said.
The exec added: "So I think broadly, it's going to give us some headwinds in terms of being able to target as effectively as before."
It's not clear here if he's specifically talking about the feature or the consequences of privacy issues more broadly; a Facebook spokesperson did not immediately respond to Business Insider's request for clarification.
"That being said, I think we've been able to navigate relatively well so far, and we've had some headwinds … we've been able to do better than expected in Q4, so I'd say the landscape is definitely changing in a direction that make sit more difficult for us to grow, and gives us a little less visibility in how this will actually play out," he said.
The remarks indicate that the feature is, to some extent, a gamble: Facebook is betting that the goodwill the privacy measure is taking will offset any damage it does to its revenues.
In May 2018, as Facebook battled with the aftermath of the Cambridge Analytica scandal, CEO Mark Zuckerberg announced the social network was building a "clear history" feature that will let users instruct the social network to delete the info it holds on them. The extent to which it is a reactionary PR move was revealed by BuzzFeed News last week, when it reported that Zuckerberg decided to announce it in response to the Facebook's mounting scandals, and that it "didn't exist; it was barely an idea" at the time.
If Facebook has underestimated the popularity of the tool, of the damage it does to its ad targeting capabilities, it could be another self-inflicted black eye for the company.