Facebook use among US teens drops – study
Piper Jaffray's national survey takes its data from 7,200 teen respondents from upper-income and average-income socioeconomic backgrounds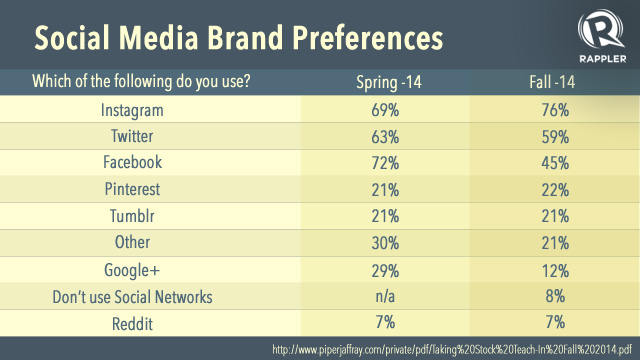 MANILA, Philippines – A new study  from the research arm of investment bank Piper Jaffray says fewer teenagers are using Facebook in Fall of 2014 when compared to its earlier study, held in Spring of 2014.
According to Piper Jaffray's study, Facebook use is down to 45% from 72%, meaning less than half of the respondents answered "yes" when asked if they use Facebook.
Of the various forms of social media tested, the number of those who said they used Instagram grew from 69% to 76%, while Twitter fell from 63% to 59%.
While no reasoning was given for the shift, the Washington Post notes  that research and anecdotal information points to "the presence of adults on the site, as well as the typically high-school plagues of oversharing and in-fighting" being potential reasons.
The increase in use of anonymous chat apps, such as Whisper and Yik Yak, may also be a cause of the decreased Facebook usage.
The national survey had 7,200 respondents with an average age of 16 years, and was taken using classroom visits and electronic surveys of upper-income and average-income teens.
source:http://www.rappler.com/technology/news/71514-facebook-social-media-study-piper-jaffray
Facebook paid users to track smartphone use
Facebook paid users, including teens, to track their smartphone activity as part of an effort to glean more data that could help the social network's competition efforts, according to a new report that may raise fresh privacy concerns.
An investigation by the online news site TechCrunch said the effort, which had been known as the Onavo Project and later rebaptized as Facebook Research, was used to gather data on usage habits.
The news could be a further embarrassment for Facebook, which has been under heightened scrutiny over failing to crack down on manipulation of its platform and for sharing private data with its business partners.
According to TechCrunch, Facebook said it shut down the application on Apple's iOS on Wednesday after the article was published, but apparently kept it active for Android users.
The report said the initial Onavo app was shuttered for violating Apple's privacy policy and that the newer version may also contravene Apple's terms.
The program paid users ages 13 to 35 up to $20 a month for "root" access to their devices to track their location, app usage, spending habits and other activity.
According to a statement to TechCrunch, Facebook claimed there was nothing secret about the effort and that it obtained parental consent for teens where required.
Facebook did not immediately respond to further requests for comment.
The project may have allowed Facebook to scoop up more data about younger users as it fends off a challenge from rival services like Snapchat, which has become more popular than Facebook among US teens.
Instagram is down for some users (FB)
It's not clear exactly how many people are affected, or what's causing the outage. Business Insider has reached out to the Facebook-owned photo sharing app for more information.
The app's news feed is refusing to refresh for some users, while the homepage on desktop won't load.
Down Detector, a website that tracks outages of popular websites, reported a spike in users saying Instagram was down on Monday, with particular hotspots on both coasts of the United States and the UK.
INSTAGRAM READY TO GIVE INFLUENCERS AND CELEBS SPECIALIZED TOOLS VIA CREATOR ACCOUNTS
Instagram plans to offer high-profile influencers special tools that will provide them with a deeper insight into various data regarding their followers. These tools will be delivered in the form of Creator Accounts, which will only be available to select Instagram users (i.e. influencers, celebs).
An Instagram official recently told The Hollywood Reporter that the company wishes to make sure that "Instagram is the best place, and easiest place, to build fan communities and also build creators. personal brands."
These creator accounts are meant to function like business-focused profiles and will offer growth insights, including information about follows and unfollows. Influencers will also be able to see weekly and daily data about their followers count changes so that they can better understand what might have caused a decline in their fan base or a spike in new followers.
Also, direct messaging tools that will enable Instagram users to filter notes from brand partners and friends will be available as well. Furthermore, influencers will be allowed to choose how they want to be contacted via flexible labels.
According to Instagram. these new features are being tested with a small beta group at the moment, but they are expected to be rolled out to everyone sometime in 2019.