Smartphone supply to Middle East, Africa up by 83 per cent in 2014
Smartphone shipments to the Middle East and Africa saw an unprecedented year-on-year growth of 83 per cent in 2014, according to a report.
The Q4 2014 Handsets Tracker released by International Data Corporation (IDC) said that smartphones accounted for 41.9 per cent of all mobile handset shipments to the region in 2014, up from 27 per cent in 2013.
"Many new vendors have been eager to get into the region's burgeoning smartphone space, with a number of them launching phones in this growing price band," says Nabila Popal, IDC's research manager for handsets and display solutions in the Middle East and Africa.
"This strategy of targeting the mid and low end of the market has contributed significantly to the success of vendors like Huawei and Lenovo..," said Popal.
The growing popularity of dual-SIM smartphones is also helping shape the market, with shipments of such devices increasing 34 per cent year on year in Q4 2014.
"Vendors such as Samsung and HTC launched variants of their flagship S5 and HTC One M8 models with dual-SIM capabilities," said Isaac T Ngatia, a senior research analyst at IDC Middle East, Africa.
The majority of the growth in the smartphone category was witnessed in countries that have larger populations but previously had low penetration rates.
"Apple's growth is primarily due to the incredible success of its iPhone 6 and iPhone 6 Plus models, which finally placed the vendor in the large screen size segment that had previously been dominated by Samsung," said Popal.
Like in other global markets, the Middle East and Africa market witnessed a massive 58 per cent increase in the shipment of iOS devices in Q4 2014 compared to Q3 2014.
source:http://timesofindia.indiatimes.com/Business/India-Business/Smartphone-supply-to-Middle-East-Africa-up-by-83-per-cent-in-2014/articleshow/47081437.cms
SCOUT is the portable charger that's thought of everything — and now, it's half off
We're all carrying so many devices these days that our pockets are starting to look like Batman's utility belt. Between your smartphone, smartwatch, tablet, laptop and the half-dozen other assembled gadgets and doohickeys we're toting around, power to keep all that tech running is a primary concern at all times.
With so many different device standards, power protocols, connecting cables and more, your power answer needs to start with versatility. A great place to start is the SCOUT Wireless 5,000mAh Portable Charger. Right now, you can pick it up at half-off its retail price, just $34 from TNW Deals with promo code: PREZDAY15.
Whether your device powers up via USB-C, micro USB or Lightning cable, SCOUT is ready with 5,000mAh of power, which is enough to fully charge an iPhone two or three times. Don't actually have your power cable? No problem, SCOUT connects via its own built-in connectors, meaning you won't have to be scrounging around for cables ever again. There's even a USB port just in case you do need to use an outside cable.
Does your device power wirelessly through Qi compatibility? SCOUT has you covered as well so you can simultaneously charge your full armada of devices, even via wireless charging.
And, if you want to go super old-school, the SCOUT recharges itself through conventional micro USB or your good old trusty AC wall outlet. SCOUT sports internal  intelligent charging tech that auto-detects new connections, then adjusts to the current specs to the device's needs, avoiding any over-charging or short circuits.
This super-convenient package is about the size of your smartphone — and might be just as useful. Retailing for $80, you can get one right now at half price, only $34before this offer ends with promo code: PREZDAY15.
Like this deal? Check out Vault, the best way to secure your online data for just $9.99/month.
How to AirDrop a file from an iPhone to a Mac or other Apple devices
Hands down, AirDrop is the easiest way to send files like photos, documents, and even web pages from an iPhone to a Mac (or to another Apple device).
AirDrop is automatically available on your iPhone 's sharing option whenever there's another AirDrop-compatible device in range.
You may need to set up AirDrop on your Mac before being able to AirDrop a file from an iPhone to that computer.
Compared to the ancient days of floppy disks, it's like we're living in a science fiction future today. After all, it's easy to share large files via email or on cloud services like Dropbox.
But Apple offers an even easier option: AirDrop. Armed with AirDrop, you can send files even ones too big for email from your iPhone to a Mac with just a tap, as long as the Mac is in range to receive them.
What's "in range"? AirDrop uses a combination of both Bluetooth and Wi-Fi to transmit files, so your Mac or other Apple device has to be within about 30 feet of the phone, according to Apple .
To successfully AirDrop, you'll need to configure AirDrop on a Mac you only need to do that once and then you can send files from your iPhone quickly and easily.
Activate AirDrop on your Mac or another Apple device
1. Click "Go" in the Finder menu and then click "AirDrop."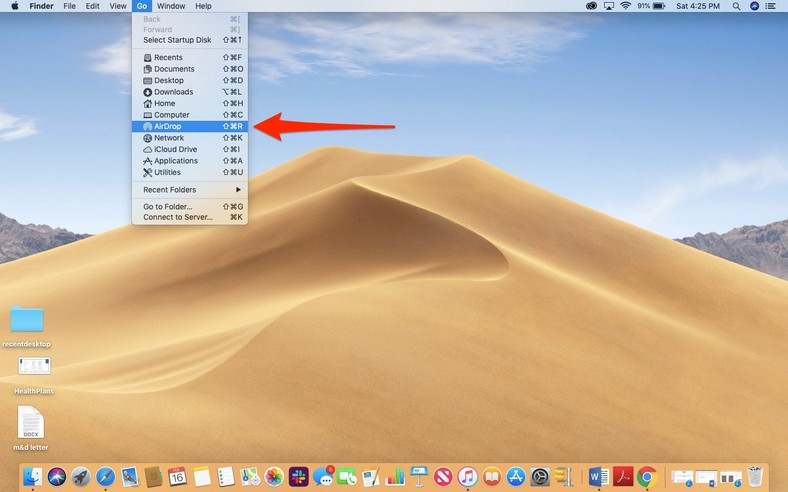 2. If your Mac's Bluetooth or Wi-fi is turned off, you will be asked to turn them on.
3. In the AirDrop window, choose who can AirDrop you. Click "Allow me to be discovered by" and choose either "Contacts Only" or "Everyone."
For Apple devices other than a Mac, including an iPhone, you can access the same permissions by going into your Settings, clicking General, and then selecting AirDrop to choose whether you can receive an AirDrop from "contacts only" or "everyone."
Limiting AirDrop only to your contacts is more secure, but choosing "everyone" is more convenient if you frequently have to receive files from a lot of different people.
It's generally easier to choose "Everyone." But be aware that if you are working in a public place (like a coffee shop), anyone in your vicinity will be able to try to send you files, so be careful whom you accept AirDrop files from.
Send a file from your iPhone
1. On your iPhone, open the app that you want to AirDrop from. To send a photo, for example, open Photos.
2. Select the file or photo you want to send (you can select more than one at a time).
3. Click the Share button.
4. In the AirDrop section of the Share screen, you should see icons for all of the AirDrop-compatible devices in range (it might take a moment for them to appear). Tap the icon for the Mac you want to send the file to.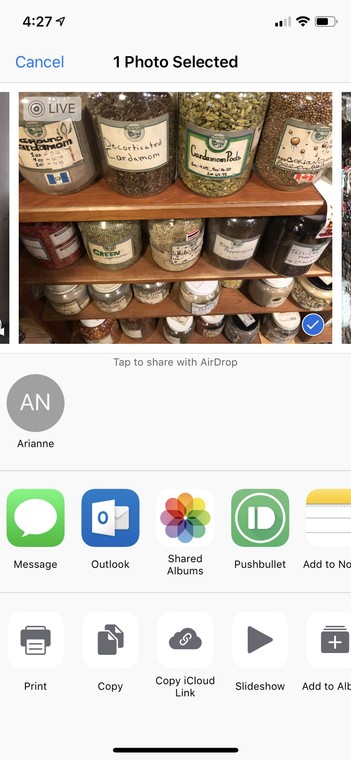 If you're in range, you should see a button for your Mac (and other AirDrop-compatible devices).
That's all you need to do on the iPhone; now the Mac or other device needs to accept the file.
Receive a file on your Mac or another Apple device
1. You should see a notification appear on your desktop or device's screen. Choose "Accept."
2. On a Mac, choose whether to open the file or save it to the Downloads folder.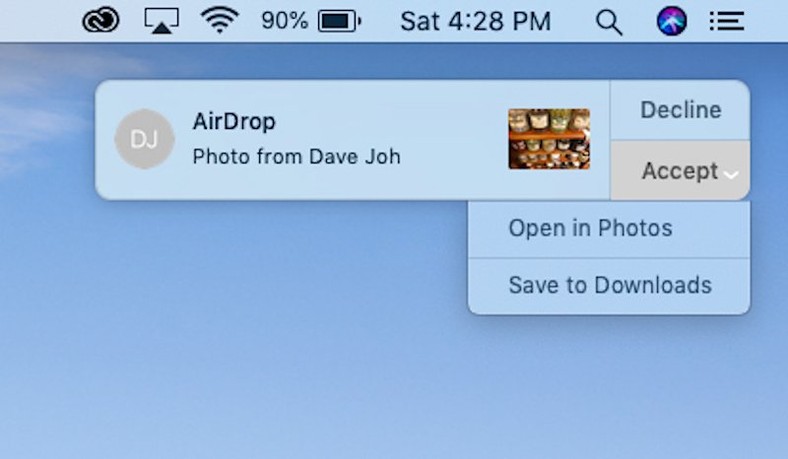 3. Open Downloads in Finder on your Mac. The file should be the most recent.
If you run into trouble
Like any technology, sometimes it doesn't work the way you expect. If you're having trouble with AirDrop, there are a few common things to check:
Is your Mac AirDrop-compatible? It needs to be running Mac OS X Yosemite or later.
Make sure that Bluetooth and Wi-fi are enabled on both your Mac and your iPhone.
It's possible the devices are too far apart, especially if you can't see the Mac on the iPhone's AirDrop list. Bring the two devices closer together.
Make sure that the iPhone isn't connecting to the Internet via a personal hotspot. Open Settings and make sure Personal Hotspot is "Off."
Huawei Y9 2019 Smartphone Excites Customers
The latest model of the Huawei Smartphones called Y9 2019, which is already available in Nigeria and other parts of the world, has continued to excite Nigerian customers who see it as a sleek, light wight smartphone with broad screen that allows for fuller view of images and texts.
Shipped into the country in January 2019, the smartphone comes with dual SIM card slots, including a microSD card slot for additional memory capacity to accommodate heavy downloads of photos and videos.
The dual SIM slot was specifically built to address customers' demand in Nigeria and Africa, where most of the subscribers prefer to operate with dual SIMs from different telecoms service providers.
One of the latest customers to Huawei brand of smartphones in Lagos, Nigeria, Mr. Jacob Adebayo, described Huawei Y9 2019 as rugged that could withstand pressure and shock when dropped from a distant height.
The Huawei Y9 (2019), which is an improvement on Y9 2018, Y8 Prime and Y7 Pro, is powered by Huawei's new Kirin 710 mid-range processor. Other specifications include 4GB of RAM, 64GB of internal storage which can be expanded using a microSD card (up to 400GB), and a non-removable 4,000mAh battery.
The battery, which is long-lasting, enables users to make maximum use of the phone all through the day without battery drainage. Experience has also shown that minimal usage of the phone could retain its battery for more than 36 hours talk time.
Dubbed the Huawei Y9 (2019), the smartphone was launched in China back in October 2018 and is the successor to the Y9 (2018). The latest smartphone from the Chinese smartphone giant, which overtook other smartphone brands to become the world's second largest manufacturer in 2018, features AI-enhanced cameras, a notched display, dual rear and front cameras, and Android 8.1 Oreo out-of-the-box.
Priced at N76,900 in the Nigerian market, the lone variant of the Huawei Y9 (2019) with 4GB of RAM and 64GB of internal storage, commenced sale exclusively via Amazon India from 15th January 2019.
The Huawei Y9 (2019) fits comfortably in the palm of the hand and feels chunky and solid. The plastic back has a high-gloss finish in a bid to imitate glass. It looks sleek and stylish but gets smudged very easily. A case is recommended to enhance grip, as the phone comes very slippery.
Colour and camera
There are two colour variants on offer — Midnight Black and Sapphire Blue. The vertically oriented dual-camera module is located in the upper right corner of the smartphone, with the words AI camera emblazoned underneath it. There's also a centrally located fingerprint sensor and a Huawei logo on the bottom right. The power button and volume rocker are placed on the right edge of the phone, and the left side houses the SIM tray, which has separate slots for two Nano SIMs and a microSD card.
Up front, there is a 6.5-inch full-HD+ display, with a 1500:1 contrast ratio, and a pixel density of 397ppi. The notch has become the new normal in smartphone design and the Huawei Y9 (2019) also embraces the design trend. The dual cameras are housed within the sizeable notch, which can be be masked via the settings.
The Huawei Y9 (2019) has four cameras in total — two at the front as well as the back. Up front, there is a 16-megapixel primary sensor with an aperture of f/2.0 and a pixel size of 2-microns, and a 2-megapixel secondary sensor with an aperture of f/2.4. At the back, there is a 13-megapixel sensor with an aperture of f/1.8 alongside a 2-megapixel secondary sensor with an aperture of f/2.4.
The camera app is loaded with features such as intelligent scene detection, a fully featured Pro mode, AR stickers, filters, light painting, panorama, and time-lapse.
Other features
The display seemed to have adequate brightness, good viewing angles, and punchy colours. Huawei offers two colour modes for the display — Normal and Vivid — and users can also calibrate the colour temperature according to their own preferences. There's also an Eye Comfort Mode which reduces harmful blue light. A detailed analysis of the display will have to wait till we conduct our full review.
Huawei has retained the legacy 3.5mm headphone jack. It still uses the old Micro-USB standard for charging and data transfer.
The Huawei Y9 (2019) runs Honor's EMUI 8.2 skin atop Android 8.1 Oreo. EMUI is smooth and fluid, but the software experience is let down by the sizeable amount of clutter and bloat.
There is a dedicated night mode as well which allows you to tweak the exposure and ISO. Huawei's flagships are known for their camera quality, and it is expected that the Huawei Y9 will maintain high quality images.