NEW MASTERCARD APP LETS USERS VERIFY TRANSACTIONS WITH A SELFAIE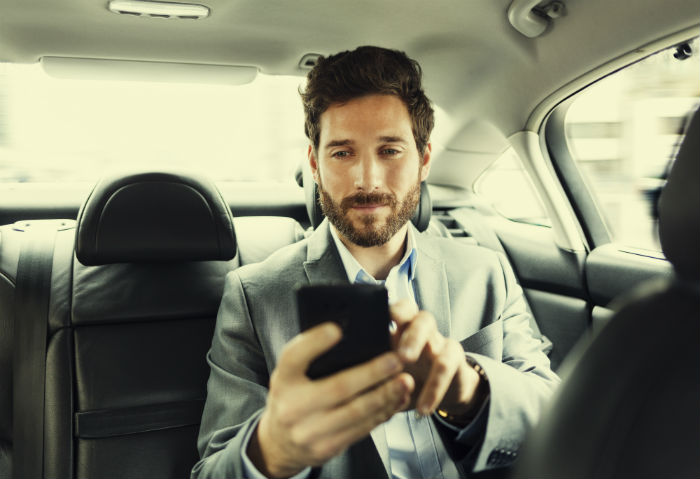 At the Mobile World Congress, MasterCard announced its plan to roll out its "pay-by-selfie" facial recognition program as an alternative to passwords when verifying IDs for online payments. The technology is expected to be pushed this summer to 15 countries including the UK, Netherlands, Belgium, Spain, Italy, France, Germany, Switzerland, Norway, Sweden, and Finland.
To use the new feature, customers will have to download MasterCard's app to their device. After entering their credit card information during online payment, users have to hold up their device and take a quick selfie to verify the transaction.
The app already has a number of ways to make sure that it isn't used for fraud. In order to prove that the picture is not just a photograph, the user has to blink. MasterCard also says that its algorithms can determine if someone is trying to trick the system by using a video. MasterCard chief of security solutions Ajay Bhalla, says "Nobody likes being falsely accused of something, but that's what it feels like when a transaction is falsely declined. As criminals have become smarter, efforts to prevent fraud have resulted in an increase in genuine transactions being declined."
MasterCard's move towards using biometrics to verify payments follows a pilot project with Dutch credit card firm International Card Services (ICS), with participants being able to complete online purchases without the need for PIN codes, confirmation codes, and passwords. The use of fingerprint or facial verification allows mobile users—most of whom already have devices with the hardware to do it—a more convenient means to do that. MasterCard says that the pilot has resulted in commercial interest from around the world, and that it projects to launch the technology in the US later this year.
Since the boom of e-commerce, traditional credit cards have been the target of cybercriminals who have found numerous ways—from malware to phishing schemes and skimmers—to take advantage of the weak security behind traditional credit card payment systems. The numerous threats that have plagued credit card payment systems has since led to the development of different payment processing technologies that allow for more convenient and more secure transactions.
In October 2015, the US has implemented a set of rules where the liability for credit card fraud shifts from the card issuers to the merchants unless they upgrade their payment processing systems to those that support EMV chip technology, with PIN-based authentication that can address fraud incidents that involve lost and stolen cards. MasterCard's new solutions could help pave the way for more secure mobile transactions, with the use of verification methods that are harder to cheat.
AMAZON ERROR ALLOWED ALEXA USER TO EAVESDROP ON ANOTHER HOME
A user of Amazon's Alexa voice assistant in Germany got access to more than a thousand recordings from another user because of "a human error" by the company.
The customer had asked to listen back to recordings of his own activities made by Alexa but he was also able to access 1,700 audio files from a stranger when Amazon sent him a link, German trade publication c't reported.
"This unfortunate case was the result of a human error and an isolated single case," an Amazon spokesman said.
The first customer had initially got no reply when he told Amazon about the access to the other recordings, the report said. The files were then deleted from the link provided by Amazon but he had already downloaded them on to his computer, added the report from c't, part of German tech publisher Heise.
On the recordings, a man and a female companion could be overheard in his home and the magazine was able to identify and contact him through the recorded information, according to the report. – Reuters
CRYPTOCURRENCY INDUSTRY FACES INSURANCE HURDLE TO MAINSTREAM AMBITIONS
Cryptocurrency exchanges and traders in Asia are struggling to insure themselves against the risk of hacks and theft, a factor they claim is deterring large fund managers from investing in a nascent market yet to be embraced by regulators.
Getting the buy-in from insurers would mark an important step in crypto industry efforts to show that it has solved the problem of storing digital assets safely following the reputational damage of a series of thefts, and allow it to attract investment from mainstream asset managers.
"Most institutionally minded crypto firms want to buy proper insurance, and in many cases, getting adequate insurance coverage is a regulatory or legal requirement," said Henri Arslanian, PwC fintech and crypto leader for Asia.
"However, getting such coverage is almost impossible despite their best efforts."
Many asset managers are interested in digital assets. A Greenwich Associates survey, published in September, said 72% of institutional investors who responded to the research firm believe crypto has a place in the future.
Last month, Mohamed El-Erian, Allianz's chief economic adviser said that cryptocurrencies would gain wider acceptance as institutions began to invest in the space.
Most have held off investing so far however, citing regulatory uncertainty and a lack of faith in existing market infrastructure for storing and trading digital assets following a series of hacks, as well the plunge in prices.
The total market capitalisation of crypto currencies is currently estimated at approximately US$120bil (RM502bil) compared to over US$800bil (RM3.3tril) at its peak in January.
"Institutional investors who are interested in investing in crypto will have various requirements, including reliable custody and risk management arrangements," said Hoi Tak Leung, a senior lawyer in Ashurst's digital economy practice.
"Insufficient insurance coverage, particularly in a volatile industry such as crypto, will be a significant impediment to greater 'institutionalisation' of crypto investments."
Regulatory uncertainty is another problem for large asset managers. While crypto currencies raise a number of concerns for regulators, including money laundering risks, few have set out clear frameworks for how cryptocurrencies should be traded, and by whom.
Insurance might allay some of the regulators' concerns around cyber security. Hong Kong's Securities and Futures Commission recently said it was exploring regulating crypto exchanges, and signalled that the vast majority of the virtual assets held by a regulated exchange would need insurance cover.
Custody challenge
Keeping crypto assets secure involves storing a 64 character alphanumeric private key. If the key is lost, the assets are effectively lost too.
Assets can be stored online, in so-called hot wallets, which are convenient to trade though vulnerable to being hacked, or in 'cold' offline storage solutions, safe from hacks, but often inconvenient to access frequently.
Over US$800mil worth of crypto currencies were stolen in the first half of this year according to data from Autonomous NEXT, a financial research firm.
Some institutions have started working to solve this problem, and may provide fierce competition to the incumbent players.
This year, Fidelity, and a group including Japanese investment bank Nomura have launched platforms that will offer custody services for digital assets.
Despite the industry's complaints, insurers say that they do offer cover. Risk advisor Aon, received some two dozen inquiries this year from exchanges and crypto vaults seeking insurance, according to Thomas Cain, regional director, commercial risk solutions, at Aon's Asian financial services and professions group.
"It is not difficult to insure companies that hold large amounts of crypto assets, but given the newness of the asset class and the publicity some of the crypto breaches have received, applicants need to make an effort to distinguish themselves," Cain said.
The industry also says it is getting closer to solving the custody problem.
"This year there have been a number of developments, and some providers have developed custody solutions suitable for institutional clients' needs," said Tony Gravanis, managing director investments at blockchain investment firm Kenetic Capital.
"Players at the top end of the market have also been able to get insurance," he said.
But this is not the case for all.
One cryptocurrency broker, declining to be named because of the subject's sensitivity, said insurers struggled to understand the new technology and its implications, and that even those who were prepared to provide insurance would only offer limited cover. "We've not yet found an insurer who will offer coverage of a meaningful enough size to make it worthwhile," he said. – Reuters
PICHAI PUTS KIBOSH ON GOOGLE SEARCH ENGINE FOR CHINA
Google is not working on a bespoke search engine that caters to China's totalitarian tastes, and it has no plans to develop one, CEO Sundar Pichai told lawmakers on Capitol Hill Tuesday.
"Right now, we have no plans to launch in China," he told members of the U.S. House Judiciary Committee at a public hearing on Google's data collection, use and filtering practices.
"We don't have a search product there," he said. "Our core mission is to provide users access to information, and getting access to information is an important human right."
Pichai acknowledged that the company had assigned some 100 workers to develop a search engine for totalitarian countries, however.
"We explored what search would look like if it were to be launched in a country like China," he revealed.
A report about a Google search engine for China appeared in The Intercept this summer.
The project, code-named "Dragonfly," had been under way since the spring of 2017, according to the report, but development picked up after Pichai met with Chinese government officials about a year ago.
Special Android apps also had been developed for the Chinese market, The Intercept stated, and had been demonstrated to the Chinese government for a possible rollout this year.
"We certainly hope they abandoned those plans," said Chris Calabrese, vice president for policy for the Center for Democracy & Technology, an individual rights advocacy group in Washington, D.C.
"We didn't think it was a good idea to build a search engine that would censor speech in order to go into the Chinese market," he told the E-Commerce Times.
Google may have been testing the waters with its Chinese browser, maintained Russell Newman, assistant professor for the Institute for Liberal Arts & Interdisciplinary Studies at Emerson College in Boston.
"It's an example of a firm seeing how far down the road it can go before it receives pushback," he told the E-Commerce Times. "It discovers a limit, then pushes that limit a little more. I'd be surprised if they wholly gave up on the search engine for China."
Mission: Protecting Privacy
In his opening remarks to the committee, Pichai declared that protecting the privacy and security of its users was an essential part of Google's mission.
"We have invested an enormous amount of work over the years to bring choice, transparency and control to our users. These values are built into every product we make," he said.
"We recognize the important role of governments, including this committee, in setting rules for the development and use of technology," Pichai added. "To that end, we support federal privacy legislation and proposed a legislative framework for privacy earlier this year."
Pichai also addressed a burning issue for Republican members of the panel.
"I lead this company without political bias and work to ensure that our products continue to operate that way," he said. "To do otherwise would go against our core principles and our business interests."
'Bias Running Amok'
Among the Republicans on the committee who raised the issue of unfairness with respect to the way Google's search algorithm treats conservative views was Mike Johnson, R-La.
"My conservative colleagues and I are fierce advocates of limited government, and we're also committed guardians of free speech and the free marketplace of ideas," he told Pichai.
"We do not want to impose burdensome government regulations on your industry," Johnson continued. "However, we do believe we have an affirmative duty to ensure that the engine that processes as much as … 90 percent of all Internet searches, is never unfairly used to unfairly censor conservative viewpoints or suppress political views."
Political bias is running amok at Google, charged committee member Louie Gohmert, R-Texas.
"You're so surrounded by liberality that hates conservatism, hates people that really love our Constitution and the freedoms that it's afforded people like you, that you don't even recognize it," he told Pichai, who was born in India.
"It's like a blind man not even knowing what light looks like because you're surrounded by darkness," Gohmert added.
Despite Republican claims of liberal bias in Google's algorithm, "there isn't any evidence to back that up empirically," Calabrese said.
Market Dominance
Committee members also were concerned about Google's market dominance.
"I'm deeply concerned by reports of Google's discriminatory conduct in the market for Internet search," said David Cicilline, D-R.I.
Google has harmed competition in Europe by favoring its own products and services over rivals, and by deprioritizing or delisting its competitors' content, he noted citing European Commission findings.
"It is important for the U.S. government to follow the lead of other countries and closely examine the market dominance of Google and Facebook, including their impact on industries such as news media," observed David Chavern, CEO of the News Media Alliance in Arlington, Va., a trade association representing some 2,000 newspapers in the United States and Canada.
"We will continue to urge for more hearings to examine ways in which the duopoly impacts the business of journalism, which is essential to democracy and civic society," he told the E-Commerce Times.
Prelude to Privacy Law
House and Senate hearings in recent months are just the prelude to data privacy legislation that could be introduced next year.
"We're certainly going to see a wide variety of comprehensive privacy bills filed, and I think we'll make some progress," Calabrese said.
"Advocates have seen the need for privacy legislation for a long time," he said, "and now that we have privacy legislation set to kick in in California in 2020, there's a lot of companies who would rather be governed by a federal law than they would a bunch of different state laws."
If a general privacy law is enacted, it shouldn't use Europe's General Data Protection Regulation as a model, maintained Alan McQuinn, senior policy analyst for the Information Technology and Innovation Foundation, a public policy and technology innovation organization in Washington, D.C.
"We don't want to see the GDPR enacted here in the states," he told the E-Commerce Times.
"It is highly likely to create a drag on the European economy and hurt innovation and businesses," McQuinn explained.
Privacy rules should be styled to fit industries, such as healthcare, finance and commerce, he suggested.
"The sector-specific approach that the U.S. has taken toward privacy has allowed for more innovation," McQuinn noted, "and created the powerhouse of the digital economy that we have here."