9 THING PEOPLE THINK WILL HAPPEN AT TOMORROW'S BIG MACBOOK PRO EVENT
Apple fans have been anticipating tomorrow for some time now. At its Cupertino campus on Thursday, Apple will be holding its long-awaited "Hello Again" event in which the company will unveil a number of major Mac updates. But it's not these refreshes people are excited about; it's the release of the company's redesigned Macbook Pro — which fans have gotten a sneak peak of through leaked images. There are also rumors of updates to the Air and iMac, along with speculation of release dates for AirPods, Apple's new wireless headphones.
While the gossip mill is spinning, it is just talk. When it comes to Apple you never really know what you're going to get. So as the countdown begins, we've taken a look at what's expected at tomorrow's big event.
MacBook Pro
1. Focus on thinner and lighter: Apple's always trying to make their devices thinner and lighter so this one's a given. Both the 13- and 15-inch models will have a slightly thinner design — but for the most part may look identical to their 2012 models, according to Bloomberg.
2. Introduction of the OLED Touch Bar: The new Pro will have an OLED Touch Bar — a small touchscreen strip in place of the small strip of keys — at the top of the keyboard for changing brightness, controlling volume and skipping through music, according to The Verge. The new bar will give users the ability to configure their own array of different options and shortcuts.
"Basically, imagine having a strip of keys that changes to whatever's most useful for a given app," The Verge reports. "So if you're in a Word document, you might see copy, paste and formatting options. If you're in Photoshop, you might see brush adjustments."
3. Unveiling of the TouchID Fingerprint Sensor: Like the iPhone, it is rumored that people will be able to unlock their MacBook Pro with the touch of their finger, and use it to make online purchases through Apple Pay.
4. Removing USB ports: They've already ditched the headphone jack for the new iPhone 7, why not lose USB ports for new the MacBook Pro, too?
It's predicted that Apple will eliminate the USB 3.0 and Magsafe ports on its new MacBook Pro, speculates Japanese rumor blog, Macotakara. If the rumors are true, the new Pros will feature USB Type C and Thunderbolt 3 ports instead. This change means "you'd presumably charge it through the USB-C port and connect peripherals via Thunderbolt 3" and would need "some kind of USB 3.0 adapter," according to Engadget.
MacBook Air
5. Elimination of the 11-inch airs: Apple allegedly plans to kill the 11-inch MacBook Airs altogether, reports Engadget. This is likely because the lack of difference between the small Air and the 12-inch MacBook.
6. Transition to USB-C ports: Although no major changes are expected of the new MacBook Air, it is likely that the current version's USB 3.0 ports will be replaced with USB-C ports, or mini ports, says Bloomberg.
iMac
7. Making the switch to USB-C ports: Like the Airs, the iMacs are expected to switch out USB 3.0 ports with USB-C ones.
8. Upgrade to new processor: This is under major speculation, but the push for new processors for the iMac have been ongoing by Apple — although Intel chip maker has not released the appropriate chips to do so yet (apparently). If this is announced tomorrow, the new iMacs will likely not ship until next year.
AirPods
9. Announce release date: This one's not so much a secret, but since Apple killed the headphone jack of the iPhone 7, the company has talked about the new wireless earphones, or the "AirPods." They are predicted to go on sale the day of tomorrow's event.
Behold: Stunning renders show the iPhone 11 we wish Apple would make
Apple's new iPhone 11 lineup is set to debut just over than three months from now, but a fairly complete picture has already formed. We know that this year's iPhone 11, iPhone 11 Max, and iPhone 11R will look exactly like last year's iPhone XS, iPhone XS Max, and iPhone XR from the front, with the same all-screen design interrupted by the same large notch at the top of the display. We also know that the new iPhone 11 series will feature new rear cameras on the back of each handset. The iPhone 11 and iPhone 11 Max will have triple-lens cameras in a large square camera bump, while the iPhone 11R (or whatever Apple ends up calling it) will feature the same square camera bump but with only a dual-lens camera, likely the same setup that can currently be found on the iPhone XS and iPhone XS Max.
Beyond the new cameras and a few other changes like frosted glass backs and a round mute switch, there isn't much excitement to speak of when it comes to Apple's iPhone designs in 2019. Meanwhile, Android vendors have moved past the iPhone X design they all copied last year and begun to develop some sleek new designs of their own. Samsung's Galaxy S10 lineup features a beautiful all-screen design with hole-punch cameras instead of a notch, and phones like the OnePlus 7 Pro don't even break up the screen with a hole. Instead, they feature true-all screen designs and have a selfie camera that pops up out of the top edge of the phone when needed.
Apple's iPhone 11 design is indeed a bit stale in comparison, which is likely why one graphic designer took all of the leaks and rumors we've seen so far and added his own unique spin to create an iPhone 11 with a much sleeker and more modern design.
The image above shows the front of Apple's current-generation iPhone XS, which looks exactly like Apple's previous-generation iPhone X from 2017. It's a fine design, and we all know that people who use a smartphone with a notch don't even notice the notch anymore after a very short time. But it has been about two years since Apple first introduced this design, so there's no question that it's feeling a bit dusty at this point. That's especially true now since so many Android phone makers have released handsets with more modern looks.
Graphic designer Muhsin M. Belaal Auckburaully, who goes by DBS Designing on YouTube, seems to agree that Apple's upcoming new iPhone 11 series is a bit dated. The overall look of the phone is still gorgeous, of course, so he took the iPhone 11's design and stuck a more modern display on the front, which includes a small hole at the top for Apple's front-facing cameras rather than a large notch. Here's how it came out:
Now, there's no question that a display that extends farther to the edges of the front and a hole-punch screen with a tiny hole for the cameras is a bit improvement over Apple's actual iPhone 11 design. There's also no question that it could never happen. The TrueDepth camera system Apple uses for Face ID has more components than just two tiny lenses like the ones we see above, so it needs much more room.
Around back, the graphic designer's iPhone 11 mockup looks exactly like the real thing, but he decided to add a fourth camera lens in the bottom-right corner of the square camera bump. We're not sure why, considering that there will be a rear-facing microphone there to capture audio for videos and Live Photos, but it doesn't really change the overall look of the phone.
You can find more images of Auckburaully's iPhone 11 on his Behance page, and a video showcasing the design is embedded below.
Image Source: Techy Paradise
Source: https://bgr.com/2019/05/28/iphone-11-xl-release-date-coming-leaked-photos-new-design/
Samsung Galaxy S10+ vs Apple iPhone XS Max: Differences explained
For the past ten years, there's been one battle in the smartphone world that's raged fiercer than any other: Apple versus Samsung.
While there are now plenty of fantastic flagship products out there from other brands now, there's still something about the Galaxy series from Samsung that gets people talking, and spending money. As for the iPhone, well, that's the iPhone.
In 2019, the pinnacle from both companies are the iPhone XS Max and the Galaxy S10+. Two big, powerful phones promising fantastic displays, speed, cameras and everything else.
Prices
Galaxy S10+ starts at £899
iPhone XS Max starts at £1099
Perhaps the biggest difference between the iPhone and the Galaxy is the price. You'll find in daily use – more than likely – that each has its benefits, and both are genuine flagships. But at £1099, the starting price for the XS Max is steep.
Design
Both companies have had to juggle prioritising technological features and design. For Apple, you'll notice how the rounded corners on the screen match the roundness of the phone corners, and how the bezel thickness is the same all the way round up to the notch.
That gives it a really pleasing consistent and symmetrical appearance from the front, but then that advanced Face ID technology has meant adding quite a hefty notch at the top, and that some times gets in the way of content.
For Samsung, the hardware team wanted to keep using that curved glass on the edges of the OLED screen, and that means the bezel isn't uniform all the way around.
The bottom edge is thicker than the sides, and the top bezel, making it seem a little less balanced, but it's not something that really bothers when you use it day-in day-out. Plus. That hole punch cutout means more of the front surface is dominated by screen.
Turn it to the back, and – despite the oddness of that long rectangle on the back – we like that it makes the rear symmetrical. Apple's camera in the corner is iconic now, but protrudes quite far, even if it is really nicely finished.
Boiling it down to basics: both phones use high quality metal and glass work to make them look and feel every part the premium phones they are. They're both near enough the same size too, although the curved screen edges do mean the Sammy is slightly narrower.
Display
Galaxy S10+: 6.4-inch curved, Dynamic AMOLED, Quad HD+ 19:9
XS Max: 6.5-inch flat, OLED, 1242 x 2688, 19.5:9
iPhone Notch versus S10+ dual punch-hole
Samsung's OLED panel is QHD+ which means it's sharper than Apple's 1242 x 2688 resolution OLED screen. It's a slightly longer ratio 6.5-inch versus Apple's 6.4, and it takes up more of the available space.
Technologically, it's better than Apple's too, being HDR10+ compliant versus Apple's HDR10. But, in real daily use, you're not going to notice that difference really.
Both screens offer fantastic colour reproduction, detail, brightness and contrast.
Which ever phone you use, you're going to get a fantastic display, but each has its compromises. That iPhone notch, with some games and apps, will cut off some of the app detail.
Samsung's minor flaws are different, in that, sometimes the slight curvature means the very top and bottom of some video gets every so slightly distorted.
The other element is that apps often have a black bar to disguise that punch hole camera, making the picture look uneven, with one flat edge, and one with rounded corners.
Cameras
S10+: Triple camera – wide, ultra-wide and zoom
iPhone: Dual camera – wide and zoom
S10+: 12MP f/1.4 + f/2.5, 16MP f/2.2 and 12MP f/2.4
iPhone: 12MP f/1.8 and 12Mp f/2.4
With the Samsung, its combination of the regular, 2x zoom and ultra-wide cameras is so useful, and means we miss our real cameras less than before. It's like carrying around a camera with a wide and zoom lens.
With that said, we think the actual end results from the iPhone, considering it's just point and shoot, are a little better. Samsung's primary camera – which has that mechanical aperture – seems to leave photos looking a tiny bit more flat. iPhone's HDR makes daylight shots more dynamic.
And the iPhone's actually decent in low light, despite not having that dual aperture like Samsung. Neither has great night modes though, unlike a few other smartphones. We also think that iPhone's video looks nicer, a bit smoother, detailed and vibrant straight out of the camera.
Hardware and software
Galaxy S10+: 8/12GB RAM, 128GB/512GB/1TB
iPhone XS Max: 4GB RAM, 64GB/256GB/512GB
Galaxy S10+: 4100mAh battery, 15W fast wireless charging
iPhone XS Max: 3174mAh (approx), 7.5W wireless charging
Samsung OneUI vs Apple iOS 12
If it was down to pure numbers, Samsung's 4100mAh battery beats the iPhone's 3,174mAh capacity. But with iPhone's optimisations, we found – again – fairly similar results. But the key take away is that you'll easily get through a full day with either phone, without needing to plug them in.
It's charging where you might notice a difference. Both can charge wirelessly, but Samsung's can charge roughly twice as fast, with the right wireless charger.
So software and features – there's lots to love here. Samsung, as always loads the phone up with extras. It has DeX – which is a desktop computer like experience, that requires nothing other than a standard cable to connect to a monitor and a Bluetooth keyboard and mouse. It also has a headphone jack, and removable storage.
iPhones do not have any of those things.
There is iMessage though, and iOS is generally better supported in the software and accessories market, what's more, Apple customer service is really good, comparatively.
Face ID, despite requiring that notch feels a far more natural way to unlock the phone than using the ultrasonic in display fingerprint sensor on the Samsung, and fails a lot less often, if at all. Similarly, Apple Pay for contactless is supported by more of the big banks than either Samsung or Google Pay.
Both clearly have their benefits, it's about choosing which is more suited to what you need.
Conclusions
In truth, it doesn't matter too much which of these phones you buy. If you're in the Apple ecosystem and regularly use features like AirDrop, iCloud and Apple Pay, you're going to be delighted by the XS Max.
In all of our phone testing, Face ID is the most convenient way to unlock your phone.
However, if you want to save money and Apple's ecosystem holds no value to you, the Samsung is the way to go. You'll get a great display, camera and performance, plus you'll save yourself a good chunk of change. 
Source: https://www.pocket-lint.com/phones/buyers-guides/147893-samsung-galaxy-s10-plus-versus-apple-iphone-xs-max
Samsung Note 10 makes the Galaxy S10 look old already. Here's how…
The Samsung Galaxy Note 10 is going to be a true next-gen smartphone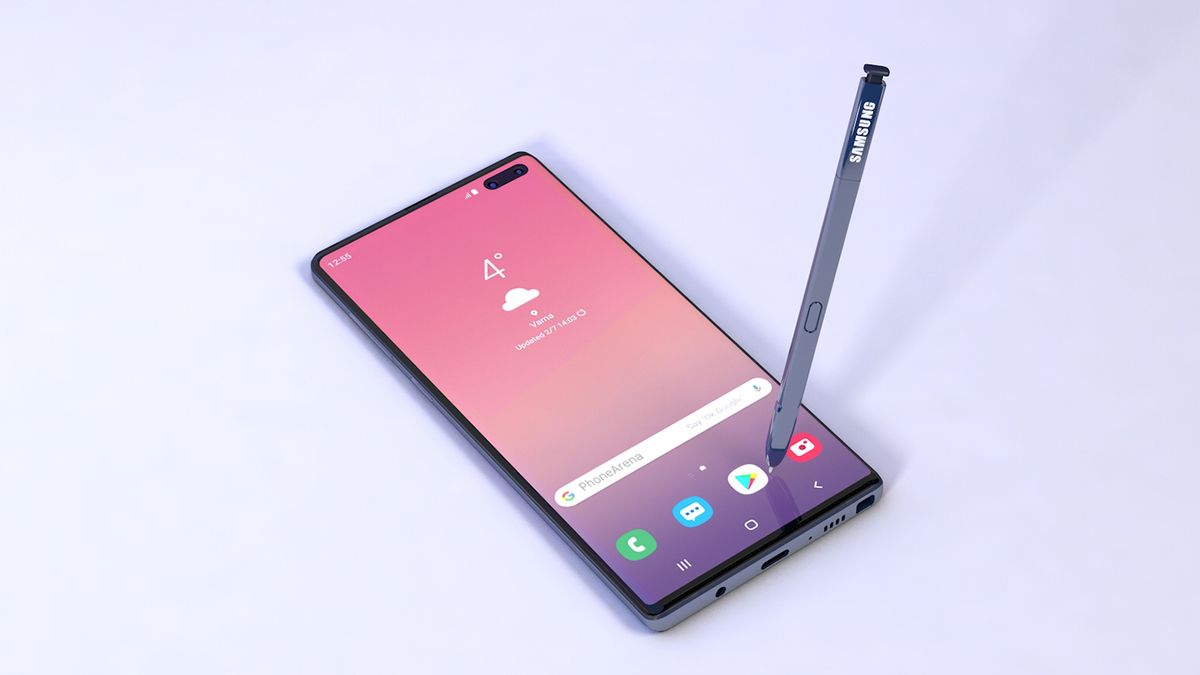 Despite the Samsung Galaxy S10 only being on store shelves for a matter of weeks, there now comes news that the Samsung Galaxy Note 10 will make it look distinctly outdated.
The reason? It now appears nailed on that the Note 10 will use UFS 3.0 storage technology, which is twice as fast and far more efficient than the UFS 2.1 tech installed in the Galaxy S10.
The evidence that the Note 10 will use super-fast UFS 3.0 storage comes courtesy of the South Korean maker's latest device launch, the Galaxy Fold, which has been tested by prolific Samsung leakster Ice universe and confirmed to indeed run twice as fast as the UFS 2.1-toting Galaxy S10 Plus.
As shown in Ice universe's video, thanks to the UFS 3.0 storage loaded in the Galaxy Fold it can deliver sequential reading and writing of data speeds of 1,478 MB/s and 383 MB/s respectively. In comparison, the UFS 2.1 storage in the Galaxy S10 Plus can only manage 792 MB/s and 193 MB/s.
The bigger numbers for UFS 3.0 mean that devices equipped with it will load apps quicker, respond to inputs quicker and, excitingly, also be more efficient in the process as the new storage technology also comes with a new, energy conserving 2.5V power supply.
In short, UFS 3.0 tech delivers a massive performance boost while also consuming less power. It's a proper game changer.
As to where the Samsung Galaxy Note 10 fits in to this, well, it's simple. As early as June last year came reports that Samsung was mass-producing UFS 3.0 units for use in its phones and, with the storage now debuting in the Samsung Galaxy Fold, it is almost certain that the Note – a handset that Samsung treats as its technical leader each year – will launch with the same next-gen storage.
And that's super exciting, as when this lightning fast storage is paired with buckets of next-gen RAM, a stunning new camera system, a fast 5G connection, and potentially an all-new button-less design, the Note 10 will be transformed from an iterative update over the Note 9 into a genuinely new proposition.
Of course, while we fully expect the Note 10 to feature UFS 3.0 storage, nothing has been officially confirmed, so here's hoping that the dream device described above genuinely comes to pass and is revealed in a show-stopping Samsung Unpacked event for the Note 10 launch in early August.
https://www.t3.com/amp/news/samsung-note-10-makes-the-galaxy-s10-look-old-already-heres-how