ONE OF THE BEST NEW VR THINGS: BUYING A CAR
I had a fascinating experience last week. I got to see and experience the new Jaguar I-Pace, the company's electric answer to the as-yet-unannounced Tesla Y SUV, long before I'll actually get to see the prototype. I didn't just get to see the car — I got to understand intimately why the car was created and what went into its design. I got to experience aspects of the vehicle viscerally, without actually getting into it.
My experience was possible due to an alliance between Dell, HTC and Jaguar. It dovetails with a project that Nvidia and Audi have undertaken to showcase cars in dealerships without the dealerships actually having to floor the car. It opens the door, ironically, to an even more localized experience than Tesla has with its store front dealerships.
I think VR eventually will change how we buy most physical things, and I find it amazing that it is starting with cars first. I'll focus on that this week and close with my product of the week, which has to be this amazing new car from Jaguar. I loved it so much I got on a list to order it.
Virtual Reality
There are three visual technologies in the process of coming to market right now. There's augmented reality, which Google Glass showcased and nearly killed. AR overlays information over the real world — usually through some kind of small head-mounted projector muck like a heads-up display. Like heads-up displays, AR doesn't really change what you see — it enhances or augments it.
The newest of the new visual technologies is mixed-reality, which uses massive computing power to render and blend the real world with what is rendered. In its final form, you can't tell the difference. It is pretty rough and more proof-of-concept now, with Microsoft's Hololens the closest to production. That's largely because it cheats, though — it is more an augmented reality device.
Virtual Reality is a fully rendered technology that places you in an environment. There are low-end offerings that use smartphones, which actually are surprisingly good. High-end versions use high-end PCs, as well as workstations and headsets from firms like HTC and Facebook subsidiary Oculus Rift. They now can create experiences that are ever harder to distinguish from reality. This is the technology that Jaguar, Dell and HTC demonstrated.
Car Showcase
Firms like Audi and Jaguar are working to figure out how to get people more excited about new cars, how to find new ways to engage and drive purchases, and how to assist in the car ordering process. This last is where Audi and Nvidia focused their effort.
Their project enables a space in dealerships where a prospective buyer can put on a VR headset and then see the full range of options. It's as if the customer's perfect car were right there. Options include not only interior and exterior finishes and colors, but also features. Customers then can experience each feature or package as they would if they actually were driving the car. They can figure out, before paying for it, whether the car is worth their money.
This is particularly important for newly launched cars. Mistakes often are made in ordering, because people either don't realize they want a feature or it accidentally gets left out. That happened to me last month, when I got the Mercedes I'd ordered. A feature I'd asked for was left off the final order sheet due to changes made to the ordering system.
Had I been able to see the rendering of the car I'd ordered, I would have caught the omission and not have missed this important feature (built in garage door opener and self-dimming mirrors).
This is just the start, though, and Jaguar, Dell and HTC took it further. (I should point out that the Dell workstations used to create and show this technology used Nvidia graphics solutions, so Nvidia is in both systems.)
VR on Steroids
What Jaguar did was add significantly to this experience by changing the presentation from just a showcase for the car to a showcase for the whole story that surrounds the car. Manufacturers can hope we fall in love with a car at first sight, and some of us certainly do, but a far more powerful way to sell us on a car is to build a compelling story around it. It's like the difference between seeing actors' head shots vs. getting to know them and experiencing their art.
They started our tour by taking us up above Earth to about where the Space Station orbits. That gave us an amazing, almost god-like view as they walked us through the birth of the car and built the car out with each storied major component, while both showcasing and telling us the back story.
We then plunged to Earth were we could see the rendered car perform on roads. We got to sit in the car and have each major feature showcased, with Jaguar's top designer explaining why each feature existed and, in some cases, why particular decisions were made.
As a result, the car wasn't two dimensional for us. We left understanding deeply why the car was the way it was, and that helped drive a higher level of lust in us.
The Future
I think this is only the tip of the iceberg, because VR will allow you to do this wherever VR capability exists, potentially turning your future living room into a dealership. In addition, you could build driving experiences into presentations and embed cars into other content — like VR games.
The next time you play a driving game, might actually play it with the car you own or the car the advertiser wants to sell you. Finally, they could actually give cars virtual personalities, much like in the movie Cars. Your car, or the car the firm wants to sell you, could be the hero of a coming virtual movie. That would get your kids wedded to the cars you drive and go well beyond what many of us did when young and named them (yes, I did that).
Wrapping Up: Massive Change
This is only one of the massive changes we will see — not only in the automotive market, but also in the appliance market, the home market, and anyplace where seeing something rendered could assist in the offering's sale or use.
These experiences won't be limited to VR. As we move to mixed reality, we'll be able to see products as they would exist in our homes and cities long before they are actually built.
As we move to self-driving cars, this may be how we gain back the fun of driving — by virtually driving in game-like settings while the real-world car we're riding in safely transports us to where we want to go. I've seen the future of cars — and most of everything else — and that future is virtual!!

It is rare I get this excited about a car that doesn't yet exists. The last time it happened was when Infiniti brought out the FX-45 and made it look just like the amazing show car. I fell in love and bought the first one that came to Silicon Valley.
Well, it happened again with the Jaguar I-Pace, an amazing all-electric SUV that makes the Tesla X look stupid.
Granted, one reason the I-Pace makes the Tesla X look stupid is that Tesla apparently missed the meeting that explained "SUV" means "sport utility vehicle." The X is not sporty — you'd never take it off-road — and it has poor utility, because the back seat doesn't fold down.
The X is also incredibly unreliable because of an excess of tech, like the electric gull wing doors, which not only are wicked expensive, but also seem to break constantly.
The I-Pace, in contrast, uses more advanced batteries that help give it a range of 300-plus miles. Its focus is on performance: Its zero-to-60 time is 4 seconds, and if delivers far improved on- and off-road handling. It's all wrapped in an extremely attractive body.
Jaguar I-Pace Concept Car
The only sad thing for me is that this car likely won't have the advanced rain and snow eliminating headlights Jaguar has been developing with Intel. They're due in 2020, while the car arrives in 2018.
Although this is a concept car, I spoke with some of the engineers, and it is almost identical to the final car. The only big difference is that it will have a fold-down back seat, so Jaguar clearly didn't miss the "utility" part of the "SUV" class name.
One of the interesting aspects of the I-Pace is that it uses water cooling. Heat is the enemy of batteries, so that decision allows the company not only to make the car look more like others, but also to gain value as a result.
In the end, the I-Pace is a drop-dead gorgeous car. I loved it so much I signed up to order one. Further, it is a showcase for how VR can be used to sell cars, so I had two reasons for making it my product of the week.
BEST WORDPRESS HOSTING PROVIDERS IN 2018
Need a managed WordPress plan? Start here…
Getting started with WordPress doesn't have to be expensive, after all the 15-year old WordPress is free (and open source). Even the cheapest shared hosting plan usually comes with a one-click WordPress installer, allowing the greenest of blogging newbies to have their first post ready in less than 60 seconds (we tried it).
Managing a blog over time is much more challenging, though. You'll need to find your own themes and plugins. And also keep them, and WordPress itself, up-to-date (although you can even get that done automatically).
Blogs are often targeted by malware, so it's important you have some way to detect and remove any threats, and you'll want regular backups to help get a broken blog working again.
If you don't have the time or technical experience for all that, you might prefer to buy a managed WordPress plan, and have the hosting company handle all the technical bits for you.
The host will often import your previous WordPress blog, if you have one. Usually you'll get some preinstalled themes and plugins to simplify customization. There should at least be an option to automatically update the site, a security service like SiteLock will be on hand to keep your blog malware-free, and we would expect 24/7 support from a team with real WordPress knowledge.
The best hosts go even further, optimizing their servers to boost WordPress performance, and sometimes throwing in extras like a content delivery network(CDN) to deliver great speeds worldwide (hopefully).
There's a long list of hosting companies offering managed WordPress plans, but we've picked out five of the best to point you in the right direction. Whether you're a first-time user or a big business, there's something for you here, and with prices starting at around a pound per month, it's well worth taking the time to find out more.
These are the best WordPress hosting services of 2018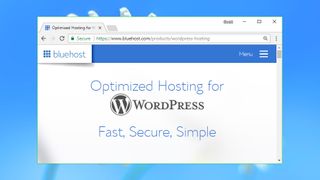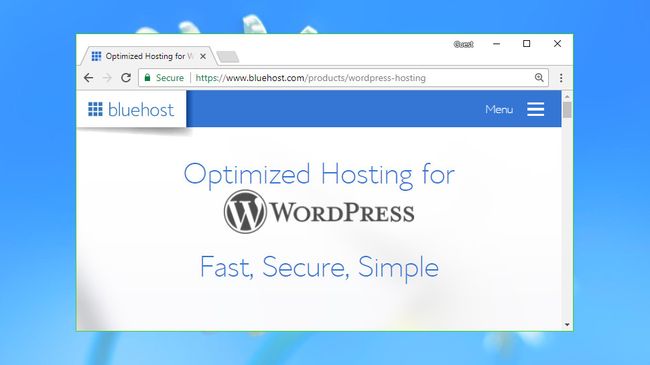 Best professional-level host
Optimized low-level setup
Many powerful extras
Not cheap
Budget WordPress hosting can have a lot of appeal, but it usually won't deliver the features, performance or reliability that high traffic sites need. If you're the demanding type, opting for a premium hosting plan will give you much better results.
Bluehost has created its own VPS-based architecture to deliver optimum WordPress performance via NGINX, a custom PHP-FPM setup and intelligently allocated resources through KVM hypervisor. (If you're not a hosting geek, this just means Bluehost has taken the time to optimize the low-level setup of its platform for WordPress, rather than simply making do with a standard configuration.)
The company doesn't waste time by pretending to offer 'unlimited' resources, and instead tells you exactly what you're going to get. For the WP Standard plan, this means 30GB storage, 1TB bandwidth, and key resources – 2GB RAM, two CPU cores – which are allocated to you, and not shared with anyone else.
Premium features include SiteLock Pro to keep your website malware-free, SiteLock CDN to optimize performance, a dedicated IP, and the ability to manage multiple sites with the excellent ManageWP.
This isn't cheap, with even the baseline Standard plan costing $19.99 (£14.30) a month for the initial term, rising to $39.99 (£28.60) afterwards. But you are getting a lot for your money, and if you're more interested in power than price, Bluehost has even more available.
The top-of-the-range Ultimate plan, for instance, gives you four CPU cores, 8GB RAM, 240GB storage and a monster 4TB bandwidth. SiteLock Enterprise handles all your security and CDN needs, and there's a wildcard SSL thrown in. Ultimate costs $49.99 (£35.70) a month initially, $129.99 (£93) after that, but that's a fair price for this spec, and Bluehost offers a 30-day money-back guarantee if you feel the service doesn't deliver.
Bluehost for $19.99 per month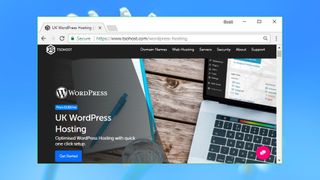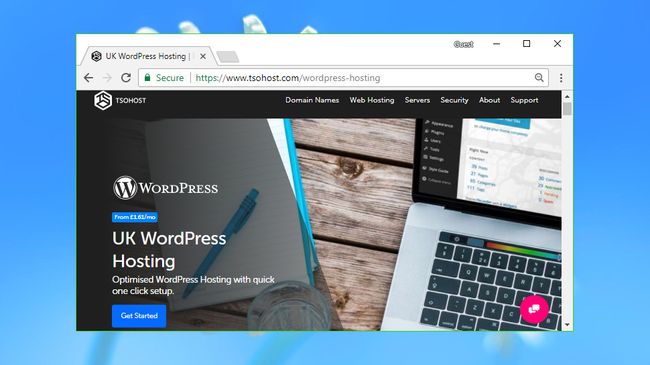 10% OFF WITH CODE TECHRADAR
TSOHost Personal
Great value pricing
24/7 support on basic plan
Not much in the way of extras
Managed WordPress packages can often feel overpriced. Many hosts charge significant premiums for impressive sounding claims – optimized servers, malware scanning – that are difficult to evaluate or confirm.
The UK-based Tsohost isn't interested in any of that, instead focusing on providing the core WordPress essentials at a very fair price.
The baseline Personal plan gives you a free domain name, will migrate your existing site, includes Let's Encrypt SSL support and has no limits on bandwidth. You get daily backups and can restore any of the last 30 days with a click. There's 24/7 support via ticket and email, and phone and live chat is available from 7am to midnight.
There are some limits. You only get five 200MB mailboxes, and the plan restricts you to 500MB storage and 25,000 page views a month. But it's hard to complain about a plan which costs only ~$1.99(£1.49) a month paid annually, or ~$1.79(£1.34) if you pay for two years upfront.
If that's just too underpowered, opting for the Startup plan gets you 15GB of storage, 100 mailboxes, and up to 100,000 page views over a maximum of three websites. That's significantly more capable, yet still very reasonably priced at ~$5.1(£3.82) a month.
The  ~$11.71(£8.78) a month Business plan supports 50GB storage, 500,000 page views and a hundred 1GB mailboxes, and the eCommerce plan ~$31.99(£23.98) lifts the limits to 100GB, 1,000,000 page views and unlimited 10GB mailboxes.
Tsohost doesn't offer all the frills and extras you'll get with some products. There's no talk of SiteLock malware protection, optimized WordPress add-ons or a custom CDN. But it's hard to complain at this price, and Tsohost is still delivering a capable service with more than enough power for smaller sites.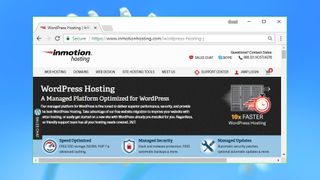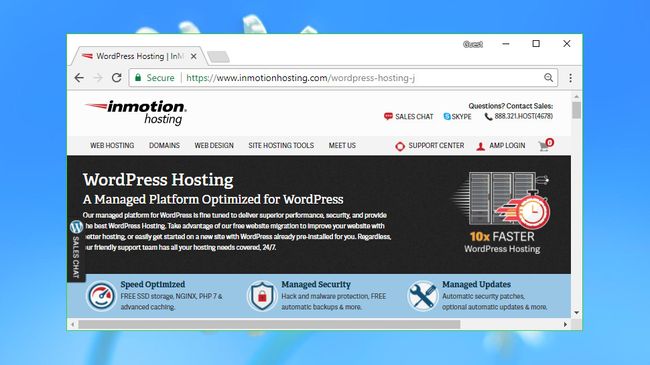 Best host for choice of plans
Low-end plans have key features
Reliable hosting provider
Not the cheapest host
Most web hosts offer only a few WordPress plans, and even these might be set up to point you in a particular direction. You'll often see an underpowered plan, an overpriced one, and a special deal on the mid-range plan they really want you to buy. That makes it easy to decide, but it also limits your upgrade options if your site grows over time.
InMotion Hosting is unusual in offering six WordPress plans, covering everything from small personal blogs to resellers and big business. Figuring out which is the best product for you will take a little more thought, but at least there's room to upgrade – or downgrade – if your circumstances change.
Better still, InMotion hasn't artificially limited the low-end plans by removing key features. Even the baseline WP-1000S plan – which costs $6.99 (£5) a month initially, $8.99 ($6.40) on renewal – gives you 40GB storage, unlimited bandwidth and email addresses, preinstalled WordPress, SSL, backups, automatic updates, SiteLock security, cPanel site management, and extras like BoldGrid and WP-CLI. The only significant issue is InMotion's suggestion that the plan works best for blogs with up to 20,000 monthly visits, and even that won't be a problem for many smaller sites.
Upgrading your plan gets you some extras – premium themes and plugin subscriptions, a dedicated IP address, support for hosting more sites – but it's mostly about giving you more resources. For example, the top-of-the-range WP-6000S plan supports 1,200,000 monthly visitors across up to 20 sites for $114.99(£82) a month initially (1-year plan), $142.99 (£102) on renewal.
There are cheaper deals around, but in previous reviews we've found InMotion to be reliable, professional and honest, and any price premium is likely to be worth paying. You don't have to take our word for it, though – an exceptional 90-day money-back guarantee gives you plenty of opportunity to find out for yourself.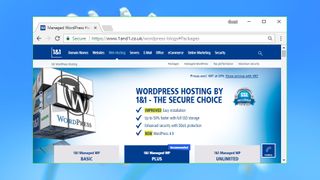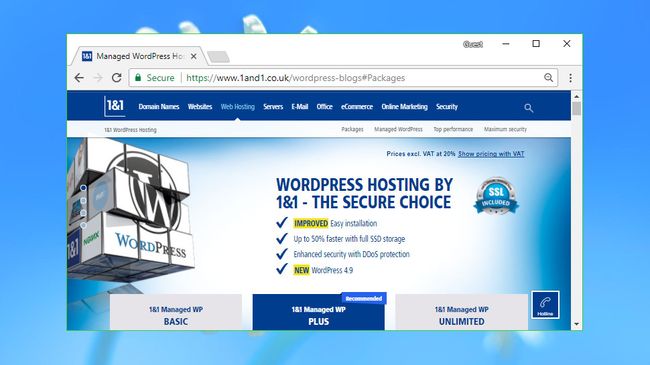 Very tempting price for first year
SSL and free domain
24/7 support including phone
Web giant 1&1 seems to have a hosting product for every possible need, and WordPress is no exception. Novice users can try out its service for a nominal $1.40(£0.99)  a month over the first year ($7 or £4.99 afterwards), yet the plan still outperforms many competitors.
The bundled 50GB of storage means you won't be running out of space in a hurry, for example. There are no bandwidth or visitor limits, and you can set up as many email accounts as you need.
1&1 offers the core WordPress management functions that you would expect: a setup wizard, preinstalled plugins, automatic updates and 24/7 support (including by telephone).
All this is built on a capable platform – NGINX, PHP 7.2, OPcache, up to 2GB RAM guaranteed – to enhance your blog's performance.
There's SSL included and even a free domain thrown in, which is ridiculously good value at this price.
If you're a WordPress novice, it might be worth taking out the plan for an initial year, claiming your free domain and taking the time to learn how the blog works. When you time is up, renew if you're happy, or if you're not, use your knowledge and experience to find a better plan.
1&1 isn't just about newbies, though: there's value for more demanding users, too. In particular, the Unlimited plan has no limits on websites, storage space, the number of databases (1GB max), visitors, email or SFTP accounts. Bonus features include a CDN and SiteLock malware scanning, and the price looks good at $9.80(£6.99)  a month for the first year, $14(£9.99)  on renewal.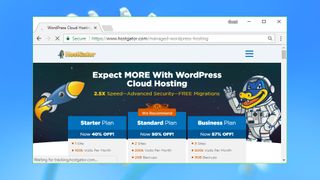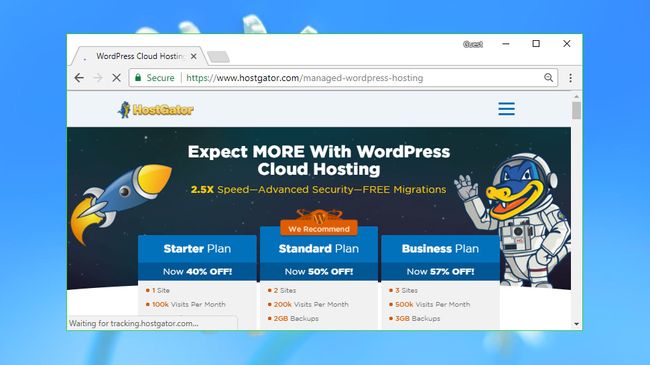 Free site migration
Automatic malware detection and removal
CDN benefits
Choosing the best WordPress hosting package can seem like a complicated business, with a stack of low-level details and issues to consider. But it doesn't have to be that way. If you don't have special requirements then opting for a reliable web hosting company will get you capable mid-range products that can handle everything most users need.
HostGator generally delivers powerful hosting plans for a fair price, and its managed WordPress range is no exception. Its Starter product may only cost $5.95 (£4.25) for three years, $9.95 (£7.10) afterwards, but you still get a free site migration, an SSL certificate, automatic malware detection and removal, unlimited email addresses and unmetered storage and bandwidth, and it can handle up to 100,000 visits a month.
Ramping up to the high-end Business plan gets you more CPU power, support for up to three sites and 500,000 visits a month, yet still costs only $9.95 (£7.10) a month initially  (first three years), $22.95 (£16.40) a month afterwards.
Smart caching and a CDN are on hand to enhance your website's performance, 24/7 support helps keep your site up and running, and surprise bonus features include free domain privacy to protect from identity theft and reduce annoying spam.
We've had good experiences with HostGator's service, but if you're not so lucky, there's a generous 45-day money-back guarantee. As with other hosting companies, this won't cover any domain registration fees, but it's still a better deal than you'll often find elsewhere.
You might also want to check out our other hosting guides:
Source: Tech Radar
STRONG AGGREGATE DEMAND: CRITICAL FOR REAPING BENEFITS OF DIGITISATION
Although digitisation offers a potential way back from the slowdown of productivity growth, its benefits will require a strengthening of aggregate demand, write Jacques Bughin, Hans-Helmut Kotz, and Jan Mischke in Vox.
Labour productivity growth remains near historic lows in the US and much of Western Europe. While growth in labour productivity has been slowing since the 1960s in many of these countries, the recent two-percentage point average drop, partly preceding and partly following the Global Crisis, is particularly troubling.
Many competing explanations have been put forward for this deterioration. They include the role of mismeasurement (Byrne et al. 2016, Syverson 2016, Hatzius et al. 2016), financial crisis-related effects (such as weak balance sheets, credit constraints, zombie firms, and capital misallocation), or weak aggregate demand and rising uncertainty (Adler et al. 2017, Borio et al. 2016, Gopinath et al. 2017, McGowan et al. 2017). Structural shifts also feature prominently as contributing factors, including the significantly reduced pace of technological innovation (Gordon 2016), the maturation of global supply chains (Adler et al. 2017), a shift to services (Turner 2017), changing industry structure and dynamics (Andrews et al. 2016, Decker et al. 2016, Haltiwanger 2012, Grullon et al. 2016), secular stagnation, and a structural savings glut (Summers 2016).
In a recent report that we co-authored, we try to pinpoint which explanations matter most in the productivity growth slowdown during the period after the financial crisis (Remes et al. 2018).
The productivity decline: Half weak demand, half maturing ICT boom from the 1990s
While many elements play a role, looking at the big picture, we find that about half of the recent drop in productivity growth is from weak demand, particularly in Europe (Remes et al. 2018). The other half, and a more significant factor in the US, was the waning of the productivity boom that began in the mid-1990s with the first information and communications technology (ICT) revolution, also supporting the subsequent phase of restructuring and offshoring (see Figure 1).
Figure 1 Contribution to the decline in productivity growth, 2010-2014 vs. 2000-2004
Despite unusually strong employment growth, capital expenditures remained lacklustre (see Figure 2). Given an environment of low demand as well as ample capacity, there was no reason to boost investment. In particular, expenditures for equipment and structures fell significantly (while, notably, it kept growing in intangibles). This is especially evident in Spain, the UK, and the US – the three countries with the biggest real estate boom prior to the crisis. For example, investment in structures – including by companies as well as household investment in residential real estate – fell 23% and 26% between 2007 and 2009 in the US and the UK, respectively, in real terms. While gross investment as a share of GPD has been slowly inching up during the recovery, mediocre demand perspectives mean that, from a firm perspective, there is no incentive to add to the stock of existing equipment. Capital intensity growth is still at the weakest rate since WWII. And longer term, a pronounced shift in investment to faster-lived (and ever less expensive) software and other intangibles has additionally contributed to a decline in net fixed capital formation rates. Net capital accumulation, as a share of GDP, fell by more than 4 percentage points (2010-14 average versus 1985-89) in most countries analysed. In that context, it did not help that, in particular, public sector investment in core infrastructures has been scaled back, too. In fact, in some countries we actually find long-lasting net public sector disinvestment, which will translate into increased maintenance costs down the road. From the perspective of firms, this means higher user costs of capital. France, Germany, Italy, Spain, Sweden, the UK, and the US all experienced a longer-term decline of between 0.5 and 1 percentage points in public investment between the 1980s and early 2000s, and it has been roughly flat (or even decreasing) since then.
Figure 2 Capital intensity growth
The lack of a robust demand perspective has been a key constraint on firms' propensity to invest (see Figure 3). We have found from our global surveys of business that 47% of companies that are increasing their investment budgets are doing so because of an increase in expected demand. Concurrently, uncertainty plays a pronounced role in holding back investment, theoretically raising hurdle rates (the required return on equity). On the other hand, financial constraints – access to and costs of funds – apparently, at least amongst our sample of firms, do not feature highly.[1] Across our industry sectors, we find that weak sales in the wake of the financial crisis was a key factor holding back capital expenditures. At the same time, when demand started to recover protractedly, most industries had ample capacity and room to expand without needing to add to existing equipment and structures.
Figure 3 Gross fixed capital formation
In addition to holding back investment, weak demand has also dragged productivity growth down through economies of scale effects. In finance, for example, productivity-growth declined – particularly in Spain, the UK, and the US – due to contractions in lending volumes (banks' output), which banks were unable to fully offset with staff cuts due to labour as a quasi-fixed input (for example, to support branch networks and IT infrastructure). In the same vein, the utilities sector, which has seen flattening demand due to substantial efforts at increasing energy efficiency as well as declining economic activity during the crisis, was similarly not able to downsize labour. The need to support electricity distribution and the grid infrastructure requires a minimum amount of labour input.
We find a third way that demand has hurt productivity growth: through the changing structure of consumption baskets. For example, consumer preferences boosted productivity growth in both the auto and retail sectors from the mid-1990s to the mid-2000s, through a shift to higher value-per-unit, more effective-to-produce goods. In the meantime, that trend has slowed. In the early 2000s, the German and US auto sectors experienced a trend of customers purchasing SUVs and premium vehicles (i.e. higher value-added products). This boosted productivity growth by 0.4–0.5 percentage points in the auto sector during that period. That trend has slowed in both countries, which might be welcome for environmental reasons. Similarly, in retail, we estimate that consumers shifting to higher-value goods (e.g. higher-value wines or other premium products) contributed 45% to the 1995–2000 retail productivity growth increase in the US. This subsequently waned, also dragging down productivity growth.
A positive baseline future (2% a year in the next 10 years) if leakages are contained
The reasons behind the recent decline in productivity growth suggest that they are not entirely structural – as the financial crisis after-effects continue to dissipate, we expect productivity growth to recover (quasi-mechanically) from current lows across sectors and countries. On top of this, the good news is that our sector analysis reveals significant potential to boost productivity growth from a continuation of more typical productivity opportunities (such as operational efficiency gains), though mostly from the diffusion of digital technologies – themselves relying on the first ICT boom. Overall, we estimate that the productivity-boosting opportunities could be about 2% per year over the next ten years in Europe and the US, with the main part (60%) coming from the diffusion of digital opportunities.
However, leakages may challenge the realisation of this 'digitised demand' potential. While we found that weak demand hurt productivity growth in the aftermath of the financial crisis, looking ahead, there is concern that some demand drags may be more structural – or secular – than purely crisis-related. Broad-based income growth has diverged from productivity growth for a long while now. A declining labour share of income and a rising trend in income inequality have been eroding median wage growth. Moreover, the rapidly rising costs of housing exert a dampening effect on consumer purchasing power. It appears increasingly difficult to make up for weak consumer spending (of largely liquidity-constrained households) via higher investment. Of course, that very investment is influenced, first and foremost, by aggregate demand. In addition, rising returns on investment discourage capital expenditures relative to dividends. Demographic trends may further diminish investment needs through an ageing population having less need for residential and infrastructure investment. These demand drags are occurring while interest rates –endogenously reflecting expected mediocre growth perspectives – are hovering near the zero lower bound. All of this holds back the pace at which capital per worker increases, impacts company incentives to innovate, and thus puts a structural damper on productivity growth. In a low-pressure economy, the virtuous circle does not get under way.
The potential from digitisation may not materialise fully, and may further amplify demand leakages. First, as we have learned from previous technology revolutions, it often takes time for technological diffusion to translate into productivity (Oulton 2002). Given the disruptive nature of digitisation (Bughin and van Zeebroeck 2017), the adjustment costs are possibly higher with digital technologies than previously thought, and might significantly weigh on total added value; for example, we find that cannibalisation of incumbent revenues by new digital players put material pressure on nominal demand.
Second, digitisation may exacerbate demand effects, especially if the diffusion of digital technologies concentrates less on innovation than on pure technical automation that would compress the labour share of income and increase income inequality, by hollowing out middle-class jobs and polarising the labour market into 'superstars' versus the rest. Unless displaced labour can find new, highly productive (and thus high-wage) occupations, workers may end up in low-income occupations that, in a self-reinforcing manner, create a further drag on demand, limiting average productivity growth.
Thus, whether or not the productivity option is taken advantage of will decisively depend on policies to promote sustained demand, and thereby investment growth, while unlocking the innovation benefits of digitisation. Steps to do so include:
Focusing public sector expenditures on infrastructure and education (Woetzel et al. 2016);
Allowing for a substantial purchasing power of low-income consumers (with the highest propensity to consume);
Unlocking private business and residential investment, including by lowering uncertainty and reforming land markets; and
Supporting worker training (i.e. permanent education) to ensure that periods of transition do not disrupt incomes.
The productivity option holds out the promise of a big payoff. It would return advanced economies to robust economic health and promote widespread prosperity for years to come.
Source:  Vox.
139 Facts about Instagram One Should Be Aware of in 2017