MARK ZUCKERBERG GETS GRILLED BY EU OVER DATA MINING, ELECTION MEDDLING
The CEO of the world's largest social network was supposed to charm European regulators. It didn't work after he dodged some questions.
Mark Zuckerberg went to Brussels on the latest stop of his apology tour Tuesday to deliver yet another mea culpa for privacy and policy blunders that led to one of the largest data leaks in Facebook's history and an unprecedented attack on democratic elections across the West.
If this was supposed to be part of a charm offensive for Facebook, it fell flat.
After listening to about an hour of questions from members of the European Union's Parliament, Zuckerberg answered at the end — rather than responding to each question after it was posed. But he ended up only spending about 25 minutes giving his replies, ignoring some questions completely.
"I asked you six yes-and-no questions, and I got not a single answer," said Guy Verhofstadt, a Belgian politician. Zuckerberg paused and then responded, "I'll make sure we follow up and get you answers to those" in the next few days.
CEO of Facebook Mark Zuckerberg testifies before the House of Representatives House Energy and Commerce Committee
Cardboard cutouts of Mark Zuckerberg with the words "Fix Fakebook" on their chests were staged in front of the EU's hearing Tuesday.
Getty Images
The 34-year-old multibillionaire has been answering questions for weeks about everything from Russian meddling in the 2016 US presidential election, which some argue handed a victory to Donald Trump, to the 87 million user profiles that were mistakenly shared with a now-defunct UK-based political consultancy called Cambridge Analytica.
European regulators were clearly unhappy.
"This represents an attack on our fundamental values," said European Parliament President Antonio Tajani on Tuesday. "We need to prevent this from happening again."
One noted that Facebook had learned about Cambridge Analytica three years ago, but only acknowledged recently that the firm had gotten access to users' data. Another pointed to the pervasiveness of Facebook's data collection. And others raised concerns about free speech allowing for Nazi propaganda.
I asked you six yes-and-no questions, and I got not a single answer.
Guy Verhofstadt, member of the European Parlliament
Verhofstadt suggested that Facebook may be running afoul of European antimonopoly laws, especially because Facebook's Messenger and WhatsApp are among the most popular messaging services in the world. He asked if Facebook will open its books to European regulators to consider whether his company is a monopoly. "It's not enough to say 'we're going to fix it ourselves.'"
Meanwhile, Nigel Farage, who heads up Europe of Freedom and Direct Democracy, the European Parliament's right-wing populist group, asked Zuckerberg to defend the platform's political leanings and its transparency. Right-leaning Facebook users who hold mainstream, not extremist, political views "are being willfully discriminated against," he said.
"Would you accept that today Facebook is not a platform for all ideas that is operated impartially?" said Farage. "I'm not someone who calls for legislation on the international stage, but I'm starting to think that we need a social media bill of rights.
Watch this: EU Parliament member to Zuck: Did you create a digital…
3:17
Zuckerberg insisted that hate speech, terror and violence have "no place on our services." He added that his team is is creating artificial intelligence tools to identify, for example, almost all the content from ISIS. He also said Facebook is getting better at identifying bullying and possibilities of self harm.
"We'll never be perfect," Zuckerberg said. "Our adversaries, especially on the election side — the people trying to interfere — will have access to the same AI tools that we will. So it's an arms race, and we'll constantly be working to stay ahead."
Zuckerberg ended the session telling Parliament, "I want to be sensitive to time because we are 15 minutes over."
But members of Parliament didn't care about time limits. And now they're going to have to wait for answers.
Rebuilding trust
So far, Zuckerberg's added new privacy controls that let people clear their web and app histories from Facebook, and he's promised that the 10,000 curators the company is hiring this year will clean up fake news, hate speech and other objectionable content found on the social network.
Facebook's chief also told EU lawmakers Tuesday that the company will add 3,000 workers across 12 European cities this year to help in its fight against online abuse, hate speech and election interference.
Watch this: Zuck's mea culpa to EU Parliament
3:20
Zuckerberg has said the hiring is needed to address concerns that bad actors in Russia had used Facebook to spread propaganda and misinformation during the 2016 US presidential election.
When he introduced a new dating feature for Facebook at the company's annual F8 developer conference last month, he was quick to add that it had been designed with "privacy and safety in mind from the beginning."
Still, that hasn't been enough.
MORE ON FACEBOOK AND THE EU
Zuckerberg: We'll block interference in European elections
Zuckerberg defends Facebook's openness
The questions Mark Zuckerberg didn't answer to European Parliament
Some advertisers, including Firefox web browser maker Mozilla and speaker maker Sonos, stopped advertising on Facebook as the scandal was unfolding. And while users started a campaign called #DeleteFacebook, the company said it actually saw user growth during the three months ended March 31. And through it all, it turns out Facebook still pulled in money hand over fist — counting nearly $5 billion in profits during that same time, a 63 percent increase over the previous year — by using the details its users share to direct more relevant ads to them.
Facebook makes the majority of its money selling ads.
Prominent tech executives, including Tesla CEO Elon Musk and Apple CEO Tim Cook, have criticized team Zuck. Musk, who deleted Tesla and SpaceX pages from Facebook, said the social network gave him "the willies." Cook said Facebook failed to regulate itself and vowed Apple wouldn't make money off its user's data.
"It's clear now that we didn't do enough to prevent these tools from being used for harm," Zuckerberg said during his comments during two-days of testimony to Congress last month. "That goes for fake news, foreign interference in elections and hate speech, as well as developers and data privacy. We didn't take a broad enough view of our responsibility, and that was a big mistake."
In Europe, Zuckerberg has to contend with regulators who take a much stronger stance on privacy than in the US.
Among the questions Verhofstadt asked — and didn't get an answer to — was one about the General Data Protection Regulation, or GDPR. Those new privacy rules go into effect in Europe on May 25 and Facebook said last month that it will adhere to the GDPR. Verhofstadt wanted to know if Zuckerberg was "telling the truth" about embracing the strict new privacy provisions.
CNET DAILY NEWS
Get today's top news and reviews collected for you.
Add your email
I have read and agree to the CBS Interactive Terms of Use and Privacy Policy. I understand I will receive the CNET newsletter(s) I'm signing up for. I can opt out at any time.
SIGN UP
He also asked a stone-faced Zuckerberg how he'd like to be remembered: "As one of the great internet giants, together with Steve Jobs [and] Bill Gates, who have enriched the world and our societies? Or, on the other hand, [as] the genius who created a digital monster that is destroying our democracies and our societies?"
Verhofstadt said he'll be watching to make sure Zuckerberg delivers the answers he promised on Tuesday.
AMAZON ERROR ALLOWED ALEXA USER TO EAVESDROP ON ANOTHER HOME
A user of Amazon's Alexa voice assistant in Germany got access to more than a thousand recordings from another user because of "a human error" by the company.
The customer had asked to listen back to recordings of his own activities made by Alexa but he was also able to access 1,700 audio files from a stranger when Amazon sent him a link, German trade publication c't reported.
"This unfortunate case was the result of a human error and an isolated single case," an Amazon spokesman said.
The first customer had initially got no reply when he told Amazon about the access to the other recordings, the report said. The files were then deleted from the link provided by Amazon but he had already downloaded them on to his computer, added the report from c't, part of German tech publisher Heise.
On the recordings, a man and a female companion could be overheard in his home and the magazine was able to identify and contact him through the recorded information, according to the report. – Reuters
CRYPTOCURRENCY INDUSTRY FACES INSURANCE HURDLE TO MAINSTREAM AMBITIONS
Cryptocurrency exchanges and traders in Asia are struggling to insure themselves against the risk of hacks and theft, a factor they claim is deterring large fund managers from investing in a nascent market yet to be embraced by regulators.
Getting the buy-in from insurers would mark an important step in crypto industry efforts to show that it has solved the problem of storing digital assets safely following the reputational damage of a series of thefts, and allow it to attract investment from mainstream asset managers.
"Most institutionally minded crypto firms want to buy proper insurance, and in many cases, getting adequate insurance coverage is a regulatory or legal requirement," said Henri Arslanian, PwC fintech and crypto leader for Asia.
"However, getting such coverage is almost impossible despite their best efforts."
Many asset managers are interested in digital assets. A Greenwich Associates survey, published in September, said 72% of institutional investors who responded to the research firm believe crypto has a place in the future.
Last month, Mohamed El-Erian, Allianz's chief economic adviser said that cryptocurrencies would gain wider acceptance as institutions began to invest in the space.
Most have held off investing so far however, citing regulatory uncertainty and a lack of faith in existing market infrastructure for storing and trading digital assets following a series of hacks, as well the plunge in prices.
The total market capitalisation of crypto currencies is currently estimated at approximately US$120bil (RM502bil) compared to over US$800bil (RM3.3tril) at its peak in January.
"Institutional investors who are interested in investing in crypto will have various requirements, including reliable custody and risk management arrangements," said Hoi Tak Leung, a senior lawyer in Ashurst's digital economy practice.
"Insufficient insurance coverage, particularly in a volatile industry such as crypto, will be a significant impediment to greater 'institutionalisation' of crypto investments."
Regulatory uncertainty is another problem for large asset managers. While crypto currencies raise a number of concerns for regulators, including money laundering risks, few have set out clear frameworks for how cryptocurrencies should be traded, and by whom.
Insurance might allay some of the regulators' concerns around cyber security. Hong Kong's Securities and Futures Commission recently said it was exploring regulating crypto exchanges, and signalled that the vast majority of the virtual assets held by a regulated exchange would need insurance cover.
Custody challenge
Keeping crypto assets secure involves storing a 64 character alphanumeric private key. If the key is lost, the assets are effectively lost too.
Assets can be stored online, in so-called hot wallets, which are convenient to trade though vulnerable to being hacked, or in 'cold' offline storage solutions, safe from hacks, but often inconvenient to access frequently.
Over US$800mil worth of crypto currencies were stolen in the first half of this year according to data from Autonomous NEXT, a financial research firm.
Some institutions have started working to solve this problem, and may provide fierce competition to the incumbent players.
This year, Fidelity, and a group including Japanese investment bank Nomura have launched platforms that will offer custody services for digital assets.
Despite the industry's complaints, insurers say that they do offer cover. Risk advisor Aon, received some two dozen inquiries this year from exchanges and crypto vaults seeking insurance, according to Thomas Cain, regional director, commercial risk solutions, at Aon's Asian financial services and professions group.
"It is not difficult to insure companies that hold large amounts of crypto assets, but given the newness of the asset class and the publicity some of the crypto breaches have received, applicants need to make an effort to distinguish themselves," Cain said.
The industry also says it is getting closer to solving the custody problem.
"This year there have been a number of developments, and some providers have developed custody solutions suitable for institutional clients' needs," said Tony Gravanis, managing director investments at blockchain investment firm Kenetic Capital.
"Players at the top end of the market have also been able to get insurance," he said.
But this is not the case for all.
One cryptocurrency broker, declining to be named because of the subject's sensitivity, said insurers struggled to understand the new technology and its implications, and that even those who were prepared to provide insurance would only offer limited cover. "We've not yet found an insurer who will offer coverage of a meaningful enough size to make it worthwhile," he said. – Reuters
CTECH'S THURSDAY ROUNDUP OF ISRAELI TECH NEWS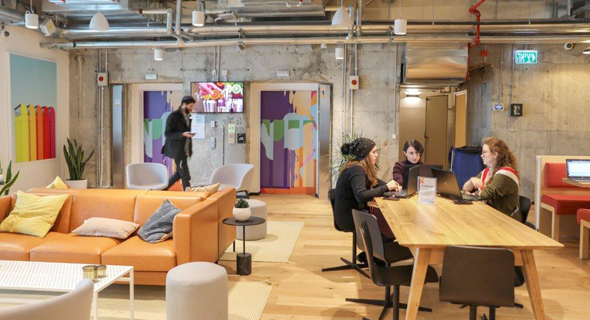 WeWork in Jerusalem. Photo: Eyal Marilus
How the U.S. embassy attempts to boost Arab tech entrepreneurship in Israel
. While Israeli Arabs make up roughly 21% of Israel's population, they only hold 3% of the country's tech jobs. 
Read more
Scrapped London Skyscraper set to dominate Tel Aviv skyline. A tower ditched mid-construction in London due to the economic downturn of 2008 is now being resurrected in Tel Aviv in the midst of the city's unprecedented tech boom. Watch the video
Acquisition by Medtronic complete, Mazor delists. Medtronic paid $1.3 billion in cash for the Israeli surgical robotics company. Including Medtronic's existing stake, the deal is valued at $1.7 billion. Read more
Israelis receive 8.5 spam calls a month, according to Truecaller. The country ranked last among the top 20 countries affected by spam calls in 2018, according to a new report released by the company. Read more
Innoviz expands globally, sets up a commercial manufacturing line in China.The Israel-based LiDAR maker has doubled its employee count in the past year and intends to recruit additional personnel for research and development, business and sales. Read more
Particle analyzer company PML sold following liquidation. The company developed electro-optical systems for monitoring and measuring fluid particle sizes and concentration.