WHAT IS GDPR? THE SUMMARY GUIDE TO GDPR COMPLIANCE IN THE UK
General Data Protection Regulation, or GDPR, will overhaul how businesses process and handle data. Our need-to-know GDPR guide explains what the changes mean for you
Europe's data protection rules are undergoing sweeping changes. To keep up with the huge amount of digital data being created, rules across the continent have been re-written and are due to be enforced. From May 25, 2018, the new mutually agreed European General Data Protection Regulation (GDPR) will update personal data rules.
GDPR will bring outdated personal data laws across the EU up to speed with an increasingly digital era. The previous data protection laws were put in place during the 1990s and haven't been able to keep pace with the levels of technological change.
When GDPR starts to be enforced by data protection authorities it will alter how businesses and public sector organisations can handle the information of their customers. GDPR also boosts the rights of individuals and gives them more control over their information.
The regulation has spawned a raft of GDPR experts who want to help businesses prepare for the changes GDPR will bring – and make a tidy sum for their expertise.
Elizabeth Denham, the UK's information commissioner, who is in charge of data protection enforcement, says she is frustrated by the amount of "scaremongering" around the potential impact for businesses. "The GDPR is a step change for data protection," she says. "It's still an evolution, not a revolution". She adds that for businesses and organisations already complying with existing data protection laws the new regulation is only a "step change".
Still, plenty of confusion remains. To help clear things up, here's WIRED's guide to the GDPR.
What is GDPR exactly?
The GDPR is Europe's new framework for data protection laws – it replaces the previous 1995 data protection directive, which current UK law is based upon.
The EU's GDPR website says the legislation is designed to "harmonise" data privacy laws across Europe as well as give greater protection and rights to individuals. Within the GDPR there are large changes for the public as well as businesses and bodies that handle personal information, which we'll explain in more detail later.
After more than four years of discussion and negotiation, GDPR was adopted by both the European Parliament and the European Council in April 2016. The underpinning regulation and directivewere published at the end of that month.
After publication of GDPR in the EU Official Journal in May 2016, it will come into force on May 25, 2018. The two year preparation period has given businesses and public bodies covered by the regulation to prepare for the changes.
GDPR SUMMARY
WHEN DOES THE NEW REGULATION START?

May 25, 2018
WHO WILL ENFORCE IT IN THE UK?

The Information Commissioner's Office
WHAT'S NEW?

There are new rights for people to access the information companies hold about them, obligations for better data management for businesses, and a new regime of fines
DOES BREXIT MATTER?

The UK is implementing a new Data Protection Bill which largely includes all the provisions of the GDPR. There are some small changes but our own law will be largely the same
Don't we already have data protection laws?
Each member state in the EU operates under 1995 data protection regulation and has its own national laws. In the UK, the current Data Protection Act 1998 has set out how your personal information can be used by companies, government and other organisations.
GDPR changes how personal data can be used. Its provisions in the UK will be covered by a new Data Protection Act. As noted by data protection expert Jon Baines, the UK's data protection plan includes everything within the GDPR – although there are some minor changes.
A new data protection Act
The UK government has created a new Data Protection Act, which replaces the previous version that was passed into law in 1998. The 2018 Data Protection Act spent several months in draft formatting passing its way through the House of Commons and House of Lords.
Two days before GDPR was due to come into force the new law completed its journey and became official. It's full text can be found here. The new Data Protection Act is a complex piece of law, which runs to 353 pages. Largely, it incorporates all the provisions of GDPR but there are some minor differences. Under EU rules, individual countries were able to select some parts of GDPR that could be slightly customised to their desires.
During the publication and passing of the UK's new data protection law there were some controversies. The law was amended to protect cybersecurity researchers who work to uncover abuses of personal data, after critics said the law could see their research be criminalised. Politicians also attempted to add an amendment to the draft saying there should be a second Leveson inquiry into press standards in the UK but this was dropped at the last minute.
Mat Hancock, the UK government minister who is responsible for data protection, tweeted he was "delighted" the Data Protection Act was passed just before GDPR came into force.
Is my company/startup/charity going to be impacted?
In short, yes. Individuals, organisations, and companies that are either 'controllers' or 'processors' of personal data will be covered by the GDPR. "If you are currently subject to the DPA, it is likely that you will also be subject to the GDPR," the ICO says on its website.
Both personal data and sensitive personal data are covered by GDPR. Personal data, a complex category of information, broadly means a piece of information that can be used to identify a person. This can be a name, address, IP address… you name it. Sensitive personal data encompasses genetic data, information about religious and political views, sexual orientation, and more.
These definitions are largely the same as those within current data protection laws and can relate to information that is collected through automated processes. Where GDPR differentiates from current data protection laws is that pseudonymised personal data can fall under the law – if it's possible that a person could be identified by a pseudonym.
So, what's different?
In the full text of GDPR there are 99 articles setting out the rights of individuals and obligations placed on organisations covered by the regulation. These include allowing people to have easier access to the data companies hold about them, a new fines regime and a clear responsibility for organisations to obtain the consent of people they collect information about.
Helen Dixon, the data protection commissioner for Ireland, who has major technology company offices under her jurisdiction, says the new regulation was needed and is a positive move. However, she adds that while large businesses are aware of the upcoming changes there needs to be a lot more knowledge in smaller companies, including startups. "One of the issues with startups is that when they're going through all the formalities new businesses go through, there's no data protection hook at that stage," Dixon says.
So, if you're only just hearing of GDPR, here are some of the bigger changes to be prepared for.
WHO IS IN CHARGE OF GDPR IN THE UK?
GOVERNMENT

The Department for Culture, Media and Sport is the government arm responsible for ensuring that UK law complies with the requirements of GDPR. The government body is responsible for creating the UK's Data Protection Bill but won't have control of the day-to-day elements of GDPR once it is enforced.
THE REGULATOR

Once the provisions of GDPR become law in the UK, the Information Commissioner's Office (ICO) will be responsible for enforcing them. The ICO has the power to conduct criminal investigations and issue fines. It is also providing organisations with huge amounts of guidance about how to comply with GDPR.
Accountability and compliance
Companies covered by the GDPR will be more accountable for their handling of people's personal information. This can include having data protection policies, data protection impact assessments and having relevant documents on how data is processed.
In the last 12 months, there's been a score of massive data breaches, including millions of Yahoo, LinkedIn, and MySpace account details. Under GDPR, the "destruction, loss, alteration, unauthorised disclosure of, or access to" people's data has to be reported to a country's data protection regulator – in the case of the UK, the ICO – where it could have a detrimental impact on those who it is about. This can include, but isn't limited to, financial loss, confidentiality breaches, damage to reputation and more. The ICO has to be told about a breach 72 hours after an organisation finds out about it and the people it impacts also need to be told.
For companies that have more than 250 employees, there's a need to have documentation of why people's information is being collected and processed, descriptions of the information that's held, how long it's being kept for and descriptions of technical security measures in place.
Additionally, companies that have "regular and systematic monitoring" of individuals at a large scale or process a lot of sensitive personal data have to employ a data protection officer (DPO). For many organisations covered by GDPR, this may mean having to hire a new member of staff – although larger businesses and public authorities may already have people in this role. In this job, the person has to report to senior members of staff, monitor compliance with GDPR and be a point of contact for employees and customers. "It means the data protection will be a boardroom issue in a way it hasn't in the past combined," Denham says.
There's also a requirement for businesses to obtain consent to process data in some situations. When an organisation is relying on consent to lawfully use a person's information they have to clearly explain that consent is being given and there has to be a "positive opt-in". A blog post from Denham explains there are multiple ways for organisations to process people's data.
Access to your data
As well putting new obligations on the companies and organisations collecting personal data, the GDPR also gives individuals a lot more power to access the information that's held about them. At present a Subject Access Request (SAR) allows businesses and public bodies to charge £10 to be given what's held about them.
Under the GDPR this is being scrapped and requests for personal information can be made free-of-charge. When someone asks a business for their data, they must stump up the information within one month. Everyone will have the right to get confirmation that an organisation has information about them, access to this information and any other supplementary information. As Dixon points out, big technology companies, as well as smaller startups, will have to give users more control over their data.
As well as this the GDPR bolsters a person's rights around automated processing of data. The ICO says individuals "have the right not to be subject to a decision" if it is automatic and it produces a significant effect on a person. There are certain exceptions but generally people must be provided with an explanation of a decision made about them.
The new regulation also gives individuals the power to get their personal data erased in some circumstances. This includes where it is no longer necessary for the purpose it was collected, if consent is withdrawn, there's no legitimate interest, and if it was unlawfully processed.
GDPR fines
One of the biggest, and most talked about, elements of the GDPR is the power for regulators to fine businesses that don't comply with it. If an organisation doesn't process an individual's data in the correct way, it can be fined. If it requires and doesn't have a dat
These monetary penalties will be decided upon by Denham's office and the GDPR states smaller offences could result in fines of up to €10 million or two per cent of a firm's global turnover (whichever is greater). Those with more serious consequences can have fines of up to €20 million or four per cent of a firm's global turnover (whichever is greater). These are larger than the £500,000 penalty the ICO can currently wield and, according to analysis, last year's fines would be 79 times higher under the new regulation.
But Denham says speculation that her office will try to make examples of companies by issuing large business-crippling fines isn't correct. "We will have the possibility of using larger fines when we are unsuccessful in getting compliance in other ways," she says. "But we've always preferred the carrot to the stick".
Denham says there is "no intention" for overhauling how her office hands out fines and regulates data protection across the UK. She adds that the ICO prefers to work with organisations to improve their practices and sometimes a "stern letter" can be enough for this to happen.
"Having larger fines is useful but I think fundamentally what I'm saying is it's scaremongering to suggest that we're going to be making early examples of organisations that breach the law or that fining a top whack is going to become the norm." She adds that her office will be more lenient on companies that have shown awareness of the GDPR and tried to implement it, when compared to those that haven't made any effort.
WHAT IS PERSONAL DATA?
THE KEY TERMS

GDPR and other data protection laws rely on the term 'personal data' to discuss information about individuals. There are two key types of personal data in the UK and they cover different categories of information.
WHAT IS PERSONAL DATA?

Personal data can be anything that allows a living person to be directly or indirectly identified. This may be a name, an address, or even an IP address. It includes automated personal data and can also encompass pseudonymised data if a person can be identified from it.
SO, WHAT'S SENSITIVE PERSONAL DATA?

GDPR calls sensitive personal data as being in 'special categories' of information. These include trade union membership, religious beliefs, political opinions, racial information, and sexual orientation.
How to prepare your business for GDPR
When implemented, GDPR will have a varying impact on businesses and organisations: for instance, not every company will require a data protection officer. To help prepare for the start of GDPR, the ICO has created a 12-step guide.
The guide, which is available here, includes steps such as making senior business leaders aware of the regulation, determining which info is held, updating procedures around subject access requests, and what should happen in the event of a data breach. In Ireland, the regulator has also setup a separate website explaining what should change within companies.
The ICO says that "many of the GDPR's main concepts and principles are much the same as those in the current Data Protection Act (DPA)". It adds for businesses already complying with the current data protection law, its highly likely they will be meeting many of the GDPR principles.
As well as this guidance, the ICO says it is creating a phone serviceto help small businesses prepare for GDPR. The service provides answers about how small companies can implement GDPR procedures.
What if we don't comply from day one?
Businesses and organisations impacted by GDPR have had two years to get their systems ready. But things don't always go to plan. It's likely that many firms will not be entirely ready for GDPR. The UK information commissioner has stated she won't be looking to make examples of companies by issuing large fines when they're not deserved.
The ICO largely takes a collaborative approach to enforcement. Denham has said her office will look to engage with companies rather than issue them with punishments straight away. Companies who have shown awareness and taken steps to comply with GDPR are likely to be treated better than those who haven't done any work around it.
What is big tech doing?
Technology's biggest players aren't exempt from GDPR, despite many of their head offices being based in the US. Where users are registered to an office within Europe – often this is in Ireland – they will be covered by the new regulation.
However, Facebook has quietly decided to move around 70 per cent of its users to be registered in the US, instead of Ireland. This means they will be out of the scope of GDPR's requirements. The company says it is giving everyone the same privacy protections – no matter where they live or are registered.
Google has also issued notifications to all of its users reminding them to update their setting and review what data is collected about them. It has also updated the settings around its ads as well as building a page for the businesses it works with.
Officials haven' been impressed by some of the moves from tech firm. Giovanni Buttarelli, the European data protection supervisor, has written a blog post criticising Facebook's handling of the Cambridge Analytica affair.
"The most recent scandal has served to expose a broken and unbalanced ecosystem reliant on unscrupulous personal data collection and micro-targeting for whatever purposes promise to generate clicks and revenues," Buttarelli wrote. "In such a distorted environment everyone must now participate, instilling the paradoxical sense of being more and more monitored and yet less and less known and respected by the small number of remote tech powers."
Looking for more?
We don't claim to have all the answers. In between a lot of GDPR hype there are some incredibly useful resources that have been published on the regulation. Here's where to go if you're looking for more in-depth reading:
– The full regulation. It's 88 pages long and has 99 articles.
– The ICO's guide to GDPR is essential for both consumers and those working within businesses.
– EU GDPR is full with information on the regulation. It details all you need to know and has a handy countdown clock for when GDPR will come into force.
– The EU's Article 29 data protection group is publishing guidelines on data breach notifications, transparency, and subject access requests.
This article was originally published in August 2017. It has since been updated with more information and resources about GDPR.
WHAT'S THE DIFFERENCE BETWEEN A DATA CONTROLLER AND PROCESSOR?
THE DIFFERENT TERMS

Not everyone that handles the personal data of individuals is the same and data protection laws allow for this by having two different terms: controller and processor. Here's what they mean.
CONTROLLER

A controller is an entity that decides the purpose and manner that personal data is used, or will be used
PROCESSOR

The person or group that processes the data on behalf of the controller. Processing is obtaining, recording, adapting or holding personal data
Source: http://www.wired.co.uk/article/what-is-gdpr-uk-eu-legislation-compliance-summary-fines-2018
AMAZON ERROR ALLOWED ALEXA USER TO EAVESDROP ON ANOTHER HOME
A user of Amazon's Alexa voice assistant in Germany got access to more than a thousand recordings from another user because of "a human error" by the company.
The customer had asked to listen back to recordings of his own activities made by Alexa but he was also able to access 1,700 audio files from a stranger when Amazon sent him a link, German trade publication c't reported.
"This unfortunate case was the result of a human error and an isolated single case," an Amazon spokesman said.
The first customer had initially got no reply when he told Amazon about the access to the other recordings, the report said. The files were then deleted from the link provided by Amazon but he had already downloaded them on to his computer, added the report from c't, part of German tech publisher Heise.
On the recordings, a man and a female companion could be overheard in his home and the magazine was able to identify and contact him through the recorded information, according to the report. – Reuters
CRYPTOCURRENCY INDUSTRY FACES INSURANCE HURDLE TO MAINSTREAM AMBITIONS
Cryptocurrency exchanges and traders in Asia are struggling to insure themselves against the risk of hacks and theft, a factor they claim is deterring large fund managers from investing in a nascent market yet to be embraced by regulators.
Getting the buy-in from insurers would mark an important step in crypto industry efforts to show that it has solved the problem of storing digital assets safely following the reputational damage of a series of thefts, and allow it to attract investment from mainstream asset managers.
"Most institutionally minded crypto firms want to buy proper insurance, and in many cases, getting adequate insurance coverage is a regulatory or legal requirement," said Henri Arslanian, PwC fintech and crypto leader for Asia.
"However, getting such coverage is almost impossible despite their best efforts."
Many asset managers are interested in digital assets. A Greenwich Associates survey, published in September, said 72% of institutional investors who responded to the research firm believe crypto has a place in the future.
Last month, Mohamed El-Erian, Allianz's chief economic adviser said that cryptocurrencies would gain wider acceptance as institutions began to invest in the space.
Most have held off investing so far however, citing regulatory uncertainty and a lack of faith in existing market infrastructure for storing and trading digital assets following a series of hacks, as well the plunge in prices.
The total market capitalisation of crypto currencies is currently estimated at approximately US$120bil (RM502bil) compared to over US$800bil (RM3.3tril) at its peak in January.
"Institutional investors who are interested in investing in crypto will have various requirements, including reliable custody and risk management arrangements," said Hoi Tak Leung, a senior lawyer in Ashurst's digital economy practice.
"Insufficient insurance coverage, particularly in a volatile industry such as crypto, will be a significant impediment to greater 'institutionalisation' of crypto investments."
Regulatory uncertainty is another problem for large asset managers. While crypto currencies raise a number of concerns for regulators, including money laundering risks, few have set out clear frameworks for how cryptocurrencies should be traded, and by whom.
Insurance might allay some of the regulators' concerns around cyber security. Hong Kong's Securities and Futures Commission recently said it was exploring regulating crypto exchanges, and signalled that the vast majority of the virtual assets held by a regulated exchange would need insurance cover.
Custody challenge
Keeping crypto assets secure involves storing a 64 character alphanumeric private key. If the key is lost, the assets are effectively lost too.
Assets can be stored online, in so-called hot wallets, which are convenient to trade though vulnerable to being hacked, or in 'cold' offline storage solutions, safe from hacks, but often inconvenient to access frequently.
Over US$800mil worth of crypto currencies were stolen in the first half of this year according to data from Autonomous NEXT, a financial research firm.
Some institutions have started working to solve this problem, and may provide fierce competition to the incumbent players.
This year, Fidelity, and a group including Japanese investment bank Nomura have launched platforms that will offer custody services for digital assets.
Despite the industry's complaints, insurers say that they do offer cover. Risk advisor Aon, received some two dozen inquiries this year from exchanges and crypto vaults seeking insurance, according to Thomas Cain, regional director, commercial risk solutions, at Aon's Asian financial services and professions group.
"It is not difficult to insure companies that hold large amounts of crypto assets, but given the newness of the asset class and the publicity some of the crypto breaches have received, applicants need to make an effort to distinguish themselves," Cain said.
The industry also says it is getting closer to solving the custody problem.
"This year there have been a number of developments, and some providers have developed custody solutions suitable for institutional clients' needs," said Tony Gravanis, managing director investments at blockchain investment firm Kenetic Capital.
"Players at the top end of the market have also been able to get insurance," he said.
But this is not the case for all.
One cryptocurrency broker, declining to be named because of the subject's sensitivity, said insurers struggled to understand the new technology and its implications, and that even those who were prepared to provide insurance would only offer limited cover. "We've not yet found an insurer who will offer coverage of a meaningful enough size to make it worthwhile," he said. – Reuters
CTECH'S THURSDAY ROUNDUP OF ISRAELI TECH NEWS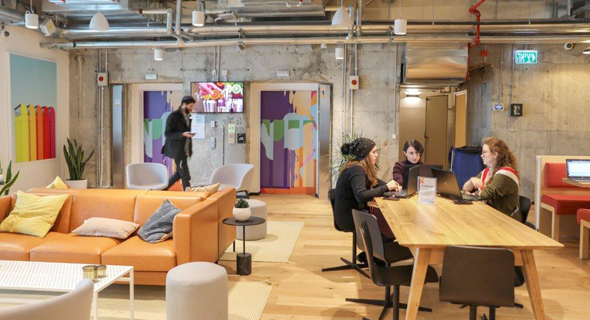 WeWork in Jerusalem. Photo: Eyal Marilus
How the U.S. embassy attempts to boost Arab tech entrepreneurship in Israel
. While Israeli Arabs make up roughly 21% of Israel's population, they only hold 3% of the country's tech jobs. 
Read more
Scrapped London Skyscraper set to dominate Tel Aviv skyline. A tower ditched mid-construction in London due to the economic downturn of 2008 is now being resurrected in Tel Aviv in the midst of the city's unprecedented tech boom. Watch the video
Acquisition by Medtronic complete, Mazor delists. Medtronic paid $1.3 billion in cash for the Israeli surgical robotics company. Including Medtronic's existing stake, the deal is valued at $1.7 billion. Read more
Israelis receive 8.5 spam calls a month, according to Truecaller. The country ranked last among the top 20 countries affected by spam calls in 2018, according to a new report released by the company. Read more
Innoviz expands globally, sets up a commercial manufacturing line in China.The Israel-based LiDAR maker has doubled its employee count in the past year and intends to recruit additional personnel for research and development, business and sales. Read more
Particle analyzer company PML sold following liquidation. The company developed electro-optical systems for monitoring and measuring fluid particle sizes and concentration.