WEIGHTLIFTING TAKES A LOAD OFF A CEO'S MIND
Strength Training Gives Chris Mittelstaedt of the Fruit Guys 'an Important Mental Oasis'
For Chris Mittelstaedt, lifting weights is a lot like selling fruit. Growing his business and learning to hoist hundreds of pounds both require patience and strategy to see results, he says.
Heavy weightlifting is the workout of choice for the 45-year-old chief executive of the FruitGuys, which stocks company break rooms nationwide with fresh fruit. When Mr. Mittelstaedt started weight training about 10 years ago, he could barely bench-press two 35 pound dumbbells. Now the former college rugby player bench-presses almost double his 165-pound body weight, he says. Working with a trainer, he spent the past two years increasing the weight he bench-presses from 225 pounds to 315.
The FruitGuys started delivering fruit in 1998 to about a dozen companies from a handful of farms. The San Francisco company now delivers to about 6,000 companies from some 400 farms across the U.S.
Mr. Mittelstaedt lifted weights in college to get in shape for rugby. Shoulder pain, made worse by carting fruit boxes in the early days of the company, meant he needed a routine that would help him recover from the injury and prevent further problems.
It wasn't until he met trainer Philip Leung about 10 years ago that he developed a consistent strength regimen. Mr. Leung helped him rebuild his strength while focusing on his form. For instance Mr. Leung taught him to relax his shoulders during pull-ups and not bend his elbows past a 90-degree angle when bench-pressing 135 pounds or more.
Weightlifting gives Mr. Mittelstaedt, who has a 16-year-old son and 14-year-old twin daughters, "an important mental oasis," he says. "There's something incredibly clarifying about trying to lift 315 pounds and knowing there's only one thing you can think about: Lifting 315 pounds so you don't drop it on your head."
The Workout
Mr. Mittelstaedt lifts weights twice a week, once at the Bay Club San Francisco and once on Thursdays with Mr. Leung at Synergy Fitness Studio in the city's Marina District.
On Sundays, he does a "lighter" lifting session. After stretches, he does bench-presses, starting with 95 pounds and building up to 225, at 10 reps each. This warm-up includes shoulder raises with 20 pound dumbbells and lunges to get his legs moving.
Then there are several more rounds of bench-presses, with repetitions at up to 260 pounds and a "drop set" where he gradually decreases the weight to 135 pounds. "By the time I get to that fourth set, 135 pounds feels like an elephant on my chest," he says.
Between and after the bench-pressing spurts, there is more shoulder and back work with heavier weights than in his warm-up.
To work his core, he uses a kettlebell, which he swings between his legs and switches hands in a figure eight motion. Rounding out his session are triceps exercises and, while standing on a balance board, biceps curls with 35 pound dumbbells. He reduces the weight as he does more sets.
On Thursdays with Mr. Leung, he does a similar workout, but the weights are heavier. On those days, his main goal is four sets of 10 reps at a maximum of 315 pounds.
He rests on Monday and tries to get in a cardio session on the treadmill or elliptical machine for about 45 minutes in the days before his Thursday workout.
Mr. Mittelstaedt usually starts his day with an apple because it's light and gives him quick energy, he says. Lunch is a salad and family dinners often involve simple Italian cooking: roasted chicken, homemade sauces and lots of vegetables.
After lifting, he satisfies protein cravings with a soy-based shake or scrambled eggs with olive oil.
The Gear
He wears basketball shorts and usually a Nike, Under Armour or American Apparel T-shirt with Asics running shoes. His weightlifting gloves cost about $20 on bodybuilding.com. His sessions with Mr. Leung are $100 each, and a family membership at the Bay Club is about $300 a month.
The Playlist
"When I was younger," he says, "music would pump me up." But now he can't perform as well if he's distracted, so he usually leaves the headphones at home. "I remove the emotional piece and focus on the form," he says.
WORD PROCESSOR PIONEER EVELYN BEREZIN DIES AGED 93
The woman who created and sold what many recognise as the world's first word processor has died aged 93.
Evelyn Berezin called the device the Data Secretary when, in 1971, her company Redactron launched the product.
She grew Redactron from nine employees to close to 500 and was named one of the US's top leaders by BusinessWeek magazine in the year she sold it, 1976.
She had earlier built one of the original computerised airline reservation systems.
The innovation – which matched customers and available seats – was tested by United Airlines in 1962.
According to the Computer History Museum, it had a one-second response time and worked for 11 years without any central system failures.
The technology vied with the rival Sabre system, developed by American Airlines, for being the first of its kind.
In addition, Ms Berezin helped pioneer other types of special-purpose computing including:
an automated banking system
a weapons-targeting calculator for the US Defense Department
terminals for a horse-racing track that monitored how much money was being bet on each animal
Screenless editing
In an interview in 2015, Ms Berezin explained that she had decided to set up her own business in the mid-60s after coming to the conclusion that her prospects were limited so long as she was employed by someone else.
She said that she had initially considered developing an electronic cash register but ultimately opted to create what would become known as a word processor instead.
She said: "6% of all the people in the United States who worked were secretaries.
"At the time we started, which was in 1968 to 1969, nobody really had any desk-type computers on which you could write a word-processing program that a secretary would use.
"I know that desktop computers seem obvious now but it wasn't so then."
At the time, the nearest equivalent was a machine by IBM called the MT/ST – a typewriter with magnetic tape recording and playback facilities.
IBM's marketing referred to a "word processor", but the machine relied on relay switches rather than computer chips, had been targeted at military equipment makers rather than the wider business market, and in Ms Berezin's mind was "klutzy".
"We were committed to building a computer to run our system and we knew that we had to use integrated circuits because it was the only way we could make it small enough and cheap enough and reliable enough to sell," Ms Berezin said.
Her machine – which stood about 1m (3ft 3in) tall – featured a keyboard, cassette drives, control electronics and a printer.
It could record and play back what the user had typed, allowing it to be edited or reprinted.
The original model lacked a monitor, and soon faced competition from a rival, the Lexitron, which did.
But later versions of the Data Secretary did include a screen.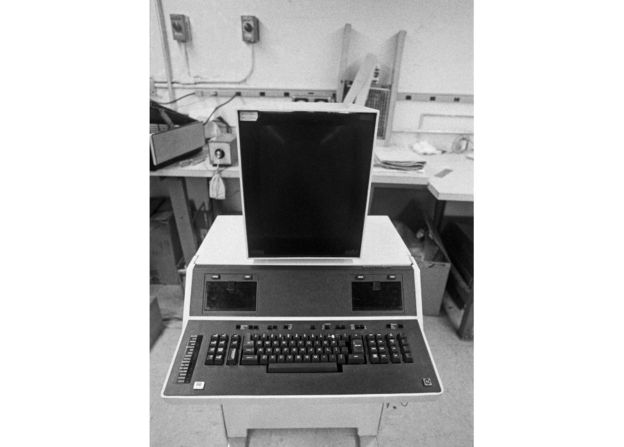 Sparks and water
The project nearly ended in disaster.
Ms Berezin had intended to buy the processors required from Intel, which had gone into business in 1968. But it said it was too busy dealing with orders for its memory chips.
The solution was that Redactron had to design some of the chips required itself and provide the schematics to two manufacturers.
There were further problems with a prototype when it was put on display in a New York hotel for reporters to see.
The issue was that in dry weather, it was prone to a build-up of static electricity, which caused sparks to fly between its circuits, preventing it from working.
"To our horror it was a dry day and the engineers were setting this non-working machine up for our big story," Ms Berezin said.
"Ed Wolf [our head of engineering brought] a full pail of water and without a word to anyone throws the pail of water over the whole thick carpet in the room.
"The water sank into the carpet, which stayed damp for three or four hours, and the machine worked perfectly."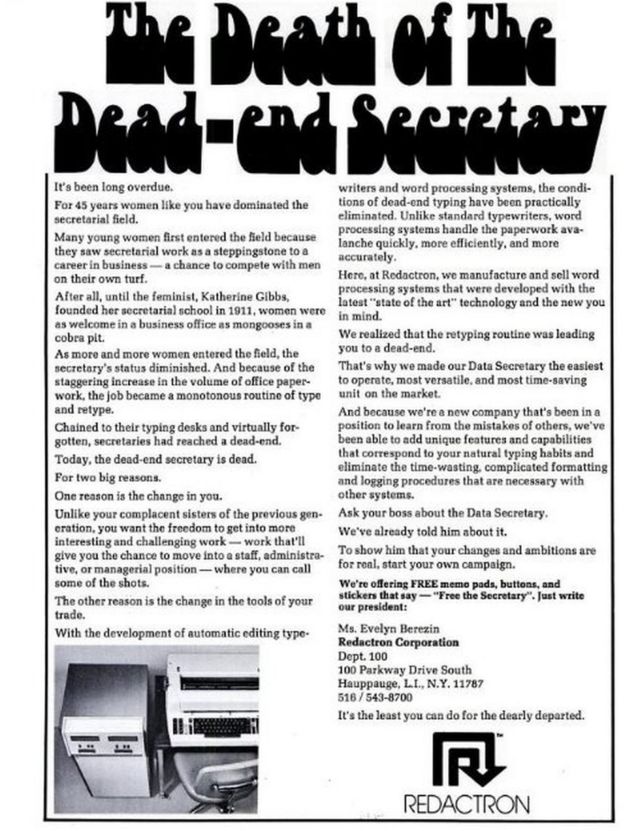 The first production machine was delivered to a customer in September 1971. And over the following year, Redactron sold or rented more than 770 others, excluding demo units.
Over the following years, demand grew but the company's finances came under strain, in part because of high interest rates and a recession that meant clients wanted to rent rather than buy its products.
"We were told by the bank to sell the company and they had somebody they knew who was interested," said Ms Berezin.
"At the time, I was distraught about it."
She went to work for the purchaser, the business equipment-maker Burroughs Corporation. But it proved to be an ill match.
"I was not one of them – I told them what I thought – a loud woman they did not know how to deal with," she said.
"So, they disconnected and so did I."
Ms Berezin left the company around 1980, after which she became involved in venture capital and sat on other companies' boards before becoming involved with Stony Brook University.
The New York Times reported that a nephew had confirmed she had died on 8 December in Manhattan after turning down treatment for cancer.
One of the remaining Data Secretary word processors can be seen on display at the Computer History Museum in California.
TIM COOK WARNS OF 'DATA-INDUSTRIAL COMPLEX' IN CALL FOR COMPREHENSIVE US PRIVACY LAWS
Apple CEO Tim Cook has called for new digital privacy laws in the United States, warning that the collection of huge amounts of personal data by companies is harming society.
Speaking at a privacy conference in Brussels, Cook gave an impassioned and forceful speech. He reiterated familiar talking points like Apple's commitment to privacy (and, by implication, its rivals lack of commitment) while spelling out public concerns in recent years regarding data collection, surveillance, and manipulation.
Cook said that modern technology has led to the creation of a "data-industrial complex" in which private and everyday information is "weaponized against us with military efficiency." He added that this mechanism doesn't just affect individuals, but whole societies.
"Platforms and algorithms that promised to improve our lives can actually magnify our worst human tendencies," said Cook. "Rogue actors and even governments have taken advantage of user trust to deepen divisions, incite violence, and even undermine our shared sense of what is true and what is false. This crisis is real. It is not imagined, or exaggerated, or crazy." You can watch the full speech below:
Cook did not mention triggers for this crisis, but his comments clearly reference recent events like the Cambridge Analytica scandal, in which the personal data of millions of Facebook users was harvested by a consulting firm with the aim of swaying users' political views. Similarly, while Cook never mentioned by name tech companies like Facebook and Google, it's clear that these were targets in his criticism of indiscriminate data collection.
Cook has long advocated for strong standards in data privacy, but is now calling for federal regulation too. Alastair MacTaggart, a US privacy campaigner who spearheaded a landmark data privacy law in California said this was a "180-degree turn" for tech companies. "A year ago, they were pushing for self-regulation. But now, they want federal rules, but ones that are as weak as possible," MacTaggart told Politico.
In his speech in Brussels, attended by policy experts and European Union lawmakers, Cook praised the EU's "successful implementation" of its new data privacy law, GDPR. This forces companies collecting user information to use the highest possible privacy safeguards by default. It also gives the EU the ability to fine companies up to 4 percent of their global revenue if they misuse user data.
Said Cook: "It is time for the rest of the world […] to follow your lead. We at Apple are in full support of a comprehensive federal privacy law in the United States." He then went on to outline four key rights that should be enshrined in such legislation: the right to have personal data minimized; the right for users to know what data is collected on them; the right to access that data; and the right for that data to be kept securely.
He also preempted a common criticism in the US that such regulation is a barrier to innovation. "This notion isn't just wrong, it's destructive," said the Apple chief. "Technology's potential is and always must be rooted in the faith people have in it."
JEFF BEZOS UNSEATS BILL GATES ON FORBES LIST OF RICHEST AMERICANS
For the first time in 24 years, Bill Gates is no longer the richest American on the Forbes 400 list.
Gates lost his standing this year to Amazon CEO Jeff Bezos, whose net worth is $160 billion, compared with Gates' $97 billion. That makes the Microsoft founder the second richest American.
The shakeup isn't an overnight surprise. In July 2017, Bezos became the richest person in the world, briefly, when his net worth hit just north of $90 billion. It happened again in October 2017 when his net worth clocked in at $93.8 billion compared with Gates' $88.7 billion. In July 2018, Bloomberg reported that Bezos overtook Gates on its Bloomberg Billionaires Index, which pinned his net worth at $150 billion.
Bezos didn't immediately respond to a request for comment.
Other tech figures on the list include Facebook's Mark Zuckerberg coming in at No. 4, Oracle's Larry Ellison at No. 5, and Google's Larry Page and Sergey Brin at No. 6 and No. 9, respectively.