3 HUGE WAYS ANDROID'S GESTURE NAVIGATION JUST GOT BETTER
Google's second Android P beta delivers subtle touches that add up to a major leap forward for the platform's new gesture navigation system.
Let's not beat around the bush: In the first Android P beta release, Google's new gesture navigation system was a steamin' hot mess. It was glitchy, inconsistent, and confusing.
It was also, however, part of Android P's first public beta — software not intended for widespread public use — and so we have to expect a certain amount of imperfection. You can't judge a product when the recipe's still in flux and the baking's nowhere near finished.
With the launch of Android P's second official beta this week, we're a step closer to completion — and after using the new software for nearly a day now, I'm happy to report that the new gesture navigation system has, in fact, gotten better. Much better.
It's still not perfect, mind you, and it still has its share of foundational issues — but boy howdy, is the experience of using this thing now a far cry from what it was like at the start.
Let me explain.
1. It's much easier now to figure out what you're supposed to do
One of my biggest gripes with gesture nav in the first Android P beta was, quite simply, how hard it was to know how the damn thing worked. The system was a complicated concoction of hidden commands and overlapping ideas, without any real visual cues to guide you — and it was anything but intuitive.
In Android P's second beta, it's a whole other story. First of all, after you've been using the software for a few minutes, a prompt appears near the new Android Home button that gently encourages you to swipe up to switch apps. When you think about how this setup will come across at first to most Android phone-owners — y'know, the type of people who don't closely follow Android development and are gonna have no earthly idea what's up with this weird new interface in front of 'em — a simple introduction like that could make a massive difference.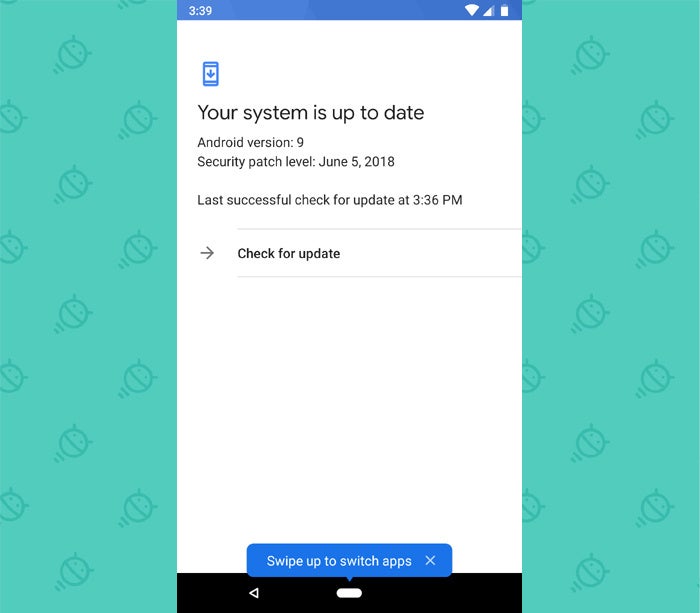 Beyond that initial nudge, Google's Android P home screen now features an upward-facing arrow above the docked row of apps at the bottom of the home screen — a visual indication that reminds you, again, to swipe up from that area instead of just assuming you'll magically know to do it.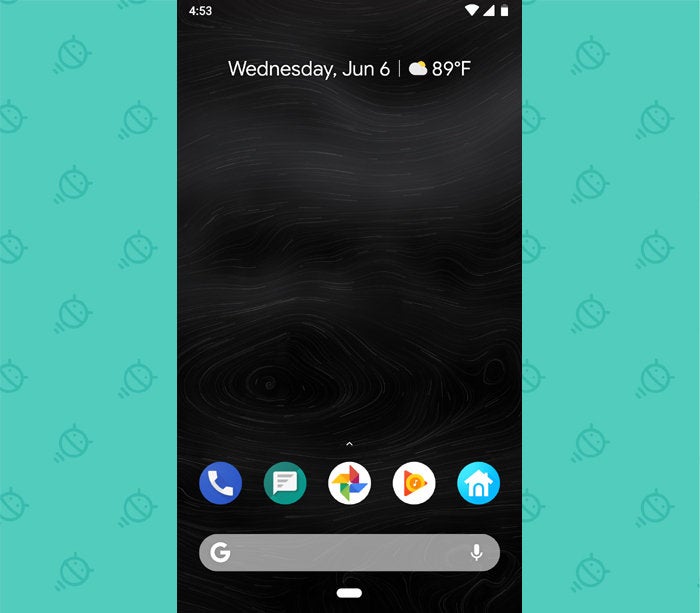 The trend of increased user-friendliness continues into the new Overview interface itself, which is where the real confusion began in the first Android P beta release. Google has implemented several significant steps there that add up to a meaningful improvement in usability.
First, the lower part of the screen — with a search bar and series of suggested apps — now features a frosted, card-like background with an upward-facing arrow at its top. That makes it abundantly clear that it's meant to be swiped upward further, unlike before, when you just had to figure that out on your own.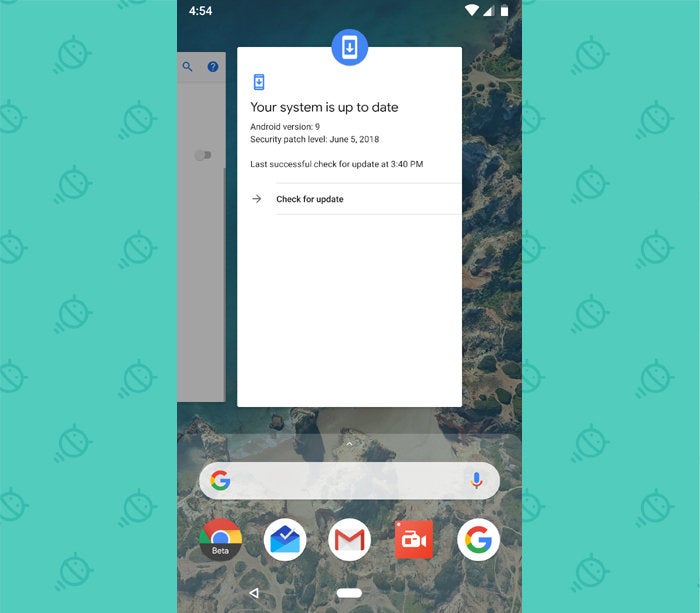 And it doesn't stop there, either: The first time you open the new Overview section, that card in the lower part of the screen pulsates — moving up and down repeatedly — to make it absolutely apparent, beyond all the other signals, that you should swipe upward on that element to reveal more. And in case you later forget, the card bounces up a touch higher than its final resting point and then slides back down every time you open the section, again giving you an obvious cue that swiping up on it leads to something worthwhile.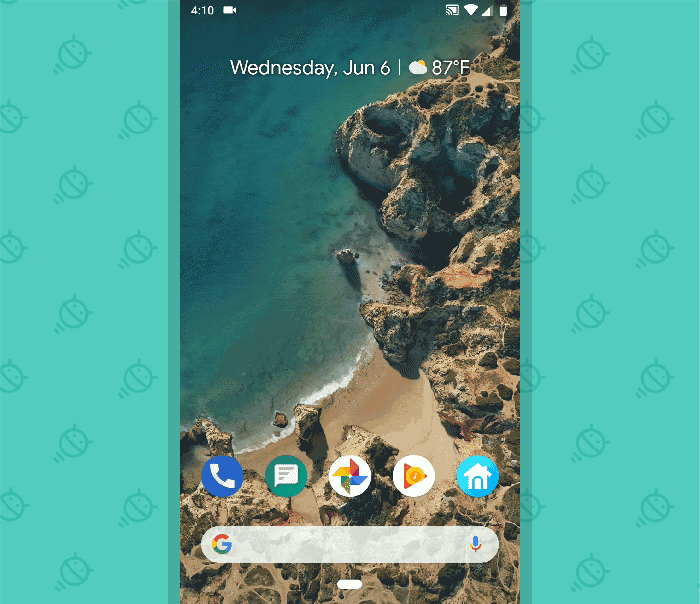 All in all, it's an immeasurable leap forward from the convoluted mishmosh we encountered in the first public P beta.
2. The areas of the new interface are now more distinct — and less confusing
Hidden commands aside, the earlier incarnation of Android P's gesture navigation system had a lot of similar-looking visual elements, which caused more than a little confusion. When you first opened the Overview area, for instance, you'd see a row of suggested apps that were in the same basic area as the custom dock icons on your home screen. That made for a really jarring transition — because every time I swiped up to open the Overview section, I expected the shortcuts in that area to be the same ones that were on my home screen a second earlier. But they weren't.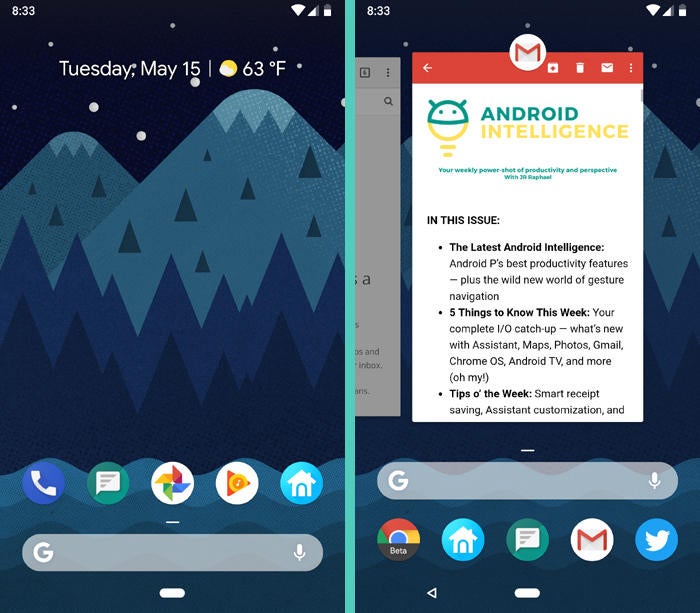 Google listened, and it's made a noticeable improvement to this issue in the latest Android P beta. With that lower area of the Overview interface now having a frosted, card-like background — and with it bouncing up a bit upon being opened instead of just flatly appearing, as it did previously — it no longer feels like it should be an extension of the home screen dock area. It feels like its own separate element instead, just like it should. Once more, a simple change made a big difference.
The card-like appearance of that area also really gives the impression that you're seeing the start of something — which you actually are: You're seeing the top portion of the app drawer, something that now becomes immediately apparent as you swipe up on it.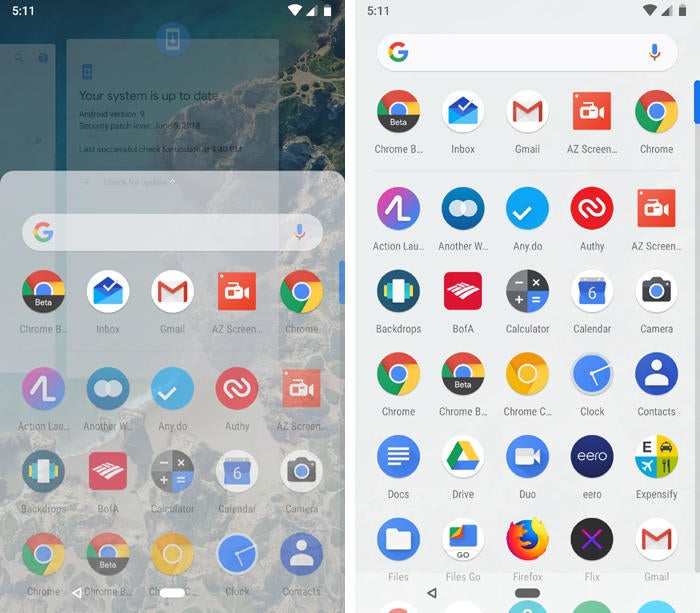 In the app drawer itself, meanwhile, the row of suggested shortcuts at the top is more clearly set apart from the other apps — with a prominent divider and an "All Apps" label even appearing below the divider the first few times you see it. That makes it completely clear that you're looking at a separate element that's unrelated to the main app list and unrelated to the icons within the dock on your home screen.
And there's more yet: Functionally, Google has refined the actual gestures to make some of the overlap between them a bit less awkward. In my first, erm, overview of the new Overview, I talked about how close some of the new Home button gestures were to each other: You'd swipe up once from the Home key to open the Overview screen, for instance, and long-swipe or double-swipe to get to the app drawer. It was way too easy to try to regular swipe and then end up long-swiping instead, or vice-versa. (Heck, even talking about that is confusing!)
In this latest beta, Google has drawn a more prominent line between those actions: The long-swipe happens only if you swipe waaaaaay up high, past the halfway point of your screen — which is clearly a deliberate long-swipe. Otherwise, the system interprets your gesture as a regular swipe and opens up the Overview interface normally.
Long story short, once you get used to it, it's all easier to use. And that's a good thing.
3. The system is generally just a lot smoother — and less glitchy
So we've covered all the "getting more intuitive" parts of the tale, but there's one more side to this story: With Android P's second beta, the act of using the new gesture nav system is a lot more pleasant simply because much of the initial glitchiness has been worked out. Things feel smoother, and I haven't seen any weird screen flashes or unexpected results in the time I've been using the new system so far.
Mind you, the new gesture nav system is still far from perfect. The sometimes-there, sometimes-not nature of the Back button (and the lopsided effect that creates on that bottom-of-screen bar) still feels somewhat clumsy and not entirely ideal. As a result of that part of the setup, the nav bar also still takes up permanent screen space — whereas it seems like a system of this nature should free up that area of the display. And the new fast-switch gesture of flicking right on the Home key is still less snappy and effective than the command it's replacing, though it does feel a bit smoother than it did in P's first beta release (and I think I'm also just getting used to using it instead of constantly comparing it to the zippiness of its predecessor).
However you look at it, one thing's for sure: When it comes to gesture nav, this second beta packs some serious progress — and significant improvements. And we're still a fair way from the finish line yet.
Source:  Computer World
New leak seems to confirm the iPhone 11's biggest design change
We have just two more months to go until Apple unveils the iPhone 11, which means we're going to see more and more leaks in the coming weeks as the iPhone 11, 11 Max, and 11R (or whatever Apple ends up calling them) head to production. But we already have a pretty good idea of what to expect from this year's iPhones when it comes to design, and now we have a brand new leak that supports all the previous design leaks
All three iPhone 11 models will have a square-shaped camera module on the back that will contain three lenses on the iPhone 11 and 11 Max, and two lenses on the iPhone 11R. That camera design will force Apple to make some changes you'll never see because they'll be inside the phone. Apple had to figure out how to add that extra lens without affecting the battery life of its new phones, and a leak tells us what that might entail.
According to the following image that someone on SlashLeaks sourced from Facebook, the iPhone 11 will have an I-shaped logic board rather than an L-shaped one, as was the case with the previous iPhone generation.
Image Source: Facebook
Below, you'll find an image from iFixit's iPhone XS teardown that shows the design and location of the logic board in last year's flagship iPhone. You'll also notice that the battery in the iPhone XS phones features an L-shaped design. While you're at it, check out the SIM tray's placement relative to the logic board and the battery:
Image Source: iFixit
As you can see, the logic board is placed on the same side as the rear camera, but it doesn't go all the way down to the bottom of the phone. Moreover, Apple used the space available between the dual camera and the battery for the logic board. That space will now be occupied by an extra camera on the iPhone 11.
Image Source: iFixit
The size of this leaked iPhone 11 logic board isn't mentioned and it's unclear whether it'll stretch from the top all the way to the bottom of the phone. If it's indeed taller than the iPhone XS logic board, then the iPhone 11's battery will also have an I-shape design, being placed right next to the logic board on the left side of the phone. However, let's not forget that the SIM tray should also be placed on the right side of the phone, eating some of the space that could be used by the logic board. With all that in mind, the SIM tray slot might be placed lower on the right side of the iPhone 11 than it is on current models.
The leak also indicates the logic boards are in the making at Apple's suppliers, which means the iPhone 11 supply chain is already shipping parts to Apple's assembler Foxconn. That said, it's still only a leak that won't be confirmed until iFixit tears down the iPhone 11 phones after they're released.
Source: https://bgr.com/2019/07/08/iphone-11-vs-iphone-xs-leak-suggests-a-big-camera-design-change/
Huawei EMUI 9 with Android 9 Pie rolls out to Huawei P10, Mate9
There's a lot of uncertainty swirling around Huawei at the moment and it goes beyond whether it'll be able to make new phones in the future. Even now, owners of its existing phones are worried about the company's capabilities to continue supporting existing phones. As if to reassure its customers, Huawei is now boasting how its EMUI 9 Android Pie experience is now on more than 80 million devices. What's more, it'll be rolling out to the Huawei P10 and even the Huawei Mate 9.
We'll spare you from having to perform manufacturers' odd math. Both running on the HiSilicon Kirin 960 chip, the Huawei P10 launched in early 2017 and the Mate 9 launched even further back in late 2016. By usual market standards, the phones are quite old. By usual OEM practices, they wouldn't even be getting any updates at all.
And yet Huawei is boasting how it's making EMUo 9 available to these two phones, giving them Android 9 Pie when some of their contemporaries have yet to receive it, if at all. So far, the update has only been made available to a few phone series, starting with the Mate 10 and P20, the Mate RS, and the Nova 3.
The announcement is also a show of power and force. Huawei boasts EMUI 9 will be reaching more than 100 million devices by the end of the month, revealing how many of its phones there are in the wild, not counting Honor devices. It is also trying to prove that, contrary to public perception, it can push out massive updates of its own.
Some might also see it as Huawei's parting gift and haste. By making sure its older phones are running on the latest Android version, it gives itself more time to polish its "ArkOS" replacement. And by rushing to push the update before the month ends, it gives itself enough time to make those massive changes before the 90-day reprieve is up.
Source: https://www.slashgear.com/huawei-emui-9-with-android-9-pie-rolls-out-to-huawei-p10-mate9-05579418/
Apple's Radical New iPhone Suddenly Takes Shape
Apple has three new iPhones coming later this year and their contentious designs are already well known. But the company is also openly working on a far more ambitious device to counter the folding smartphone trend, and Apple's most ambitious iPhone to date is now quickly taking shape.
Spotted by the ever-alert Patently Apple, the US Patent and Trademark Office has this week granted Apple new patents for a "foldable cover and display for an electronic device." And helpfully, it reveals both how Apple will do it and the radical folding configurations it is considering.
We learn Apple's work centres on creating a display which has a flexible region and a cover layer using ceramics, such as toughened glass or sapphire. This is a step up from anything we have seen from Samsung and Huawei's flexible devices, which simply use plastic panels (the former is suffering for that mistake already).
Moreover, with its alternative approach, Apple shows it is possible to build significantly more radical folding form factors than the phones we have seen to date, possibly due to increased structural integrity. Yes, the standard fold is indeed shown but Apple also illustrates radical dual and triple folding designs.
And, if you were left in any doubt about Apple's intentions, it is worth noting this is just the latest in a flurry of folding iDevice patents the company has submitted over the last year. Including one which reveals subtle heating below the display so the bend doesn't stiffen or crack in cold weather. As usual, Apple isn't first into the ring but it looks ready to make a big splash on arrival.
When can we expect to see the so-called iPhone Fold? While the first folding phones have already hit the market, sadly Apple's 2019 iPhones are not that interesting. There will be a major iPhone redesign in 2020, which may prove a more likely timeframe but, as all Apple fans know, the real answer is: When it's ready.
Source: https://www.forbes.com/sites/gordonkelly/2019/05/29/apples-iphone-fold-new-iphone-upgrade-iphone-xs-max-xr/#1a24b1382afa