3 HUGE WAYS ANDROID'S GESTURE NAVIGATION JUST GOT BETTER
Google's second Android P beta delivers subtle touches that add up to a major leap forward for the platform's new gesture navigation system.
Let's not beat around the bush: In the first Android P beta release, Google's new gesture navigation system was a steamin' hot mess. It was glitchy, inconsistent, and confusing.
It was also, however, part of Android P's first public beta — software not intended for widespread public use — and so we have to expect a certain amount of imperfection. You can't judge a product when the recipe's still in flux and the baking's nowhere near finished.
With the launch of Android P's second official beta this week, we're a step closer to completion — and after using the new software for nearly a day now, I'm happy to report that the new gesture navigation system has, in fact, gotten better. Much better.
It's still not perfect, mind you, and it still has its share of foundational issues — but boy howdy, is the experience of using this thing now a far cry from what it was like at the start.
Let me explain.
1. It's much easier now to figure out what you're supposed to do
One of my biggest gripes with gesture nav in the first Android P beta was, quite simply, how hard it was to know how the damn thing worked. The system was a complicated concoction of hidden commands and overlapping ideas, without any real visual cues to guide you — and it was anything but intuitive.
In Android P's second beta, it's a whole other story. First of all, after you've been using the software for a few minutes, a prompt appears near the new Android Home button that gently encourages you to swipe up to switch apps. When you think about how this setup will come across at first to most Android phone-owners — y'know, the type of people who don't closely follow Android development and are gonna have no earthly idea what's up with this weird new interface in front of 'em — a simple introduction like that could make a massive difference.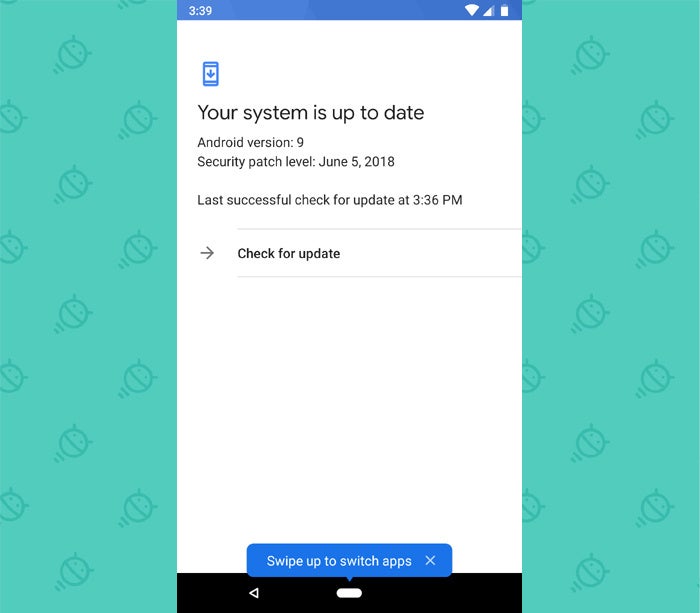 Beyond that initial nudge, Google's Android P home screen now features an upward-facing arrow above the docked row of apps at the bottom of the home screen — a visual indication that reminds you, again, to swipe up from that area instead of just assuming you'll magically know to do it.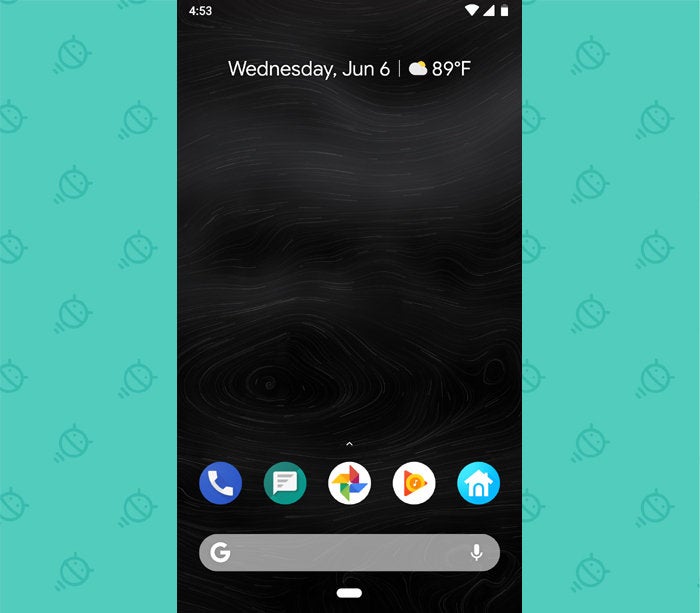 The trend of increased user-friendliness continues into the new Overview interface itself, which is where the real confusion began in the first Android P beta release. Google has implemented several significant steps there that add up to a meaningful improvement in usability.
First, the lower part of the screen — with a search bar and series of suggested apps — now features a frosted, card-like background with an upward-facing arrow at its top. That makes it abundantly clear that it's meant to be swiped upward further, unlike before, when you just had to figure that out on your own.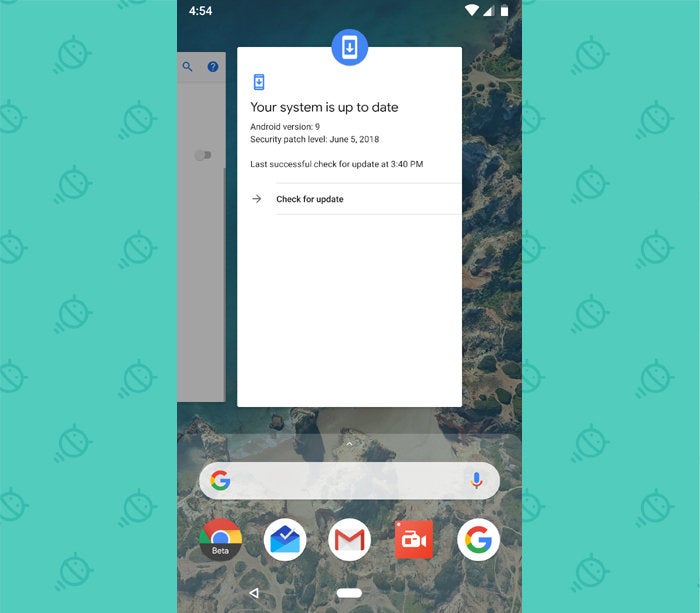 And it doesn't stop there, either: The first time you open the new Overview section, that card in the lower part of the screen pulsates — moving up and down repeatedly — to make it absolutely apparent, beyond all the other signals, that you should swipe upward on that element to reveal more. And in case you later forget, the card bounces up a touch higher than its final resting point and then slides back down every time you open the section, again giving you an obvious cue that swiping up on it leads to something worthwhile.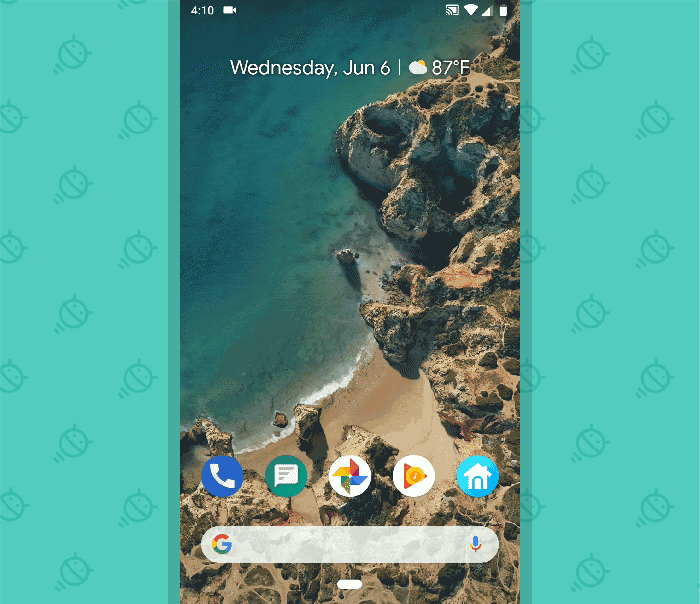 All in all, it's an immeasurable leap forward from the convoluted mishmosh we encountered in the first public P beta.
2. The areas of the new interface are now more distinct — and less confusing
Hidden commands aside, the earlier incarnation of Android P's gesture navigation system had a lot of similar-looking visual elements, which caused more than a little confusion. When you first opened the Overview area, for instance, you'd see a row of suggested apps that were in the same basic area as the custom dock icons on your home screen. That made for a really jarring transition — because every time I swiped up to open the Overview section, I expected the shortcuts in that area to be the same ones that were on my home screen a second earlier. But they weren't.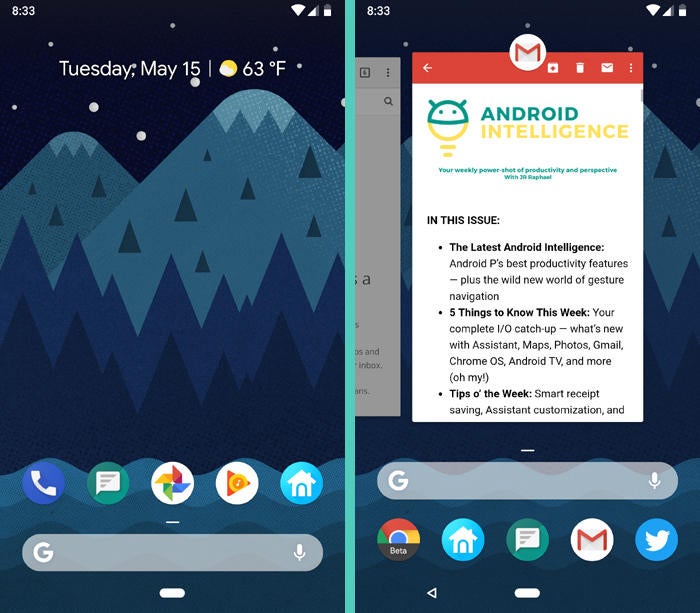 Google listened, and it's made a noticeable improvement to this issue in the latest Android P beta. With that lower area of the Overview interface now having a frosted, card-like background — and with it bouncing up a bit upon being opened instead of just flatly appearing, as it did previously — it no longer feels like it should be an extension of the home screen dock area. It feels like its own separate element instead, just like it should. Once more, a simple change made a big difference.
The card-like appearance of that area also really gives the impression that you're seeing the start of something — which you actually are: You're seeing the top portion of the app drawer, something that now becomes immediately apparent as you swipe up on it.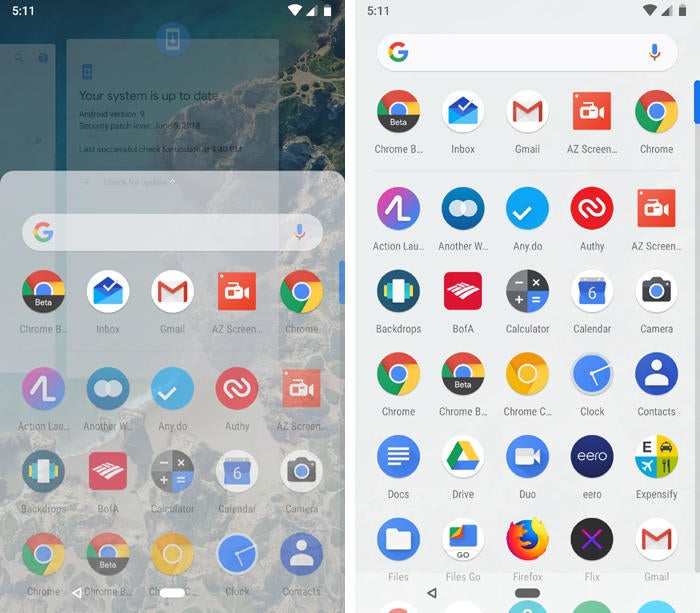 In the app drawer itself, meanwhile, the row of suggested shortcuts at the top is more clearly set apart from the other apps — with a prominent divider and an "All Apps" label even appearing below the divider the first few times you see it. That makes it completely clear that you're looking at a separate element that's unrelated to the main app list and unrelated to the icons within the dock on your home screen.
And there's more yet: Functionally, Google has refined the actual gestures to make some of the overlap between them a bit less awkward. In my first, erm, overview of the new Overview, I talked about how close some of the new Home button gestures were to each other: You'd swipe up once from the Home key to open the Overview screen, for instance, and long-swipe or double-swipe to get to the app drawer. It was way too easy to try to regular swipe and then end up long-swiping instead, or vice-versa. (Heck, even talking about that is confusing!)
In this latest beta, Google has drawn a more prominent line between those actions: The long-swipe happens only if you swipe waaaaaay up high, past the halfway point of your screen — which is clearly a deliberate long-swipe. Otherwise, the system interprets your gesture as a regular swipe and opens up the Overview interface normally.
Long story short, once you get used to it, it's all easier to use. And that's a good thing.
3. The system is generally just a lot smoother — and less glitchy
So we've covered all the "getting more intuitive" parts of the tale, but there's one more side to this story: With Android P's second beta, the act of using the new gesture nav system is a lot more pleasant simply because much of the initial glitchiness has been worked out. Things feel smoother, and I haven't seen any weird screen flashes or unexpected results in the time I've been using the new system so far.
Mind you, the new gesture nav system is still far from perfect. The sometimes-there, sometimes-not nature of the Back button (and the lopsided effect that creates on that bottom-of-screen bar) still feels somewhat clumsy and not entirely ideal. As a result of that part of the setup, the nav bar also still takes up permanent screen space — whereas it seems like a system of this nature should free up that area of the display. And the new fast-switch gesture of flicking right on the Home key is still less snappy and effective than the command it's replacing, though it does feel a bit smoother than it did in P's first beta release (and I think I'm also just getting used to using it instead of constantly comparing it to the zippiness of its predecessor).
However you look at it, one thing's for sure: When it comes to gesture nav, this second beta packs some serious progress — and significant improvements. And we're still a fair way from the finish line yet.
Source:  Computer World
APPLE EXPANDING HAPTIC TOUCH FEATURE IN IPHONE XR WITH IOS 12.1.1 UPDATE: REPORT
Apple's new iPhone XR comes with Haptic Touch as a replacement for the 3D Touch sensor. This allows consumers to launch the camera app or turn on the flashlight by using a long-press gesture, though it is not as functional or as quick in terms of response as 3D Touch, which has been part of the iPhones since the iPhone 6s.
Right now Haptic Touch capabilities are limited on the iPhone XR, but Apple could be expanding this with future iOS 12 updates. A report by 9to5Mac says they have spotted new features in the iOS 12.1.1 beta 2, which will increase the capabilities of Haptic Touch on iPhone XR and allow users to expand notifications by long pressing them.
On the iPhone XS, thanks to the 3D Touch display, long pressing on a notification opens up a pop-up menu and action buttons. With the iPhone XR, the rich content will soon be visible thanks to a long press and users will be able to reply, market an email as done, etc depending on the type of notification. Currently users have to swipe left to view the message to take any action, which is tedious on the iPhone XR.
However, the Peek and Pop feature on 3D Touch displays which is used by many apps will not be possible on the iPhone XR. This shows a rich menu when a user long-presses on the icon of particular app. Once again the reason for this is that Apple iPhone XR does not have pressure sensitive display like the other two new iPhones.
Given the iOS 12.1.1 beta has the feature, Apple should add the capability to the iPhone XR when the next iOS update is formally rolled out.  The iOS 12.1.1 update will likely start rolling out to the public by the end of this year, though Apple has not confirmed when it will be officially released. The company just released iOS 12.1 which added the Group FaceTime feature, new Emojis, as well as the dual-SIM feature to the iPhone XS and iPhone XR
SAMSUNG SAYS IT'S WORKING ON FOLDABLE LAPTOP DISPLAYS
Samsung is expected to unveil its foldable smartphone concept next month, but the company is also working towards bigger devices with foldable displays. "Like foldable smartphones, Samsung is collaborating with display makers to develop laptops with foldable displays that will not just simply fold in and out but create new value and user experience, amid the changing market trends for laptops," said Lee Min-cheol, vice president at marketing for PCs at Samsung, during a laptop event in South Korea earlier this week.
Foldable displays in laptops could transform the market for 2-in-1 devices. Existing convertible laptops attempt to flip and twist into tablet and media modes, but a foldable display would certainly help create new designs. Samsung hasn't revealed which companies it's working with, or any expected date for a prototype or retail device. Still, laptops like HP's new Spectre Folio would be an ideal candidate for a flexible and foldable display, or even potential devices like Microsoft's "pocketable" Surface.
The Korea Herald reports that Lee also revealed that Samsung sells around 3.2 million PCs each year, and that they "play a centric role among IT products in increasing connectivity with other mobile devices." Samsung also recently revealed an ARM-powered Surface-like 2-in-1 recently, complete with LTE connectivity and the promise of up to 20 hours battery life.
APPLE'S ICLOUD SERVICES SUFFERED AN EXTENDED OUTAGE
Apple's iCloud service appears to be experiencing an extended outage today, with some users reporting problems accessing iCloud-based apps and services like Notes and Find My iPhone. In an update of its System Status page, Apple notes that iCloud is suffering a widespread service disruption of some sort. Not everyone appears to be affected by whatever the issue is.
The outage looks like its affecting some key Apple software services, including iCloud Backup, iCloud Drive, and a number of productivity apps that sync using Apple's cloud platform. And beyond Find My iPhone and Backup, there are quite a few serious software tools that rely on the iCloud infrastructure, like iCloud Keychain for secure login and general account sign in for iOS devices and Macs, that are seeing problems.
There's no official word yet from Apple, which does not operate a public-facing iCloud Twitter account or other channel for updating users on service status beyond the status page. (The official verified @Apple account typically wipes its tweet history every now and again, and at the moment includes no tweets whatsoever.)
But these issues have been persisting for hours, according to a number of anecdotal accounts on Twitter. We'll update this post when the situation has been resolved or when we have additional information.