THE 'BRUSHED ONYX' DELL XPS 15 2-IN-1 (9575) IS A MONOLITHIC BEAUTY WORTH THE EXTRA $50
The XPS 15 2-in-1 9575 (see our full review) is one of the more fascinating laptops to be released this year. Taking the performance of the original XPS 15 (9560) and merging it with a 2-in-1 form factor yields a PC with more functionality but retains that 4K InfinityEdge display.
Tricky to order, but a gorgeous conversion
As mentioned in our review Dell has an all-black version of the 9575, but you can only order it online and one configuration. That setup brings the powerful Core i7-8705G with AMD Radeon graphics, 16GB of DDR4 RAM, and the striking 4K Ultra HD (3840 x 2160) InfinityEdge Anti-Reflective touch display. You still do get a choice for storage which runs from 256GB to 2TB options.
Choosing brushed onyx under the configuration versus the standard and familiar silver will tack on another $50 and a few days for manufacturing, but if you want something different, it's worth it.
Dell XPS 15 2-in-1 brushed onyx tech specs
Processor
Intel 8th Gen Core i7-8705G quad-core
Display size
15.6-inch
UltraSharp 4K (3840×2160) touch display, 100% color gamut
400-nits, 1500:1 contrast ratio, anti-reflective 178° wide viewing angle
RAM
16GB Dual Channel DDR4 at 2400MHz (On Board)
Discrete graphics
Radeon RX Vega M GL graphics with 4GB HBM2 RAM
Ports
2x Thunderbolt 3 with PowerShare
2x USB-C 3.1 with PowerShare
microSD card reader
headset jack
Active pen
Bluetooth 4.2
Multi-mode support including MPP (Microsoft Pen Protocol), Wacom AES1.0 and Wacom AES2.0
4,096 pressure levels
Storage
256GB, 512GB, 1TB, or 2TB (PCIe)
Wireless
Killer 1435 802.11ac [2×2] + Bluetooth 4.1
Intel 8265 802.11ac [2×2] wireless for vPro + Bluetooth 4.1
Miracast capable
Biometric
Widescreen 720p webcam with four array digital microphones; Windows Hello compliant infrared camera; Far Field Cortana capable
Optional Windows Hello compliant fingerprint reader in power button
Battery
75WHr (non-user-replaceable)
Weight
4.3 lbs (1.97 kg)
Dimensions
0.35 in to 0.63 in (9 mm to 16 mm) x 13.9 in (354 mm) x 9.3 in (235mm) (H x W x D)
Starting price
$1,999.99
Availability
Now
Dell.com, Best Buy
The onyx color scheme involves three components including the top and bottom metal covers and the hinges, which go from silver to black to match. Its only on the sides can you see a sliver of silver, which gives a subtle dual-tone look.
Even the embossed Dell logo is now shiny black giving a muted appearance except when it catches some light to reflect. More details are found in the all-black hex screws on the bottom versus the matching silver ones found in the original color scheme.
As the name implies, the metal used is brushed versus the standard flat silver design giving the 9575 some texture. Being black, it also shows oils more than the silver, so you will need to wipe it down to keep it pristine occasionally.
Opening the onyx laptop reveals the same soft-touch carbon fiber design found with the silver option. Otherwise, everything else is the same between it and its silver XPS brethren.
Dell testing varying color options
It's not clear why Dell is only offering the XPS 15 2-in-1 (9575) in brushed onyx.
The current XPS 13 (9370) and regular XPS 15 9570 (updated for 2018) do not offer this possibility. The XPS 15 9570 was initially shown to press in black, but Frank Azor, VP General Manager of Alienware, Gaming & XPS at Dell has confirmed multiple times on Twitter that they scraped the choice for unspecified reasons.
Dell has been experimenting with different color schemes over the years first with gold, then rose gold for the XPS 13, then an outstanding white and gold version for this year.
The company is interested in expanding color selection for consumers but it is taking a very conservative approach trying to balance demand with costs and production constraints. For instance, the brushed-onyx XPS 15 2-in-1 (9575) is not even advertised as an option on Dell's site. You must choose the last SKU, which starts at $1,999.99, to even see the selection during configuration. That makes the choice more of a last-minute surprise for consumers. (You can also buy it direct at Best Buy as well).
Regardless of Dell's quirks if you are up to getting the XPS 15 2-in-1 (9575) with an i7 processor and 4K display you should certainly consider brushed onyx. Dell did out a fantastic job with the design and while you can always put a decal over the silver model this black brushed metal look and feel is the way to go if you want something that bucks the familiar look of Dell's XPS line.
Source: Window Central
Samsung Galaxy Note10 Pro to have 4,170 mAh battery, model numbers and key specs revealed
Samsung's Galaxy Note devices have a strong loyal following and build up a lot of anticipation for the second half of every year. This year's Galaxy Note10 is expected to see a drastic change from the Note9 with the Korean phone maker rumored to release two Note models for the first time since the Note 4 and the Note Edge.
According to a report from 91Mobiles citing "trusted sources", both model numbers for the Note10 and Note10 Pro are SM-N975 and SM-N976, respectively. Previous reports speculated this was for a single model with 4G and 5G support, respectively.
According to the report, the Galaxy Note10 would have a 6.4-inch Dynamic AMOLED screen and 128GB of base storage with a 4,170 mAh battery. Meanwhile, the larger 6.8-inch Dynamic AMOLED display would be powered by the same-sized 4,170 mAh battery on the Galaxy Note10 Pro. The Pro would have 256GB of base storage and storage options up to 1TB of on-board memory.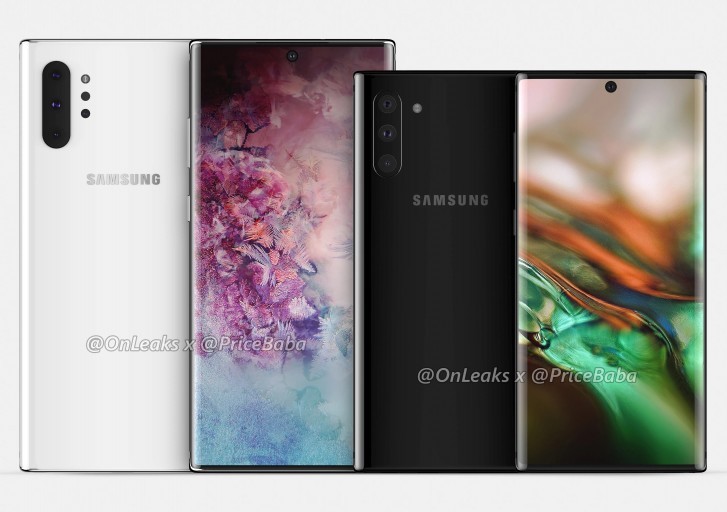 Alleged renders of Note10 Pro and Note10
If this were true, a customer would need to decide between the top-of-the-line model or somewhat better battery life with the smaller model as the larger display will consume more power.
There are other model numbers revealed as SM-N970 and SM-N971, but the report can't pinpoint what they represent. There was mention of the possibility of a Galaxy Note10e as per previous reports, but I personally would not could on it.
Earlier today, we got word that the Note10 Pro wouldn't support a 45W charger as initially rumored, but a 25W charger was suggested. This is still a great move in the right direction considering Samsung has shipped Galaxy phones with 15W Adaptive chargers since the Galaxy Note 4 in 2014.
The Note10 Pro is expected to come with a Snapdragon 855 or Exynos 9825, depending on your region, and is rumored to come with a vertically stacked triple camera system (possibly a fourth camera) with an in-display fingerprint scanner. Rumors also point to a hole-punch display but centered over the display rather than offset. It is also said to be the first Samsung Flagship to lose the headphone jack. The upcoming Note is also expected to be announced sometime in August with a rumored date of August 10.
Source: https://www.gsmarena.com/samsung_galaxy_noted_10_pro_to_have_4710_mah_battery_model_numbers_and_key_specs_revealed-news-37498.php
Apple devices that won't get iOS 13 or iPadOS 13
Apple just held its 2019 WWDC keynote Event which was held at San Jose McEnery Convention Center, San Jose, California. The event saw the company announce its latest iOS upgrade that represents a significant update.
The new iOS version 13 was announced with some new exciting features. Some major features announced include Dark mode, substantial improvement to the maps app and the photos app and a new battery management feature that relies on machine learning among other features.
Also, the company introduced a new name for iOS on iPad to be called iPadOS, which brings multi-window support with new home screen design and many other features. However, since we are all immersed in how great the latest update is, we're missing out on an essential aspect of the whole story.
Will iOS 13 be available for your Apple device? According to Apple, any handsets launched after 2014 will support iOS 13. Still, for those launched in 2014, there's an exception. iPhone 6 will not be upgradable to the latest iOS despite its peers the iPhone 6S and 6 Plus being planned to receive iOS 13.
Want to know which gadgets will be upgradable to the latest iOS upgrade? Here's the list;
iPhone XS
iPhone XS Max
iPhone XR
iPhone X
iPhone 8
iPhone 8 Plus
iPhone 7
iPhone 7 Plus
iPhone 6s
iPhone 6s Plus
iPhone SE
iPod touch (7th generation)
The newly announced iPadOS 13 which is based on iOS 13 will also be available to download only for these iPads;
12.9-inch iPad Pro
11-inch iPad Pro
10.5-inch iPad Pro
9.7-inch iPad Pro
iPad (6th generation)
iPad (5th generation)
iPad mini (5th generation)
iPad mini 4
iPad Air (3rd generation)
iPad Air 2
All the other devices that launched anywhere before 2013 will not be updated to the new iOS version. This includes the original iPad Air launched back in 2013.  As usual, Apple never offers an explanation on why they won't provide a software update to their old devices, which is something you have to deal with in case you're affected.
Source: https://techtrendske.co.ke/ipad-iphone-devices-ios-13-ipados-support/
Why you probably shouldn't install iOS 13 and the other betas just yet
Apple this week officially released the first developer beta of iOS 13. As always, many people are eager to install the new iOS version and try the latest features, but there are several reasons why you should probably hold off. After all, it is a very early beta and is bound to have numerous problems.
Should you install the iOS 13 beta?
Apple itself acknowledges that the first beta of iOS 13 is buggy, warning "thrill seekers" that they should probably wait for the public beta coming next month:
Important Note for Thrill Seekers: If you're interested in living on the edge and trying out the great new features in iOS 13, we strongly advise waiting for the many bug fixes and refinements coming to the public beta next month.
iOS 13 includes all of the problems you'd expect from an early iOS beta. That means a warmer-than-usual device temperature, completely unoptimized battery life, and numerous interface quirks, app crashes, and more.
Across all five of the new betas, iOS, iPadOS, macOS, tvOS, and watchOS, you'll run into compatibility issues with third-party apps. These betas are designed to give developers the opportunity to update their applications ahead of the stable releases this fall, and you shouldn't expect applications to run as-expected until then.
Apple has also increased the difficulty level of the install with this year's iOS 13 beta. While it used an OTA system last year, the first beta of iOS 13 is available only as a direct download from Apple's Developer site. It also requires that you have the Xcode beta installed and that you restore via iTunes.
Apple will eventually release public beta versions of macOS 10.15, iOS 13, and tvOS 13. Those will likely come next month and will represent a more stable, but still buggy, way for the general public to test out the latest and greatest operating systems. The public betas, and future developer betas, will be available as over-the-air updates as well, dramatically simplifying the install process.
If you're still tempted to try iOS 13 and the other betas in their current beta form, our advice is to install them on devices that you don't rely on day-to-day. This will let you try out the new features, while also preserving the experience on your daily devices.
Source: https://9to5mac.com/2019/06/05/install-ios-13-beta-guide/