THE 'BRUSHED ONYX' DELL XPS 15 2-IN-1 (9575) IS A MONOLITHIC BEAUTY WORTH THE EXTRA $50
The XPS 15 2-in-1 9575 (see our full review) is one of the more fascinating laptops to be released this year. Taking the performance of the original XPS 15 (9560) and merging it with a 2-in-1 form factor yields a PC with more functionality but retains that 4K InfinityEdge display.
Tricky to order, but a gorgeous conversion
As mentioned in our review Dell has an all-black version of the 9575, but you can only order it online and one configuration. That setup brings the powerful Core i7-8705G with AMD Radeon graphics, 16GB of DDR4 RAM, and the striking 4K Ultra HD (3840 x 2160) InfinityEdge Anti-Reflective touch display. You still do get a choice for storage which runs from 256GB to 2TB options.
Choosing brushed onyx under the configuration versus the standard and familiar silver will tack on another $50 and a few days for manufacturing, but if you want something different, it's worth it.
Dell XPS 15 2-in-1 brushed onyx tech specs
Processor
Intel 8th Gen Core i7-8705G quad-core
Display size
15.6-inch
UltraSharp 4K (3840×2160) touch display, 100% color gamut
400-nits, 1500:1 contrast ratio, anti-reflective 178° wide viewing angle
RAM
16GB Dual Channel DDR4 at 2400MHz (On Board)
Discrete graphics
Radeon RX Vega M GL graphics with 4GB HBM2 RAM
Ports
2x Thunderbolt 3 with PowerShare
2x USB-C 3.1 with PowerShare
microSD card reader
headset jack
Active pen
Bluetooth 4.2
Multi-mode support including MPP (Microsoft Pen Protocol), Wacom AES1.0 and Wacom AES2.0
4,096 pressure levels
Storage
256GB, 512GB, 1TB, or 2TB (PCIe)
Wireless
Killer 1435 802.11ac [2×2] + Bluetooth 4.1
Intel 8265 802.11ac [2×2] wireless for vPro + Bluetooth 4.1
Miracast capable
Biometric
Widescreen 720p webcam with four array digital microphones; Windows Hello compliant infrared camera; Far Field Cortana capable
Optional Windows Hello compliant fingerprint reader in power button
Battery
75WHr (non-user-replaceable)
Weight
4.3 lbs (1.97 kg)
Dimensions
0.35 in to 0.63 in (9 mm to 16 mm) x 13.9 in (354 mm) x 9.3 in (235mm) (H x W x D)
Starting price
$1,999.99
Availability
Now
Dell.com, Best Buy
The onyx color scheme involves three components including the top and bottom metal covers and the hinges, which go from silver to black to match. Its only on the sides can you see a sliver of silver, which gives a subtle dual-tone look.
Even the embossed Dell logo is now shiny black giving a muted appearance except when it catches some light to reflect. More details are found in the all-black hex screws on the bottom versus the matching silver ones found in the original color scheme.
As the name implies, the metal used is brushed versus the standard flat silver design giving the 9575 some texture. Being black, it also shows oils more than the silver, so you will need to wipe it down to keep it pristine occasionally.
Opening the onyx laptop reveals the same soft-touch carbon fiber design found with the silver option. Otherwise, everything else is the same between it and its silver XPS brethren.
Dell testing varying color options
It's not clear why Dell is only offering the XPS 15 2-in-1 (9575) in brushed onyx.
The current XPS 13 (9370) and regular XPS 15 9570 (updated for 2018) do not offer this possibility. The XPS 15 9570 was initially shown to press in black, but Frank Azor, VP General Manager of Alienware, Gaming & XPS at Dell has confirmed multiple times on Twitter that they scraped the choice for unspecified reasons.
Dell has been experimenting with different color schemes over the years first with gold, then rose gold for the XPS 13, then an outstanding white and gold version for this year.
The company is interested in expanding color selection for consumers but it is taking a very conservative approach trying to balance demand with costs and production constraints. For instance, the brushed-onyx XPS 15 2-in-1 (9575) is not even advertised as an option on Dell's site. You must choose the last SKU, which starts at $1,999.99, to even see the selection during configuration. That makes the choice more of a last-minute surprise for consumers. (You can also buy it direct at Best Buy as well).
Regardless of Dell's quirks if you are up to getting the XPS 15 2-in-1 (9575) with an i7 processor and 4K display you should certainly consider brushed onyx. Dell did out a fantastic job with the design and while you can always put a decal over the silver model this black brushed metal look and feel is the way to go if you want something that bucks the familiar look of Dell's XPS line.
Source: Window Central
#TheNewHUAWEIY9s: Get More Enjoyment From Mobile Photography With A48MP AI Triple Camera
Today, Huawei officially launches the HUAWEI Y9s, a new entry-level smartphone for the second half of 2019. To meet consumers' diverse demands, the HUAWEI Y9s launches with impressive features including a pop-up camera and a 6.59-inch FullView Display, giving the user a truly borderless viewing experience. Crafted with flagship-level quality, HUAWEI Y9s uses stylish colours and unique textures to present a truly attractive handset.
The standout feature is an ultra-wide angle, AI Triple Camera with a 48MP Main Camera for outstanding photographic capabilities. Inheriting Huawei's technological strength in low-light photography users can take high-quality photos with sharp details. With these remarkable features, the HUAWEI Y9s offers excellent performance and user experience in the entry-level smartphone segment.
Explore the Enjoyment of Photography in Everyday Life
Demonstrating Huawei's expertise in producing quality smartphones for younger consumers, the new HUAWEI Y9s maintains smooth performance and long battery life while continuing Huawei's advantages in photography. It improves camera performance through hardware and software integration, giving users new ways to capture wonderful moments in their everyday life.
The HUAWEI Y9s is equipped with an AI Triple Camera setup, which comprises an ultra-clear 48MP Main Camera, an 8MP Ultra Wide Angle Camera and a 2MP Depth Camera. The 48MP Main Camera features a 6 Plastic (6P) lens with a large aperture of f/1.8, which effectively increases the quality and clarity of images. Users can take great photos with sharp details without the need for touch-ups.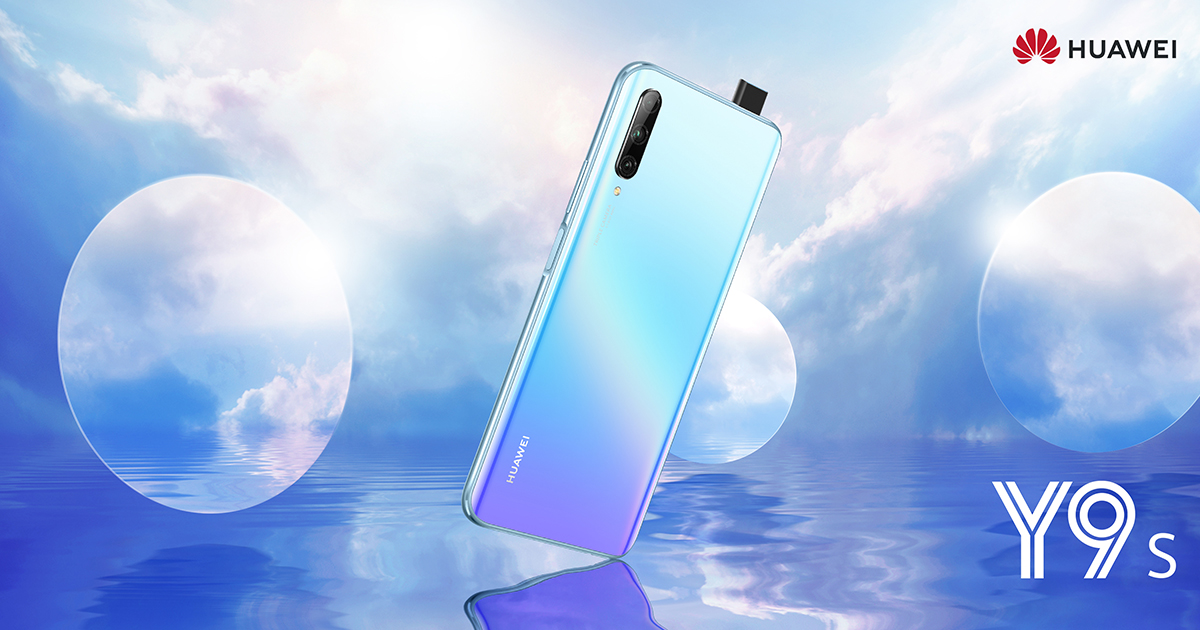 Additionally, the 8MP Ultra Wide Angle Camera offers a 120-degree field-of-view for photo and video shooting, almost doubling the viewing angle of 78-degree that traditional lenses can offer. Whether shooting natural scenery, urban architecture or a group photo, a wider field of view gives you more opportunities to record your story. The 2MP Depth Camera helps with background blurring to create professional bokeh effects, making portraits more vibrant.
In addition to its powerful hardware, the HUAWEI Y9s also uses AI algorithms to enhance images. The built-in Multi-Frame Noise Reduction powered by Huawei's AI algorithms allows long exposures of up to six seconds during handheld photography, helping users shoot improved night photography without fear of, red-eye, blurring or noise caused by long-exposure. Moreover, with AI Scene Recognition, the HUAWEI Y9s can quickly identify 500+ scenes such as ancient architecture, food or sunrises and sunsets. It can then optimise the portrait and background of the photo for different scenarios.
The rear Triple Camera allows users to capture clear photos, while the front pop-up camera is designed to snap beautiful selfies. The HUAWEI Y9s comes with a 16MP front camera paired with remarkable AI algorithms to enrich portraits with flare effects, AI Backlit Imaging and new AI Beauty for the ideal selfie.
Quality Build 6.59-inch Ultra FullView Display with Stylish Colour Design
Instead of a notched or punch hole design, the HUAWEI Y9s uses a pop-up camera to provide a clean, true FullView Display experience. A Micro-Seam Earpiece is embedded in the top bezel, while a hidden ambient light sensor is installed at the bottom of the display. Compared with the previous product (HUAWEI Y9 2019), the HUAWEI Y9s features thinner top and bottom bezels to get a high screen-to-body ratio of 91% and maximise the viewing area.
The HUAWEI Y9s sports a 6.59-inch negative LCD FullView Display that offers a palette of 16.7 million colours. With a screen resolution of 2340 x 1080 pixels, 1500:1 contrast ratio as well as a wide colour gamut of 85% (typical value), the FullView Display brings out the sharp, fine details and make colours vibrant. The device also provides professional Eye Comfort Mode, which passed TÜV Rheinland's low blue light certification, helping to alleviate eye fatigue over time.
Additionally, the HUAWEI Y9s adopts a side-fingerprint solution, which combines the power button and fingerprint unlock button so users have one button for multiple purposes. This design ensures the integrity of the front and back panels, while providing unlock speeds are lightning fast. Made of glass and polished with a nano-texture process (Breathing Crystal only), the back panel of the HUAWEI Y9s interprets the dynamic changes of lights and shadows.
High Performance, Large Storage and Big Battery
The HUAWEI Y9s is powered by the Kirin 710F chip, a high performance, low power consumption processor which ensures a fast and smooth user experience, effectively improving the battery life.
Compared with the Kirin 659, Kirin 710F provides roughly 75% better single-core performance and around 68% improved multi-core performance in CPU. For GPU, it also doubles the power efficiency and delivers 1.3 times higher performance.
Additionally, the HUAWEI Y9s supports UFS2.1 Dual-channel Storage technology and Huawei's Extendable Read-Only File System (EROFS) to bring better read and write performance and more efficient storage, releasing more space for the phone to run heavy-duty applications.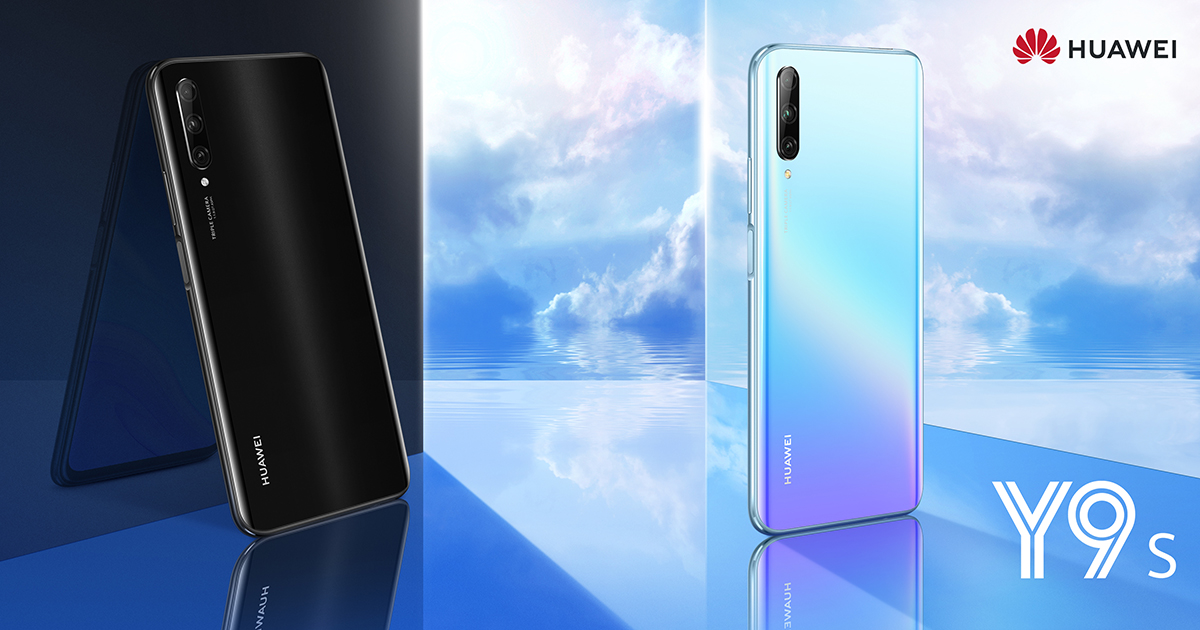 The HUAWEI Y9s provides a large battery of 4000mAh (typical value), along with 6GB RAM and 128GB ROM with expandable 512GB storage (sold separately). Available in Midnight Black and Breathing Crystal. The HUAWEI Y9s will be available for Pre-Order starting from 9th December – 15th December. Pre-order the HUAWEI Y9s and get the HUAWEI Band 4e for free.
Source:
https://www.channelstv.com/2019/12/04/thenewhuaweiy9s-get-more-enjoyment-from-mobile-photography-with-a48mp-ai-triple-camera/
Sony conquers Canon and nixes Nikon in the full-frame mirrorless market
In 2018, Sony announced that it was investing about $9 billion over three years into its image sensor business in a bid to dominate the digital photography market. At the time, CEO Kenichiro Yoshida said that the company's aim is to become the top camera brand in the world by 2021 and, it seems, that investment is paying off.
The latest market analysis reports from Japanese firm BCN has shown that Sony has knocked Canon off the top spot when it comes to year-on-year sales of mirrorless cameras.
According to the 2019 BCN rankings – based on sales figures between November 2018 and October 2019 – Sony's marketshare has jumped from 31.6% last year to 38%. In second place, Canon's sales dropped to 36% from last year's 37.8%.
While it's good for Sony, the full-frame mirrorless snappers only make up a fraction of the total digital camera sales. And that's where Canon is still king, despite the slowing of sales. Sony, however, has taken the second spot in overall digital camera sales, relegating Nikon to third position.
Staying focused
The full-frame mirrorless market is, admittedly, becoming a saturated place, with options from not just Sony, Canon and Nikon available, but Panasonic as well. Sony, though, has been in the business longer, with the others making their foray into full-frame mirrorless snappers in only the last year.
Canon may have offered the average consumer the most affordable full-frame mirrorless option in the EOS RP, but not many people were happy about the cropped video. Nikon, though, had excellent options in both the Z6 and the Z7, but none of the cameras could keep up with Sony's superb autofocus system.
Firmware updates have since improved autofocus performance for both Canon and Nikon, but there's something to be said about being able to take a camera out of the box and know you'll be able to focus on your subject in the blink of an eye.
There's also the matter of lenses: where Sony has an established stable of superb glass for all its cameras, the others are still playing catch-up, with only a few native lenses available for each of the new lens mounts.
Given time, though, those sales figures might change as the number of native lenses available for each system increases, which could make Canon or Nikon a more appealing option for some, particularly if the price tags are competitive as well.
Whether Sony is able to keep up the momentum remains to be seen, but there's no denying the company has some of the best full-frame mirrorless cameras in the business.
Source:
https://www.techradar.com/news/sony-conquers-canon-and-nixes-nikon-in-the-full-frame-mirrorless-market
PrinCube: The world's smallest mobile colour printer has raised over US$3.2 million in crowdfunding
TheGodThings' PrinCube has proven immensely popular on crowdfunding website Indiegogo, with the palm-sized printer garnering over US$3.2 million in funding. While most modern printers contain a printhead, paper feeder and a mechanism for moving the former over a sheet of paper, the PrinCube has just the printhead and puts you in charge of moving it.
The device measures just 72 x 51 x 68 mm and weighs 160 g with a print cartridge installed, which should make it light and small enough for most people to hold with one-hand. The PrinCube contains an optical sensor for detecting motion and can print in up to 1,200 DPI on practically any surface, including uneven ones.
The PrinCube can also print for up to 1.3 metres on a single line or 3 metres across multiple lines, while TheGodThings claims that its US$29 cartridge will last for up to 415 sheets of A4. The company states that the PrinCube should last up to 6 hours of continuous use between charges or a year on standby. The PrinCube communicates with a smartphone or laptop over Wi-Fi.
The Indiegogo crowdfunding campaign has now ended, but the PrinCube can still be bought at early-bird prices starting at US$109. The printer has already entered mass-production, with TheGodThings estimating to ship to backers next month.
Source:
https://www.notebookcheck.net/PrinCube-The-world-s-smallest-mobile-colour-printer-has-raised-over-US-3-2-million-in-crowdfunding.443195.0.html