THE 'BRUSHED ONYX' DELL XPS 15 2-IN-1 (9575) IS A MONOLITHIC BEAUTY WORTH THE EXTRA $50
The XPS 15 2-in-1 9575 (see our full review) is one of the more fascinating laptops to be released this year. Taking the performance of the original XPS 15 (9560) and merging it with a 2-in-1 form factor yields a PC with more functionality but retains that 4K InfinityEdge display.
Tricky to order, but a gorgeous conversion
As mentioned in our review Dell has an all-black version of the 9575, but you can only order it online and one configuration. That setup brings the powerful Core i7-8705G with AMD Radeon graphics, 16GB of DDR4 RAM, and the striking 4K Ultra HD (3840 x 2160) InfinityEdge Anti-Reflective touch display. You still do get a choice for storage which runs from 256GB to 2TB options.
Choosing brushed onyx under the configuration versus the standard and familiar silver will tack on another $50 and a few days for manufacturing, but if you want something different, it's worth it.
Dell XPS 15 2-in-1 brushed onyx tech specs
Processor
Intel 8th Gen Core i7-8705G quad-core
Display size
15.6-inch
UltraSharp 4K (3840×2160) touch display, 100% color gamut
400-nits, 1500:1 contrast ratio, anti-reflective 178° wide viewing angle
RAM
16GB Dual Channel DDR4 at 2400MHz (On Board)
Discrete graphics
Radeon RX Vega M GL graphics with 4GB HBM2 RAM
Ports
2x Thunderbolt 3 with PowerShare
2x USB-C 3.1 with PowerShare
microSD card reader
headset jack
Active pen
Bluetooth 4.2
Multi-mode support including MPP (Microsoft Pen Protocol), Wacom AES1.0 and Wacom AES2.0
4,096 pressure levels
Storage
256GB, 512GB, 1TB, or 2TB (PCIe)
Wireless
Killer 1435 802.11ac [2×2] + Bluetooth 4.1
Intel 8265 802.11ac [2×2] wireless for vPro + Bluetooth 4.1
Miracast capable
Biometric
Widescreen 720p webcam with four array digital microphones; Windows Hello compliant infrared camera; Far Field Cortana capable
Optional Windows Hello compliant fingerprint reader in power button
Battery
75WHr (non-user-replaceable)
Weight
4.3 lbs (1.97 kg)
Dimensions
0.35 in to 0.63 in (9 mm to 16 mm) x 13.9 in (354 mm) x 9.3 in (235mm) (H x W x D)
Starting price
$1,999.99
Availability
Now
Dell.com, Best Buy
The onyx color scheme involves three components including the top and bottom metal covers and the hinges, which go from silver to black to match. Its only on the sides can you see a sliver of silver, which gives a subtle dual-tone look.
Even the embossed Dell logo is now shiny black giving a muted appearance except when it catches some light to reflect. More details are found in the all-black hex screws on the bottom versus the matching silver ones found in the original color scheme.
As the name implies, the metal used is brushed versus the standard flat silver design giving the 9575 some texture. Being black, it also shows oils more than the silver, so you will need to wipe it down to keep it pristine occasionally.
Opening the onyx laptop reveals the same soft-touch carbon fiber design found with the silver option. Otherwise, everything else is the same between it and its silver XPS brethren.
Dell testing varying color options
It's not clear why Dell is only offering the XPS 15 2-in-1 (9575) in brushed onyx.
The current XPS 13 (9370) and regular XPS 15 9570 (updated for 2018) do not offer this possibility. The XPS 15 9570 was initially shown to press in black, but Frank Azor, VP General Manager of Alienware, Gaming & XPS at Dell has confirmed multiple times on Twitter that they scraped the choice for unspecified reasons.
Dell has been experimenting with different color schemes over the years first with gold, then rose gold for the XPS 13, then an outstanding white and gold version for this year.
The company is interested in expanding color selection for consumers but it is taking a very conservative approach trying to balance demand with costs and production constraints. For instance, the brushed-onyx XPS 15 2-in-1 (9575) is not even advertised as an option on Dell's site. You must choose the last SKU, which starts at $1,999.99, to even see the selection during configuration. That makes the choice more of a last-minute surprise for consumers. (You can also buy it direct at Best Buy as well).
Regardless of Dell's quirks if you are up to getting the XPS 15 2-in-1 (9575) with an i7 processor and 4K display you should certainly consider brushed onyx. Dell did out a fantastic job with the design and while you can always put a decal over the silver model this black brushed metal look and feel is the way to go if you want something that bucks the familiar look of Dell's XPS line.
Source: Window Central
Samsung Galaxy A50s and A30s arrive with new cameras, prettier rear panels
Today Samsung officially took the wraps off the Galaxy A50s and Galaxy A30s – incremental updates, as signified by the names, but an important ones nonetheless – the Galaxy A50 is Samsung's best-selling A series phone.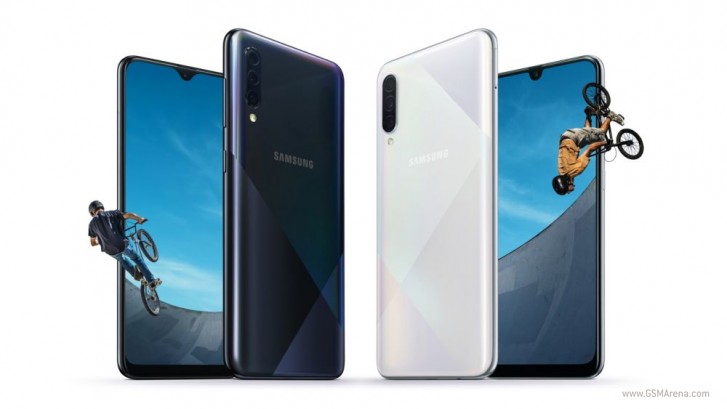 Samsung has redesigned the rear panel of the Galaxy A50s to include a geometric pattern and holographic effect that comes in four finishes – Prism Crush Black, Prism Crush White, Prism Crush Green and Prism Crush Violet2.
What's also new are the cameras. The Galaxy A50s brings a new 48MP f/2.0 main camera paired to the old 5MP depth and 8MP 123-degree ultrawide modules.
The selfie camera has been upgraded from 25MP f/2.0 to a 32MP f/2.0 unit.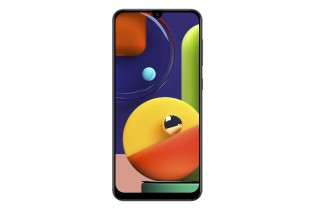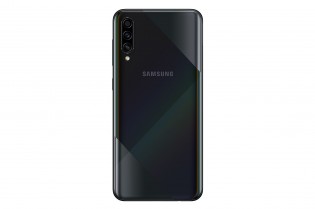 Otherwise the Galaxy A50s is an exact match to its namesake A50. Up front there's a 6.4-inch 1080x2340px Infinity-U Super AMOLED. The Galaxy A50s uses a 10nm Exynos 9610 octa-core chipset with 4GB or 6GB of RAM, a 4,000mAh battery with 15W fast-charging and an in-display fingerprint scanner.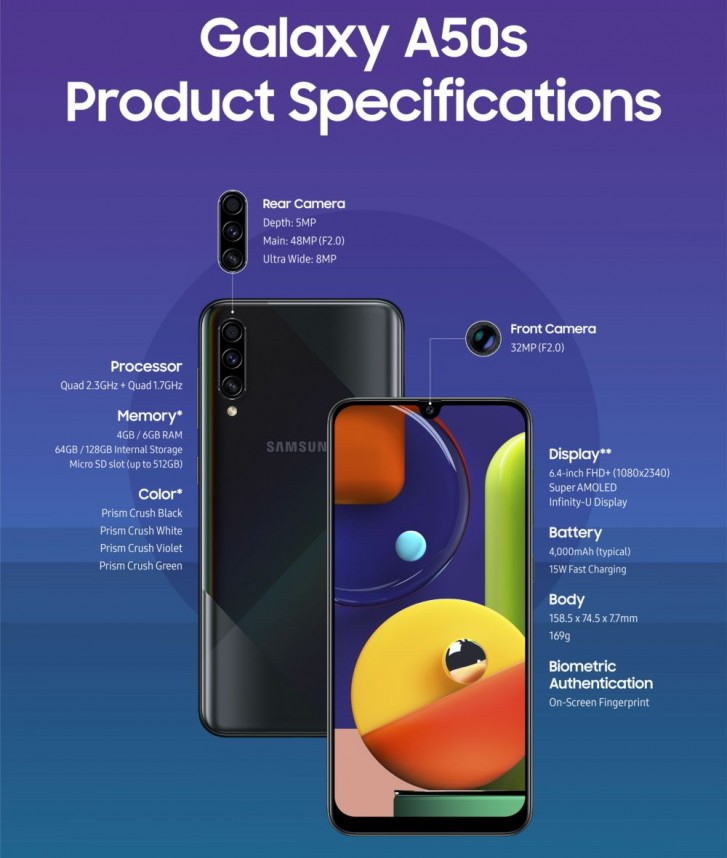 Samsung is yet to announce availability and price.
Samsung Galaxy A30s
The Samsung Galaxy A30s also gains the new design and comes in the same four colors. The rear camera gets a new 25MP f/1.7 main unit (up from 16MP) and a new 8MP ultrawide module paired to the old 5MP depth sensor. The selfie camera is unchanged at 16MP f/2.0.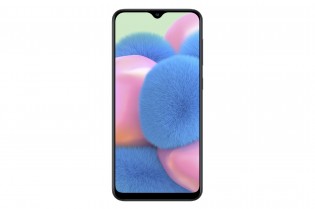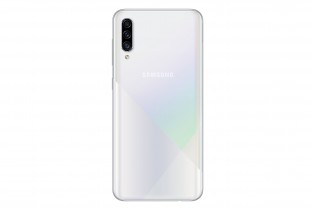 Another added feature is the in-display fingerprint scanner – the old phone had a rear-mounted one.
The Galaxy A30s has a 6.4-inch Infinity-V Super AMOLED of 720x1560px resolution, which is a downgrade from the 1080p panel of the original A30. It packs a 14nm Exynos 7904 octa-core chipset with 3GB or 4GB of RAM and a 4,000mAh battery with 15W charging.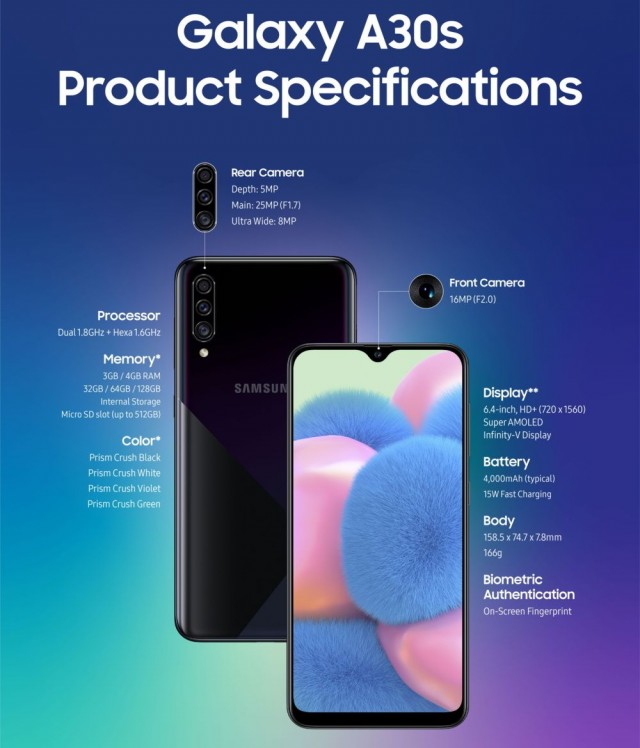 Samsung is yet to reveal availability or price of this one too.
Source: https://www.gsmarena.com/samsung_galaxy_a50s_and_a30s_have_new_cameras_prettier_rear_panels-news-38817.php
LG announces K40s and K50s midrangers with military grade durability
LG is bringing some new smartphones to its booth in Berlin during the IFA conference, taking place in the first week of September. Two of the devices are the LG K40s and LG K50s – just a day after their patenting the names, the Korean company announced the extra durable mid-rangers.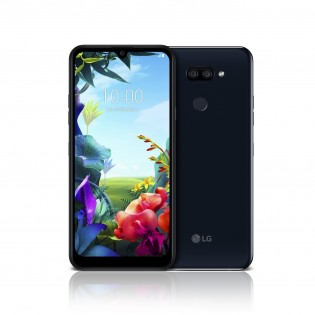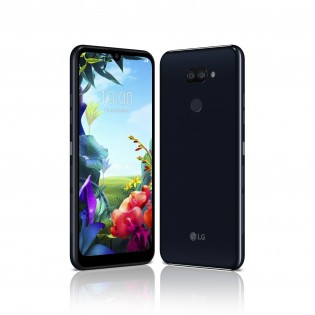 LG K40s
The LG K40s comes with an unnamed processor, having a 2GHz octa-core CPU. Its screen measures 6.1", has HD+ resolution with 19.5:9 aspect ratio and a waterdrop notch on the top for the 13 MP selfie camera.
On the back, we see a horizontal dual camera setup – 13 MP main shooter and 5 MP ultrawide angle lens.
The phone will arrive with 2GB or 3GB of RAM, while the storage is 32GB and further expandable via the microSD slot. The battery capacity is 3,500 mAh, but LG stays silent on any fast-charging capabilities.
The phone is MIL-STD 810G compliant, which means it can handle plenty of drops before it gets any damage.
LG K50s
The LG K50s comes with a larger 6.5" screen, but is otherwise most identical to its sibling. It retains the HD+ resolution aspect ratio, and the waterdrop notch, but manages to fit a bigger 4,000 mAh battery.
You get the same 2GHz octa-core processor on an unnamed chipset, but only one memory variant – 3GB/32GB.
The camera on the back has been upgraded with a 2MP depth sensor joining the 13MP regular and 5MP ultrawide units.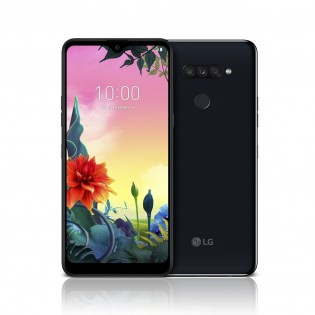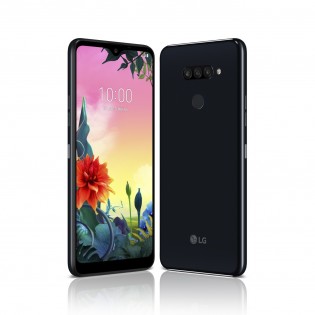 LG K40s and LG K50s come in New Aurora Black and Moroccan Blue colors. Starting October they'll be available in Europe, Latin America, and Asia, but pricing will be confirmed later on.
Source: https://www.gsmarena.com/lg_announces_midrangers_k40s_and_k50s-news-38811.php
Samsung Galaxy S10 5G review: bigger, faster and lasts longer
The Galaxy S10 5G is the largest, most advanced and most expensive smartphone in Samsung's current lineup, aimed not just at being "the 5Gone" but also the best one.
Unlike the OnePlus 7 Pro, which comes in either 4G or 5G versions that are identical in size, weight and features, the S10 5G is its own phone. It's bigger, heavier, thicker and has more cameras and sensors on the back and front than the S10+.
The front is filled by the 6.7in QHD+ AMOLED screen, which curves at the sides and has an large oval-shaped cut out in the top right of the display for two selfie cameras and a depth sensor.
The screen is really lovely, as you'd expect for a top Samsung: bright, crisp and colourful with good viewing angles. It is not quite as bright or smooth as the fantastic 90Hz screen on the OnePlus 7 Pro, but better than all the rest.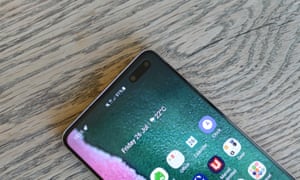 The massive screen means the S10 5G is a very big phone. At 77.1mm wide and 162.6mm tall the S10 5G compares similarly to 5G rivals such the OnePlus 7 Pro or the 4G-only iPhone XS Max. But the way the back tapers at the sides and its comparatively light 198g weight, which undercuts the competition by 8-10g, makes the S10 5G just about manageable. I could fit it in a men's jeans pocket, but anything smaller was a struggle.
If you don't want the biggest of phones and the downsides of weight, cost, size, one-handed use, etc that come with them, this is most definitely not for you.
The display hides Samsung's ultrasonic fingerprint scanner for unlocking the phone with your thumb on the screen, which works well enough but isn't as fast or accurate as the optical sensor on the OnePlus 7 Pro 5G or traditional fingerprint sensors.
The phone is water resistant to the international IP68standard, or depths of up to 1.5 metres in fresh water for 30 minutes. Drop the S10 5G in the toilet and you'll be able to rinse it afterwards. It also has a headphone socket, which is rare in 2019.
Specifications
Screen: 6.7in QHD+ AMOLED (502ppi).
Processor: Samsung Exynos 9820 or Qualcomm Snapdragon 855.
RAM: 8GB of RAM.
Storage: 256GB.
Operating system: One UI based on Android 9 Pie.
Camera: rear triple camera + depth sensor, front 10MP selfie-camera + depth sensor.
Connectivity: single sim, LTE, 5G, wifi, NFC, Bluetooth 5, wireless charging and GPS.
Dimensions: 162.6 x 77.1 x 7.9mm.
Weight: 198g.
36-hour battery life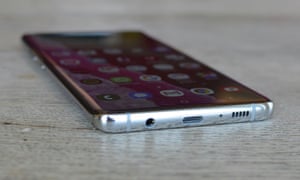 The Galaxy S10 5G has the same processor, memory and storage as most of the other Galaxy S10 versions and therefore performs similarly. In this US this means Qualcomm's Snapdragon 855 processor, but in the UK, Europe and many other regions it means Samsung's own Exynos 9820, as tested here.
It's a fast-feeling phone, if not quite the fastest, and will handle most of what you can throw at it. Games and augmented reality experiences, which are being pushed hard with 5G, were smooth but made the phone heat up quite a bit.
The S10 5G has the largest battery in Samsung's S10 phone line and so lasts the longest at 36 hours between charges. With the screen set to default FHD+resolutionand the always-on display (AOD) setting off, the phone made it from 7am on day one until 7pm on day two with fairly heavy usage, mainly on 4G with bursts on Vodafone's new 5G network where available in London.
The S10 5G is also faster charging than Samsung's other phones with a 25W charger included in the box. It hit 90% in an hour, which is still not the fastest charging phone but is a significant improvement over other Samsung devices. Wireless charging at up to 15W with a Qi charging matt works well, as does wireless power sharing charging something else from the back of the S10 5G such as Samsung's Galaxy Buds.
Network performance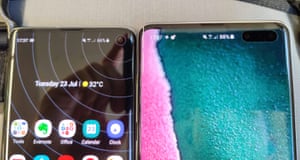 The S10 5G proved great on Vodafone's new 5G network, which was significantly faster than 4G when available, routinely managing 200Mbps download speeds in areas where Vodafone's 4G network managed around 20-50Mbps.
But the S10 5G's 4G performance on Vodafone's network was poor, spending a significant amount of time dropping down to 3G in areas where a OnePlus 7 Pro and Huawei P30 Pro had strong 4G signal on the same Vodafone 4G network. The issue was particularly problematic on public transport.
This poor performance gave rise to further testing which revealed that the poor signal performance on Vodafone's 4G network wasn't isolated to Samsung's new 5G phone – but also its regular 4G phones including the Galaxy S10. The 4G-only phones had a slight advantage of around half a bar of signal strength over their 5G counterparts on the same network.
However, when the Samsung phones dropped down to 3G their internet connection effectively became unusable causing everything from web pages and apps, to messages and even email, to time out. But it's worse than simply being offline, as the phone thinks it has a working internet connection, leading to an extremely frustrating scenario where the phone continually tries over and over to perform the task you've set it before timing out after a minute or so.
To be clear, Samsung's S10, S10+ and S10e performed the same as the OnePlus 7 Pro and Huawei P30 Pro (two of the best for network performance) on both EE and Three's 4G network in and around London and the south of England. The problem appeared only to be on Vodafone. But neither Vodafone nor Samsung could explain the signal issues faced by the Samsung S10 5G and other S10 smartphones.
A Vodafone spokesperson said: "We've recalled the device and SIM for internal testing. We would welcome the opportunity to walk around with the Guardian in the areas they have visited to better understand the user experience found so as we can better understand any issues and implement improvements or fixes."
A Samsung spokesperson declined to address the 4G problem and instead said: "The 5G user experience is only going to get better as 5G network coverage improves and expands. Samsung is working closely with our partners to provide updates to the device so that consumers can get the best network performance."
Samsung One UI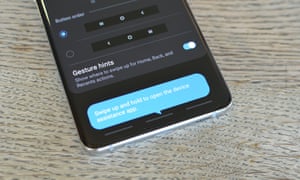 The Galaxy S10 5G runs Samsung's new One UI version of Android 9 Pie, which is the same as the other S10 variants.
One UI is a big upgrade over previous versions of Samsung's software, refocused around making phones with large screens more usable, which was useful here. The top of the screen is generally for information display, while the bits you have to touch have been moved towards the bottom.
The only thing that hasn't aged well are Samsung's gesture navigation options, which replace the traditional three-key navigation bar at the bottom of the screen with swipe pads where the buttons would be. It's not a fluid experience and is difficult to use one-handed on this size of screen.
While more beneficial for the larger Galaxy S10+, the S10 still benefits from generally having the top half of the phone for viewing information and the bottom half for touch-based interactions. Rival systems such as that used by OnePlus, Huawei or even Google's upcoming Android Q are far better.
Camera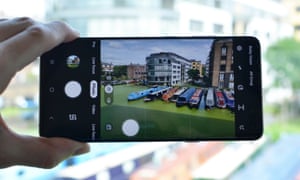 The Galaxy S10 5G has the same three regular cameras on the back as the S10 and S10+ but adds a 3D depth camera for good measure.
That means you get a main 12-megapixel camera, 12-megapixel telephoto camera and a 16-megapixel ultra-wide angle camera providing zoom from 0.5 to 2x, and then on to a 10x hybrid zoom.
There didn't appear to be much difference between the cameras on the S10 5G and S10/S10+. It produced some excellent photos in good light, with solid but not class-leading low-light performance, despite the new night mode.
Video capture was very good, arguably better than many rivals, with fun depth effects using the extra sensors on the S10 5G. The selfie camera is the same as the S10+, which is excellent.
Overall, the camera on the S10 5G is good, but falls short of the best from Huawei.
Observations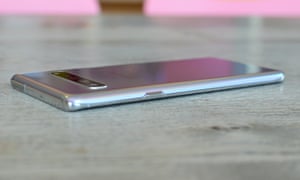 The stereo speakers are pretty good.
The ultrasonic fingerprint sensor is incompatible with most screen protectors, but a compatible one comes included in the box.
The haptic vibrations are sharper than last year's model, but not as good as Apple's iPhone or the OnePlus 7 Pro.
Palm rejection was good at preventing mis-touches on the curved screen edge, where your hand rests on the touchscreen when you grip.
Price
The Samsung Galaxy S10 5G costs £1,099 in crown silver or majestic black on either EE or Vodafone. So far, the phone is not available to buy standalone and SIM-free in the UK.
For comparison, recommended retail prices for the competition include the OnePlus 7 Pro 5G on plans starting at £59 a month on EE, the 4G 6.4in Galaxy S10+ for £899, the 4G OnePlus 7 Pro from £649, the 4G Google Pixel 3 XLcosts £744, the 4G Huawei P30 Pro for £899 and the 4G iPhone XS Max costs £1,099.
Verdict
The Galaxy S10 5G has all thehallmarks of a range-topping Samsung. A big, bright screen, sleek design, solid performance and excellent battery life – the best of any of Samsung's S10 variants.
The rear camera is also very good and Samsung's One UI is great, as long as you're happy using navigation buttons as the swipe gestures are hard to use on this size of phone. It is massive and expensive, meaning only big-phone lovers are going to want to even try and use it.
Its 5G performance is solid on Vodafone's new 5G network. But the poor 4G performance on Vodafone of the S10 5G and its smaller S10 siblings, which neither the network nor Samsung have managed to explain, mean I strongly recommend not buying any top-end Samsung phone on Vodafone.
It may not quite be the best 5G experience available at the moment – that's the OnePlus 7 Pro 5G – but it's close run thing. And where the OnePlus is an EE exclusive in the UK, the S10 5G is available on a wider range of mobile networks.
The S10 5G is the biggest and best Samsung you can buy, at least until the recently launched Note 10 arrives in stores, which could take the crown.
Pros: great screen, ultrasonic in-display fingerprint scanner, hole-punch notch, wireless charging and powershare, great camera, good performance, good software, good haptics, headphone socket, microSD card slot, 5G.

Cons: massive phone, expensive, poor 4G performance on Vodafone, slow software updates.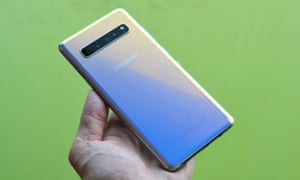 Source: https://www.theguardian.com/technology/2019/aug/21/samsung-galaxy-s10-5g-review-bigger-faster-and-lasts-longer