ASTRONAUTS MAKE EMERGENCY LANDING AFTER RUSSIAN SOYUZ LAUNCH EXPERIENCES FAILURE
A NASA astronaut and Russian cosmonaut had to make an emergency landing on Earth this morning, after the Russian Soyuz rocket carrying them into orbit experienced a failure during launch. The two crew members — astronaut Nick Hague and cosmonaut Alexey Ovchinin — safely landed on the ground in Kazakhstan less than an hour after liftoff and are in "good condition," according to NASA.
The crew took off from the Baikonur Cosmodrome in Kazakhstan at 4:40AM ET. A few minutes after launch, Russia's state space corporation Roscosmos said that there was a problem with the booster during the flight. The failure prompted the crew to make a ballistic reentry, when the Soyuz capsule enters Earth's atmosphere at a steeper angle than normal. Rescue teams have reached the landing site and the crew is out of the Soyuz capsule.
Ballistic reentries can be intense for astronauts, because they experience higher G forces. With a normal Soyuz landing, crews riding in the vehicle usually pull around 4 Gs. That can double for ballistic reentries. In 2008, a Soyuz experienced a malfunction during landing, prompting a ballistic reentry that reached up to 8 Gs. "I saw 8.2 G's on the meter and it was pretty, pretty dramatic," former NASA astronaut Pegg Whitson, who was on the flight, said in a statement, according to Wired. "Gravity's not really my friend right now and 8 G's was especially not my friend. But it didn't last too long."
Roscosmos has announced that it is forming a state commission to investigate the failure. The Russian state corporation says it is already studying the data from the launch. However, Roscosmos said it would not hold a press conference today.
The failure could have significant repercussions for NASA's human spaceflight program moving forward. It's unlikely that Russia will launch a crewed Soyuz mission until it has figured out what exactly went wrong during this flight. However, the Soyuz is NASA's only means of getting astronauts to the International Space Station at the moment. Two private US companies — SpaceX and Boeing — are developing vehicles to ferry NASA astronauts to and from the ISS as part of the Commercial Crew Program. However, the first crewed flights of that program are not slated to occur until summer next year at the earliest.
Developing…
INSTAGRAM TIGHTENS EATING DISORDER FILTERS AFTER BBC INVESTIGATION
Instagram has placed more hashtags which could promote eating disorders on an "unsearchable" list after a BBC investigation found that users were finding ways around the platform's filters.
The photo-sharing network has also added health warnings to several alternative spellings or terms which reference eating disorders, some of which are popular hashtags on the platform.
Starting in 2012, the photo-sharing site started to make some terms unsearchable, to avoid users being able to navigate directly to often shocking images, and posts that promote the idea that eating disorders are a lifestyle choice rather than a mental illness.
If someone enters the unsearchable terms into the platform's search box, no results will come up.
Other hashtags, when searched, will active a pop-up asking the user if they need help, with options to "learn more", cancel the search, or view content anyway.
BBC Trending found that certain terms promoting bulimia were still searchable – and that the Instagram search bar was suggesting alternative spellings and phrasings for known terms which some see as glamorising or encouraging eating disorders
In one case, the search box offered 38 alternative spellings of a popular term.
In response to our findings, Instagram made several alternative spellings unsearchable and added several others to the list of terms which trigger the health warning. Trending is not listing the specific hashtags on the list, but Instagram said it would continue to try to restrict content which appears to encourage eating disorders and self-harm.
"We do not tolerate content that encourages eating disorders and we use powerful tools and technologies – including in-app reporting and machine learning – to help identify and remove it," an Instagram spokesperson said in a statement.
"However, we recognize this is a complex issue and we want people struggling with their mental health to be able to access support on Instagram when and where they need it.
"We, therefore, go beyond simply removing content and hashtags and take a holistic approach by offering people looking at or posting certain content the option to access tips and support, talk to a friend, or reach out directly" to support groups, the statement said.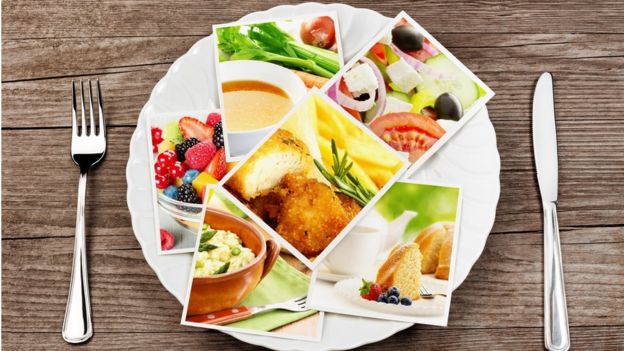 Bypassing filters
After Instagram and other social networks started to censor content that might encourage eating disorders, internet users attempted to navigate around the filters by deliberately misspelling commonly used eating disorder terms. The new hashtags could then be searched for on the platform.
While researching this story, we saw photos of skeletal bodies and posts that encourage extreme fasting.
Instagram, like most popular social networks, does not use moderators to proactively search for content that is against its rules. Instead it relies on other users to report violations.
WORD PROCESSOR PIONEER EVELYN BEREZIN DIES AGED 93
The woman who created and sold what many recognise as the world's first word processor has died aged 93.
Evelyn Berezin called the device the Data Secretary when, in 1971, her company Redactron launched the product.
She grew Redactron from nine employees to close to 500 and was named one of the US's top leaders by BusinessWeek magazine in the year she sold it, 1976.
She had earlier built one of the original computerised airline reservation systems.
The innovation – which matched customers and available seats – was tested by United Airlines in 1962.
According to the Computer History Museum, it had a one-second response time and worked for 11 years without any central system failures.
The technology vied with the rival Sabre system, developed by American Airlines, for being the first of its kind.
In addition, Ms Berezin helped pioneer other types of special-purpose computing including:
an automated banking system
a weapons-targeting calculator for the US Defense Department
terminals for a horse-racing track that monitored how much money was being bet on each animal
Screenless editing
In an interview in 2015, Ms Berezin explained that she had decided to set up her own business in the mid-60s after coming to the conclusion that her prospects were limited so long as she was employed by someone else.
She said that she had initially considered developing an electronic cash register but ultimately opted to create what would become known as a word processor instead.
She said: "6% of all the people in the United States who worked were secretaries.
"At the time we started, which was in 1968 to 1969, nobody really had any desk-type computers on which you could write a word-processing program that a secretary would use.
"I know that desktop computers seem obvious now but it wasn't so then."
At the time, the nearest equivalent was a machine by IBM called the MT/ST – a typewriter with magnetic tape recording and playback facilities.
IBM's marketing referred to a "word processor", but the machine relied on relay switches rather than computer chips, had been targeted at military equipment makers rather than the wider business market, and in Ms Berezin's mind was "klutzy".
"We were committed to building a computer to run our system and we knew that we had to use integrated circuits because it was the only way we could make it small enough and cheap enough and reliable enough to sell," Ms Berezin said.
Her machine – which stood about 1m (3ft 3in) tall – featured a keyboard, cassette drives, control electronics and a printer.
It could record and play back what the user had typed, allowing it to be edited or reprinted.
The original model lacked a monitor, and soon faced competition from a rival, the Lexitron, which did.
But later versions of the Data Secretary did include a screen.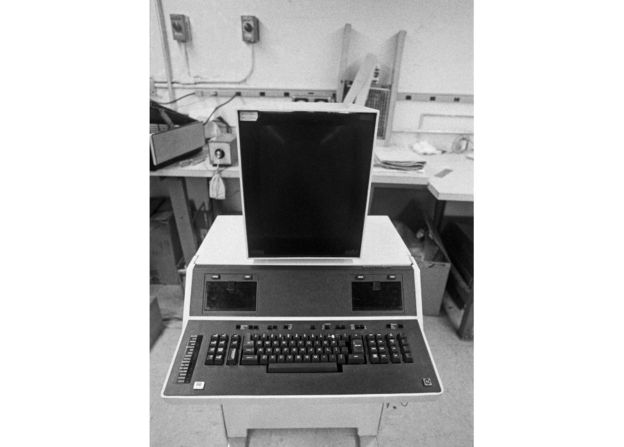 Sparks and water
The project nearly ended in disaster.
Ms Berezin had intended to buy the processors required from Intel, which had gone into business in 1968. But it said it was too busy dealing with orders for its memory chips.
The solution was that Redactron had to design some of the chips required itself and provide the schematics to two manufacturers.
There were further problems with a prototype when it was put on display in a New York hotel for reporters to see.
The issue was that in dry weather, it was prone to a build-up of static electricity, which caused sparks to fly between its circuits, preventing it from working.
"To our horror it was a dry day and the engineers were setting this non-working machine up for our big story," Ms Berezin said.
"Ed Wolf [our head of engineering brought] a full pail of water and without a word to anyone throws the pail of water over the whole thick carpet in the room.
"The water sank into the carpet, which stayed damp for three or four hours, and the machine worked perfectly."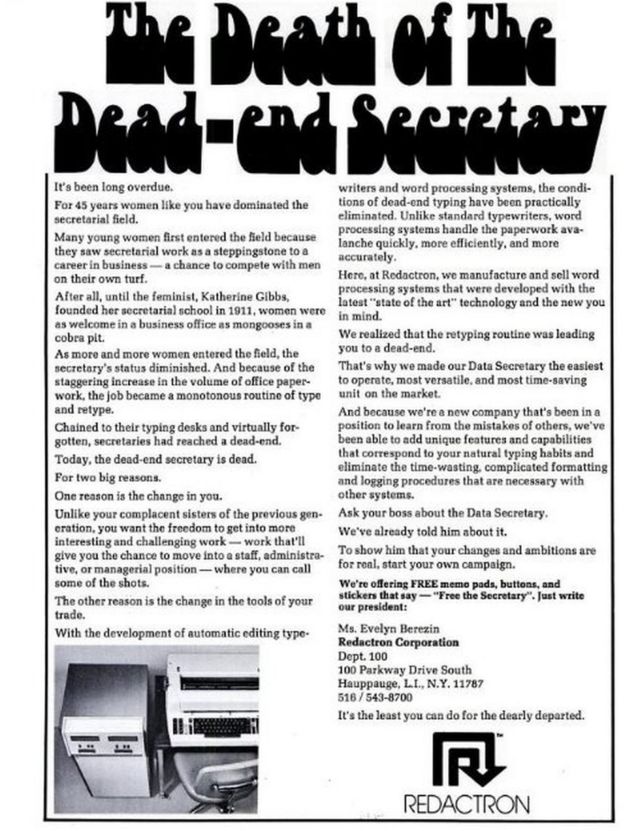 The first production machine was delivered to a customer in September 1971. And over the following year, Redactron sold or rented more than 770 others, excluding demo units.
Over the following years, demand grew but the company's finances came under strain, in part because of high interest rates and a recession that meant clients wanted to rent rather than buy its products.
"We were told by the bank to sell the company and they had somebody they knew who was interested," said Ms Berezin.
"At the time, I was distraught about it."
She went to work for the purchaser, the business equipment-maker Burroughs Corporation. But it proved to be an ill match.
"I was not one of them – I told them what I thought – a loud woman they did not know how to deal with," she said.
"So, they disconnected and so did I."
Ms Berezin left the company around 1980, after which she became involved in venture capital and sat on other companies' boards before becoming involved with Stony Brook University.
The New York Times reported that a nephew had confirmed she had died on 8 December in Manhattan after turning down treatment for cancer.
One of the remaining Data Secretary word processors can be seen on display at the Computer History Museum in California.
LENOVO YOGA BOOK C930 REVIEWTHE UK'S INQUIRY INTO FAKE NEWS IS FOCUSED ON A LONG-DEAD BIKINI-FINDING APP
On Saturday, the Observer published an article describing a rather incredible caper that took place in the United Kingdom. As part of an ongoing inquiry into fake news, Parliament seized a cache of documents obtained during legal discovery in a case mounted by an app developer against Facebook in an unrelated matter in the United States.
Carole Cadwalladr, who rose to prominence this year as one of the journalists who broke the Cambridge Analytica story, has the tale:
Damian Collins, the chair of the culture, media and sport select committee, invoked a rare parliamentary mechanism to compel the founder of a US software company, Six4Three, to hand over the documents during a business trip to London. In another exceptional move, parliament sent a serjeant at arms to his hotel with a final warning and a two-hour deadline to comply with its order. When the software firm founder failed to do so, it's understood he was escorted to parliament. He was told he risked fines and even imprisonment if he didn't hand over the documents.

"We are in uncharted territory," said Collins, who also chairs an inquiry into fake news. "This is an unprecedented move but it's an unprecedented situation. We've failed to get answers from Facebook and we believe the documents contain information of very high public interest."
What, exactly, might be of interest here? In the Wall Street Journal, Deepa Seetharaman catches us up on Six4Three and why it's suing Facebook:
The Six4Three lawsuit stemmed from Facebook's decision in 2014 to stop giving outside developers broad access to information about users' friends. The move was a harsh blow to developers, forcing a number of apps to shut down, while Facebook argued it helped bolster user privacy.

Six4Three was the developer of an app called Pikinis, which allowed its users to find photos of Facebook users in bathing suits. It ceased operation in 2015 because of Facebook's decision to curtail access to its users' data, according to the lawsuit.
The 2014 changes were, of course, the ones designed to tamp down on the kind of invasive third-party data harvesting that would eventually come back to bite Facebook this year with the Cambridge Analytica scandal.
What makes the seizure of documents strange is that so little of the Cambridge Analytica story is, at this late date, in dispute. We know what data was made available to third-party developers before 2014. We know Facebook gradually became uncomfortable with how these developers were exploiting its users. We know they deliberated about it internally and eventually shut off the spigot.
Seetharaman suggests that it is these deliberations that are of interest to Collins. And perhaps some spicy emails will see the light of day. But it's hard to square the facts of the case with the way the document cache is presented in the Observer, which is as a development somewhere on the level of the Pentagon Papers.
And in any case, it remains unclear what 2014 data privacy discussions have to do with Collins' inquiry, which is supposed to be investigating the impact of fake news. The inquiry, which began in 2017, produced an interim report in July. Perhaps the document cache will link data privacy and fake news. Or perhaps a politician is simply casting about looking for new cudgels with which to beat Facebook in front of television cameras.
Collins' committee will hold a public hearing on Tuesday, and may discuss the cache of documents then. (Mark Zuckerberg was invited to go, and declined.) But as we waited for those internal communications to become public, a new court filing introduced a rather amazing twist.
Read more here