FAFARADAY FUTURE'S LAST FOUNDING EXECUTIVE RESIGNS, PLANS EMERGENCY FUND FOR EMPLOYEES
Dag Reckhorn, Faraday Future's senior vice president of global manufacturing — and the last of the company's five "founding executives" — resigned Wednesday, according to an internal email obtained by The Verge. The news comes after investor trouble sparked two wild weeks of layoffs and salary cuts that quickly turned into furloughs and executive departures at the EV startup, and a co-founder calling the company "effectively insolvent."Reckhorn said in his email to staff that he is working to establish an emergency fund for employees affected by the furlough.
"I am heartbroken to have to let you know, that I will leave FF effective today," Reckhorn wrote in the email, which was sent to the company's remaining staff. "There are legalities that force me to do so. Please do not believe that I am ditching the best team I ever worked with."
Faraday Future spokesperson John Schilling confirmed Reckhorn's resignation. "We thank him for his service to FF and wish him the best of luck in his future endeavors," he said.
Reckhorn mentioned in the email that he is "think[ing] about opening an emergency fund" for employees in "dire needs" as a result of the furlough, and that he's putting in $10,000 to start. "Other colleagues are free to join and donate as well," he wrote. The hope is to "help [employees] as best as the available funds allow." Before the layoffs and furloughs, Faraday Future still had around 1,000 employees in the US.
Following a now-prolonged fight with its main investor, China's Evergrande Real Estate Group, Faraday Future announced the furloughs (or forced unpaid leave) to employees on Tuesday. All workers who joined the company after May 1st of 2018 were automatically furloughed, while full-time employees who have been with Faraday Future since before that date were given the opportunity to stay on board at a reduced salary rate of $50,000 per year. Hourly employees who joined Faraday Future before May 1st were given the opportunity to stay on at $13.25 per hour.
Employees who had a choice had to decide by noon Wednesday. Those who were furloughed were told to "leave all FF company equipment (computer, phone, iPad, and any other FF property) at their FF workstations by close of business on October 31, 2018," according to a letter obtained by The Verge.
It's unclear if the proposed emergency funds will be made available to workers who were laid off last week. Reckhorn did not respond to multiple requests for comment.
The "legalities" Reckhorn mentioned in his email have to do with what's known as "director and operator insurance (or D&O insurance)," according to two former employees, who were granted anonymity because they signed nondisclosure agreements. D&O is a type of liability insurance that protects a company's directors and operators from legal retribution in the event of a lawsuit. Faraday Future's D&O insurance recently lapsed, which made executives like Reckhorn vulnerable amid the recent layoffs and furloughs, these people say.
In fact, Reckhorn was not alone in resigning on Wednesday. Catherine Steinmetz, who joined in 2015 from Tesla and most recently served as the director of environmental, health, and safety, sent an email announcing her resignation shortly after Reckhorn's. A number of other remaining directors plan to leave Wednesday as well for the same reason, according to the two former employees and one worker who is still inside the company.
Reckhorn joined Faraday Future in late 2014, and previously spent more than three years as a director at Tesla, where he oversaw manufacturing of the Model S. He was also the final remaining "founding executive" at the company. After the company was formed in 2014, CEO Jia Yueting tasked five executives — Nick Sampson, Alan Cherry, Tom Wessner, Richard Kim, and Dag Reckhorn — with getting things rolling.
Cherry and Wessner resigned last August and October, respectively, as the company descended into eventual turmoil at the end of 2017. Kim resigned a few months later. Sampson — a co-founder — quit this week. Cherry, Wessner, and Sampson were also veterans of Tesla. With co-founder Tony Nie stepping away earlier this year, Jia is now the only co-founder remaining at the company.
PICHAI PUTS KIBOSH ON GOOGLE SEARCH ENGINE FOR CHINA
Google is not working on a bespoke search engine that caters to China's totalitarian tastes, and it has no plans to develop one, CEO Sundar Pichai told lawmakers on Capitol Hill Tuesday.
"Right now, we have no plans to launch in China," he told members of the U.S. House Judiciary Committee at a public hearing on Google's data collection, use and filtering practices.
"We don't have a search product there," he said. "Our core mission is to provide users access to information, and getting access to information is an important human right."
Pichai acknowledged that the company had assigned some 100 workers to develop a search engine for totalitarian countries, however.
"We explored what search would look like if it were to be launched in a country like China," he revealed.
A report about a Google search engine for China appeared in The Intercept this summer.
The project, code-named "Dragonfly," had been under way since the spring of 2017, according to the report, but development picked up after Pichai met with Chinese government officials about a year ago.
Special Android apps also had been developed for the Chinese market, The Intercept stated, and had been demonstrated to the Chinese government for a possible rollout this year.
"We certainly hope they abandoned those plans," said Chris Calabrese, vice president for policy for the Center for Democracy & Technology, an individual rights advocacy group in Washington, D.C.
"We didn't think it was a good idea to build a search engine that would censor speech in order to go into the Chinese market," he told the E-Commerce Times.
Google may have been testing the waters with its Chinese browser, maintained Russell Newman, assistant professor for the Institute for Liberal Arts & Interdisciplinary Studies at Emerson College in Boston.
"It's an example of a firm seeing how far down the road it can go before it receives pushback," he told the E-Commerce Times. "It discovers a limit, then pushes that limit a little more. I'd be surprised if they wholly gave up on the search engine for China."
Mission: Protecting Privacy
In his opening remarks to the committee, Pichai declared that protecting the privacy and security of its users was an essential part of Google's mission.
"We have invested an enormous amount of work over the years to bring choice, transparency and control to our users. These values are built into every product we make," he said.
"We recognize the important role of governments, including this committee, in setting rules for the development and use of technology," Pichai added. "To that end, we support federal privacy legislation and proposed a legislative framework for privacy earlier this year."
Pichai also addressed a burning issue for Republican members of the panel.
"I lead this company without political bias and work to ensure that our products continue to operate that way," he said. "To do otherwise would go against our core principles and our business interests."
'Bias Running Amok'
Among the Republicans on the committee who raised the issue of unfairness with respect to the way Google's search algorithm treats conservative views was Mike Johnson, R-La.
"My conservative colleagues and I are fierce advocates of limited government, and we're also committed guardians of free speech and the free marketplace of ideas," he told Pichai.
"We do not want to impose burdensome government regulations on your industry," Johnson continued. "However, we do believe we have an affirmative duty to ensure that the engine that processes as much as … 90 percent of all Internet searches, is never unfairly used to unfairly censor conservative viewpoints or suppress political views."
Political bias is running amok at Google, charged committee member Louie Gohmert, R-Texas.
"You're so surrounded by liberality that hates conservatism, hates people that really love our Constitution and the freedoms that it's afforded people like you, that you don't even recognize it," he told Pichai, who was born in India.
"It's like a blind man not even knowing what light looks like because you're surrounded by darkness," Gohmert added.
Despite Republican claims of liberal bias in Google's algorithm, "there isn't any evidence to back that up empirically," Calabrese said.
Market Dominance
Committee members also were concerned about Google's market dominance.
"I'm deeply concerned by reports of Google's discriminatory conduct in the market for Internet search," said David Cicilline, D-R.I.
Google has harmed competition in Europe by favoring its own products and services over rivals, and by deprioritizing or delisting its competitors' content, he noted citing European Commission findings.
"It is important for the U.S. government to follow the lead of other countries and closely examine the market dominance of Google and Facebook, including their impact on industries such as news media," observed David Chavern, CEO of the News Media Alliance in Arlington, Va., a trade association representing some 2,000 newspapers in the United States and Canada.
"We will continue to urge for more hearings to examine ways in which the duopoly impacts the business of journalism, which is essential to democracy and civic society," he told the E-Commerce Times.
Prelude to Privacy Law
House and Senate hearings in recent months are just the prelude to data privacy legislation that could be introduced next year.
"We're certainly going to see a wide variety of comprehensive privacy bills filed, and I think we'll make some progress," Calabrese said.
"Advocates have seen the need for privacy legislation for a long time," he said, "and now that we have privacy legislation set to kick in in California in 2020, there's a lot of companies who would rather be governed by a federal law than they would a bunch of different state laws."
If a general privacy law is enacted, it shouldn't use Europe's General Data Protection Regulation as a model, maintained Alan McQuinn, senior policy analyst for the Information Technology and Innovation Foundation, a public policy and technology innovation organization in Washington, D.C.
"We don't want to see the GDPR enacted here in the states," he told the E-Commerce Times.
"It is highly likely to create a drag on the European economy and hurt innovation and businesses," McQuinn explained.
Privacy rules should be styled to fit industries, such as healthcare, finance and commerce, he suggested.
"The sector-specific approach that the U.S. has taken toward privacy has allowed for more innovation," McQuinn noted, "and created the powerhouse of the digital economy that we have here."
AMAZON'S LATEST GADGET: A SELF-DRIVING TOY CAR FOR CODERS
LAS VEGAS: Self-driving cars, meet Amazon's self-driving toys.
Amazon.com Inc's cloud unit on Nov 28 announced a US$399 (RM1,670) autonomous toy car, aimed at helping web developers try out some of their own self-driving technology. Customers can train and tweak machine learning models in an online simulator and then test drive them on vehicles one-eighteenth the size of a real race car.
Amazon Web Services (AWS) is even creating a sports league and championship cup, borne out of races its employees had with each other using the model car, AWS DeepRacer.
"It started getting pretty competitive," Andy Jassy, chief executive of AWS, said at the company's annual cloud conference in Las Vegas. "We had to remind people that we were actually trying to build this and launch this for customers. But it was actually kind of interesting, educational for us."
He added of the forthcoming competition: "This is the world's first global autonomous racing league open to everyone." The news represents another opportunity for the world's No 1 cloud computing company to lure people to try its machine learning services such as Amazon SageMaker, applying them to the car.
It also raises questions about Amazon's interest in autonomous vehicles, an exploding area that has drawn heavy investments from automakers and technology companies alike, notably Amazon's rival Alphabet Inc.
Simulations similar to the races Amazon is proposing are common in academic circles studying how traffic management would work in an era of self-driving cars. To be sure, autonomous vehicles rely on sensors, lidar and other components that are not the focus of AWS DeepRacer.
Amazon previously held what it called "Robocar Rallies" focused on behavioural cloning technology, which AWS DeepRacer events will now replace. – Reuters
USERS RATE 'CREEP FACTOR' IN NEW PRIVACY-SECURITY PRODUCT GUIDE
The Mozilla Foundation, the nonprofit organization behind the Firefox web browser, is expanding a campaign begun last year to help consumers buy safe, secure connected toys and mobile gadgets this holiday season.
Mozilla's 2018 edition Privacy Not Included buyers' guide offers an assessment of the privacy and security qualities of 70 products, ranging from connected teddy bears and smart speakers to game consoles and smart home gadgets.
Strong Consumer Interest
More than half the listed products failed to meet the minimum security standards Mozilla created in concert with Consumers International, a global consumer advocacy group, and the nonprofit Internet Society. The guide invites consumers to interact with a "creepy" rating scale.
Some of the failed products may not be the kinds of products consumers generally associate with being vulnerable to misuse of user data. The goal is to make consumers and Internet of Things vendors more aware of privacy safety with respect to connected toys and mobile gadgets.
Last year's first shopping guide revealed strong consumer interest in the privacy and security of connected toys and smart home products. Some companies that sold products also were interested. This year's guide took the lessons learned last year and put them to work to build a better guide, according to Mozilla.
The main problem with an approach like this is that the desire for privacy varies among users, and there is no way to show that in Mozilla's buyers' guide, according to Shea Drake, content strategist and tech expert withBusiness.org.
"There's no comparison tool, table of factors, or even standards for what is considered creepy versus whether it is useful/cool enough to be worth the creep factor," he told the E-Commerce Times. "Alexa is voted as one of the creepiest products, yet there are still over 40 million units sold."
How It Works
Consumers view pictures of the 70 products Mozilla included in the guide. At the top of the guide's landing page is a horizontal row of pre-screened categories: Toys & Games, Smart Home, Entertainment, Wearables, Health & Exercise, Pets. Click on a product category to see the included toys or gadgets. Clicking on the image takes users to a product detail page where they can view the product's characteristics.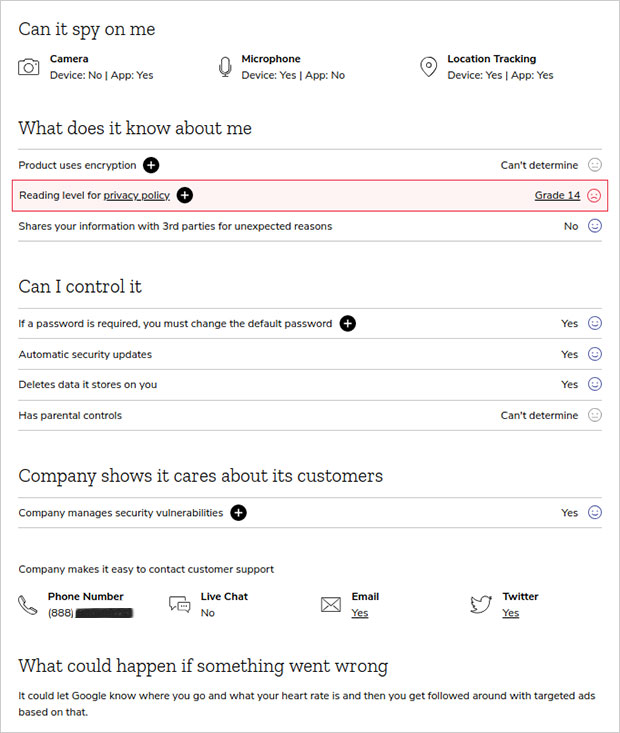 Consumers can rate products on a two-part Creep-O-Meter scale. A slider goes from "not creepy" all the way to "super creepy." Respondents then can click on a thumbs up or thumbs down button to indicate their likelihood to buy the product.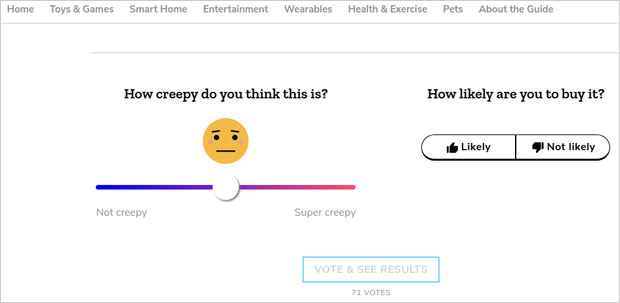 Once a person votes, a display appears with a breakdown of the results, along with an opportunity to post and read other people's comments on the product. Continue to scroll down the page to see a series of questions about the privacy characteristics of the product. The listings briefly explain what could happen if something should go wrong.
Mozilla includes a "Meets Our Minimum Security Standards" stamp on a page if the product has met its minimum security standards for IoT products.
Basic Safety Standards
Mozilla's minimum privacy requirements highlight the fundamental ways Internet-connected products can fail when it comes to protecting your data. Mozilla's researchers have assessed whether each product uses encryption, how easy the privacy policy is to read, how security updates are handled, and whether the maker addresses security vulnerabilities.
Mozilla's bare minimum standards will reject connected toys and gadgets under the following circumstances:
Communications are not encrypted — Only the sender and the receiver should be able to access the information; there should be no eavesdropping.
There are no security updates — A product must support automatic security updates by default. Otherwise, companies cannot fix vulnerabilities in a timely matter if at all.
Weak passwords are permitted — Many products have default password such as "1-2-3." Even worse, the passwords are printed on the box.
There is no easy way to reach vendors — It is often difficult to get privacy and data protection details from vendors.
The privacy policy is indecipherable — Details should not contain complicated security jargon or require an advanced reading level. Many consumers overlook opting out of data collection or learning how to delete their data. Many do not even know what data is being collected and sold.
Product Analysis
Only five of the 18 products listed on the Toys & Games page meet the minimum standards. They are Microsoft's Xbox One, the Nintendo Switch, Sony PS4, the Harry Potter Kano Coding Kit, and the Amazon Fire Kids Edition.
Just six of the 18 wearables in the guide pass Mozilla's minimum standards. Consistency within a manufacturer's product line is not always a given. For instance, Apple AirPods failed, but the Apple Watch Series 4 passed.
In the smart home products category, most smart speakers have safety approval. These products include the Amazon Echo and Dot, Google Home, Apple HomePod, Sonos One and the Mycroft Mark 1.
Want a Nest-based smart home? Forget about it. None of the highlighted products have a safety approval from Mozilla.
Useful or Not
Mozilla's approach to consumer education may not get the hoped-for results, but anything to build awareness helps, said David Ginsburg, vice president of marketing at Cavirin. Although typical consumers have a low chance of being breached, this awareness helps with their overall cyberposture — for example, proper home router and WiFi configuration, or securing their laptops.
"As with any buyers guide, do not let it lead to a false sense of security or fear," he told the E-Commerce Times. "This is the case with all guides — Consumer Reports, Yelp, Trip Advisor. It is always the responsibility of the consumers to understand their individual risks versus rewards."
It's also likely that the vendors that received a "creepy" rating will take a look at product security and documentation.
"What is perfectly acceptable in one region may not be in another," Ginsburg said.
These kinds of alerts are only as effective as the audience they are able to reach and who actually read them, noted Nathan Wenzler, senior director of cybersecurity at Moss Adams Cybersecurity Consulting Services.
Mozilla's guide is definitely a necessary resource, and if anything, it needs to be expanded to include as many products as possible, he suggested.
"Even by their own admission, 70 products is a drop in the bucket in comparison to the number of IoT devices out there," Wenzler told the E-Commerce Times. "It is a good start on Mozilla's part, but there needs to be more of this kind of thing for a wider array of products that need to be made available to consumers in more ways."
Standards Needed
Mandated government standards may become the ultimate solution to regulate privacy guarantees, but self-policing by the industries involved may be a better goal.
Standards could include plain speak about how data is used when it is gathered, and an easy way to opt out. If you are paying for a product, vendors should not make more money on how you use that product, suggested Business.org's Drake.
"Breaches or improper use should include not only a minimum fine to the government, but also to each user of the product," he said. "Right now, consequences are fairly minimal, but standards only work if we enforce them."
A line needs to exist between safety and privacy, ghough one could say that certain security vulnerabilities could result in safety issues, noted Cavirin's Ginsburg.
"A combination of IoT and privacy regulations (like CCPA) on the national level will probably make it through the new Congress," he added.
Bare Minimum Goals
Encryption should be used wherever possible, to protect communication between the IoT device and anything it is connected to, as well as any data stored on the device itself, Moss Adams Cybersecurity's Wenzler suggested.
Minimum standards should include requiring the default password to be changed and not allowing older, weaker connection protocols over wireless or Bluetooth, he said.
Many older security protocols have been broken over the years and could be compromised easily today, Wenzler pointed out.
As customers become more aware of the threats these devices can present, the more they will demand that security features be built into products, he added. That ultimately will be a far more effective way to get manufacturers to make security protocols a standard feature of whatever they produce.