LENOVO YOGA BOOK C930 REVIEW: TWO SCREENS AND LOTS OF COMPROMISES
If you traveled back in time five years and asked what a futuristic 2018 computer would look like, there's a pretty good chance that somebody would describe something very much like the Lenovo Yoga Book C930. It's a svelte, small, and decently powerful computer that has so many different modes that it's difficult to call it just one thing, and there's not much else out there that resembles it in any way.
It's not a laptop or a tablet or a note-taking device. Rather, it's attempting to be all of those things at once, depending on your needs. It's smaller than any Windows computer you've likely tried (save maybe the Surface Go), and it has two screens. One is a traditional LCD touch panel and the other is an E Ink screen that can change its function based on the task. Sometimes it's a touch keyboard, and other times, it's a sketchpad or an e-reader.
Almost everything about the new Yoga Book makes you want to love it. It's the sort of device that makes you feel like you're living in a future that would be more commonplace if only computer companies were just a little more daring. But it is also the sort of device that, once you use it, it makes you realize why everybody else has been so risk-averse. It's much easier to love the idea of the Yoga Book C930 than to live with its reality — especially when that reality costs at least $999.99.
This is the second time that Lenovo has taken a shot at releasing a futuristic computer without a traditional keyboard. The basics of the new Yoga Book's overall design are nearly unchanged. It's incredibly thin and light for a full Windows PC, measuring just under 10mm thick when closed and weighing just 1.71 pounds. It has a 10.8-inch, 2560 x 1600 display that, sure, can feel a little bit cramped, but you can do a surprising amount of work on it.
Outside of one mystifying design choice, the build quality of the C930 is top notch. Everything feels solid, from the "watchband" hinge that rotates 360 degrees to the matte finish on the E Ink display to the textured power button. It's a device that will virtually force people to ask you about it because it's so tiny and unique.
That mystifying design choice is just opening the damn thing up. You have three choices: wedge a fingernail in between the two halves, literally "knock knock" on the top when it's closed, or long-press the volume down button. The first is super awkward and weird, the second only works intermittently, and so by process of elimination, you'll be pressing the volume button to open it. Why Lenovo didn't just make a little cutout for your finger to grab will be a question for the ages.
The first Yoga Book was littered with compromises: a dinky processor, the wrong ports, and even the wrong operating system. It also didn't have a second screen, opting for a weird touch-sensitive panel that you had to slap a pad of paper on top of to record your notes.
Lenovo looked at all of the problems on the original Yoga Book and tried to address them with the Yoga Book C930. In some cases, it was successful: this machine is a much more focused, intentional device. It only runs Windows; it has a relatively modern, 7th Gen Y-Series Intel Core i5 processor; and, most importantly, it swaps out that weird touch panel for a proper E Ink display. That's where you type, draw, and take notes using the included pen. There are now two USB-C ports for connectivity and charging (but no headphone jack, sadly). Lenovo also added a fingerprint sensor for logging in. It works, though, personally, I'd have preferred a facial recognition camera.
Battery life is nothing to crow about. Lenovo rates it at over eight hours of use, but I didn't quite get there using just Windows. Six to seven seems like a safer bet, depending on what apps you're running. However, if you use it as more of a mixed-use device — a little Windows here, a little ebook reading there — you're likely to hit that number or better.
Just as a Windows computer, it does its job and performs well enough (about in line with a low-end device with 4GB of RAM). Which is to say: it will run Office and let you do basic kinds of stuff, but don't push it too much. The small screen sort of helps set expectations here. You wouldn't ever try to tackle a huge Photoshop project on this thing, and you shouldn't.
Any new kind of computer needs to justify its existence. Why would you get this instead of something simpler, like a Surface Go tablet or a traditional laptop (with a traditional keyboard)? And that bar is even higher for something that starts at a thousand bucks.
So let's talk about that E Ink screen.
The first and most important thing to know is that it's nicer to type on than you might expect, though I suspect your expectations aren't very high. Lenovo has a special mode that maximizes the keyboard size and minimizes the touchpad, which cleverly expands only when you tap on the bottom when you want to use it. That little bit of extra space makes the keyboard much more usable, and Lenovo is also doing the standard trick of correcting for your mistypes with its software.
But typing on glass is still typing on glass, and no amount of haptic vibration can change that. You can't really rest your hands on the keyboard, long fingernails will be a problem, and it gets tiring after awhile.
Honestly, that is probably going to be the end of the story for most people: an incredible device with a not-so-great typing experience. The idea here is that there are other things that you can do with the E Ink screen that offset the compromise on the keyboard. But I'm just going to tell you right now that they mostly consist of more compromises.
You can also use it as an e-reader, and since the device is so small and light, it's comfortable to hold and read with it. Unfortunately, at launch it only supports PDFs; Lenovo says that ePub, .mobi, and plain text support will come next year. It's nice enough for simple reading, but you can't mark up or even highlight text. You can only use a fiddly, resizable box to screengrab portions of what you're reading. And don't ever expect to be able to read your Kindle library on it. The whole thing is just a huge missed opportunity.
My favorite mode is note-taking, which lets you sketch out your notes on the E Ink screen. It's really neat to just fold the Windows screen back and have a small notepad thing to jot your notes down on. You can grab the OCR text from them automatically and get them into OneNote, too. You can also grab a screenshot from Windows and mark it up, but the experience of actually doing so is hellaciously fiddly. Trying to re-crop the image to what you want to actually comment on is a huge hassle on the E Ink display.
Though the E Ink screen has a decent refresh rate relative to other similar screens, the overall experience of using it is maddeningly slow. You switch modes by tapping small little buttons in the upper-right corner, and it takes a very long time to change. You can turn off the Windows display and just use the E Ink side, but you have to double tap the screen to do so, and sometimes it just doesn't register. The device tries to automatically present different options to you, depending on how far back you've tilted the hinge or what orientation the device is in. But in practice, it often gets it wrong, and you're left sort of flipping and folding the Yoga Book around to get it working.
I admit it: I really want to like the Yoga Book C930. I like that Lenovo is not only willing to take a chance on a weird design, but also to iterate on it and make it better. Just considering the device as a physical object and even as a concept, I love it.
But even if you can get over the awkward experience of typing on glass, the software that runs the E Ink screen makes the Yoga Book hard to love. There are probably niches where this device will be interesting, like for people who need a clipboard-style computer with the full power of Windows and a quick way to jot down notes.
For a thousand bucks, though, there are much better and more versatile options. They won't wow strangers at a coffee shop, but they will let you get your work done without getting in your way.
These are the improvements Samsung has made to the Galaxy Fold
Samsung delayed the launch of the Galaxy Fold after some of the review units it handed out last month failed. The device was supposed to be released in the United States on April 26 and a week later in markets across Europe. That didn't happen and the company still hasn't confirmed a new release date.
It took back all of the review units and said that the display protection would be improved. A new report out of South Korea details the improvements that Samsung has made to its first foldable smartphone.
New report details Galaxy Fold improvements
According to the report, Samsung has tucked the protective layer on top of the display into the body. This will not allow the user to peel off the layer. The display on some review units had broken for precisely this reason. The users had removed the protective layer on top just because it looked like a screen protector. Samsung did say during its press briefings for the Galaxy Fold that this layer is not to be removed. It would be a good idea to tuck the layer into the body so that customers don't try to pull on it absentmindedly.
There was also a small gap at the top and bottom parts of the hinge. Substances like dirt or lint could get in and lodge beneath the display, causing lasting damage. The report says that Samsung will reduce this gap to prevent foreign substances from getting in. We had also pointed out that the company needed to place warning statements prominently about the protective layer on the packaging itself. While that wasn't the case on review units, the consumer units will have more warnings.
These improved units are now reportedly being tested with mobile carriers in South Korea. Samsung is expected to announce a new Galaxy Fold release date this month. The handset is said to arrive in June. Samsung mobile boss DJ Koh has also said that the company will confirm a new release date sooner rather than later.
Source: https://www.sammobile.com/2019/05/15/improvements-samsung-made-galaxy-fold/
Huawei's Honor 20 might just feature 4 rear cameras
Honor is in the final stages of preparation to launch the Honor 20 series, and they are surely going all out for this one. Even though they have managed to keep a solid lid on the information around this phone for a while, we have gleaned in the past that this device could feature four camera sensors on the back.
It seems the brand has confirmed the same in a new taser image which states 'Fantastic beauty, four photos.'
Of course, this is as vague as it gets, but it could be what we are thinking too. If this were to be true, there is a high chance we see the massive 48MP sensor from Sony be the main camera to be supported by a 16MP super wide-angle lens, and two 2MP cameras – one for depth sensing and the other being a third sensor for detailing, maybe.
These cameras will, no doubt, be something to look forward to. Likewise, they could have one of the best Night Modes to expect – given that the president of the brand shared a Night Mode picture from one of their upcoming devices once but blurred it out for effect.
For now, we have the leaks to rely on for other possible specs.
Going in line with other massive units for this year, there s a high chance the Honor 20 carries a 6.26-inch camera with almost perfect bezel-less screen, save for the hole in the screen. 6GB and 128GB configurations will help this phone give many other units on the market a run for their money, and the in-house HiSilicon Kirin 980 chipset will keep things going.
Perhaps one of the most impressive arrangements is the fingerprint scanner being on the power button, since the phone doesn't have one the back nor under the screen (this is an LCD screen, so that's understandable).
With Android 9 Pie coming with it out of the box, it remains to see which one of these specs are correct, and what we might have missed.
Source: https://www.naijaandroidarena.com/huaweis-honor-20-might-just-feature-4-rear-cameras/
Samsung insider teases breakthrough phone design coming in the second half of 2019
A Samsung insider who is perhaps best known for sharing details about brand new phones well ahead of their official announcements is back teasing that some sort of breakthrough smartphone design is coming in the second half of the year. It's unclear at this time whether he's talking about a Samsung phone or not, but the leaker did say recently that Samsung will be among the companies to deliver this brand new design.
Ice Universe is the leaker in question, a constant presence in smartphone news. He posted the following Galaxy Note 7 images on Twitter teasing that a "better-designed phone" is coming later this year.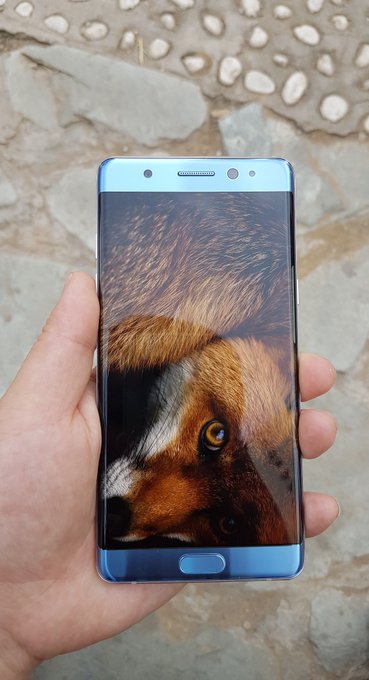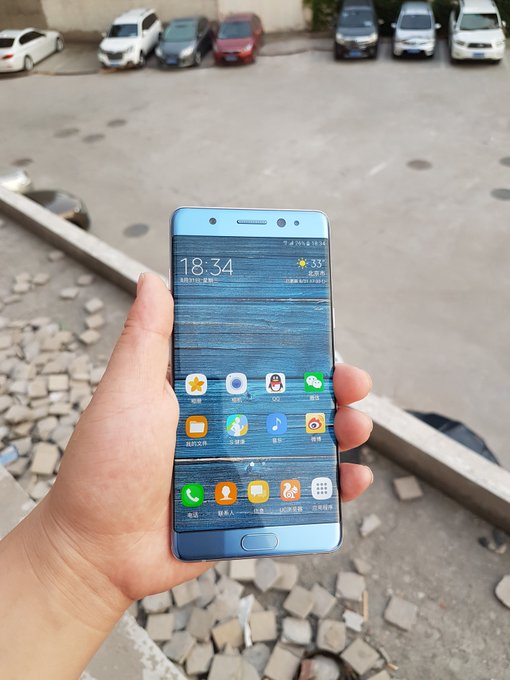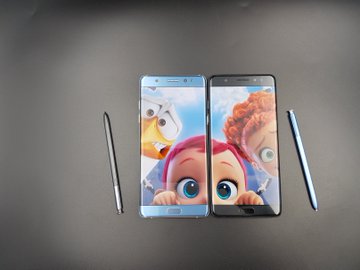 Why do you prefer Galaxy Note7? Is it because of its excellent design? Fortunately, I kept some photos of it. You will see a better-designed phone in the second half of the year.
The Galaxy Note 7 represents Samsung's biggest disaster to date. The phone was very well received, but then Samsung had to deal with a plethora of battery incidents, from explosions to fires. The phone was recalled and ultimately canceled, and Samsung had to deal with all the blowback. The Note 7 recall actually forced Samsung to delay the launch of the Galaxy S8 in early 2017, as it was still investigating the Note 7 and putting additional safety measures in place to prevent similar incidents from occurring in the future.
No matter how great the Galaxy Note 7 design may have been, it's still a 2016 phone, and smartphone design has come a long way since. The Galaxy S8 was Samsung's first phone with an Infinity display. That screen morphed into the Infinity-O screen of this year's Galaxy S10, which is what we expect to see on the Note 10 come August.
Samsung (and everyone else in the business) has tried to continuously increase the size of the screen at the expense of the bezels. Some did with it notches, pop-up selfie cams or slider phones. Others put two screens on the phone. And Samsung created hole-punch displays. The first foldable phones were also unveiled earlier this year, with one of them stealing the show back at the Mobile World Congress in 2019. So we already have smartphone designs better that are miles better than the Galaxy Note 7.
How could Samsung or anyone else further perfect the smartphone design? The only thing nobody has done is to sell a phone with a selfie camera placed under the screen. That would be the perfect all-screen phone design, and something we expect to see in stores in the not-too-distant future. But is it ready for 2019?
Ice Universe seems to know something we don't, and he's not sharing more details about it. However, since he's teasing it with the help of Note 7 pics, it's easy to assume Samsung is behind this new handset design, and that the Galaxy Note 10 could be the device he's referring to.
Source: https://bgr.com/2019/05/15/galaxy-note-10-design-vs-android-and-iphone-leaker-teases-innovation/