SAMSUNG AGREES TO PAYOUTS AFTER WORKER DEATHS
The death of a 23-year-old former Samsung worker has led to the company agreeing a major compensation deal.
Hwang Yumi died en route to hospital in 2007 after developing leukaemia.
Her father led a campaign to shame the company into making payouts for other cases of the disease, miscarriages and other ailments linked to chemicals used at its South Korean factories.
Those affected – and workers' children with related ailments – will receive up to 150m won (£102,907) per illness.
'Truly deplorable'
Hwang Sang-ki – a taxi driver – set up the Supporters for the Health and Rights of People in the Semiconductor Industry (Sharps) with the help of local labour activists in November 2007.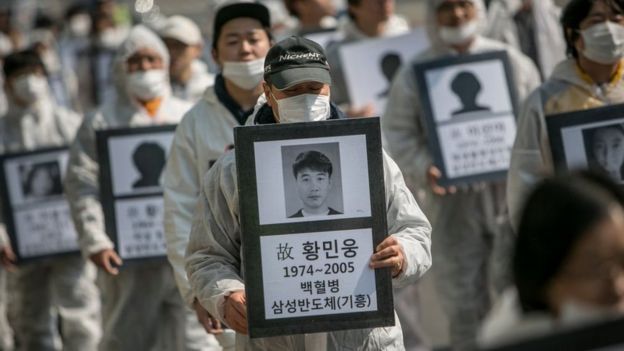 It organised sit-in protests at various Samsung sites to pressure the company into the deal.
It alleged there was a link between the working conditions Samsung maintained and diseases, which also included brain tumours and multiple sclerosis.
"It is truly deplorable that the issues of workers having fallen ill and died from on-the-job chemical exposure remained unsolved for more than 10 long years," said Hawang Sang-ki in July, when the technology company first said it would abide by terms that were subsequently drawn up by a third-party mediator.
As of June 2018, Sharps said, it had identified 319 other victims, 117 of whom had died.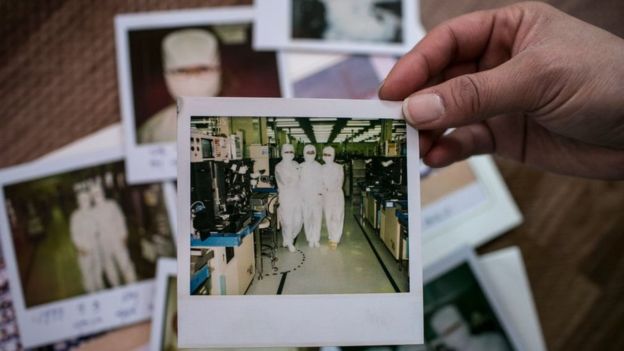 The settlement takes into account that it is not always clear how each person came to become ill, according to a report from the Yonhap news agency.
"We would like to thank the mediation committee for the efforts that went into this mediation proposal," the tech firm told the BBC.
"Samsung Electronics stands by the promise to unconditionally accept the suggested solutions and will work quickly on detailed plans for execution."
The deal extends to both workers directly employed by Samsung as well as those who were hired via sub-contractors.
Sums will be determined by the illnesses involved and length of time the person worked at the company's plants.
Samsung to invest $115 billion in its foundry business by 2030
Samsung is earmarking $9.5 billion a year for Samsung LSI and Samsung Foundry.

Samsung Electronics is one of the largest semiconductor players around, and the manufacturer is investing $115 billion (133 trillion won) over the next 12 years to take on Qualcomm and Intel. Samsung says its goal is to become the world leader in semiconductors and logic chips, and the company will invest $9.5 billion a year from now through 2030.
Samsung will invest $63.4 billion (73 trillion won) toward domestic R&D — where it is looking to add 15,000 jobs to "bolster its technological prowess" — and spend $52 billion (60 trillion won) toward production facilities that will make the logic chips. Samsung has long been the dominant player in the memory business, but with that market shrinking the South Korean manufacturer will be looking to diversify.
While the $115 billion seems like a staggering amount at first, it's in line with what Samsung has been spending in recent years. Just last year alone Samsung invested over $15 billion in R&D, and Intel also spent over $10 billion toward developing new products.
Source: https://www.androidcentral.com/samsung-investing-115-billion-take-qualcomm-and-intel
Apple will start selling AirPods 3 by the end of 2019
Apple is expected to start selling third-generation AirPods by the end of 2019. One big difference is that the new wireless headphones will have a noise canceling feature. At the level of the companies that will be involved in this project, we have Inventec, from Taiwan, that will be responsible for the production of the AirPods 3, while Luxshare Precision, also from China, will also receive part of the orders.
AirPods 3 arrive until the end of 2019 with new functionalities
Apple has dominated the wireless headphone market and will continue to do so. Statistics show that this company sold 35 million AirPods in 2018, which translates into a 75% global market share. As we said, the AirPod sales boom is expected to continue, with annual shipments for distribution rising to 50 million devices by 2019.
Of course, when a market becomes profitable, competition arises. Inspired by rising sales of AirPods, many brands like Huawei, Xiaomi and even companies like Microsoft, Amazon, and Google are betting on wireless headphones to meet strong demand.
To meet the challenges of rivals, Apple and its partners want to raise the bar.
That said they will add new features to AirPods 3, including the noise canceling function. However, do not think this is an easy task.
Noise canceling technology consumes a significant amount of battery. Since AirPods are not the king in this field, the runtime may be even more affected.
It is not known now what Apple could do and if it is even going to consider a change in design. Because considering the integration of new features, it may be necessary to increase the size of the battery. This requires more space. However, the solution may also involve shrinking the other components to accommodate the larger battery.
However, in addition to the design change, Apple may also be considering adding new colors to AirPods 3.
Source: https://techlector.com/apple-will-start-selling-airpods-3-by-the-end-of-2019/
Verizon's new activation fees cost more in-store, less in-app
It's adding an extra $10 on top of in-person and over-the-phone upgrades and activations.

Verizon has simultaneously slashed and increased its activation and upgrade fees, depending on how you process the transaction. According to CNET and reports posted online, you now only have to pay $20 if you upgrade your device or activate a line on the carrier's website or the My Verizon app. That's down $10 from the previous $30 fee for either service. However, if you walk into a store or call the company's phone line for upgrade or activation, you'll now have to pay $40 instead.
A Verizon spokesperson described personal and over-the-phone transactions to CNET as a "full-service experience," perhaps suggesting that those channels deserve the extra $10. The company is probably hoping to discourage people who can do things on their own from engaging customer service and sales reps, though what the fee adjustments mean for employees remains to be seen. The Redditor who posted the news on the website claimed to work for an indirect store and said employees aren't getting a pay upgrade despite the higher fees. We've reached out to Verizon for confirmation and will update when we hear back.