SAMSUNG IS BUILDING SOFTWARE TO CONTROL YOUR TV WITH YOUR BRAIN
Samsung has created smart TV software you can control with your brainwaves.
The research, called Project Pontis, aims to make Samsung's televisions more accessible for people with physical disabilities like quadriplegia. The company wants to enable "users with physical limitations to change channels and adjust sound volume with their brains."
Samsung's Swiss operations started the project three months ago in partnership with the Center of Neuroprosthetics of the Ecole Polytechnique Fédérale de Lausanne (EPFL) in Switzerland. The company demoed its second prototype TV on Thursday at its developer conference in San Francisco.
"How can we provide accessibility to people who cannot move or who have extreme limitations on their movements," Ricardo Chavarriaga, a senior scientist at EPFL who's working on the project with Samsung, said during a panel at Samsung Developer Conference.
"We're making tech that is more complex, that is more intelligent, but we should not forget this tech is being made to interface with humans," he added.
The first step in making the brainwave-controlled TV software is to collect a sample of how the brain behaves when the user wants to do something like select a movie. Samsung and EPFL combine indicators from both the environment and brain scans to build a model and apply machine learning to let the user select shows using eye movements and brainwaves.
To collect the brainwaves in the prototype, a user wears a headset covered with 64 sensors while looking at an eye tracker. The headset is connected to a computer that's mirrored to the TV.
The current prototype uses eye tracking to determine when a user has selected a particular movie. The system then builds a profile of videos the user gravitates toward, making it easier to provide lists of content in the future. The user ultimately makes a selection using eye tracking.
Samsung and EPFL are also working on a system that goes further and relies on brain signals alone for users who aren't able to control their eyes or other muscles reliably, Chavarriaga said.
"One thing we have to take in account is everybody is different," he said. Currently, the technology has to be tailored to each person because of variations in brains. "We believe we have to do the best for the person, so we have to personalize," Chavarriaga told CNET.
Samsung this week has been hosting its annual developer conference in San Francisco. SDC reflects Samsung's big push to get developers to make software specifically for its devices. In the past, that's meant making apps that work on the edge of Samsung's curved smartphone displays or take advantage of its S Pen stylus. This year, that focus has turned to Bixby and artificial intelligence. But Samsung also has pushed developers to make apps for its other products, like its TVs and home appliances.
Brain power
While developers aren't yet making apps that can be controlled with the brain, Samsung's doing research into the area. And it's not the only company trying to use brainwaves to control devices. SpaceX and Tesla CEO Elon Musk in March 2017 launched Neuralink, a company dedicated to creating "neural lace," which involves installing tiny electrodes in the brain to transmit thoughts.
And neuroscientists around the globe have been researching ways to make a digital interface for the brain. The technology is still early days, but it could one day replace touch screens and voice assistants in devices. Currently, most brain-computer interfaces (BCIs) are currently being created only for people who have suffered debilitating injuries that left them partially or completely paralyzed.
While Samsung's first prototype also is targeted at accessibility, it's too soon to say whether we'll all one day be controlling our devices with our brainwaves, said Martin Kathriner, head of public affairs for Samsung Electronics Switzerland GmbH. There are limitations with the current hardware. The sensor helmet requires a layer of gel applied to the head, something consumers likely aren't going to do at home.
"To us it's an accessibility idea," he told CNET after Samsung's SDC panel. "If it's applicable to us one day as pro couch potatoes, I have no idea."
Samsung initially considered building the technology into a smartphone but opted for the TV in part because of its bigger screen and because most homes have a TV, Kathriner said. He added that TVs also can be used as smart home hubs, which could be attractive for the brainwave technology.
Samsung plans to work on its second prototype through the first quarter of 2019 and then start tests in Swiss hospitals "where we start to explore how this situation, currently a prototype, … is perceived by patients," Kathriner said.
Originally published at 3:05 p.m. PT
Update at 4:30 p.m. PT with additional details and executive comments.
CNET's Gift Guide: The best place to find the perfect gift for everyone on your list this season.
5G is your next big upgrade: Everything you need to know about the 5G revolution.
Source:  https://www.cnet.com/news/samsung-is-making-a-tv-you-control-with-your-brain-at-sdc-samsung-developer-conference/
Facebook Messenger finally adds quoted replies
Today Facebook Messenger has added a sorely missing feature – quoted replies. This allows you to reply to a specific message in a conversation, and is incredibly helpful when you're engaged in chats that have a big range of topics. Using the new feature, the people you're talking to will now know exactly what you were replying to with that "LOL", for example.
This has been a feature in WhatsApp, which is also owned by Facebook, for a very long time, and it's always been sort of a baffling omission in Messenger. So it's good to finally see it there too.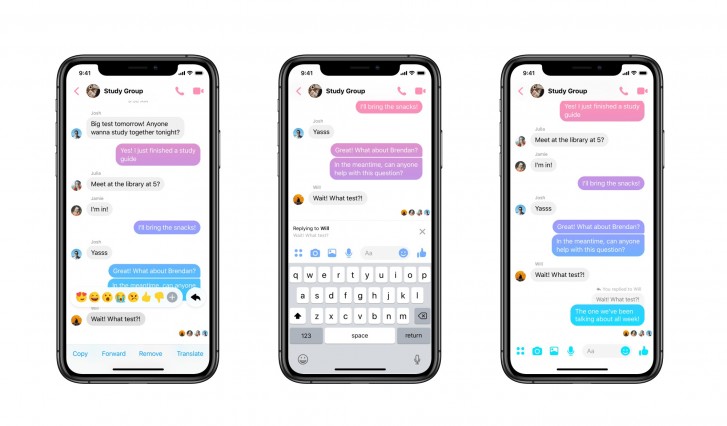 In order to quote a specific message, long tap on it and you'll see a new Reply button to the right of the reaction emojis. Tap that, write your reply, and, just like in WhatsApp, the message you're replying to will appear above your reply. Easy. This potentially means you'll have less misunderstandings with your friends as to which message was referencing what.
The feature is rolling out now on both iOS and Android.
How Opera's New VPN Feature Further Cements its Position as Nigeria's Most Preferred Browser
Opera, one of the world's most popular mobile web browsers, has announced the inclusion of a useful VPN function. The Norwegian browser maker recently revealed the new VPN feature will be included in the app update for the Android.
A VPN is a secure way to send and receive data across the internet. It creates a secure, encrypted tunnel between a user's device and the VPN server. VPNs help protect users from interception, snooping, and even censorship. Basically, anybody who tries to hack data being sent over a VPN server will see only gibberish.
Most VPNs are neither free nor unlimited. The free ones are more or less limited because they keep a monthly or daily data cap for users.
Now the introduction of a VPN into the Opera Android browser officially cements the browser as the best. The new VPN feature had me comparing mobile browsers to see how each of them stacked up compared with Opera.
For one thing, Opera is the first browser to introduce the feature as an in-app function. The VPN feature is free to use and does not come with any data cap or even log management feature that usually threatens user privacy.
The feature plays nicely with the browser's other existing user-friendly features. For instance, the browser has always come with several features that make browsing the web extremely fast. Opera also includes a powerful adblocker which helps to make browsing less cluttered.
Meanwhile, other browsers like Google and Mozilla's Firefox have talked heavily about adblockers and other features, but they have been quite slow to introduce them.
Google Chrome browser has a nasty reputation for consuming much RAM and takes up too much space. But it is pretty cool and supports advanced features and browsing.
But Opera still has a few things to work on though. For instance, the app frequently bloats users' browsing experience with disruptive ads which is quite ironic since it is supposed to naturally blocks ads. Getting this fixed will certainly be a plus for users.
Samsung confirms the Galaxy S10 5G release date is April 5
Samsung has confirmed the Galaxy S10 5G release date today. It was initially supposed to release the device by the end of this month. The release had to be delayed due to ongoing discussions between carrier partners and the South Korean government. The company today confirmed that it will release the first 5G-enabled device on April 5 in South Korea.
There will not be any pre-order program for the device, Yonhap News reports. The Galaxy S10 5G is also expected to release in the United States in April. It will initially be exclusive to Verizon in the country. The carrier has confirmed that its mobile 5G network will launch on April 11.
Samsung once again aims for the world's first title
After launching the world's first foldable smartphone, the Galaxy Fold, Samsung is now eyeing the title of putting the world's first 5G smartphone on the market. Verizon is gearing up for the launch of its mobile 5G service on Motorola's Moto Z3 in Chicago and Minneapolis on April 11. That device doesn't have an integrated 5G modem like the Galaxy S10 5G. Customers will be required to purchase the 5G Moto Mod if they want to use the phone on a 5G network.
Samsung will comfortably beat it to market when its 5G flagship launches on April 5. The device has already passed the signal verification test from South Korea's National Radio Research Agency. It was reported yesterday that the South Korean government was hastening the launch of 5G services in the country after Verizon announced the April 11 date. It really wants South Korea to be the first country in the world to have commercial mobile 5G.
Although Samsung hasn't yet revealed the pricing of the Galaxy S10 5G, industry watchers expect it to cost around 1.5 million won ($1,332) in South Korea. Launch offers include free Galaxy Buds and a wireless charger for the customers who register the phone from April 5-16. Samsung is also offering a 50% discount on one-time screen replacement with the validity of 1 year.