WHATSAPP WILL INTRODUCE ADVERTISEMENTS IN APP
Advertisements will finally be making its way into messenger service WhatsApp, in its 'Status' section.
Outlook India reports that WhatsApp's vice-president Chris Daniels confirmed the move, though he did not provide a timeline for when it would be rolled out or how the ads would work.
"We are going to be putting ads in 'Status'. That is going to be primary monetisation mode for the company as well as an opportunity for businesses to reach people on WhatsApp," he said.
Like with Instagram stories, WhatsApp's 'Status' feature lets users to broadcast text, photos and videos which disappear after 24 hours.
Users will be able to see status updates by their saved contacts in the 'Status' column, between 'Chats' and 'Calls'.
WhatsApp has more than 1.5 billion global users and maintained its ad-free status until now, although it did experiment with an annual subscription fee several years ago.
Facebook Inc acquired the messaging apps four years ago for US$19bil (RM79.47bil) and it appears it's finally going to monetise the service through ads.
WhatsApp cofounder Brian Acton had opposed monetisation via targeted apps, telling Forbes that it would compromise the assurance of encryption in the app's messaging.
How to AirDrop a file from an iPhone to a Mac or other Apple devices
Hands down, AirDrop is the easiest way to send files like photos, documents, and even web pages from an iPhone to a Mac (or to another Apple device).
AirDrop is automatically available on your iPhone 's sharing option whenever there's another AirDrop-compatible device in range.
You may need to set up AirDrop on your Mac before being able to AirDrop a file from an iPhone to that computer.
Compared to the ancient days of floppy disks, it's like we're living in a science fiction future today. After all, it's easy to share large files via email or on cloud services like Dropbox.
But Apple offers an even easier option: AirDrop. Armed with AirDrop, you can send files even ones too big for email from your iPhone to a Mac with just a tap, as long as the Mac is in range to receive them.
What's "in range"? AirDrop uses a combination of both Bluetooth and Wi-Fi to transmit files, so your Mac or other Apple device has to be within about 30 feet of the phone, according to Apple .
To successfully AirDrop, you'll need to configure AirDrop on a Mac you only need to do that once and then you can send files from your iPhone quickly and easily.
Activate AirDrop on your Mac or another Apple device
1. Click "Go" in the Finder menu and then click "AirDrop."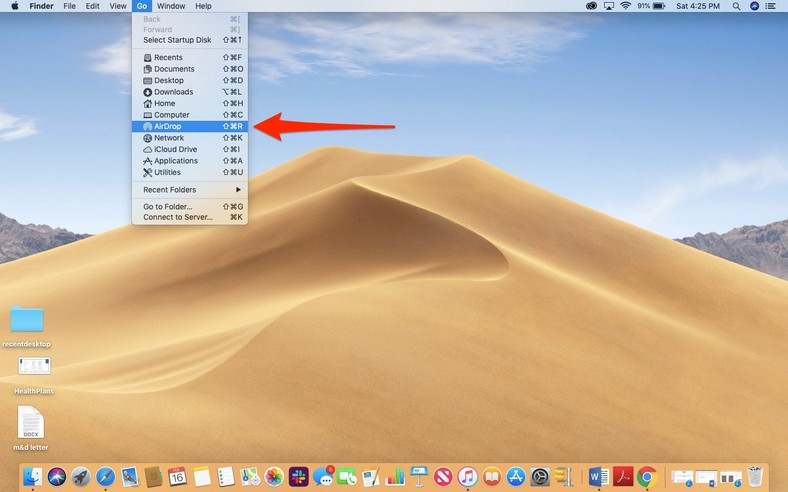 2. If your Mac's Bluetooth or Wi-fi is turned off, you will be asked to turn them on.
3. In the AirDrop window, choose who can AirDrop you. Click "Allow me to be discovered by" and choose either "Contacts Only" or "Everyone."
For Apple devices other than a Mac, including an iPhone, you can access the same permissions by going into your Settings, clicking General, and then selecting AirDrop to choose whether you can receive an AirDrop from "contacts only" or "everyone."
Limiting AirDrop only to your contacts is more secure, but choosing "everyone" is more convenient if you frequently have to receive files from a lot of different people.
It's generally easier to choose "Everyone." But be aware that if you are working in a public place (like a coffee shop), anyone in your vicinity will be able to try to send you files, so be careful whom you accept AirDrop files from.
Send a file from your iPhone
1. On your iPhone, open the app that you want to AirDrop from. To send a photo, for example, open Photos.
2. Select the file or photo you want to send (you can select more than one at a time).
3. Click the Share button.
4. In the AirDrop section of the Share screen, you should see icons for all of the AirDrop-compatible devices in range (it might take a moment for them to appear). Tap the icon for the Mac you want to send the file to.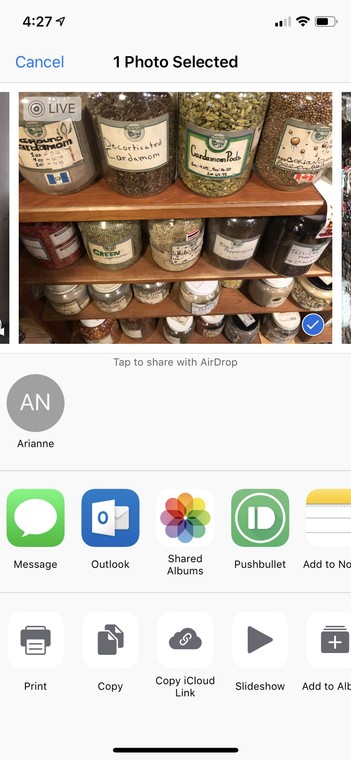 If you're in range, you should see a button for your Mac (and other AirDrop-compatible devices).
That's all you need to do on the iPhone; now the Mac or other device needs to accept the file.
Receive a file on your Mac or another Apple device
1. You should see a notification appear on your desktop or device's screen. Choose "Accept."
2. On a Mac, choose whether to open the file or save it to the Downloads folder.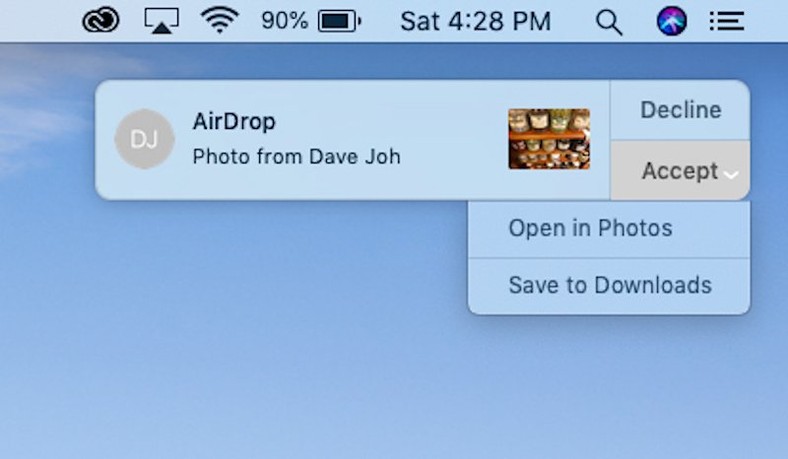 3. Open Downloads in Finder on your Mac. The file should be the most recent.
If you run into trouble
Like any technology, sometimes it doesn't work the way you expect. If you're having trouble with AirDrop, there are a few common things to check:
Is your Mac AirDrop-compatible? It needs to be running Mac OS X Yosemite or later.
Make sure that Bluetooth and Wi-fi are enabled on both your Mac and your iPhone.
It's possible the devices are too far apart, especially if you can't see the Mac on the iPhone's AirDrop list. Bring the two devices closer together.
Make sure that the iPhone isn't connecting to the Internet via a personal hotspot. Open Settings and make sure Personal Hotspot is "Off."
Google says the built-in microphone it never told Nest users about was 'never supposed to be a secret' (GOOG, GOOGL)
In early February, Google announced that Assistant would now work with its home security and alarm system Nest Secure.
The problem users didn't know a microphone even existed on their Nest Secure devices to begin with.
On Tuesday, a Google spokesperson told Business Insider it had made an "error."
"The on-device microphone was never intended to be a secret and should have been listed in the tech specs. That was an error on our part," the spokesperson said.
In early February, Google announced that its home security and alarm system Nest Secure would be getting an update users would now be able to use Google Assistant on their devices.
The problem users didn't know a microphone even existed on their Nest Secure devices to begin with. The existence of the micrphone was never disclosed in any of the product material.
On Tuesday, a Google spokesperson told Business Insider it had made an "error."
"The on-device microphone was never intended to be a secret and should have been listed in the tech specs. That was an error on our part," the spokesperson said. "The microphone has never been on, and is only activated when users specifically enable the option. Security systems often use microphones to provide features that rely on sound sensing. We included the mic on the device so that we can potentially offer additional features to our users in the future, such as the ability to detect broken glass .
Bezos Selfie Controversy Triggers Alarm For Billionaires Worldwide
Even the world's richest person couldn't stop a nude selfie leak.
When Jeff Bezos alleged in a blog post Thursday that he was the victim of blackmail attempts by the publisher of the National Enquirer, he underscored risks particular to billionaires in the digital age.
"The perception among very affluent people is often 'I have this level of wealth, I'm untouchable,'" said Mark Johnson, chief executive officer of Sovereign Intelligence, a McLean, Virgina-based risk analytics firm. "But the systems they have in place for protecting their personal identifiable information are very weak."
Ask any family office about its biggest fears and cybersecurity is near the top. Personal protection no longer involves just bodyguards and a top-notch alarm system. The internet age has seen a massive shift in people storing their most sensitive and personal data online, where it's vulnerable to hacking and intrusion.
'Absolute Disconnect'
Ultra-wealthy individuals are particularly susceptible because so much of their data are often centralized through family offices, which typically lack the robust firewalls and encryption capabilities of banks and large corporations.
Johnson, a former case officer with the Naval Criminal Investigative Service, said he's worked with clients with more than $40 billion in assets who had a "Secret Service-type physical security — probably even better — and yet there was an absolute disconnect between that physical security and the digital protection."
It's unclear how the tabloid obtained Bezos's texts. The Amazon.com Inc. founder, who has a net worth of $133.9 billion, said in his blog post that he'd authorized security chief Gavin de Becker "to proceed with whatever budget he needed" to get to the bottom of the leak.
Security experts say potential entry points for a digital invasion are numerous.
'Legacy Risks'
"We all have devices we carry and they each have their own point of vulnerability," said Kris Coleman, founder of intelligence-services firm Red Five Security.
Banking information, identity data, even health information and travel schedules can expose someone to a breach. Those in billionaires' inner circles are a particular risk for the information they have access to and could share, either maliciously or inadvertently.
"Private, affluent families need to consider themselves targets that are on par with nation states," Coleman said.
Coleman and Johnson are both members of RANE, a network of risk-management professionals from banks, law firms, family offices and corporation.
The wealthy aren't just at risk of losing money through hacks. Their brands, reputations — or, in family office parlance, "legacy" — also can be damaged. On Tuesday, news website Splinter published a trove of racist emails sent and received by TD Ameritrade Holding Corp. founder Joe Ricketts that included anti-Muslim slurs and conspiracy theories. Ricketts, whose family owns the Chicago Cubs, issued a statement on his personal website, apologizing for remarks "that don't reflect my value system."
Protecting Zuckerberg
Providing security services to the growing ranks of the super-rich is an expanding field. Federal agents and military personnel, including former Navy Seals, Secret Service and Mossad agents, SWAT team operators and Scotland Yard detectives, have found second careers protecting billionaires, where they can earn double what they did working for the government.
Facebook Inc. spent $7.3 million in 2017 on personal security for CEO Mark Zuckerberg, an expense the company defended as necessary considering his "position and importance." Last year, the firm said it would give him an additional $10 million annually to beef up his security. Its executive protection program is run by an ex-Secret Service agent, according to her LinkedIn profile.
Amazon spent $1.6 million last year on security for Bezos, according to regulatory filings. His Bezos Family Foundation also has taken physical precautions. For example, the foundation's mailing address is a post office box in a nondescript strip mall in the Seattle area.
De Becker, a best-selling author, made his name as a security consultant to Hollywood celebrities and co-created MOSAIC, an assessment tool that was originally used to analyze threats against Supreme Court justices and members of Congress. He describes himself on the firm's website as "the nation's leading expert on the protection of public figures."
Red Five's Coleman didn't express shock that Bezos's racy text messages were vulnerable.
"My message to affluent families: don't assume you're OK," Coleman said. "Because most of them aren't."