WORD PROCESSOR PIONEER EVELYN BEREZIN DIES AGED 93
The woman who created and sold what many recognise as the world's first word processor has died aged 93.
Evelyn Berezin called the device the Data Secretary when, in 1971, her company Redactron launched the product.
She grew Redactron from nine employees to close to 500 and was named one of the US's top leaders by BusinessWeek magazine in the year she sold it, 1976.
She had earlier built one of the original computerised airline reservation systems.
The innovation – which matched customers and available seats – was tested by United Airlines in 1962.
According to the Computer History Museum, it had a one-second response time and worked for 11 years without any central system failures.
The technology vied with the rival Sabre system, developed by American Airlines, for being the first of its kind.
In addition, Ms Berezin helped pioneer other types of special-purpose computing including:
an automated banking system
a weapons-targeting calculator for the US Defense Department
terminals for a horse-racing track that monitored how much money was being bet on each animal
Screenless editing
In an interview in 2015, Ms Berezin explained that she had decided to set up her own business in the mid-60s after coming to the conclusion that her prospects were limited so long as she was employed by someone else.
She said that she had initially considered developing an electronic cash register but ultimately opted to create what would become known as a word processor instead.
She said: "6% of all the people in the United States who worked were secretaries.
"At the time we started, which was in 1968 to 1969, nobody really had any desk-type computers on which you could write a word-processing program that a secretary would use.
"I know that desktop computers seem obvious now but it wasn't so then."
At the time, the nearest equivalent was a machine by IBM called the MT/ST – a typewriter with magnetic tape recording and playback facilities.
IBM's marketing referred to a "word processor", but the machine relied on relay switches rather than computer chips, had been targeted at military equipment makers rather than the wider business market, and in Ms Berezin's mind was "klutzy".
"We were committed to building a computer to run our system and we knew that we had to use integrated circuits because it was the only way we could make it small enough and cheap enough and reliable enough to sell," Ms Berezin said.
Her machine – which stood about 1m (3ft 3in) tall – featured a keyboard, cassette drives, control electronics and a printer.
It could record and play back what the user had typed, allowing it to be edited or reprinted.
The original model lacked a monitor, and soon faced competition from a rival, the Lexitron, which did.
But later versions of the Data Secretary did include a screen.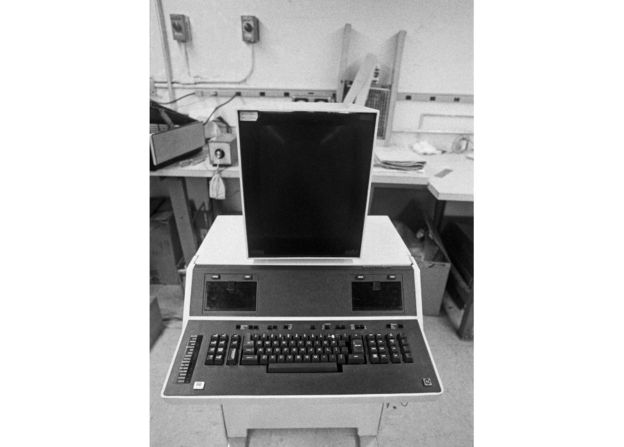 Sparks and water
The project nearly ended in disaster.
Ms Berezin had intended to buy the processors required from Intel, which had gone into business in 1968. But it said it was too busy dealing with orders for its memory chips.
The solution was that Redactron had to design some of the chips required itself and provide the schematics to two manufacturers.
There were further problems with a prototype when it was put on display in a New York hotel for reporters to see.
The issue was that in dry weather, it was prone to a build-up of static electricity, which caused sparks to fly between its circuits, preventing it from working.
"To our horror it was a dry day and the engineers were setting this non-working machine up for our big story," Ms Berezin said.
"Ed Wolf [our head of engineering brought] a full pail of water and without a word to anyone throws the pail of water over the whole thick carpet in the room.
"The water sank into the carpet, which stayed damp for three or four hours, and the machine worked perfectly."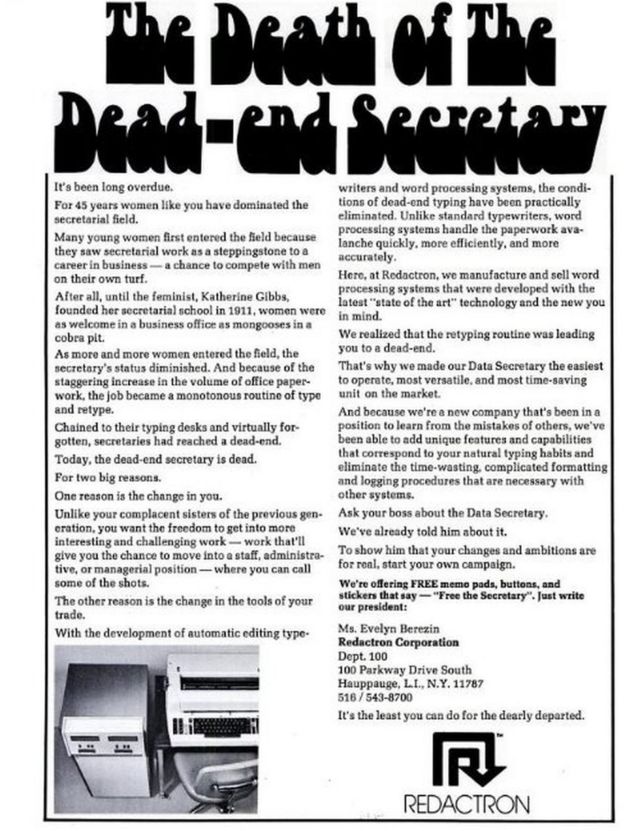 The first production machine was delivered to a customer in September 1971. And over the following year, Redactron sold or rented more than 770 others, excluding demo units.
Over the following years, demand grew but the company's finances came under strain, in part because of high interest rates and a recession that meant clients wanted to rent rather than buy its products.
"We were told by the bank to sell the company and they had somebody they knew who was interested," said Ms Berezin.
"At the time, I was distraught about it."
She went to work for the purchaser, the business equipment-maker Burroughs Corporation. But it proved to be an ill match.
"I was not one of them – I told them what I thought – a loud woman they did not know how to deal with," she said.
"So, they disconnected and so did I."
Ms Berezin left the company around 1980, after which she became involved in venture capital and sat on other companies' boards before becoming involved with Stony Brook University.
The New York Times reported that a nephew had confirmed she had died on 8 December in Manhattan after turning down treatment for cancer.
One of the remaining Data Secretary word processors can be seen on display at the Computer History Museum in California.
Boeing working on software update to boost safety, says CEO
Boeing's Chief Executive Officer (CEO) Dennis Muilenburg said  the aircraft manufacturer is taking actions to ensure the safety of its 737 Max jets in the wake of two crashes that killed 346 people.
In an open letter addressed to airlines, passengers and the aviation community, Muilenburg said Boeing will soon release a software update and offer related pilot training for the 737 Max to "address concerns" that arose in the aftermath of October's Lion Air flight that plunged into the Java Sea, killing 189.The planes' new flight-control software is suspected of playing a role in the crashes.
Muilenburg said Boeing representatives are supporting investigation into the cause of last week's crash of an Ethiopian Airlines Max 8 that killed 157.The United States and many other countries have grounded the Max 8s and larger Max 9s as Boeing faces the challenge of proving the jets are safe to fly amid suspicions that faulty sensors and software contributed to the two crashes in less than five months.
The letter reads: "We know lives depend on the work we do, and our teams embrace that responsibility with a deep sense of commitment every day.
"Our purpose at Boeing is to bring family, friends and loved ones together with our commercial airplanes—safely.
"The tragic losses of Ethiopian Airlines Flight 302 and Lion Air Flight 610 affect us all, uniting people and nations in shared grief for all those in mourning.
"Our hearts are heavy, and we continue to extend our deepest sympathies to the loved ones of the passengers and crew on board.
"On safety measures, he said: "Safety is at the core of who we are at Boeing and ensuring safe and reliable travel on our airplanes is an enduring value and our absolute commitment to everyone.
"This overarching focus on safety spans and binds together our entire global aerospace industry and communities.
"We're united with our airline customers, international regulators and government authorities in our efforts to support the most recent investigation, understand the facts of what happened and help prevent future tragedies.
"Based on facts from the Lion Air Flight 610 accident and emerging data as it becomes available from the Ethiopian Airlines Flight 302 accident, we're taking actions to fully ensure the safety of the 737 MAX. We also understand and regret the challenges for our customers and the flying public caused by the fleet's grounding.
"Work is progressing thoroughly and rapidly to learn more about the Ethiopian Airlines accident and understand the information from the airplane's cockpit voice and flight data recorders.
"Our team is on-site with investigators to support the investigation and provide technical expertise. The Ethiopia Accident Investigation Bureau will determine when and how it's appropriate to release additional details.
"Boeing has been in the business of aviation safety for more than 100 years and we'll continue providing the best products, training and support to our global airline customers and pilots.
"This is an ongoing and relentless commitment to make safe airplanes even safer. Soon we'll release a software update and related pilot training for the 737 MAX that will address concerns discovered in the aftermath of the Lion Air Flight 610 accident.
"We've been working in full cooperation with the U.S. Federal Aviation Administration, the Department of Transportation and the National Transportation Safety Board on all issues relating to both the Lion Air and the Ethiopian Airlines accidents since the Lion Air accident occurred in October last year.
"Our entire team is devoted to the quality and safety of the aircraft we design, produce and support. I've dedicated my entire career to Boeing, working shoulder to shoulder with our amazing people and customers for more than three decades, and I personally share their deep sense of commitment.
"Recently, I spent time with our team members at our 737 production facility in Renton, Wash., and once again saw first-hand the pride our people feel in their work and the pain we're all experiencing in light of these tragedies.
"The importance of our work demands the utmost integrity and excellence—that's what I see in our team, and we'll never rest in pursuit of it.
"Our mission is to connect people and nations, protect freedom, explore our world and the vastness of space, and inspire the next generation of aerospace dreamers and doers—and we'll fulfill that mission only by upholding and living our values. That's what safety means to us.
"Together, we'll keep working to earn and keep the trust people have placed in Boeing."
Google Moves To Disrupt Video Games With Streaming, Studio
Google set out to disrupt the video game world on Tuesday with a Stadia platform that will let players stream blockbuster titles to any device they wish, as the online giant also unveiled a new controller and its very own studio.
The California-based technology giant said its Stadia platform will open to gamers later this year in the United States, Canada, Britain and other parts of Europe.
For now, Google is focused on working with game makers to tailor titles for play on Stadia, saying it has already provided the technology to more than 100 game developers.
"We are on the brink of a huge revolution in gaming," said Jade Raymond, the former Ubisoft and Electronic Arts executive tapped to head Google's new studio, Stadia Games and Entertainment.
"We are committed to going down a bold path," she told a presentation at the Game Developers Conference in San Francisco.
The Stadia tech platform aims to connect people for interactive play on PCs, tablets, smartphones and other devices.
Google also unveiled a new controller that can be used to play cloud-based individual or multiplayer games.
Stadia controllers mirrored those designed for Xbox or PlayStation consoles, with the addition of dedicated buttons for streaming live play via YouTube or asking Google Assistant virtual aide for help beating a daunting puzzle or challenge.
Chief executive Sundar Pichai said the initiative is "to build a game platform for everyone."
"I think we can change the game by bringing together the entirety of the ecosystem," Pichai told a keynote audience.
'Netflix of gaming'
Google's hope is that Stadia could become for games what Netflix or Spotify are to television or music, by making console-quality play widely available.
Yet it remains unclear how much Google can grab of the nascent, but potentially massive industry.
As it produces its own games, Google will also be courting other studios to move to its cloud-based model.
Google collaborated with French video game titan Ubisoft last year in a limited public test of the technology powering Stadia, and its chief executive was in the front row at the platform's unveiling.
A coming new version of blockbuster action game "Doom" tailored to play on Stadia was teased at the event by iD studio executive producer Marty Stratton.
"If you are going to prove to the world you can stream games from the cloud, what better game than 'Doom'," Stratton said.
Streaming games from the cloud brings the potential to tap into massive amounts of computing power in data centers.
For gamers, that could translate into richer game environments, more creative play options or battle royale matches involving thousands of players.
At the developers conference, Google demonstrated fast, cloud-based play on a variety of devices. But it offered no specific details on how it would monetize the new service or compensate developers.
Money-making options could include selling game subscriptions the way Netflix charges for access to streaming television.
"I think it's a huge potential transition in the video game industry, not only for the instant access to games but for exploring different business models to games," Jon Peddie Research analyst Ted Pollak said of Stadia.
"They say it's the Netflix of gaming; that is actually pretty accurate."
Ubisoft on board
Ubisoft, known for "Assassin's Creed" and other titles, said it would be working with Google.
Its co-founder and chief Yves Guillemot predicted streaming would "give billions unprecedented opportunities to play video games in the future."
An "Assassin's Creed" title franchise was used to test Google's "Project Stream" technology for hosting the kind of quick, seamless play powered by in-home consoles as an online service.
The reliability and speed of internet connections is seen as a challenge to cloud gaming, with action play potentially marred by streaming lags or disruptions.
Google said its investments in networks and data centers should help prevent latency in data transmissions.
In places with fast and reliable wireless, internet players will likely access games on the wide variety of devices envisioned by Google, while hard-core players in places where wireless connections aren't up to the task could opt for consoles, according to Pollak.
"I think it is good news for everyone," Pollak said when asked what Stadia meant to major console makers Microsoft, Sony and Nintendo.
The US video game industry generated a record $43.4 billion in revenue in 2018, up 18 percent from the prior year, according to data released by the Entertainment Software Association and The NPD Group.
AFP
Bezos Selfie Controversy Triggers Alarm For Billionaires Worldwide
Even the world's richest person couldn't stop a nude selfie leak.
When Jeff Bezos alleged in a blog post Thursday that he was the victim of blackmail attempts by the publisher of the National Enquirer, he underscored risks particular to billionaires in the digital age.
"The perception among very affluent people is often 'I have this level of wealth, I'm untouchable,'" said Mark Johnson, chief executive officer of Sovereign Intelligence, a McLean, Virgina-based risk analytics firm. "But the systems they have in place for protecting their personal identifiable information are very weak."
Ask any family office about its biggest fears and cybersecurity is near the top. Personal protection no longer involves just bodyguards and a top-notch alarm system. The internet age has seen a massive shift in people storing their most sensitive and personal data online, where it's vulnerable to hacking and intrusion.
'Absolute Disconnect'
Ultra-wealthy individuals are particularly susceptible because so much of their data are often centralized through family offices, which typically lack the robust firewalls and encryption capabilities of banks and large corporations.
Johnson, a former case officer with the Naval Criminal Investigative Service, said he's worked with clients with more than $40 billion in assets who had a "Secret Service-type physical security — probably even better — and yet there was an absolute disconnect between that physical security and the digital protection."
It's unclear how the tabloid obtained Bezos's texts. The Amazon.com Inc. founder, who has a net worth of $133.9 billion, said in his blog post that he'd authorized security chief Gavin de Becker "to proceed with whatever budget he needed" to get to the bottom of the leak.
Security experts say potential entry points for a digital invasion are numerous.
'Legacy Risks'
"We all have devices we carry and they each have their own point of vulnerability," said Kris Coleman, founder of intelligence-services firm Red Five Security.
Banking information, identity data, even health information and travel schedules can expose someone to a breach. Those in billionaires' inner circles are a particular risk for the information they have access to and could share, either maliciously or inadvertently.
"Private, affluent families need to consider themselves targets that are on par with nation states," Coleman said.
Coleman and Johnson are both members of RANE, a network of risk-management professionals from banks, law firms, family offices and corporation.
The wealthy aren't just at risk of losing money through hacks. Their brands, reputations — or, in family office parlance, "legacy" — also can be damaged. On Tuesday, news website Splinter published a trove of racist emails sent and received by TD Ameritrade Holding Corp. founder Joe Ricketts that included anti-Muslim slurs and conspiracy theories. Ricketts, whose family owns the Chicago Cubs, issued a statement on his personal website, apologizing for remarks "that don't reflect my value system."
Protecting Zuckerberg
Providing security services to the growing ranks of the super-rich is an expanding field. Federal agents and military personnel, including former Navy Seals, Secret Service and Mossad agents, SWAT team operators and Scotland Yard detectives, have found second careers protecting billionaires, where they can earn double what they did working for the government.
Facebook Inc. spent $7.3 million in 2017 on personal security for CEO Mark Zuckerberg, an expense the company defended as necessary considering his "position and importance." Last year, the firm said it would give him an additional $10 million annually to beef up his security. Its executive protection program is run by an ex-Secret Service agent, according to her LinkedIn profile.
Amazon spent $1.6 million last year on security for Bezos, according to regulatory filings. His Bezos Family Foundation also has taken physical precautions. For example, the foundation's mailing address is a post office box in a nondescript strip mall in the Seattle area.
De Becker, a best-selling author, made his name as a security consultant to Hollywood celebrities and co-created MOSAIC, an assessment tool that was originally used to analyze threats against Supreme Court justices and members of Congress. He describes himself on the firm's website as "the nation's leading expert on the protection of public figures."
Red Five's Coleman didn't express shock that Bezos's racy text messages were vulnerable.
"My message to affluent families: don't assume you're OK," Coleman said. "Because most of them aren't."