BC Tech Summit to dedicate a day to future of women
B.C.'s tech sector may be leading the way across Canada, but women still account for less than 20 per cent of its workforce – below the national average of 25 per cent.
Behind the statistic are advocates and women who pioneer the sector as they push for change. Some of them are set to speak at the upcoming BC Tech Summit in Vancouver.
"Diversity and inclusivity has become ever-so-more important and top of mind for everyone," explained Tomica Divic, vice president of operations with Innovate BC, the Crown agency co-organizing the four-day summit.
"In the future, there is going to be a lot more jobs in the tech sector. We're going to need to fill those jobs and it doesn't make sense to leave out half of the workforce by not engaging women effectively."
The B.C. non-profit Women in Tech World recently released a Gender Equality Roadmap Report, pinning down the key barriers that hinder more equal representation.
It found that "bro culture," sexism, isolation in the workplace – particularly as a woman moves into bigger positions – and perceptions that women are less competent or less committed all play roles in women lacking confidence at work.
The report suggested these could also be reasons why women make up 54 per cent of post-secondary science and technology graduates, but more than half of those aren't currently in that line of work.
Forum for Women Entrepreneurs CEO Paulina Cameron, who is one of the keynote speakers at the summit, told Black Press Media that government legislation is one possibility to improve recruitment and retention of women.
"I think policy can go a really far away in terms off setting quotas and mandating certain percentages happening," Cameron said.
The companies that have succeeded in paying women equal wages and increasing the number of women in leadership positions, she said, are ones that "have stopped playing around with excuses and have put goals and metrics in place."
Forum for Women Entrepreneurs offers support and education to women across the country looking to head their own business. Consultations includes how to access capital and building the right network, but also offers a sense of community.
"We have really seen a lot of magic when women are able to come together and support one another," she said.
From robotics to clean tech to blockchain, Divic said it's crucial women have a role.
"When we look at artificial intelligence, there has been a lot of conversations around ethics and biases that can be built into AI, and the impact this will have in various technologies," she said.
Divic pointed to a panel discussion she attended at last year's summit, which focused on programming for self-driving vehicles.
"Unless you're looking at a female perspective of crossing the street, when we look at autonomous cars and drivers this could have a huge impact on the choices that these vehicles make."
The BC Tech Summit happens March 11-13 at the Vancouver Convention Centre. A day of pre-summit programming will showcase the positive impact women continue to have in the tech sector.
Technology + Engineering = The Future
With the diversity of advanced technologies available for growers to save labor, automate processes, and control their greenhouse environments, there's one important human element that's missing from most operations: a greenhouse engineer.
"We've seen growers shut down possible technologies because they don't understand how to use them, or they don't use a system to its full potential" says Peter Ling, associate professor at The Ohio State University (OSU) Department of Food, Agriculture, and Biological Engineering. "And, if technology breaks down, they don't know how to fix it."
These are driving forces behind a new specialization at the Agricultural Technical Institute (ATI) in Wooster, Ohio. The two-year Greenhouse Engineering Technology specialization is the only one of its kind in the country, and it's a partnership between ATI and OSU. The degree merges studies in traditional horticulture technology, engineering, and new greenhouse technology.
"We want to train our students as technicians so they can help growers," Ling says. "They understand horticulture and technology. They understand how to use advanced computer controls to maintain an ideal environment for plants."
Greenhouse Engineering Technology students learn to use sensors, control strategies, actuators, and electro-mechanical equipment. They also work with smart irrigation systems, pesticide application equipment, and materials handling systems.
"To us, the key is for growers to understand the potential of the technology and to be able to use it to its full potential," Ling says, relating that one student in last year's graduating class had four job offers on the table. "We are getting a great response from the industry. It shows us that we need to train more students to supply the demand."
Source: https://www.greenhousegrower.com/sponsor/basf/technology-engineering-the-future/
What The Future Of Farming Will Look Like Thanks To Technology
As the food industry continues to evolve, advanced technology is becoming a more prominent part of farming. In recent interviews, three experts shared their ideas about the future of farming and tech. Ofir Schlam, CEO and co-founder of Taranis, Jason Green, the CEO and co-founder of Edenworks, and Kevin Brown, CEO and co-founder of Innit, discussed the changes that will happen.
"In 2017, tech startups in the agriculture sphere raised $670 million to develop software management, big data analytics, automated equipment and other cutting-edge tools that help farmers grow crops with scientific precision. While companies face several challenges, such as imaging limitations and a lack of data management, farmers are still keen to introduce technologies to improve farm management. Between today's labor shortages and the world's rising demand for food, farmers must look to technology to predict and prevent threats to millions of acres of crops worldwide," Schlam says.
Brown believes that every step of the food journey, from farm to fork, will be influenced by technology. Smart supply chains will track and report where the food came from and how it was handled, down to the individual package. Blockchain tech will enhance trust as food information is captured and shared at every point of the journey. New sensors will allow people to rapidly scan food and measure it down to the molecular level, ensuring better quality and transparency.
Schlam agrees and sees artificial intelligence (AI) as an important component of the future. While current technology is far more advanced than the tools previous generations used, there needs to be a renewed focus on technology using AI capabilities to make massive amounts of data useful and actionable. The future of farming will be dependent on precision technology, the adoption of automated practices, indoor urbanized farming and more. All of these innovations will help to propagate the growth of farming crops. The ultimate goal is to create a synergy between farming and technology that works with the forces of nature to maximize production.
Working with nature and not against it is a crucial part, according to Green. "The basis of our technology is ecosystems. It is our belief that the more we can replicate the biodiversity of nature, and the microbial diversity that results, the faster and more healthy our plants and fish will grow. Future farms will have an increasing focus on microbial health. Generic sequencing of the microbiome will help us understand what microbial communities exist in our system at any given point enabling us to understand the health of our farm's immune system before disease actually hits," Green explains.
Green's company is focused on making indoor farming cost competitive with field farming. He believes it is the only way to make the sustainability benefits of aquaponic farming truly widespread and impactful. As opposed to the Industrial Revolution, which created cheap products through brute force, synthetic chemicals and backbreaking labor, he thinks it is possible to fulfill this mission by looking to nature to do most of the work for people. "A mantra that we use internally is that by harnessing nature's complexity, we share its abundance," Green shares.
Brown looks at the big picture and sees tech innovations spreading from the farm to the table. Increasingly, food recommendations will be made by software based on personalized nutrition. Users will simply indicate their preferences, and the right items will show up. Machine learning advances in voice and vision will create more seamless assistance with shopping, managing food and cooking. New cooking technologies powered by automated cooking programs will enable vastly improved quality of home-cooked meals while reducing stress and time requirements.
Source: https://www.forbes.com/sites/lanabandoim/2019/05/31/what-the-future-of-farming-will-look-like-thanks-to-technology/#4c2c8f135941
This is what the Samsung Galaxy Note10 will look like
Yesterday a schematic of the Galaxy Note10's rear camera arrangement leaked, and we showed you a render approximating what that would look like on the back of the upcoming device. What about the front, though?
Since the Galaxy S10+ comes with two sensors in the punch-hole screen cutout, you'd expect the Note10 to have at least that number of cameras tucked in there, but apparently you'd be wrong. Both the Note10 and the Note10 Pro (yes, we're getting two models this year, four if you count the 5G-enabled offshoots) will only employ one front-facing camera.
This information comes from Ice universe, a leakster that has provided reliable info in the past. And it is the same person who has confirmed that this render of the upcoming Note10 is in fact correct. This, then, is what Samsung's next flagship smartphone will look like.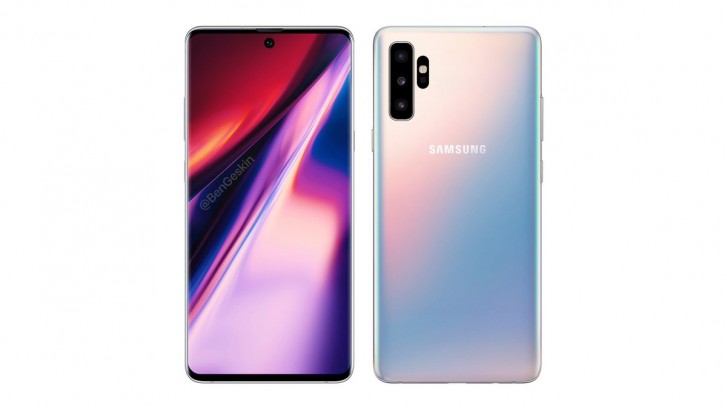 The render was created by Ben Geskin and is not a leaked image, but we should probably expect it to be extremely close to the official promo pictures. Once again the new vertical arrangement of the rear cameras is confirmed, with two islands – a bigger one towards the left edge, and a smaller one to its right, housing the LED flash, ToF camera, and possibly a flood illuminator too. Over in the main hump, expect to see a wide, ultra-wide, and tele lens, and don't be surprised if these are identical to those in the Galaxy S10+.
It's good to see Samsung ditching its horizontally aligned camera island abominations for the Note10, but apparently the new design is controversial. So what do you think? Does it look better than what we got for the S10+ and S10 5G?
Source: https://www.gsmarena.com/this_is_what_the_samsung_galaxy_note10_will_look_like-news-37297.php