Snapdragon 712 arrives with faster CPU and Quick Charge 4+
Qualcomm announced a new addition to its chipset portfolio – the Snapdragon 712. It is built on the 10 nm process and comes as a modest upgrade to the popular Snapdragon 710. It has faster octa-core processor "that adds performance boost and makes it a powerhouse for gaming and beyond".
Snapdragon 712
Snapdragon 710
Process
10 nm FinFET
10 nm FinFET
CPU
8x Qualcomm Kryo 360 CPU @ 2.3GHz
8x Qualcomm Kryo 360 CPU @ 2.2GHz
GPU
Qualcomm Adreno 616
Qualcomm Adreno 616
Photo
Up to 20 MP dual camera
Up to 32 MP single camera
Up to 20 MP dual camera
Up to 32 MP single camera
Modem
Snapdragon X15 LTE Cat.15 / Cat.13
800 Mbps DL / 150 Mbps UL
Snapdragon X15 LTE Cat.15 / Cat.13
800 Mbps DL / 150 Mbps UL
Fast charging
Quick Charge 4+
Quick Charge 4
The key difference is the CPU's eight Kryo 360 cores now run at 2.3 GHz compared to 2.2 GHz. The 712 also brings Quick Charge 4+ instead of Quick Charge 4 and better Bluetooth audio, thanks to the TrueWireless Stereo Plus and Broadcast Audio technologies.
The Snapdragon 712 keeps the Adreno 616 GPU and the Hexagon 685 DSP, as well as most of the other specs. The modem remains a Qualcomm's Snapdragon X15 that supports LTE Cat.15 downlink and Cat.13 uplink, reaching peak speeds of 800 Mbps and 150 Mbps, respectively. Camera support stays at up to 20 MP dual camera or 32 MP single shooter with the same Spectra 250 ISP.
China has become the new global leader in smart speaker shipments (BABA, GOOGL, AMZN)
Global smart speaker shipments experienced upheaval in Q1 2019, with the US and China swapping spots as the largest market by shipments, according to Canalys. The US accounted for just 24% of smart speaker shipments in Q1 2019, down from 44% in Q4 2018, while China grew almost 500% from the previous quarter to account for 51% of the market.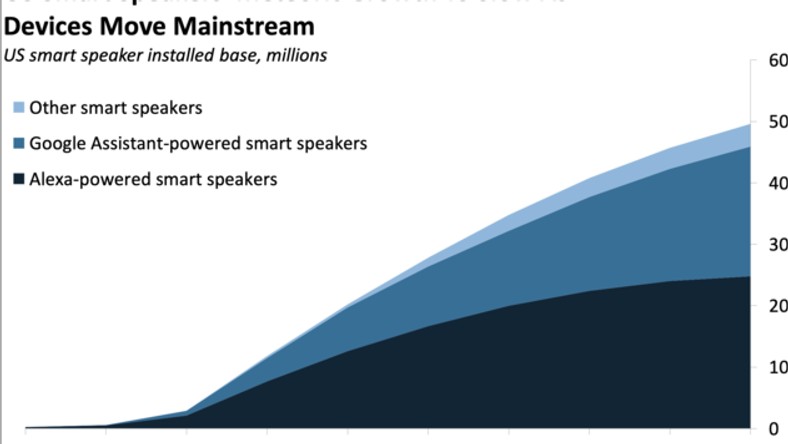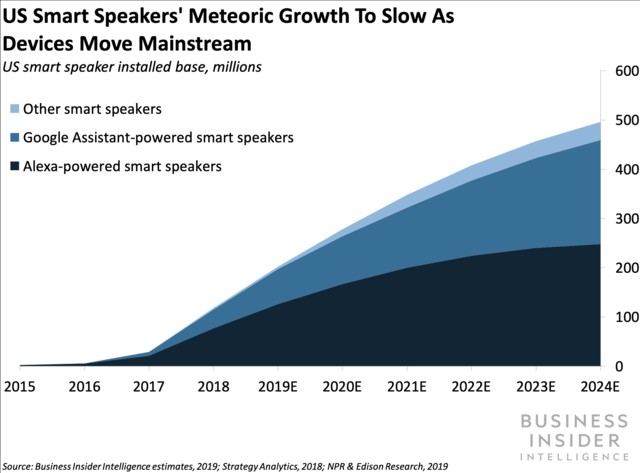 Business Insider IntelligenceUS Smart Speakers' Meteroric Growth to Slow as Devices Move Mainstream
Here's what it means: The Chinese smart speaker market is gaining traction, as its share of shipments reached an all-time high.
Chinese smart speaker makers Alibaba, Baidu, and Xiaomi all experienced meteoric growth in Q1.Alibaba's smart speaker shipments grew over 200% YoY to 3.2 million, Xiaomi's grew over 400% YoY to 3.2 million, and Baidu was able to ship the most smart speakers of the three (3.3 million) despite only entering the market in Q2 2018.
The Chinese smart speaker market, led by the above-mentioned companies, shipped more units than the US market, led by Google and Amazon.Google and Amazon shipped 8.1 million smart speakers in Q1 2019, while the trio of major Chinese vendors shipped a collective 9.7 million smart speakers. None of the Chinese players have individually surpassed Amazon or Google in shipments yet, though.
Chinese companies enjoy native advantages in their home market compared with US competitors.US companies like Amazon and Google are at a disadvantage in China because they lack the same working relationships that likely exist between Chinese device makers and Chinese tech companies that make ubiquitous platforms like WeChat. Moreover, US companies likely lack access to an established local developer community for their products. These weaker relationships can leave their devices with poor integrations with popular local apps and services, or without access completely, making their devices less attractive to consumers.
The bigger picture: As the US smart speaker market begins to leave its growth stage and enter a maturity stage, Amazon and Google will likely find it difficult to maintain their spots as the top global smart speaker providers, and will turn to services to drive higher revenue as growth slows.
In 2018, 35% of US smart speaker households owned more than one smart speaker, up from 18% a year earlier. To capitalize on the existing base of US smart speakers, market leaders Amazon and Google can turn to services such as voice app stores and subscription services to drive higher revenue.
Amazon already has a wide offering of almost 60,000 voice apps for its Alexa-enabled smart speakers, while Google has just over 4,000. The companies can monetize these apps by taking a cut of the apps' revenue and in-app purchases, like Apple does from its App Store, for example.
Source: https://www.pulse.ng/bi/tech/china-has-become-the-new-global-leader-in-smart-speaker-shipments-baba-googl-amzn/214lh08
A new security flaw in Intel chips called 'Zombieload' impacts PCs and servers (INTC)
Researchers that found the last huge Intel security hole have found a new one.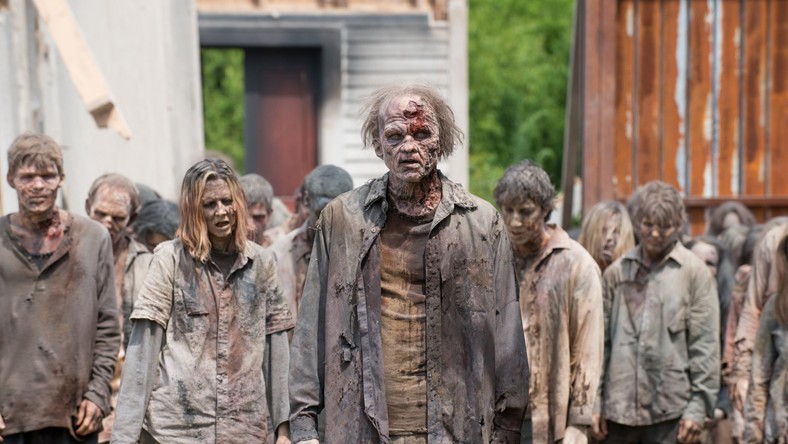 This time, however, Intel and the rest of the industry were ready with patches.
The hole impacts just about every PC and server that uses any kind of Intel processor.
It lets hackers potentially see your web history, your passwords and the your disk encryption keys.
The same researchers that found the Intel Spectre and Meltdown flaws which sent Intel and the whole tech industry reeling has found another problem with Intel chips. And they say this vulnerability, named ZombieLoad, impacts PCs and servers of all flavors if they run Intel chips.
The good news is that the researchers have already reported it to Intel and other vendors, and security patches are being issued now.
Intel has already patched several of its current processors, and it released microcode that will patch others, it tells Business Insider. Among the Intel chips that are vulnerable are the Xeon, Broadwell, Sandy Bridge, Skylake, Haswell chips, Kaby Lake, Coffee Lake, Whiskey Lake, Cascade Lake, Atom and Knights processors, the company reported.
Intel has given this vulnerability a security rating of "medium." PC makers Apple and Microsoft have also issued patches. As have browser makers Google and Mozilla.
While all of this sounds like a yawn just another hole that vendors are patching it is creating hubbub because it is another example of an entirely new type of security hole that impacts modern processors. It follows the discovery of the so-called Meltdown, Spectre, and Foreshadow holes in processors, which came to light last year.
And there are a lot of vulnerable Intel processors out there in the world that need to be patched. However, chips that have already been patched from the Spectre hole are less vulnerable toZombieLoad , Intel says.
ZombieLoad is eye-popping because it allows hackers to see things like browser history, website content, user keys, and passwords, or system-level secrets, such as disk encryption keys. In other words, it may give hackers the literal keys to the secrets locked away through encryption on your computer. And it can be used on PCs and servers, even those in the cloud, although the big cloud vendors like Microsoft and Google have been given warnings to patch before the researcher went public with this hole.
An Intel spokesperson explains that the company is already well aware of this new security hole, which has the technical name of Microarchitectural Data Sampling (MDS):
"Microarchitectural Data Sampling (MDS) is already addressed at the hardware level in many of our recent 8th and 9th Generation Intel Core processors, as well as the 2nd Generation Intel Xeon Scalable Processor Family. For other affected products, mitigation is available through microcode updates, coupled with corresponding updates to operating system and hypervisor software that are available starting today.
We've provided more information on our website and continue to encourage everyone to keep their systems up to date, as its one of the best ways to stay protected. We'd like to extend our thanks to the researchers who worked with us and our industry partners for their contributions to the coordinated disclosure of these issues."
Zombieload was discovered and reported by security researchers Michael Schwarz, Moritz Lipp, Daniel Gruss (of the Graz University of Technology) and Jo Van Bulck (of the computer science research group at KU Leuven university.)
These guys are becoming so famous in the security worlds that with this new hole, they've become aTwitter internet meme.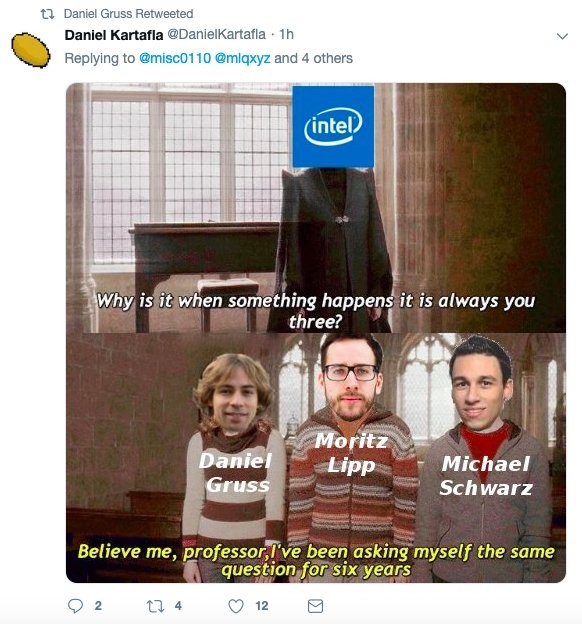 Intel security researcher mem
Source: https://www.pulse.ng/bi/tech/a-new-security-flaw-in-intel-chips-called-zombieload-impacts-pcs-and-servers-intc/8njdgls
Galaxy Note 10 may use Samsung's latest 64-megapixel camera
Samsung has unveiled a new 64-megapixel ISOCELL Bright GW1 image sensor today which is great news for the Galaxy Note 10. Given that the new sensor is expected to enter mass production in the second half of this year, there's a good chance that we might see it on the company's next flagship smartphone.
This new image sensor for mobile devices offers a higher resolution compared to any other sensor on the market right now. No wonder Samsung describes it as the "industry's highest resolution" sensor for mobile cameras.
Galaxy Note 10 may feature a 64-megapixel camera
The 64-megapixel ISOCELL Bright GW1 has the highest resolution in Samsung's 0.8μm-pixel image sensor lineup. It relies on the pixel-merging Tetracell technology to produce bright 16-megapixel images in low-light and detailed 64-megapixel images in well-lit conditions. It does that by merging four pixels into one while the color filter is descrambled for full-resolution 64-megapixel shots in good lighting.
There's even support for real-time high dynamic range (HDR) of up to 100-decibels which provides "richer hues," according to Samsung. The dynamic range of a conventional image sensor is around 60dB while that of the human eye is typically around 120dB.
Samsung has also announced an updated 48-megapixel ISOCELL Bright GM2 sensor today. The updated sensor also gets Tetracell technology in addition to a remosaic algorithm for well-lit environments. This should improve picture quality by reproducing colors that feel more natural and vivid. Much like the 64-megapixel sensor, the new 48-megapixel sensor also gets Super PD for high-performance phase detection auto-focus.
48-megapixel sensors have become quite common on smartphones now. Samsung's Galaxy A80 has one as well. The company is clearly hoping to gain a lead in the megapixel wars with its new 64-megapixel camera. Samsung says that the sensor will enter mass production in the second half of this year. Therefore, it's quite possible that we might see it on the Galaxy Note 10.
Source; https://www.sammobile.com/2019/05/09/galaxy-note-10-samsungs-64-megapixel-camera/