TCL shows off its 5G-capable USB data terminal at MWC 2019
This device has been made in partnership with China Mobile, and uses MediaTek's first-generation 5G chip, the MediaTek Helio M70. This processor supports independent networking (SA) and non-independent networking (NSA), as well as 4G/5G multi-mode multi-frequency. It's also equipped with a hefty 4,000mAh battery to ensure a long operating time. When connected, the terminal will — according to claims by TCL — be able to provide PC end users with high-speed downlink rates of 4Gbps, and 2Gbps uplink rates.
Manufacturers are making huge strides toward folding phones, 5G, or both, and MWC 2019 is reflecting that. TCL — parent company of BlackBerry and creator of Alcatel's smartphones — is doing both. We recently took a look at TCL's DragonHinge technology that will allow it to create a variety of foldable devices, but it seems to be in 5G hardware that TCL is making the largest advances. TCL's 5G USB data terminal is currently in pre-launch stage, so it seems likely TCL will be able to hit its goal of releasing it in the second quarter of 2019.
"TCL Communication will continue the exploration of 5G technology and focus on the research and development of terminal products such as smartphones, tablets, data terminals, and Internet of Things", said Charles Zou, general manager of the Global R&D Center for TCL Communication. "TCL is happy to be one of the first manufacturers to launch 5G products."
While this may not seem as exciting as the reveal of the Samsung Galaxy Fold, or the Huawei Mate X, it's interesting to see what this may mean for future smartphones created by TCL. As mentioned, TCL is the parent company of BlackBerry, and holds the license to create Alcatel's phones. As such, TCL's advances in this area for data terminals will likely lead to more advances for its associated brands. While Alcatel's focus tends to be on budget devices — and likely won't see many 5G or folding phones for some time — it's entirely within the realms of possibility that we might begin to see this technology in BlackBerry's products.
How to disconnect your Instagram account from Facebook
Connecting your Instagram and Facebook accounts allows you to cross-post between the platforms at will but you can also disconnect them whenever you want.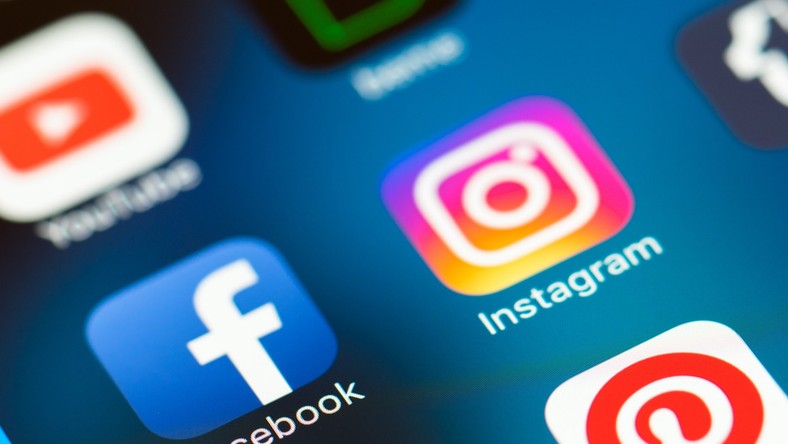 Whether for privacy reasons or just convenience, there may come a time when you want to disconnect your Instagram and Facebook accounts.
While connecting your accounts is a quick and easy process, disconnecting them is even simpler.
Facebook was a massive platform on its own, but now that the media monolith also owns Instagram , it likely owns at least two apps on your phone. Chances are that if you use one of the platforms, you likely use the other, and Instagram makes it easy to cross-post between the two if you simply connect your accounts.
However, there may come a time when you no longer want your Facebook and Instagram accounts linked. Thankfully, disconnecting them is a simple process that can be completed in seconds. Here's how to do it.
How to disconnect your Instagram account from Facebook
1. On your mobile device or tablet, open the Instagram app.
2. Open your profile page, then tap the three stacked horizontal lines in the upper right-hand corner of your screen to reveal a menu of options.
3. At the bottom of the option menu, tap "Settings."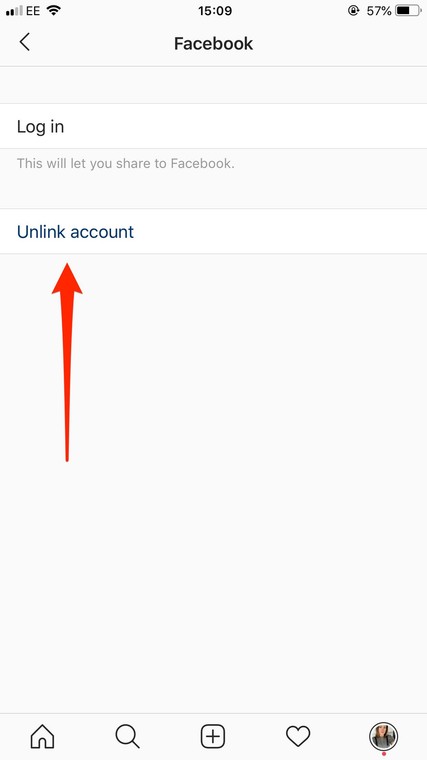 4. On the "Settings" page, look for the "Account" option and tap it.
5. Under "Account," locate the "Linked accounts" option. On this page, you will see Facebook highlighted with the name featured on your Facebook account.
6. To unlink, tap the Facebook option and tap "Unlink account."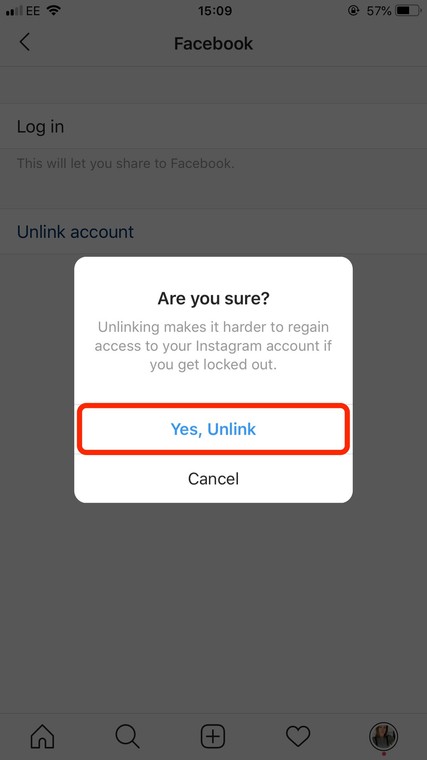 7. A warning will pop up asking you to confirm your choice to unlink your accounts, and let you know that doing so will make it harder to regain access to Instagram should you get locked out.
8. Click "Yes, Unlink" to complete the process.
Note that disconnecting your Facebook and Instagram accounts doesn't need to be permanent. You can relink your account at any time via the same menu options used to disconnect.
If you decide to do this, you will need to re-enter your login information and authorize Instagram to access your Facebook account to re-enable cross-posting between the two platforms.
Source: https://www.pulse.ng/bi/tech/how-to-disconnect-your-instagram-account-from-facebook/ntbpcxx
Apple Getting Rid of iTunes, To Replace It With Separate Apps
The decision to trash iTunes is on par with Apple's new vision for its future when it comes to its gadgets. Now there will be separate apps for users to listen to music, watch movies and TV and listen to podcasts. You will still be able to manage your Apple gadget through the music app. The announcement of the move came on the heels of Apple's upcoming WWDC where the company is expected to confirm the decision and announce how it plans to move going forward.
According to Bloomberg:
iTunes has been the way Apple users listen to music, watch movies and TV shows, hear podcasts, and manage their devices for almost two decades. This year, Apple is finally ready to move into a new era. The company is launching a trio of new apps for the Mac – Music, TV, and Podcasts – to replace iTunes. That matches Apple's media app strategy on iPhones and iPads. Without iTunes, customers can manage their Apple gadgets through the Music app.
Well if you were looking to blow the dust off your iTunes to help manage your new iPod Touch, then you won't receive this news too well. 18 years is a long time for an app, so the app is rare air when it comes to outlasting the competition.
iTunes had a hell of a run though, never forget.
Source: https://deythere.com/apple-getting-rid-of-itunes-to-replace-it-with-separate-apps/
Apple announces web login feature in privacy challenge to Facebook and Google
Apple has stepped up its privacy war with Facebook and Google by unveiling a challenger to the internet login systems that the two digital advertising giants use to gather data from around the web.
The tech giant announced a new "Login with Apple" feature that will let internet users access websites and apps by linking it to an Apple ID instead of having to remember passwords. The feature is a direct challenge to similar systems designed by Facebook and Google, which the two companies use to collect data on their users.
Facebook and Google's login systems are used by popular services including Spotify and Airbnb but have been widely criticised for leaking users' data and for allowing the two web giants to track people's browsing habits.
The Cambridge Analytica scandal emerged because a quiz app linked to Facebook profiles was able to harvest data about their friends and interests.
Apple, which has touted its privacy credentials in recent months as a way to distance itself from other large tech companies, said its own version would minimise the data handed over to websites, including scrambling a person's details so that they can be contacted without revealing their email address. Apple's software chief Craig Federighi said it would be a "fast, easy way to sign in without all the tracking".
Geoff Blaber, an analyst at CCS Insight, said: "Sign-in with Apple takes Apple's stance on Privacy beyond a philosophy. This is a significant challenge to Facebook and Google and will deepen awareness of Apple's position on privacy. Apple will hope that 'Apple privacy' will become as important to users as iMessage or Safari
"The focus on privacy and security was palpable and unveiling of "Sign-in With Apple" will concern rivals, particularly the web giants. Existing sign-in services provide a simple means for single sign-in across the web. Privacy is the differentiator that will be heavily emphasized versus Facebook and Google and represents a great marketing tool for Apple's broader privacy stance."
It came as the company announced an overhaul of the software that runs on its gadgets as it seeks to keep users tied to its devices amid flattening smartphone sales.
Apple announced new features for the software that runs on its iPhone and Apple Watch, and a revamped operating system for the iPad, which until now has run a bigger version of the iPhone's iOS software.
In recent years, Apple has attempted to position the iPad as a laptop replacement, but has struggled to convince corporate buyers and professional users to make the switch. It said the new software would include advanced multitasking features and display websites more akin to a computer.
For the first time, apps on the Apple Watch will be able to run independently of the iPhone, for example to let music apps stream over the internet without needing to be connected to a different Apple device.
It also continued its push into health tracking, saying the Apple Watch will be able to detect unhealthy noise levels, track women's period cycles and remind people when to take medicine.
Apple is preparing to launch a string of new online services this year, including a video streaming service and a game subscription feature, as it seeks to counter flatlining iPhone sales.
The company confirmed it would shut down its media player iTunes after 18 years, splitting the software into separate apps for music, video and podcasts.
Source: https://www.telegraph.co.uk/technology/2019/06/03/apple-announces-web-login-feature-privacy-challenge-facebook/