Here's how much the Samsung Galaxy S10 Plus materials cost
A Galaxy S10 Plus build cost estimate has been published by analytics company TechInsights, giving us an idea of how much each unit costs to produce (via PhoneArena).
Samsung's new flagship, revealed at the end of February, has one of the highest retail prices a consumer Samsung smartphone has ever had, ranging from $999.99 for the 128GB ROM model up to $1,599.99 for the 1TB version in the U.S.
Are these prices justified in the build materials, though?
TechInsights investigated Samsung's homegrown S10 Plus model with an Exynos chipset, rather than the Snapdragon model headed to the U.S., with 8GB RAM and 128GB storage (the base model). The outlet's estimates suggest its materials costs rack up to $420, around 42 percent of its $1,000 retail price.
The major expenditure is on Samsung's beautiful Dynamic AMOLED display at $86.50, though this is only $9 up on previous displays despite the punch hole. The chipset and modems, meanwhile, come in at $70.50 per unit, while Samsung is said to be spending around $50 or so on the S10 Plus' cameras and memory.
You can see the full component breakdown below.
Is the Galaxy S10 Plus a rip-off?
The prices above are only estimates and many other costs affect how much Samsung sells devices for (such as marketing, research, and shipping costs). So, this isn't pure profit for Samsung. Further, profit margins can be so extremely tight in the smartphone industry that some companies earn virtually nothing on hardware — they just to try and make money from after-sale channels. In other words, it might be unfair to look at these figures and accuse Samsung of ripping us off.
With that being said, the S10 Plus starts at around $160 more than the S9 Plus did for consumers ($840), with only around a $45 increase in materials costs. That's where you could feel the sting of Samsung's price strategy, though it should be noted that the S10 Plus has a better display, cameras, processing, and more storage than the base model of its predecessor. It's better all-round, really.
Samsung is also charging less for the S10 Plus than Apple does for its iPhone XS Max, despite comparative component costs. TechInsights suggests the XS Max with 256GB storage materials cost $443, but Apple charges $1,249 for that device in the U.S.
Overall, it seems pretty much par for the course in terms of Samsung's retail price versus manufacturing costs, but you can give me your thoughts on that in the comments. For more insights, head to the TechInsights website here.
Energizer P18K Pop hits IndieGogo: Who wants an 18,000mAh phone for $550?
The Energizer P18K Pop was certainly one of the highlights at MWC 2019, differing from other devices by offering a colossal 18,000mAh battery. Now, Energizer brand custodian Avenir Telecom has announced that the phone is available on IndieGogo (h/t: GSMArena).
The company is targeting a $1.2 million goal for the gargantuan smartphone, with a shipping date set for October 2019. This date differs from the initially stated June launch date confirmed to us at MWC.
In any event, you can grab an Early Bird device for $550, but this tier is limited to 200 devices. If you miss out on the Early Bird offer, then you'll need to splash out $599 for the device. Other tiers include two Energizer P18K Pop devices for $1,098, and three phones for $1,587.
Avenir Telecom cautions that there are risks during production, such as certification and production delays, and supply chain/mass production problems.
The Energizer P18K Pop obviously stands out from others thanks to its ridiculously bulky design, housing an 18,000mAh battery. In fact, the phone takes eight to nine hours to fully charge. But the charging time is a small price to pay when you've got true multi-day battery life.
Other noteworthy specs include a mid-range MediaTek Helio P70 chipset, 6GB of RAM, 128GB of expandable storage, a side-mounted fingerprint scanner, and a 6.2-inch notchless full HD+ screen. Unfortunately the phone doesn't have a 3.5mm headphone port — clearly the brand couldn't find space for the feature.
This absolute unit of a device is also equipped with a pop-up dual-camera housing (16MP+2MP), while a triple camera trio (12MP+5MP+2MP) resides on the back. Intrigued by this phone? Then you can check out the IndieGogo campaign via the button below.
Today's AirPods launch underscores Apple's latest AirPower misfire
Today, Apple finally announced its second-generation AirPods, most notably adding wireless charging to the popular headphones. Apple is even selling the wireless charging case separately, so that existing AirPod owners can join in the fun. The move brings Apple in line with its main competitors, whose phones and earbuds support similar Qi charging functionality, but there was one piece missing: Apple's long-absent AirPower charger. If there was ever a moment to re-announce AirPower, this was the moment — instead, it's a missed opportunity for Apple.
Back when Apple first announced the AirPower charger in 2017 (alongside the iPhone X), it was presented as an elegant, Apple-like solution to the present problem of keeping your ever-multiplying stack of Apple hardware charged. Instead of fumbling for a wire or three, AirPower promised to let you just drop your Apple Watch, your iPhone, and your AirPods on a charging pad and pick them up, fully charged, in the morning.
But AirPower never shipped, and neither did a version of Apple's AirPods that could take advantage of any wireless charging pad — until today, when Apple announced the new AirPods without so much as a mention that AirPower might still be on the way. Apple's choice of charging standard might be telling, too: unlike say, the Apple Watch — which has a proprietary Apple wireless charging standard — the AirPods will work with any Qi charger, something that's great for consumers, but less so for Apple who will presumably be looking to sell those customers wireless chargers in the future.
Even if Apple does launch AirPower tomorrow or Friday, which seems vaguely possible given how many surprise Apple hardware announcements we've seen this week, it'll still be too late. Right now, thousands of customers are sticking second-gen AirPods and wireless charging cases in their carts on Apple's website — so many of them that new buyers won't see their AirPods ship until April. An AirPower charger to use with those new AirPods is the easiest upsell in the world, given that it was literally designed for this exact product, and yet none of those thousands of customers can buy one today.
Instead, they're probably buying one of the excellent Qi chargers that are already out there, or even one of the many, many knockoffs of Apple's AirPower multi-device charging pad idea from companies like Griffin, Nomad, Anker, or any of these crowdfundedalternatives. Even more problematically, those chargers aren't materially worse than the AirPower pad will be at charging a phone or headphones — AirPower's claim to fame is some fancy charge indicators on an iPhone and some convenience in the form of its beam-forming tech. Those are certainly convenient: finding the sweet spot on a charger is annoying, and Apple's promise to solve that is appealing, but it's also a tough sell to someone who already has a pile of charging pads.
Apple didn't have to launch the second-gen AirPods today — there's nothing that would have stopped it from waiting until AirPower was ready to launch. And though The Wall Street Journal is reporting that Apple has approved production on the long-delayed charger, which suggests the device will arrive someday, the fact that Apple didn't have the charger ready to launch today alongside the AirPods suggests either another lengthy wait or a huge tactical misstep from a company that typically prides itself on a thriving hardware ecosystem.
At this point, I'm not sure what the solution for Apple is: a launch later this week is unsatisfying, a quiet random launch untethered to another major product just highlights how late Apple is to the party, and tying it to this September's iPhone event would mean that Apple will have taken a full two years to ship a wireless charger. None of it is a good look for the company, and that's increasingly the story of AirPower — not a disaster, but a long and public unforced error that's constantly looming.
Oculus showed off a new design for its premium VR headset, but its features are not very ambitious (FB)
Oculus has announced the Oculus Rift S, an updated model of its Oculus Rift headset designed for use with personal computers.
Starting at $399, the Oculus Rift S promises better visuals, improved tracking and a more comfortable headset design.
The Oculus Rift S will be compatible with existing Rift software, and will share new content with the original device.
Oculus will release the Rift S and the standalone Oculus Quest headset during Spring 2019; the official dates have not been confirmed.
Oculus has revealed the Oculus Rift S, an update to the company's flagship virtual reality headset. The Oculus Rift S offers enhanced visuals compared the original Rift, improved tracking with no external sensors, and a new halo headband design similar to the PlayStation VR headset.
The Oculus Rift S will launch later this Spring for $399, and will still require a PC for use. The company's standalone VR headset, the Oculus Quest, which has also been priced at $399 will launch later this Spring as well. Both headsets will make use of the Oculus Touch controllers.
Though it offers some improved technology, the Rift S isn't a significant upgrade over its predecessor. The biggest addition to the Rift S is the ability to use the headset without sensors. The Rift and Rift S will be able to play the same games and the original device will still be supported by Oculus updates in the future.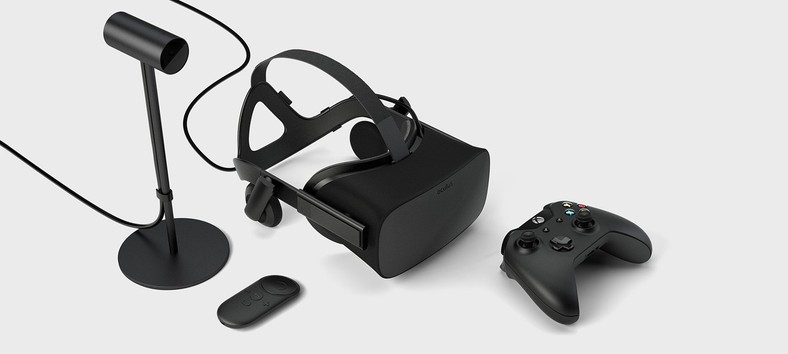 The Oculus Rift S is a more reasonable deal at launch than the original Rift; back in 2015 the Rift launched at $599, while the Oculus Touch controller cost $199. After numerous price drops that $798 package is now available for $349. The Rift S will sweeten the deal by adding a second touch controller and a more elegant headset for just $50 more.
In terms of specs, the Rift S will offer 1280 x 1440 resolution in each eye, with an 80 Hz refresh rate. As with the original Rift, you'll need to pair it with a gaming computer with 8GB or more of RAM and a mid-level or better graphics card. The Rift S will have a five foot cable and will automatically track your environment. a new feature called Passthrough+ will allow users to see their surroundings through the headset too.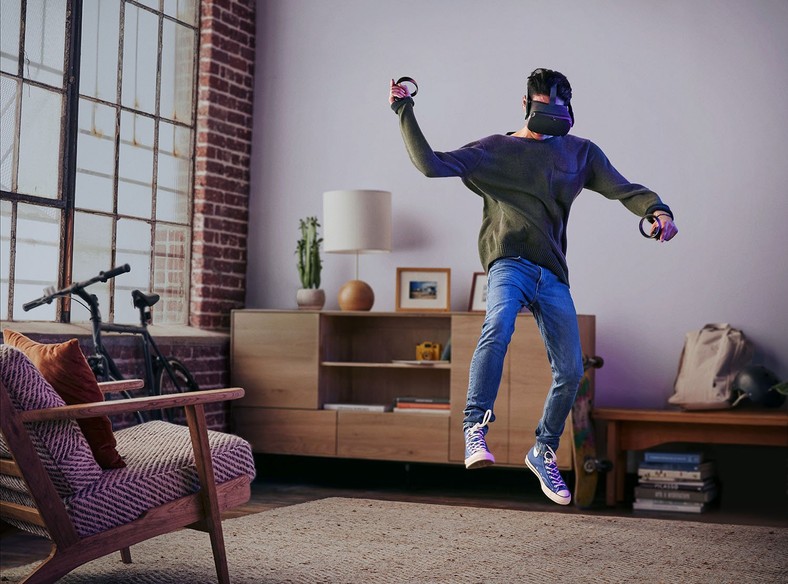 Oculus had reportedly been working on a much more substantial upgrade to the Oculus Rift, the Rift 2. Facebook decided to cancel development of the Rift 2 back in October, which reportedly led to the departure of Oculus founder Brandon Iribe.
VR technology has been slow to catch on across the tech industry and many companies are feeling the pressure to lower the barrier of entry for new VR users or abandon the tech entirely. Rather than investing in a new generation of expensive hardware. Oculus is taking a cautious approach by iterating on current technology. Oculus Rift S and the Oculus Quest are due out in Spring 2019, though the dates have yet to be confirmed. Oculus also offers the standalone Oculus Go headset for $199