The number of mobile malware attacks doubles in 2018, as cybercriminals sharpen their distribution strategies
Four African countries made the list in terms of top 10 countries by share of users attacked by mobile malware; Nigeria climbs from fifth place in 2017 to third in 2018.
Kaspersky Lab (www.Kaspersky.co.za) researchers have seen the number of attacks using malicious mobile software nearly double in just a year. In 2018 there were 116.5 million attacks, compared to 66.4 million in 2017, with a significant increase in unique users being affected. Despite more devices being attacked, the number of malware files has decreased, leading researchers to conclude that the quality of mobile malware has become more impactful and precise. These and other findings are unveiled in Kaspersky Lab's report Mobile malware evolution 2018.
As the world becomes more mobile, the role of smartphones in business processes and day to day life is growing rapidly. In response, cybercriminals are paying more attention to how they are distributing malware and the attack vectors used. The channels through which malware is delivered to users and infects their devices is a key part of the success of a malicious campaign today, taking advantage of those users who do not have any security solutions installed on their phones.
The success of the distribution strategies is demonstrated not only by the increase in attacks, but also the number of unique users that have encountered malware. In 2018 this figure rose by 774,000 on the previous year, to 9,895,774 affected users. Among the threats encountered, the most significant growth was in the use of Trojan-Droppers, whose share almost doubled from 8.63% to 17.21%. This type of malware is designed to bypass system protection and deliver there all sorts of malware, from banking Trojans to ransomware.
"In 2018, mobile device users faced what could have been the fiercest cybercriminal onslaught ever seen. Over the course of the year, we observed both new mobile device infection techniques, such as DNS hijacking (http://bit.do/eKudD), along with an increased focus on enhanced distribution schemes, like SMS spam. This trend demonstrates the growing need for mobile security solutions to be installed on smartphones – to protect users from device infection attempts, regardless of the source," said Viсtor Chebyshev, security expert at Kaspersky Lab.
Four African countries made the list in terms of top 10 countries by share of users attacked by mobile malware – Nigeria in 3rd place at 37.72%, Algeria in 5th place (35.06%), Tanzania in 8th place (31.34%) and Kenya in 9th place with 29.72%.
Other findings in the mobile malware evolution 2018 report include:
In 2018 Kaspersky Lab products protected 80,638 users in 150 countries against mobile ransomware, with 60,176 mobile ransomware Trojans samples detected
In 2018, a fivefold increase in attacks using mobile malicious crypto currency miners was observed
In 2018, 151,359 installation packages for mobile banking Trojans were detected, which is 1.6 times more than in the previous year
In order to protect your devices, Kaspersky Lab security experts advise the following:
Only install mobile applications from official app stores, such as Google Play on Android devices or the App Store on iOS
Block the installation of programmes from unknown sources in your smartphone's settings
Do not bypass device restrictions as this might provide cybercriminals with limitless capabilities to carry out their attacks
Install system and application updates as soon as they are available — they patch vulnerabilities and keep devices protected. Note that the mobile OS system updates should never be downloaded from external resources (unless you are participating in official beta-testing). Application updates can only be installed through official app stores
Use reliable security solutions for comprehensive protection from a wide range of threats, such as Kaspersky Security Cloud(http://bit.do/eKurx)
To learn more about threats to mobile devices, please read the blog post available at Securelist.com. (http://bit.do/eKuiq)
Distributed by APO Group on behalf of Kaspersky.
About Kaspersky Lab:
Kaspersky Lab (www.Kaspersky.co.za) is a global cybersecurity company which has been operating in the market for 21 years. Kaspersky Lab's deep threat intelligence and security expertise is constantly transforming into next generation security solutions and services to protect businesses, critical infrastructure, governments and consumers around the globe. The company's comprehensive security portfolio includes leading endpoint protection and a number of specialized security solutions and services to fight sophisticated and evolving digital threats. Over 400 million users are protected by Kaspersky Lab technologies and we help 270,000 corporate clients protect what matters most to them. Learn more at www.Kaspersky.co.za.
source: Africanews
Facebook Messenger finally adds quoted replies
Today Facebook Messenger has added a sorely missing feature – quoted replies. This allows you to reply to a specific message in a conversation, and is incredibly helpful when you're engaged in chats that have a big range of topics. Using the new feature, the people you're talking to will now know exactly what you were replying to with that "LOL", for example.
This has been a feature in WhatsApp, which is also owned by Facebook, for a very long time, and it's always been sort of a baffling omission in Messenger. So it's good to finally see it there too.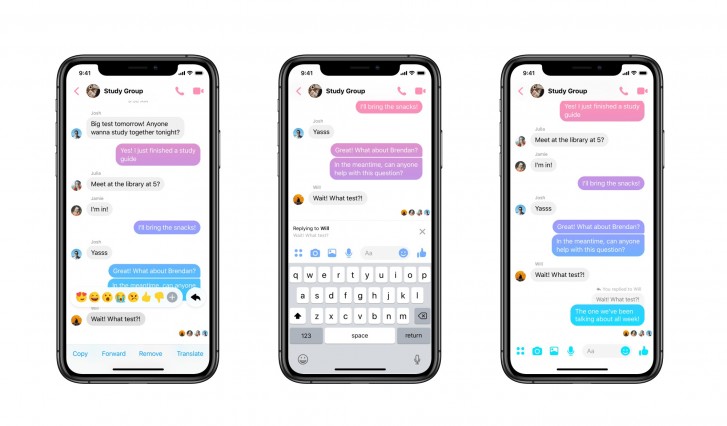 In order to quote a specific message, long tap on it and you'll see a new Reply button to the right of the reaction emojis. Tap that, write your reply, and, just like in WhatsApp, the message you're replying to will appear above your reply. Easy. This potentially means you'll have less misunderstandings with your friends as to which message was referencing what.
The feature is rolling out now on both iOS and Android.
How Opera's New VPN Feature Further Cements its Position as Nigeria's Most Preferred Browser
Opera, one of the world's most popular mobile web browsers, has announced the inclusion of a useful VPN function. The Norwegian browser maker recently revealed the new VPN feature will be included in the app update for the Android.
A VPN is a secure way to send and receive data across the internet. It creates a secure, encrypted tunnel between a user's device and the VPN server. VPNs help protect users from interception, snooping, and even censorship. Basically, anybody who tries to hack data being sent over a VPN server will see only gibberish.
Most VPNs are neither free nor unlimited. The free ones are more or less limited because they keep a monthly or daily data cap for users.
Now the introduction of a VPN into the Opera Android browser officially cements the browser as the best. The new VPN feature had me comparing mobile browsers to see how each of them stacked up compared with Opera.
For one thing, Opera is the first browser to introduce the feature as an in-app function. The VPN feature is free to use and does not come with any data cap or even log management feature that usually threatens user privacy.
The feature plays nicely with the browser's other existing user-friendly features. For instance, the browser has always come with several features that make browsing the web extremely fast. Opera also includes a powerful adblocker which helps to make browsing less cluttered.
Meanwhile, other browsers like Google and Mozilla's Firefox have talked heavily about adblockers and other features, but they have been quite slow to introduce them.
Google Chrome browser has a nasty reputation for consuming much RAM and takes up too much space. But it is pretty cool and supports advanced features and browsing.
But Opera still has a few things to work on though. For instance, the app frequently bloats users' browsing experience with disruptive ads which is quite ironic since it is supposed to naturally blocks ads. Getting this fixed will certainly be a plus for users.
Samsung confirms the Galaxy S10 5G release date is April 5
Samsung has confirmed the Galaxy S10 5G release date today. It was initially supposed to release the device by the end of this month. The release had to be delayed due to ongoing discussions between carrier partners and the South Korean government. The company today confirmed that it will release the first 5G-enabled device on April 5 in South Korea.
There will not be any pre-order program for the device, Yonhap News reports. The Galaxy S10 5G is also expected to release in the United States in April. It will initially be exclusive to Verizon in the country. The carrier has confirmed that its mobile 5G network will launch on April 11.
Samsung once again aims for the world's first title
After launching the world's first foldable smartphone, the Galaxy Fold, Samsung is now eyeing the title of putting the world's first 5G smartphone on the market. Verizon is gearing up for the launch of its mobile 5G service on Motorola's Moto Z3 in Chicago and Minneapolis on April 11. That device doesn't have an integrated 5G modem like the Galaxy S10 5G. Customers will be required to purchase the 5G Moto Mod if they want to use the phone on a 5G network.
Samsung will comfortably beat it to market when its 5G flagship launches on April 5. The device has already passed the signal verification test from South Korea's National Radio Research Agency. It was reported yesterday that the South Korean government was hastening the launch of 5G services in the country after Verizon announced the April 11 date. It really wants South Korea to be the first country in the world to have commercial mobile 5G.
Although Samsung hasn't yet revealed the pricing of the Galaxy S10 5G, industry watchers expect it to cost around 1.5 million won ($1,332) in South Korea. Launch offers include free Galaxy Buds and a wireless charger for the customers who register the phone from April 5-16. Samsung is also offering a 50% discount on one-time screen replacement with the validity of 1 year.