Facebook Messenger finally adds quoted replies
Today Facebook Messenger has added a sorely missing feature – quoted replies. This allows you to reply to a specific message in a conversation, and is incredibly helpful when you're engaged in chats that have a big range of topics. Using the new feature, the people you're talking to will now know exactly what you were replying to with that "LOL", for example.
This has been a feature in WhatsApp, which is also owned by Facebook, for a very long time, and it's always been sort of a baffling omission in Messenger. So it's good to finally see it there too.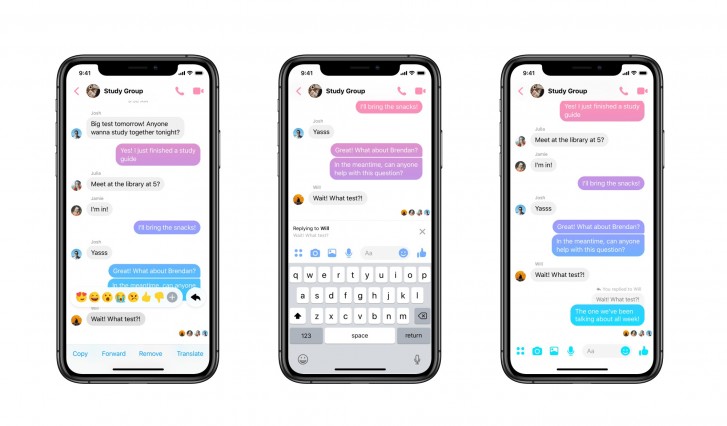 In order to quote a specific message, long tap on it and you'll see a new Reply button to the right of the reaction emojis. Tap that, write your reply, and, just like in WhatsApp, the message you're replying to will appear above your reply. Easy. This potentially means you'll have less misunderstandings with your friends as to which message was referencing what.
The feature is rolling out now on both iOS and Android.
Cool new Gmail features launched
Back in 2004, email looked a lot different than it does today. Inboxes were overtaken by spam, and there was no easy way to search your inbox or file messages away. Plus, you had to constantly delete emails to stay under the storage limit.
On its 15th year anniversary, Google revealed that Gmail was made to address these problems, and it's grown into a product that 1.5 billion users rely on to get things done every day.
Describing what is next for Gmail, Tom Holman, Senior Product Manager, Gmail said the service that has been different from its launch will now become more assistive.
You may have already used Smart Compose, an AI-powered feature that helps you write emails quicker. It's already saved people from typing over 1 billion characters each week.
Holman said: "Today, we're updating Smart Compose to include more languages (Spanish, French, Italian and Portuguese) and bringing it to Android (previously, it was only available on Pixel 3 devices), with iOS coming soon."
Smart Compose is also getting, well, smarter. It will personalize suggestions for you, so if you prefer saying "Ahoy," or "Ello, mate" in your greetings, Smart Compose will suggest just that. It can also suggest a subject line based on the email you've written.
Next up, you can decide when your email gets delivered to someone else's inbox. A new feature has been added and it lets you schedule email to be sent at a more appropriate date or time, which is helpful if you're working across time zones, or want to avoid interrupting someone's vacation.
Lastly, you can now take action without leaving your inbox. You can respond to a comment thread in Google Docs, browse hotel recommendations and more, directly within emails. This way you don't have to open a new tab or app to get things done.
You can now enjoy Apple Music on your Chromebook
Apple Music's latest update on Android finally brings native Chromebook support for the first time.
The release also includes the same user interface changes that were rolled out on iOS last week. Subscribers can access a new Browse tab that designed to make music discovery even easier.
Apple Music has offered support for Android devices from the very beginning. But when it comes to ultra-affordable Chrome OS devices, access to the streaming service has been tricky.
You may have been able to enjoy Apple Music if your device has the ability to run Android apps. But even then, it could be complicated. That's no longer the case.
Apple Music plays nicely with Chrome OS
Apple Music is now natively supports Chrome OS. Simply download the latest release from the Play Store and you can start enjoying your favorite music on your Chromebook.
You will also see the revamped Browse tab on both Android and Chrome OS. It features more editorial highlights, "making it easier to discover new music, playlists, and more," Apple says.
Finally, this release brings various bug fixes that should make Apple Music more stable.
You can download the latest Apple Music update from the Play Store now. It's free, but you will need a subscription — priced at $9.99 a month.
How Opera's New VPN Feature Further Cements its Position as Nigeria's Most Preferred Browser
Opera, one of the world's most popular mobile web browsers, has announced the inclusion of a useful VPN function. The Norwegian browser maker recently revealed the new VPN feature will be included in the app update for the Android.
A VPN is a secure way to send and receive data across the internet. It creates a secure, encrypted tunnel between a user's device and the VPN server. VPNs help protect users from interception, snooping, and even censorship. Basically, anybody who tries to hack data being sent over a VPN server will see only gibberish.
Most VPNs are neither free nor unlimited. The free ones are more or less limited because they keep a monthly or daily data cap for users.
Now the introduction of a VPN into the Opera Android browser officially cements the browser as the best. The new VPN feature had me comparing mobile browsers to see how each of them stacked up compared with Opera.
For one thing, Opera is the first browser to introduce the feature as an in-app function. The VPN feature is free to use and does not come with any data cap or even log management feature that usually threatens user privacy.
The feature plays nicely with the browser's other existing user-friendly features. For instance, the browser has always come with several features that make browsing the web extremely fast. Opera also includes a powerful adblocker which helps to make browsing less cluttered.
Meanwhile, other browsers like Google and Mozilla's Firefox have talked heavily about adblockers and other features, but they have been quite slow to introduce them.
Google Chrome browser has a nasty reputation for consuming much RAM and takes up too much space. But it is pretty cool and supports advanced features and browsing.
But Opera still has a few things to work on though. For instance, the app frequently bloats users' browsing experience with disruptive ads which is quite ironic since it is supposed to naturally blocks ads. Getting this fixed will certainly be a plus for users.