God Of War Wins Game Of The Year At GDC Awards
God of War wins big, again.
Sony's PS4 exclusive action game God of War has won yet another Game of the Year award. Tonight at the Game Developers Choice Awards, Sony's PS4 game went home with the top prize. This is just the latest win for God of War, as it also won Game of the Year at December's The Game Awards and in February at the DICE Awards.
Other winners tonight included Celeste for Best Audio, Into the Breach for Best Design, and Red Dead Redemption 2 for Best Technology. Australian developer Mountains won Best Debut for Florence; that game also Best Mobile Game. Amy Hennig, an industry veteran who directed Uncharted, took home the Lifetime Achievement Award.
You can see a full rundown of the categories and winners at the bottom of this post.
"The Game Developers Choice Awards represent the most refined games of the year, and the sheer variety of games honored tonight showed that games can still represent wholly new and unique creative visions," GDC general manager Katie Stern said in a statement.
"A number of independently developed titles like Celeste, Gris, and Florence helped prove how internal or deeply personal turmoil can make for massively appealing games for millions of fans. While games like God of War and Red Dead Redemption 2 capture our imagination with poignant moments juxtaposed against epic tales of staggering scale and technical prowess. We embrace and accept all these amazingly creative works, and we're proud to recognize these nominees and winners alike for the imagination and hard work that brought them here."
Also at GDC this week, Google announced its new game-streaming technology, Stadia, which is set to launch later this year. Former Microsoft and Sony executive Phil Harrison is heading up the Stadia team, and he believes latency won't be an issue.
GDC 2019 continues all week, leading directly into PAX East in Boston at the weekend, so keep checking back with GameSpot for lots more.
MX Player now supports picture-in-picture mode
There are a lot of great video player applications for Android to choose from these days. That wasn't always the case though. Before Plex adapted support for video playback, before development on the VLC app had even begun, a popular choice among the community was MX Player. The application still has a tremendous amount of users thanks to its continued support throughout the years and development isn't stopping anytime soon. An update was just released that included picture-in-picture (PiP) support for Android 8.0devices and we learned that Chromecast support is in development as well.
As I mentioned, MX Player has been around a long time and it was one of the few video players that offered various features for years. We have more choices now but that enabled them to build a massive user base. One so big that the application was sold to the Indian media giant Times Internet Limited for $140 million just last year. The new owners said they were committed to the app and had plans to expand its feature set as time went on. The company kept to its word when a new UI redesign was released a couple of months later.
Some fans of MX Player have expressed their dismay about the application falling behind when it comes to certain new Android features. Among those include Chromecast support and picture-in-picture mode. The application has just had a brand new update rolled out via the Play Store that brings support for PiP mode to Android 8.0 devices. In the changelog, displayed below, you can see that the developers are also working to bring PiP mode to devices with lower versions of Android.
Not only that, but they are also working on finally bringing Chromecast support (another highly requested feature by its users) to MX Player in a future update. Sadly, we aren't given a timeline for when either of these two new features are coming, but we will be on the lookout for them.
A Chinese company reportedly created a photo with such high resolution, you can zoom from thousands of meters away to see people's facial expressions
You might call this the pinnacle of high-resolution images.
It is the brainchild of a setup called Jinkun Tech, or Bigpixel Technology Corporation , and it was taken from atop the Oriental Pearl Tower in Shanghai.
The photo resolution, which is the toughest part to wrap one's mind around, is reportedly 195 gigapixels.
A megapixel is one million pixels. The resolution of digital cameras and smartphones is often chopped up and measured in megapixels. For example, a 12-megapixel camera can produce images with 12 million total pixels. But, in this case, we're talking about gigapixels. One gigapixel is 1 billion pixels.
Hit the link below to try the zoom feature yourself.
Here is the brief story of an obscenely large picture.
It is the brainchild of a setup called Jinkun Tech, or Bigpixel Technology Corporation , and it was taken from atop the Oriental Pearl Tower in Shanghai.
What it is not, contrary to chatter on social media this week, is some evil new Chinese satellitequantum technology.
It's just a very, very big picture, and according to the company, more than 8 million people have explored it, and many more are about to.
The photo resolution, which is the toughest part to wrap one's mind around, is reportedly 195 gigapixels.
Some context: a megapixel is one million pixels. The resolution of digital cameras and smartphones is often chopped up and measured in megapixels. For example, a 12-megapixel camera can produce images with 12 million total pixels. But, in this case, we're talking about gigapixels. One gigapixel is 1 billion pixels.
Bigpixel reckons it is more than 2,000 more times precise than a photo captured from an ordinary, consumer-level camera, which makes this 360-degree snapshot of a surprisingly sunny Shanghai day the world's third-biggest photo. Bigpixel says it's Asia's largest.
It is a collection of images that have been integrated over a few months using image-stitching technology .
Bigpixel says this is its first panorama with hundreds of billions of pixels. The result is an unearthly, uncanny, unnecessarily fearsome zoom a zoom that takes you so close to the oblivious person on the street in this case, in Shanghai that, yes, you can literally see individual facial expressions.
The technology's potential for covert surveillance also becomes quite obvious.
Source: https://www.pulse.ng/bi/tech/a-chinese-company-reportedly-created-a-photo-with-such-high-resolution-you-can-zoom/j84emh7
11 new features coming to your iPad that will make it much better at replacing your laptop (AAPL)
Apple's software update for the iPad coming later this year will bring a handful of useful new features, such as improvements to the way the iPad multitasks and handles file management.

The company is calling the update iPadOS, making it the first time it's separating its tablet software from the iPhone's iOS software.
Although the iPad isn't meant to be a complete replacement for your laptop, Apple's tablet has slowly become a more viable productivity tool in recent years. That's truer than ever with iPadOS, the new software update Apple will be launching for the iPad later this year.
It marks the first time Apple has separated its iPad software from its iPhone operating system, a move that further distinguishes the two products from one another. It's a sensible move now that smartphones generally have much larger screens today than they did when the original iPad launched in 2010, people are using their phones for some of the tasks they may have turned to a tablet for in the past.
As such, companies like Apple, Microsoft, Samsung, and others have been positioning their tablets as productivity-oriented devices that offer larger screens than smartphones and better portability than laptops. The iPadOS update will provide new features that are critical in boosting the iPad's performance in this role as a work device.
Apple didn't say precisely when iPadOS will be released, but the company typically debuts new software updates across its products in the fall time frame.
From new copy and paste gestures to improved multitasking, here are our favorite new features coming to the iPad later this year.
You'll be able to pin widgets to the home screen.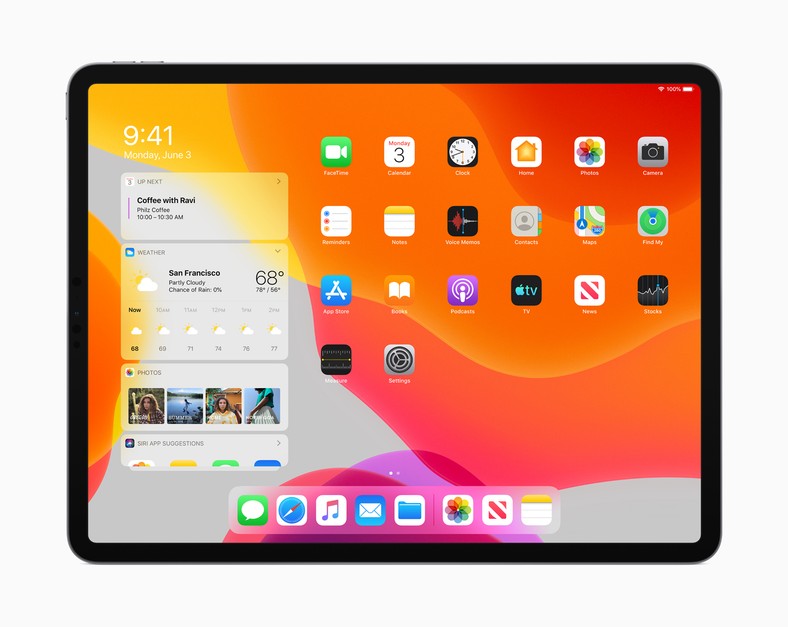 Widgets in iOS are usually just a swipe away from the home screen. But when iPadOS launches, you'll be able to pin certain widgets to the device's home screen, making it easy to see information like upcoming calendar appointments at just a glance.
You'll also be able to choose favorite widgets that will always appear on the home screen. It's a useful addition that can help you make the most out of the extra screen real estate the iPad has to offer.
Your iPad will be capable of functioning as a second display for your Mac.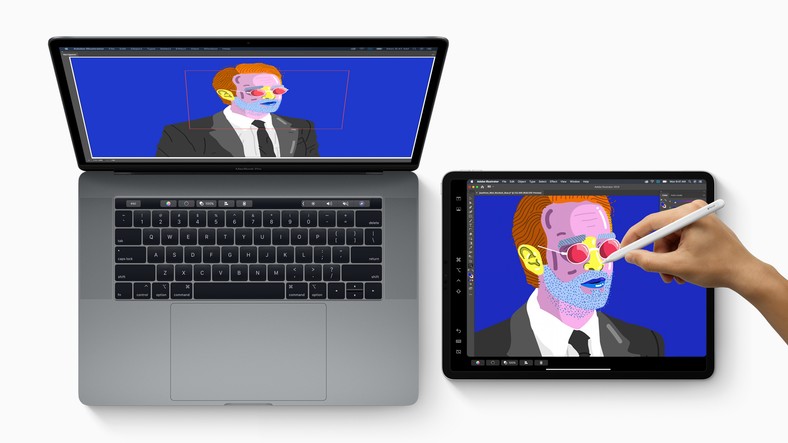 Third-party apps like Duet Display have made it possible to use your iPad as a secondary display for years, but now this functionality is finally coming to iOS natively. Apple's next big Mac update, called Catalina, and iPadOS will bring a new feature called Sidecar that turns your Apple tablet into a second Mac display.
That means you'll be able to extend your desktop so that it stretches across your Mac and your iPad, making it possible to drag content between both. You can also use the iPad to mirror your Mac's display, and to edit content on the iPad using the Apple Pencil while seeing the changes occur live on your Mac.
You'll be able to cycle through multiple apps that are open in Slide Over mode.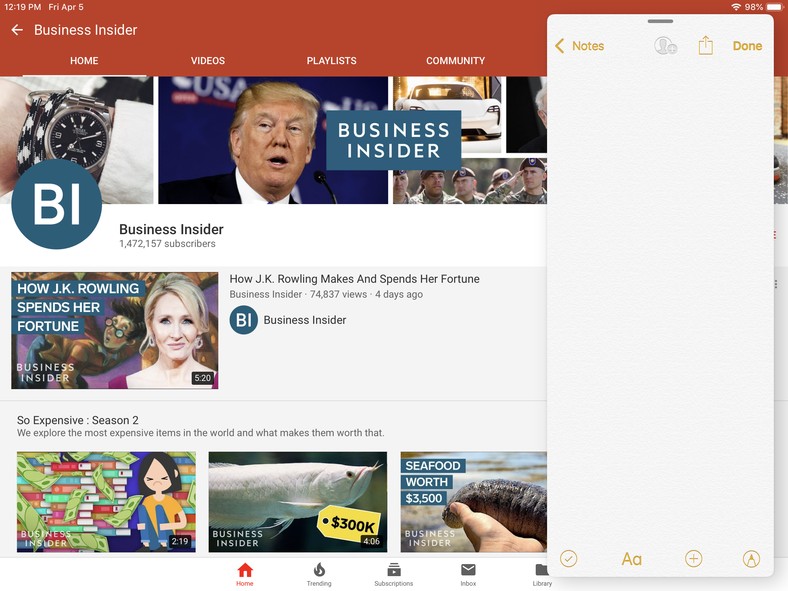 Apple's Slide Over feature, which allows you to pin an app to the side of your iPad's screen in a column view alongside another app, is getting a noteworthy update in iPadOS. When the update launches, you'll be able to open multiple apps in Slide Over simultaneously and cycle between them with a swipe.
The iPad is finally going to be compatible with thumb drives.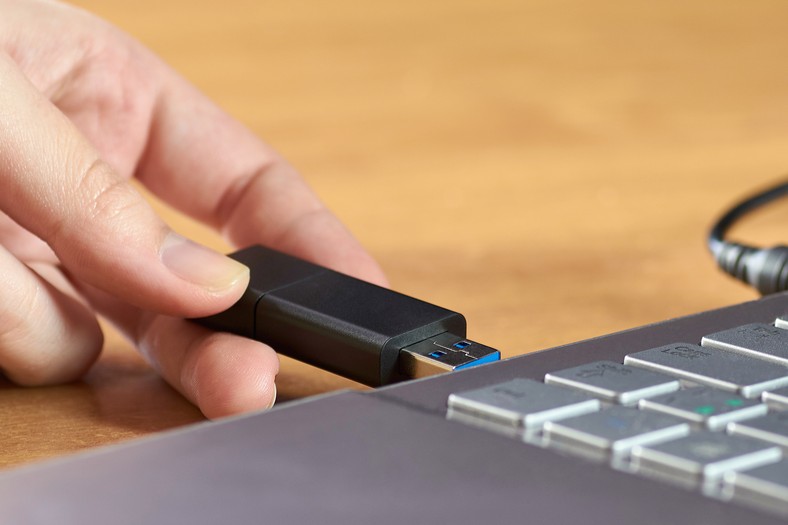 The iPad's inability to support external drives has always hampered its ability to serve as a work computer, but that's finally changing this year. The iPad will soon be compatible with external devices such as a USB drive, hard drive, and a microSD card, making it much easier to get content that isn't saved in the cloud onto your iPad. It's a feature that competing Windows tablets like Microsoft's Surface Pro have had for years.
The Files app is getting new views that make it easier to manage content.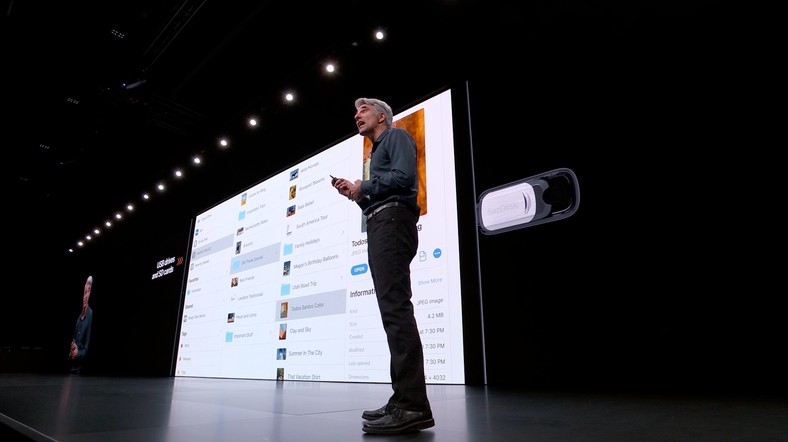 Apple launched the Files app for the iPad back in 2017, an addition that was necessary in order for the tablet to be taken seriously as a productivity machine. Now, with iPadOS, Apple is making the Files app even more robust and comprehensive with a new column view and other helpful features.
Based on Apple's presentation, it seems like the column view will make it much easier to find documents quickly without having to dig through your folders. You'll be able to view sub-folders in a column alongside your main folders, and a new preview pane lets you see images and other content without having to open it.
The Files app is also getting a new downloads folder for keeping your downloads from the Mail app and Safari all in one place.
You'll be able to view the progress of files downloaded in Safari.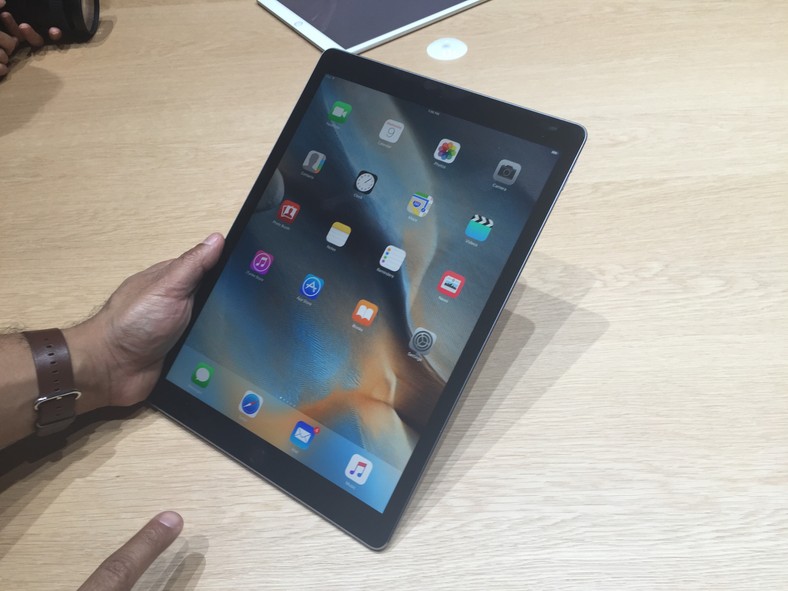 Apple's web browser will finally offer a means of easily managing downloads.
When iPadOS launches later this year, Safari will have a download manager that enables you to view download progress and quickly access recently downloaded files. That's a huge win for those who often use their iPad for work-oriented tasks and frequently download material from the web.
Safari will now show the desktop versions of a website on the iPad.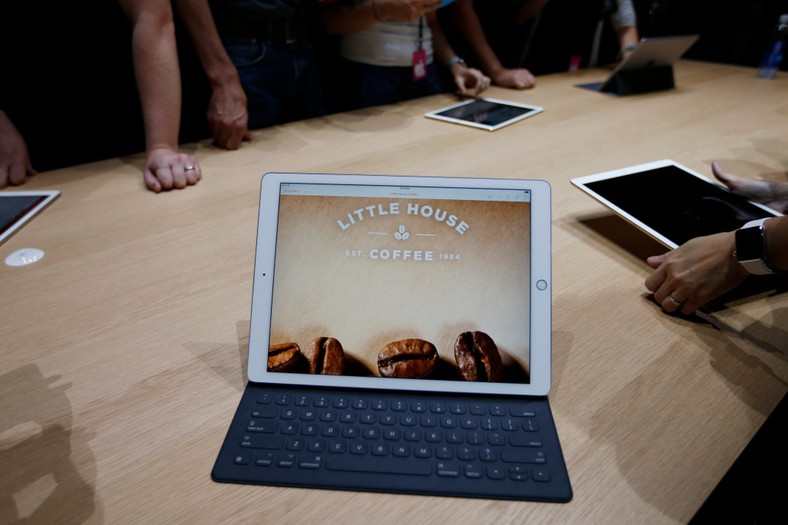 If you're going to use your iPad like a desktop computer, it should be better at behaving like one. That's presumably why Apple is adding the ability for Safari to automatically show the desktop version of websites on the iPad, making better use of its larger screen. Apple also says that despite being designed for the desktop, these websites will still be optimized for touch.
You'll be able to view the same app in different windows.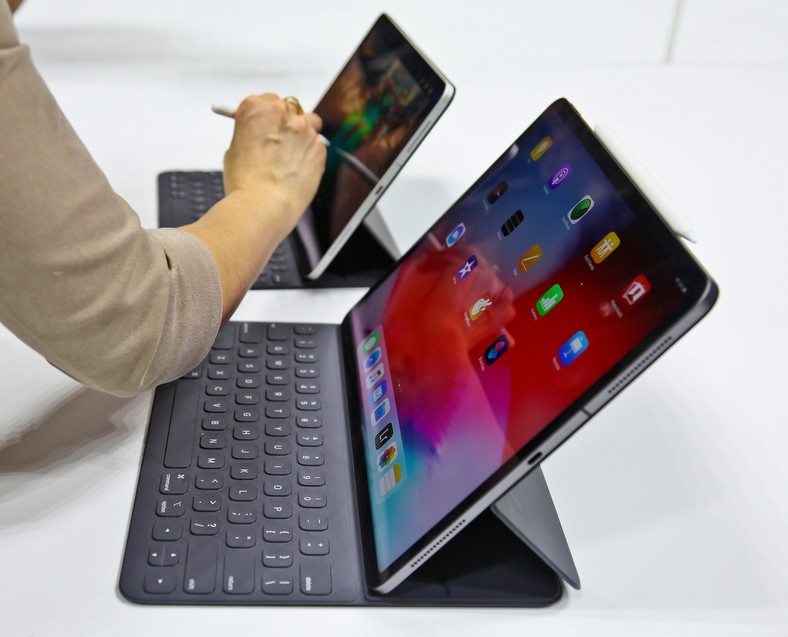 Apple's Split View feature for the iPad is limited in the sense that it's not possible to run the same app in multiple windows.
For example, if you want to open two documents in the Notes app side-by-side, or two tabs in Safari alongside one another, you're out of luck with Apple's current software.
But that's going to change soon enough, as iPadOS brings the ability to run multiple windows showing the same app. That should make it much easier to work on projects that require multitasking across several documents or websites.
You'll be able to navigate webpages and documents more precisely with a scroll bar.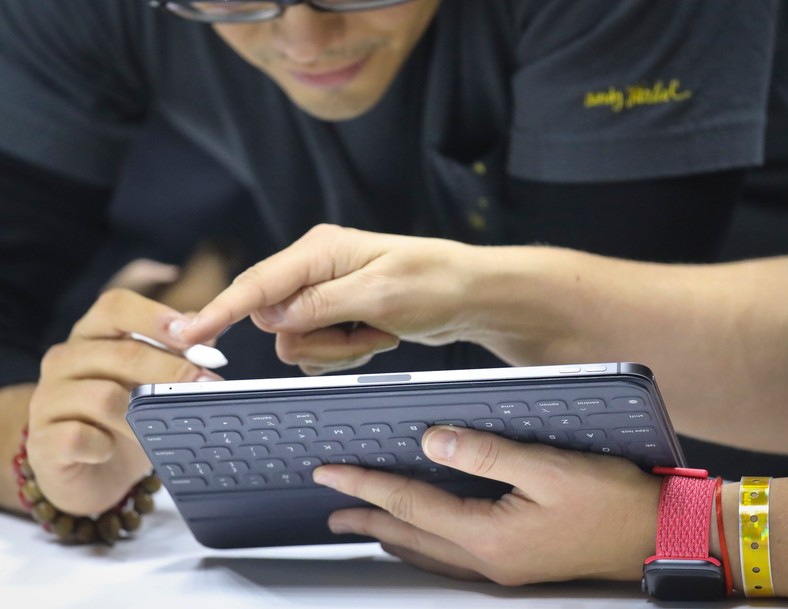 To make it easier to navigate through long documents, Apple is adding support for scroll bar scrubbing on the iPad. When iPadOS launches, you'll be able to drag the scroll bar to a designated area on a webpage or document, allowing for more precise scrolling just like on the desktop.
The iPad is getting new gestures for copy, paste, and other actions.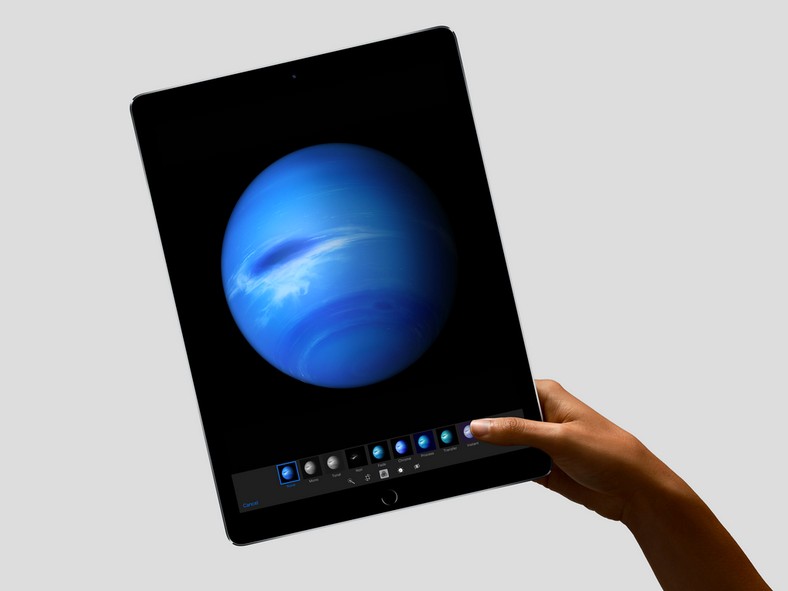 While mouse and touchpad is probably still the most natural form of input for work-related tasks, Apple is improving the way touch works on the iPad.
Consider the new copy and paste gestures in iPadOS, for example. You'll be able to copy text by pinching up from the screen with three fingers, while pinching outward with three fingers will paste the content in the location of your choosing. The gestures are meant to mimic the motion of picking something up and putting it back down, making it easy to remember.
Similarly, Apple is launching new gestures that make it possible to undo an action by swiping to the left with three fingers and redo by swiping to the right with three fingers.
The Apple Pencil is becoming more useful.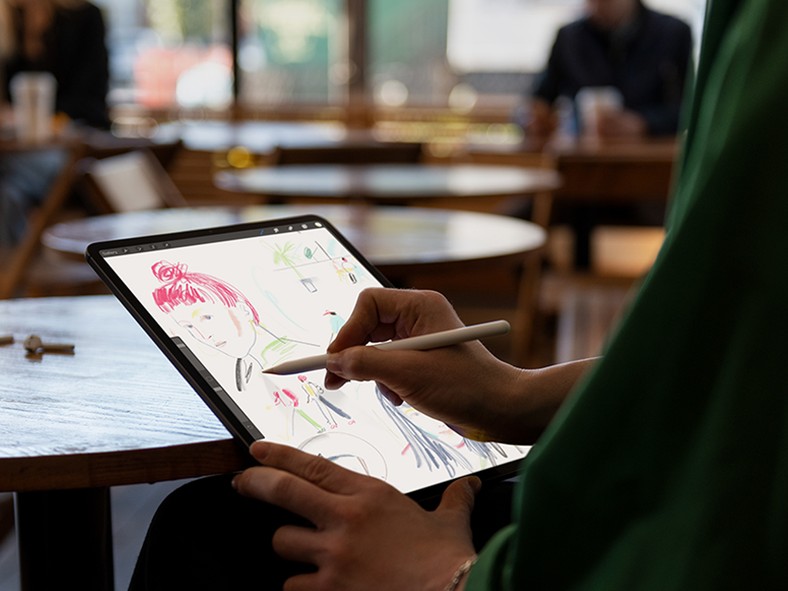 One advantage that Samsung's S Pen stylus has always had over the Apple Pencil is its ability to tie into Samsung's software to enable certain shortcuts and features.
With iPadOS, it looks like Apple Pencil owners will get a small taste of this type of functionality, too. You'll be able to take a screenshot in iPadOS by dragging the Apple Pencil from either bottom corner of the screen. While the Apple Pencil is still largely intended to be a tool for drawing, sketching, writing, and annotating rather than user interface shortcuts, it's refreshing to see another use case for Apple's stylus.
Other than the new screenshotting feature, the Apple Pencil will be capable of working at a lower latency thanks to Apple's improved prediction algorithms.
Source: https://www.pulse.ng/bi/tech/11-new-features-coming-to-your-ipad-that-will-make-it-much-better-at-replacing-your/8j70erf