Samsung confirms the Galaxy S10 5G release date is April 5
Samsung has confirmed the Galaxy S10 5G release date today. It was initially supposed to release the device by the end of this month. The release had to be delayed due to ongoing discussions between carrier partners and the South Korean government. The company today confirmed that it will release the first 5G-enabled device on April 5 in South Korea.
There will not be any pre-order program for the device, Yonhap News reports. The Galaxy S10 5G is also expected to release in the United States in April. It will initially be exclusive to Verizon in the country. The carrier has confirmed that its mobile 5G network will launch on April 11.
Samsung once again aims for the world's first title
After launching the world's first foldable smartphone, the Galaxy Fold, Samsung is now eyeing the title of putting the world's first 5G smartphone on the market. Verizon is gearing up for the launch of its mobile 5G service on Motorola's Moto Z3 in Chicago and Minneapolis on April 11. That device doesn't have an integrated 5G modem like the Galaxy S10 5G. Customers will be required to purchase the 5G Moto Mod if they want to use the phone on a 5G network.
Samsung will comfortably beat it to market when its 5G flagship launches on April 5. The device has already passed the signal verification test from South Korea's National Radio Research Agency. It was reported yesterday that the South Korean government was hastening the launch of 5G services in the country after Verizon announced the April 11 date. It really wants South Korea to be the first country in the world to have commercial mobile 5G.
Although Samsung hasn't yet revealed the pricing of the Galaxy S10 5G, industry watchers expect it to cost around 1.5 million won ($1,332) in South Korea. Launch offers include free Galaxy Buds and a wireless charger for the customers who register the phone from April 5-16. Samsung is also offering a 50% discount on one-time screen replacement with the validity of 1 year.
Cool new Gmail features launched
Back in 2004, email looked a lot different than it does today. Inboxes were overtaken by spam, and there was no easy way to search your inbox or file messages away. Plus, you had to constantly delete emails to stay under the storage limit.
On its 15th year anniversary, Google revealed that Gmail was made to address these problems, and it's grown into a product that 1.5 billion users rely on to get things done every day.
Describing what is next for Gmail, Tom Holman, Senior Product Manager, Gmail said the service that has been different from its launch will now become more assistive.
You may have already used Smart Compose, an AI-powered feature that helps you write emails quicker. It's already saved people from typing over 1 billion characters each week.
Holman said: "Today, we're updating Smart Compose to include more languages (Spanish, French, Italian and Portuguese) and bringing it to Android (previously, it was only available on Pixel 3 devices), with iOS coming soon."
Smart Compose is also getting, well, smarter. It will personalize suggestions for you, so if you prefer saying "Ahoy," or "Ello, mate" in your greetings, Smart Compose will suggest just that. It can also suggest a subject line based on the email you've written.
Next up, you can decide when your email gets delivered to someone else's inbox. A new feature has been added and it lets you schedule email to be sent at a more appropriate date or time, which is helpful if you're working across time zones, or want to avoid interrupting someone's vacation.
Lastly, you can now take action without leaving your inbox. You can respond to a comment thread in Google Docs, browse hotel recommendations and more, directly within emails. This way you don't have to open a new tab or app to get things done.
You can now enjoy Apple Music on your Chromebook
Apple Music's latest update on Android finally brings native Chromebook support for the first time.
The release also includes the same user interface changes that were rolled out on iOS last week. Subscribers can access a new Browse tab that designed to make music discovery even easier.
Apple Music has offered support for Android devices from the very beginning. But when it comes to ultra-affordable Chrome OS devices, access to the streaming service has been tricky.
You may have been able to enjoy Apple Music if your device has the ability to run Android apps. But even then, it could be complicated. That's no longer the case.
Apple Music plays nicely with Chrome OS
Apple Music is now natively supports Chrome OS. Simply download the latest release from the Play Store and you can start enjoying your favorite music on your Chromebook.
You will also see the revamped Browse tab on both Android and Chrome OS. It features more editorial highlights, "making it easier to discover new music, playlists, and more," Apple says.
Finally, this release brings various bug fixes that should make Apple Music more stable.
You can download the latest Apple Music update from the Play Store now. It's free, but you will need a subscription — priced at $9.99 a month.
Facebook Messenger finally adds quoted replies
Today Facebook Messenger has added a sorely missing feature – quoted replies. This allows you to reply to a specific message in a conversation, and is incredibly helpful when you're engaged in chats that have a big range of topics. Using the new feature, the people you're talking to will now know exactly what you were replying to with that "LOL", for example.
This has been a feature in WhatsApp, which is also owned by Facebook, for a very long time, and it's always been sort of a baffling omission in Messenger. So it's good to finally see it there too.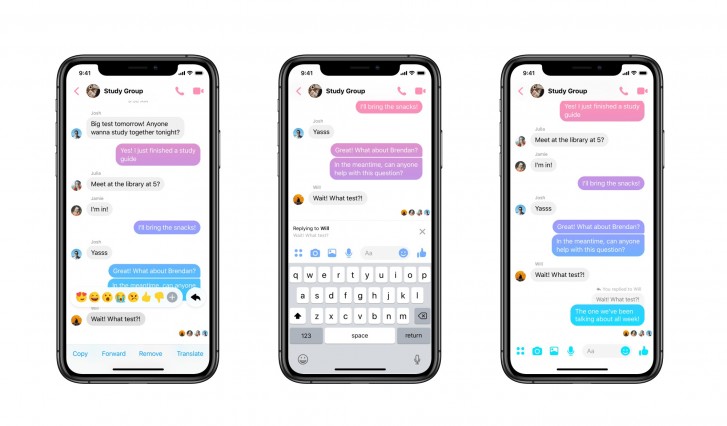 In order to quote a specific message, long tap on it and you'll see a new Reply button to the right of the reaction emojis. Tap that, write your reply, and, just like in WhatsApp, the message you're replying to will appear above your reply. Easy. This potentially means you'll have less misunderstandings with your friends as to which message was referencing what.
The feature is rolling out now on both iOS and Android.