Apple Iphones To Come With Reverse Wireless Charging Feature in 2019
New Iphone Feature Unveiled
The new 2019 apple iPhones due to be unveiled this fall is expected to come with reverse wireless charging feature.
With this feature, the new iPhones will be able to wirelessly charge other iPhones or the new AirPods with Wireless Charging Case, as well as any other Qi compatible device.
This was disclosed in a new report by Ming-Chi Kuo, a popular Apple analyst in a report sent out to investors on Tuesday.
According to Kuo, Compeq will supply the battery boards and STMicro will supply Apple with the two-way wireless charging controller. For this to work, the battery capacity and the battery boards for the 2019 iPhones are expected to increase in size.
The iPhone XS Max successor could have a 10 to 15% bigger battery, while the iPhone XS successor could grow by 20 to 25%. As for the iPhone XR successor, that should only see a gain of 0 to 5%.
Microsoft and Kano are launching a build-your-own Windows 10 PC kit
Kano, educational startup known for creating build-your-own computer kits for kids, has partnered with Microsoft to create a DIY touchscreen laptop that runs Windows 10 S, a lite version of the OS. Called Kano PC, the laptop closely mirrors the design of a Surface PC, with a 11.6" display that latches onto a keyboard case. Everything about the Kano PC, from the transparent backing that reveals the modular pieces of the computer, to the included apps that encourage tinkering with sound and touch, is designed "specifically for the 21st century classroom".
Kano's released DIY computer kits before, but they were powered by Raspberry Pi 3s and Kano's own OS. This time around, it can run full Windows 10 (albeit it in S Mode, which limits it to only runs apps from the Microsoft Store.) The touchscreen PC is powered by a 1.44 GHz Intel Atom x5-Z8350 quad-core processor, 4GB of RAM, and 64GB of storage that's upgradable with a microSD card. There's an HDMI port, a headphone jack, microphone, 2 USB ports, plus WiFi and Bluetooth.
Kids can learn to assemble their computer through instructions presented as a step-by-step storybook, and learn more from an app called "How Computers Work", which also teaches them to code and create emoji with binary code. An education edition of Minecraft will be included in the PC, along with other Microsoft apps like Paint 3D and Microsoft Teams bundled in.
Kano PC is available for preorder on Kano.me for $299.99 USD. It'll launch in the US, Canada, and the UK on October 21st.
Source: https://www.theverge.com/2019/6/19/18628321/microsoft-kano-pc-windows-10-diy-building-kit-kids
Huawei folding phone(Mate X) reappears to boast 5G speed
Since the start of problems Huawei with the United States, many users who have thought about the launch of Mate X. The Huawei phone with folding screen had planned to reach the market this June, and doubts about its release do not stop creating as the days pass. Where is Mate X?
First 5G tests with the Huawei Mate X
The latest clues come with official information, as the president of the Huawei smartphones branch has shared some images in which you can see some speed tests carried out with the famous phone with a folding screen. The images reveal that the maximum speed reached in the tests of Speedtest reached 1 gigabit per second, while the rise was at 100 megabytes per second.
This is undoubtedly excellent news for those interested in knowing about the first Huawei folding phone. We hope that the program runs its course and this same month when we see the phone for sale (even if only in China), although it is clear that the doubts will continue on which licenses will be affected when marketing it and, basically, what such will respond the screen to everyday use, something that as we could see did not sit well at the option of Samsung.
On the other hand, Gang assured that the speeds obtained in the laboratory tests reached the figure of 1.2 Gbps, so technically the phone is able to reach higher cruising speed, although we are very much afraid that in conditions normal the result will be similar to that of the video. At this point, there is no doubt that the 5G is tremendously fast, right?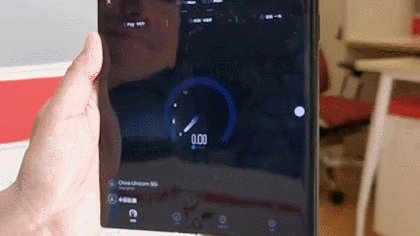 The mobile download speed can surpass 1 Gbps using the #5G network, He Gang, head of Huawei's smartphone unit proved in a vlog with Huawei's foldable Mate X handset on Tuesday.
Huawei mate x 5g testing using a customized Android version?
Taking a deeper look at the video, we can see how this unit of Mate X has a home screen where no icon of any application belonging to Google appears . It is something that could simply be a measure not to promote the company that has left out, a simple custom configuration or something even more complex, are we facing a version of Android customized by Huawei ?
This last option is the most rocambolesque, but there is another detail that is equally suspect: why is a virtual start button placed on the screen? Until now, the device had been showing the lower status bar with the classic buttons of Android, and in the case of not showing it, an upward gesture would be enough for it to reappear. As we said, these are suspicious details that generate enough doubts about the version of the operating system that is running the device, but for now, we will turn a blind eye and focus only on the results of the 5G tests.
Source: https://heraldpublicist.com/huawei-folding-phonemate-x-reappears-to-boast-5g-speed45678/
Huawei EMUI 9 with Android 9 Pie rolls out to Huawei P10, Mate9
There's a lot of uncertainty swirling around Huawei at the moment and it goes beyond whether it'll be able to make new phones in the future. Even now, owners of its existing phones are worried about the company's capabilities to continue supporting existing phones. As if to reassure its customers, Huawei is now boasting how its EMUI 9 Android Pie experience is now on more than 80 million devices. What's more, it'll be rolling out to the Huawei P10 and even the Huawei Mate 9.
We'll spare you from having to perform manufacturers' odd math. Both running on the HiSilicon Kirin 960 chip, the Huawei P10 launched in early 2017 and the Mate 9 launched even further back in late 2016. By usual market standards, the phones are quite old. By usual OEM practices, they wouldn't even be getting any updates at all.
And yet Huawei is boasting how it's making EMUo 9 available to these two phones, giving them Android 9 Pie when some of their contemporaries have yet to receive it, if at all. So far, the update has only been made available to a few phone series, starting with the Mate 10 and P20, the Mate RS, and the Nova 3.
The announcement is also a show of power and force. Huawei boasts EMUI 9 will be reaching more than 100 million devices by the end of the month, revealing how many of its phones there are in the wild, not counting Honor devices. It is also trying to prove that, contrary to public perception, it can push out massive updates of its own.
Some might also see it as Huawei's parting gift and haste. By making sure its older phones are running on the latest Android version, it gives itself more time to polish its "ArkOS" replacement. And by rushing to push the update before the month ends, it gives itself enough time to make those massive changes before the 90-day reprieve is up.
Source: https://www.slashgear.com/huawei-emui-9-with-android-9-pie-rolls-out-to-huawei-p10-mate9-05579418/