One of the world's most important programmers, Linus Torvalds, says Twitter, Facebook, and Instagram are 'a disease'
Linus Torvalds, who created the Linux operating system that secretly runs the internet, said he detests social media, including the platforms Twitter, Facebook, and Instagram.
In a recent interview, he called these social-media sites "a disease."
That's strong condemnation from a guy who is well-known for "not polite" behavior on public email lists.
It shows just how little respect social media gets these days.
Linus Torvalds, the creator of the Linux operating system that secretly runs the internet and is the basis for Android, was recently asked what he would change about the tech world that his technology helped create, if he could.
His answer: social media.
"I absolutely detest modern 'social media' — Twitter, Facebook, Instagram. It's a disease. It seems to encourage bad behavior," Torvaldstold the Linux Journal's Robert Young.
This is interesting criticism from a man who has often been accused of being uncivil to other programmers on Linux email lists. Torvalds is known as a brilliant, funny, and speaks-his-mind kind of guy who is generally fair-minded but doesn't tolerate fools.
That personality means he's publicly dressed down people whose work, or motivations, fell short of his standards. Years ago, he defended his behavior when a developer from the chipmaker Intel publicly called him out for it and told him to knock it off because it was not only unprofessional but was also driving away newbies and others who wanted to contribute to Linux. He shrugged off the criticism by responding, "People are different. I'm not polite, and I get upset easily but generally don't hold a grudge — I have these explosive emails."
Since then, the open-source world has started to confront how much bad behavior goes on its world with various communities and has adopted codes of conduct. In 2018, the main Linux community adopted a code of conduct, too. And along with that, Torvalds finally said his behavior needed changing. He took time off to "get some assistance on how to understand people's emotions and respond appropriately," he said.
So Torvalds calling out social media for encouraging bad behavior is ironic. To be fair, as one of the most famous programmers, he's been the target of his fair share of online abuse, too. In 2015, he made a cheesy, funny video in which he read aloud nasty tweets about himself.
'If you cannot prove your identity, your crazy rant on some social-media platform shouldn't be visible'
Torvalds told Linux Journal that the internet eliminates all the social cues that are usually part of communications, so "nobody can hear you being subtle."
"It's easy to miss humor and sarcasm, but it's also very easy to overlook the reaction of the recipient, so you get things like flame wars, etc., that might not happen as easily with face-to-face interaction," he said.
Torvalds said the same issues can crop up with email, too, but he believes email is more necessary and often communicating real information, which is not always so with social media.
"The whole 'liking' and 'sharing' model is just garbage. There is no effort and no quality control. In fact, it's all geared to the reverse of quality control, with lowest common denominator targets, and click-bait, and things designed to generate an emotional response, often one of moral outrage," he said.
On top of all that, when you add in anonymity, "it's just disgusting," he said.
"Some people confuse privacy and anonymity and think they go hand in hand, and that protecting privacy means that you need to protect anonymity. I think that's wrong. Anonymity is important if you're a whistle-blower, but if you cannot prove your identity, your crazy rant on some social-media platform shouldn't be visible, and you shouldn't be able to share it or like it," he said.
Consequently, Torvalds is not on any social media today, although he briefly used Google Plus for a while, feeling like Google's unsuccessful attempt at social media was "less mindless" than the others. (Google announced it was shutting down Google Plus in December and began deleting accounts on Tuesday.)
Torvalds didn't get into whether or not governments should step in and start regulating internet companies, perhaps making them more responsible for the content they promote (if not host). Still, having Torvalds give the social-media world a "thumbs down" isn't a good sign for internet companies trying to convince the world that they are the good guys.
Russian Gamer Brothers Are the Newest Hidden Billionaires
Russian-born Igor and Dmitry Bukhman are seeking growth to challenge Tencent and Activision.

Almost two decades ago, in a remote Russian city best known for its butter and linen, two brothers shared a bedroom and a Pentium 100-powered computer they used to code their first game.
Wall Street wants a piece of what they've built since.
Playrix has met with some of the biggest banks "and visited their skyscrapers," said Dmitry Bukhman, 34, citing meetings with dealmakers at Goldman Sachs Group Inc. and Bank of America Corp. For now, though, "we are focused on growing the business."
He and Igor Bukhman, 37, are the brains behind Playrix Holding Ltd., the creator of popular games similar to Candy Crush, including Fishdom and Gardenscapes, with more than 30 million daily users from China to the U.S. and annual sales of $1.2 billion, according to Newzoo. That makes the company one of the top 10 iOS and Google Play app developers by revenue, data from researcher AppAnnie show, putting Playrix in the same league as Tencent Holdings Ltd., NetEase Inc. and Activision Blizzard Inc.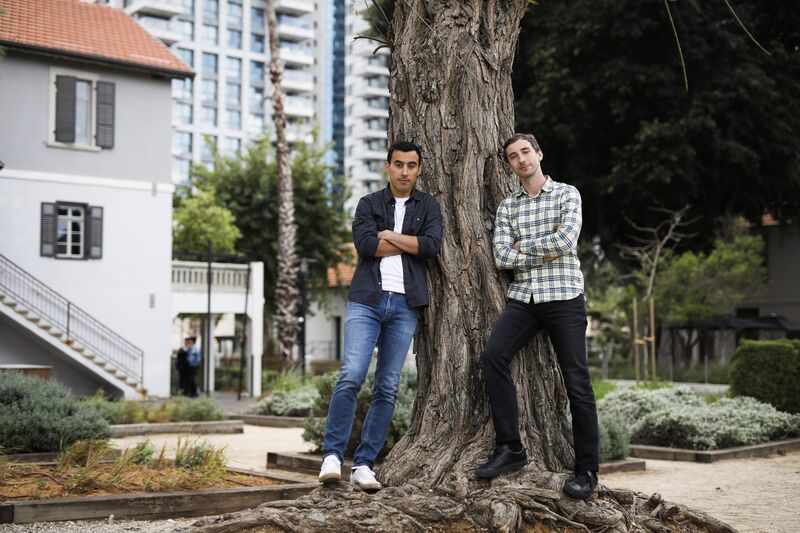 Today, each brother is worth about $1.4 billion, according to the Bloomberg Billionaires Index. They haven't previously appeared in a global wealth ranking.
Their road to riches started in 2001 in the city of Vologda, almost 300 miles (483 kilometers) north of Moscow, where Igor learned from a university professor that he could sell software online. He decided to try with Dmitry, who was still in high school at the time.
"We had no experience, no business understanding whatsoever—everything we could imagine was writing games," Igor said.
The U.S. is Playrix's biggest market, followed by China and Japan, the brothers said in a recent interview in Tel Aviv, where they spend some of their time. The two remotely manage about 1,100 employees, including personnel at its Ireland headquarters and developers in Russia, Ukraine and Belarus.
"For $3 billion we won't sell"
The brothers' first product was a game akin to Xonix in which players must use a cursor to open pieces of a hidden picture before being struck by flying balls. They wrote it during a summer break and generated $60 in the first month and later $100 a month, about half of the average salary in Vologda.
"We thought, 'If one game makes $100, we can write several dozen of them and make a lot of money,"' Igor said.
Their second game, featuring an animated character designed by an outsourced artist, brought in $200 a month. Their copycat of Tetris brought in $700 a month, but the brothers shut that down after learning that the game was protected by a license. In 2004, when the business reached $10,000 of monthly revenue, they registered a legal entity, rented space for an office in the basement of a book warehouse and hired other staff to accelerate production.
In the early years, they sold casual games through sites such as majorgeeks.com or download.com, before moving to bigger platforms like Yahoo! and AOL. Then, within the past decade, games started moving first to Facebook and then smartphones. Many of them were available for free, with users paying only for certain in-game features.
Playrix makes most of its money from in-app purchases and the brothers mostly shun advertising, which detracts from the user experience. Ads generate less than 3 percent of revenue, Dmitry said.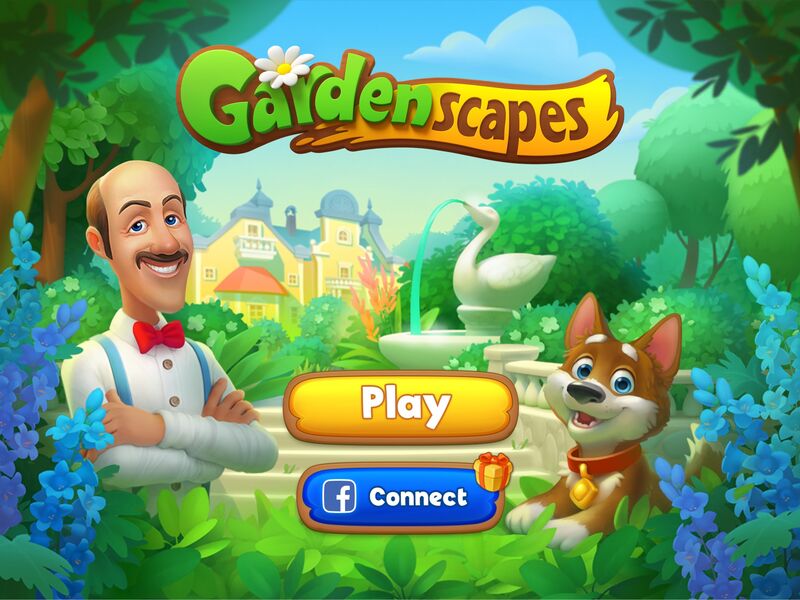 "It was a major challenge for us to switch to developing free-to-play games—that's totally different DNA," Dmitry said. "Free-to-play games aren't games that you develop, release and move on to making another one. They are services that need to be supported constantly as users are waiting for regular updates."
Playrix succeeded in this transition, achieving worldwide recognition over the past three years with Gardenscapes and its sequel, Homescapes, a new variety of match-3 puzzle in which a player completes rows of at least three elements to pass levels and progress through an animated storyline—in this case, helping a butler named Austin renovate a house with a garden.
"Austin engages in dialog with you, you help him to select ways to decorate the mansion, you dive into the history of this character and become related with him," Dmitry said. "This genre variety we introduced—match-3 with meta game—became very successful, and other companies started copying us."
"Playrix is certainly responsible for the first major innovation in the match-3 genre since King Digital Entertainment Plc seemingly had the market locked down with Candy Crush," said Newzoo analyst Tom Wijman. "Playrix managed to add a layer of complexity and 'meta game' to the match-3 genre without driving away casual mobile players."
The company employs several full-time script writers who work on Austin's dialog, and it's always improving the games, Dmitry said.
"It's like apps, like Spotify—people can use them for years," he said. "More and more people are getting accustomed that it's perfectly normal. Why not pay $5 to get pleasure from playing a game on a smartphone rather than watching videos or listening to music?"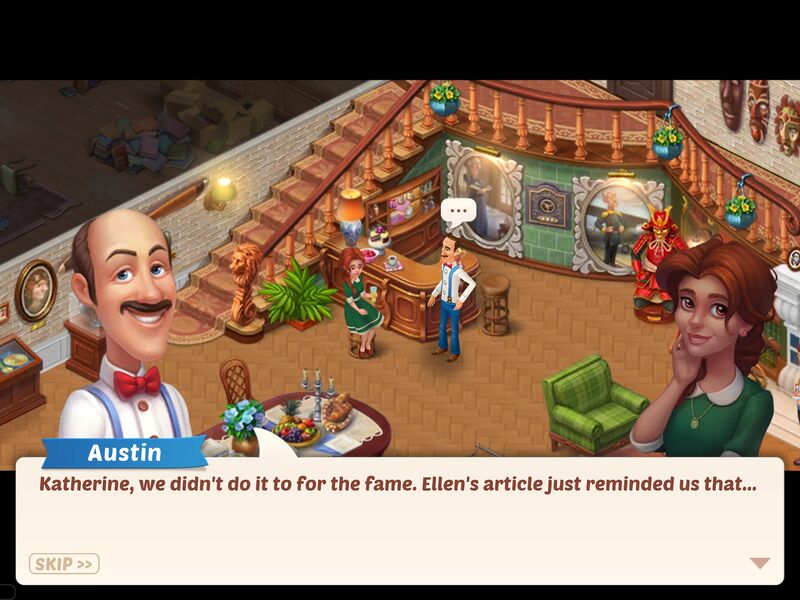 While Playrix hasn't introduced a new title since 2017, the company recently acquired several gaming studios to expand into new genres, Igor said, declining to disclose which studios until it releases games developed by them later this year.
Successful titles attract whales. Activision Blizzard acquired King Digital in 2015 for $5.9 billion, and a year later Tencent led investors in an $8.6 billion deal to acquire a majority stake in "Clash of Clans" maker Supercell Oy.
Could Playrix be next? In February, the Information reported that it could be sold for $3 billion, citing Chinese firms iDreamSky Technology Holdings and FunPlus Game Co. as potential suitors.
The brothers dismissed the report.
"For $3 billion we won't sell," Dmitry said with a smile, while acknowledging that Playrix had been discussing strategic options as recently as last year, noting its meetings with Wall Street banks.
Their goal, for now, is to become a "top-tier gaming company," that rivals Activision Blizzard and Electronic Arts in the West, and NetEase Inc. and Tencent in China, Igor said.
"We want to grow as big as they are, using developer talent from our region—the former USSR and Eastern Europe," he said.
There's no magic number that would compel the Bukhmans to sell the company, because they say money is secondary to doing what they love.
"Some may think that when you have a lot of money, everything becomes different and more interesting, you start doing different things," Dmitry said. "But no. We just keep working."
HOW APPLE MAKES BILLIONS OF DOLLARS SELLING SERVICES
Apple's focus is shifting. In recent years, iPhone sales have begun to plateau, and now Apple's services business — which encompasses everything from the App Store to licensing deals — is being positioned as its next big frontier for revenue growth. More than ever, Apple wants to sell people constant, ongoing subscriptions for things they can do on their phones.
That new direction is going to be thrust into the spotlight next week at Apple's "It's Show Time" event, where the company is expected to unveil two big new subscription services: a TV service for original shows and movies, and an Apple News service that will bundle together premium news sources and magazines.
Apple's services business brought in over $10.9 billion during the most recent quarter, setting records in "every geographic segment" in the process, according to Apple CEO Tim Cook. Cook also said that Apple is on track to double its services business from 2016 to 2020. Last quarter saw a 19 percent increase year over year.
It's a substantial figure compared to Apple's other business segments: services already brings in more per quarter than the Mac ($7.4 billion last quarter), iPad ($6.7 billion), or the collected "Wearables, Home, and Accessories" group of products ($7.3 billion). And that balance will likely only continue to shift as Apple starts to push services harder and introduces new services to which people can subscribe.
So what's already bringing in all that services revenue, and how healthy are those businesses? Apple doesn't break down how much money individual services make, so there's a large extent to which we just can't say. But we do know what businesses the segment is composed of, how much they charge, and whether they're any good. With the services business entering a new era, here's an overview of where it stands today.
APPLE MUSIC
Apple Music is arguably the highest-profile entry in Apple's new services business, due to it being one of the most modern (it launched in 2015, after Apple bought and rebranded Beats Music) and one of the most interesting (sorry, extended warranty programs).
The music subscription service had 56 million customers as of December 2018, according to the Financial Times. For comparison, Spotify had 96 million paid customers as of February 2019.
It's unclear how many of Apple Music's customers are actively paying. The company offers free trials, and its service also comes bundled with some Verizon wireless plans.
Assuming all customers are paying $10 per month (with family plans, annual discounts, bundles, and student deals, they're not, but this is ballpark numbers here), that puts Apple Music at a high-ball estimate of $6.7 billion per year brought in.
Cost: $10 per month ($5 per month for student plans, $15 per month for family plans)
How Apple makes money: Subscription fees, carrier partnerships.
APP STORE / MAC APP STORE
Probably one of the biggest contributors to Apple's revenue is the massively popular App Store, which was estimated as of May 2018 to have seen upward of 170 billion downloads in its 10-year history.
Most of those aren't straight-up paid purchases — a massive percentage of the App Store's revenue comes from in-app purchases in free-to-play games like Fortniteand Candy Crush and subscription apps like Netflix, Tinder, and YouTube. According to App Annie's latest estimates, every single one of the 50 top grossing apps on the platform is either a major service that relies on subscription fees or a free-to-play game. Even the most popular paid apps like Minecraft or Facetune just don't make the same kind of money as free apps that rely on in-app purchases, even with in-app purchases to help bolster their numbers. And Apple takes a cut of each of those in-app purchases and subscriptions.
Those "free" apps have resulted in some pretty big sales: as of June 2018, Apple had paid out $100 billion to developers from the App Store. If you work off of Apple's 70 / 30 revenue split (which is usually, but not always, the cut it takes from purchases), you get total sales of roughly $142 billion, with $42 billion of that going to Apple in the decade it's been running the App Store.
That said, Apple has recently come under fire for the App Store model in the past few months: the Supreme Count is hearing an iOS App Store antitrust lawsuit that alleges Apple has an unfair monopoly on iPhone apps. And Spotify has filed another antitrust complaintover Apple's 30 percent cut with the European Union, complaining that it gives Apple an unfair advantage when promoting its own streaming service, Apple Music.
Cost: Depends on content purchased.
How Apple makes money: in-app purchases in games, app sales, app subscriptions.
ICLOUD
Theoretically, every single Apple customer who owns an iPhone, iPad, or Mac is an iCloud user, because Apple gives a paltry 5GB of storage to all customers for free. But for revenue, the important part here is the paid plans, which give users additional storage for a monthly cost.
iCloud may not have the same brand recognition as Dropbox or Google Drive when it comes to storing and sharing files, but it does have some big advantages in getting users to subscribe: it's the only way to back up iPhones and iPads to the internet. And that storage pool counts toward nearly everything on your phone. Take too many pictures, for example, and your phone stops backing up, which creates a real incentive to shell out for more than the scant 5GB Apple gives for free.
Apple seems to know that, too: the cheapest iCloud plan is just 99 cents per month for 50GB of storage, making it an easy sell to users, but that $12 per customer per year starts to add up across the billion-plus iOS devices out in the world, even if only a fraction of them subscribe. A 2016 interview with Apple SVP Eddy Cue revealed that at the time, there were 782 million iCloud users, but Cue's comments referred to all users — Apple has never broken out how many paid subscribers it has.
Cost: $0.99 per month (50GB), $2.99 per month (200GB), $9.99 per month (2TB). The 200GB and 2TB plans can be shared as a family plan.
How Apple makes money: subscription fees.
ITUNES / APPLE BOOKS
The iTunes store isn't the juggernaut it once was — with streaming services like Spotify, Apple Music, Netflix, and Hulu, people just tend to buy fewer songs, TV shows, and movies nowadays. But it still does bring in money: it's a one-stop-shop for a huge range of content, and like all of Apple's other services, it's front and center on all its devices. Want to rent a movie on your Apple TV for a movie night? iTunes is right there, ready and waiting. And with Apple expanding iTunes to other devices, like Samsung smart TVs, it seems like iTunes is still a big part of Apple's revenue strategy going forward.
Also included here is Apple Books, which is basically iTunes, but for books. Apple Books has the issue of Amazon and its massive Kindle library as competition, which Apple infamously tried to solve in a price fixing scandal that cost the company $450 million. Even so, it's still one of the biggest ebook stores around, and is another easy source of service revenue.
Lastly, iTunes also includes Apple's less popular iTunes Match subscription service, which costs $25 per year and syncs users' iTunes music across their devices, sort of like a private cloud music service where you have to buy all the music.
Cost: Depends on content purchased; $24.99 per year for iTunes Match (iTunes Match is included with Apple Music).
How Apple makes money: Purchased content, subscription fees.
APPLE PAY
Apple Pay is Apple's overarching payments system — it includes using Apple Pay to make purchases on websites and inside apps, conducting contactless payments at retail stores, and sending money using Apple Pay Cash (Apple's Venmo-style person-to-person payment system).
Apple says it doesn't charge "users, merchants, or developers" to use Apple Pay, but reports indicate that it still receives a small fee from each transaction. That cut appears to come from the bank that issued the card with which Apple Pay is being used. Reports from 2014, when Apple Pay launched, said the fee for US banks was 0.15 percent, or 15 cents on every $100 spent.
Last quarter, Apple said there were 1.8 billion Apple Pay transactions, more than twice as many as the same quarter a year earlier. We don't know how much those transactions are worth, and it's likely that the vast majority of them happened outside the US, in countries where mobile payments are more popular. But that's still a large volume of transactions where Apple takes a cut.
Apple also makes money off of Apple Pay Cash. The service is free to use when sending money with a debit card, but it charges a 3 percent fee for any funds sent using a credit card.
Cost: Three percent of any funds sent using Apple Pay Cash tied to a credit card.
How Apple makes money: Transaction fees from users, banks.
APPLECARE
AppleCare+ is Apple's extended warranty service: it lets customers get longer and more comprehensive warranties for their Apple products, usually with things like discounted screen or device replacements, depending on the device.
AppleCare+ is also included as part of the monthly cost of Apple's iPhone Upgrade Program. Like many of the other Apple services, the company hasn't said how many users opt to buy the extended warranty.
Cost: Depends on product, ranges from $129 to $199 for iPhones, $249 to $369 for MacBook laptops, and $99 to $249 for iMac and Mac desktops.
How Apple makes money: Warranty fees.
LICENSING
This isn't quite a consumer-facing service like everything else on this list, but it's a big business. Apple sells licenses to companies to get their services built into iOS, like how Google is the default search engine or The Weather Channel provides weather data. That kind of front row real estate on all of Apple's devices is worth a lot, and it provides a big chunk of Apple's services revenue.
Licensing agreements are a particularly opaque area of Apple's business. The last clear numbers we have are from 2014, when court documents revealed that Google paid Apple $1 billion to stay the default search bar on iOS as part of the company's revenue sharing agreement. But recent estimates from analysts have put Apple's fee at roughly $9 billion — a number that, if true, would make it one of the biggest parts of Apple's entire service group all on its own.
Cost: Nothing, unless you prefer Bing for search.
How Apple makes money: Licensing payments from companies like Google to be featured on Apple products.
MAPS, SIRI, FREE ICLOUD
This is where things get weird: As of its most recent quarter, Apple now takes part of the sale price of every iPhone, iPad, and Mac and converts it into money for services, which it then spreads out across multiple quarters. Basically, Apple counts "free" services like Maps, Siri, and parts of iCloud (like iMessage), and considers them to be built into the cost of its devices.
It's a meaningful shift, too: when Apple started factoring in payments for these free services, its total service revenue for Q1 2018 jumped 7.7 percent, from the originally reported $8.47 billion to $9.13 billion.
Cost: Free? But also you're technically paying for it when you buy your iPhone.
How Apple makes money: Hardware purchases.
Correction: Only Samsung smart TVs will have the iTunes app, not LG TVs (although those will have AirPlay 2 and HomeKit).
The best Android smartphones you can buy right now (Spring 2019)
The wide range of Android phones on the market is one of the platform's greatest strengths – there's something for everyone. However, with all the choices available, trying to find the best smartphone an be like looking for a needle in a haystack. To help you out, we've compiled a short list of the best Android phones you can buy, from low-end budget devices to premium flagships.
Samsung Galaxy S10/10+
Samsung just released its two premium phones for 2019, the Galaxy S10 and S10+. They're the most expensive Galaxy S phones yet, with the S10 starting at $900 and the S10+ starting at $1,000, but they also offer just about every smartphone feature imaginable. Both models have a high-end Snapdragon 855 processor (some international models use an Exynos chip), 8GB RAM, Samsung Pay, Android 9 Pie, wireless charging, fantastic AMOLED screens, waterproof designs. Both phones also sport a headphone jack — you can't take that for granted anymore.
The main difference between the two models is the screen size. The smaller S10 has a 6.1-inch display, while the larger S10+ has a 6.4-inch screen. The S10+ also has slightly better hardware, including a larger battery (3,400mAh vs 4,100mAh), and an extra rear camera. Some models of the S10+ have 12GB RAM and 512GB of internal storage.
In our review of the Galaxy S10+, David wrote, "this is the very best smartphone you can buy right now, and I hope Google – and everyone else – is paying attention. Sure, Samsung has some things it needs to fix, but when you've just taken a big step out in front of everybody else, you can afford a few mistakes – and I have a suspicion Samsung won't be the only one to make them in 2019, let alone with a phone that has such strong fundamentals to fall back on."
The only major downside to Samsung's phones is that you'll be waiting a long time for major Android updates. Android 9 Pie didn't start rolling out to the US Galaxy S9/S9+ until around six months after release, and the S8 with Android Oreo followed a similar pattern. Granted, Samsung's flavor of Android has dozens of features not found in the stock version.
The carrier-unlocked Galaxy S10 base model currently goes for around $900, and the base model S10+ is around $1000. The unlocked phones will work on both GSM (AT&T, T-Mobile, etc.) and CDMA (Verizon, Sprint, etc.) networks.
Nokia 6.1
If you're looking for a good mid-range phone, the Nokia 6.1 is probably the way to go. This is one of many Nokia-branded Android phones released by HMD Global, and this particular model came out in the United States a little under a year ago. It's due for a refresh soon, but that doesn't mean it's a bad choice.
For just $270, you get a 5.5-inch 1080p IPS screen, Android 8.1 Oreo (with a Pie update on the way), a Snapdragon 630 processor with 3GB RAM, 32GB of internal storage, a microSD card slot, and a headphone jack. Again, you can't take headphone jacks for granted these days.
The main competition in this segment is the Moto G7, which has slightly better specifications and support for more carriers. However, the G7 also has a slippery glass design, and will undoubtedly receive system updates (including security patches) at a slower rate. The Nokia 6.1 shipped with Android 8.1 Oreo, and it received Android 9 Pie in October of last year.
In our review, Jordan wrote, "The Nokia 6.1 gets a lot of things right. Not only are its specifications top-notch for the price point, but it's also an Android One device, which really helps to mitigate the update anxiety present in most budget phones (even Motorola's, sadly). It's well-built and gorgeous, too, sporting a very attractive industrial design with just the right amount of flair to make it unique."
The only major downside to the Nokia 6.1, at least in the United States, is the carrier support. It only works on GSM networks like AT&T and T-Mobile, so CDMA networks like Verizon and Sprint are out of the question.
Google Pixel 3/3 XL
After months of rumors, speculation, and a healthy dose of leaks, Google's 2018 flagships are finally out. Both phones have a clean build of Android, excellent cameras, and decent specifications. Unfortunately, they're pricer this year — the small Pixel 3 starts at $799, and the base 3 XL is $899.
Both phones have a Snapdragon 845 processor, 4GB RAM, a 12.2MP rear-facing camera, and dual 8MP front-facing cameras (one normal, one wide-angle). The Pixel XL has a 6.3-inch 2960×1440 screen, while the smaller Pixel is equipped with a 5.5-inch 2160×1080 display. The larger model has a 3,450mAh battery, and the smaller version has a 2,915mAh battery. Both phones work on both GSM and CDMA carriers.
In our review, Ryan wrote, "the build quality of these devices seems excellent with glass bodies that don't immediately become a greasy mess. Performance is solid with smooth, fluid animations and efficient use of memory. Yes, you only have 4GB of RAM, but that hasn't slowed me down. What some OEMs accomplish with brute force, Google accomplishes with finesse. The value of consistent monthly software updates cannot be overstated, either."
Samsung Galaxy S10e
Samsung took a page out of Apple's book this year, and introduced a cheaper flagship phone — the Galaxy S10e. It has most of the same functionality as Samsung's $900+ phones, including a Snapdragon 855 processor, a 12MP wide-angle camera, a 16MP ultra wide angle camera, IP68 water resistance, a headphone jack, and Samsung Pay.
There are some downgrades compared to the base Galaxy S10, but most people either won't notice them or won't care. The S10e uses a lower-resolution 2280×1080 screen, but it's still a gorgeous AMOLED panel with HDR support. There's also not a telephoto lens, and the S10e is physically smaller (with a 5.7-inch screen). A side fingerprint sensor is present, instead of the in-screen sensors on the S10/S10+, but it's much faster than the sensors on those phones.
In our review, David wrote, "The Galaxy S10e is probably the best Android phone for most people right now, and may well hold that title for the whole of 2019 at this rate. Given discounts are eventually likely, I'd say this phone will become a no-brainer the moment it drops to $650 or lower – I just can't see anyone matching the price to experience ratio on this phone, unless a big screen and huge battery are very important to you."
The Galaxy S10e will work on all major carriers worldwide. It's available in five colors: Canary Yellow (pictured above), Prism White, Prism Black, Prism Green, Prism Blue. The models linked below are carrier-unlocked.
OnePlus 6T
OnePlus phones aren't the fantastic value they once were, but they're still very good devices in their own right. For just $549, you get a Snapdragon 845 processor with 6GB RAM, 128GB of storage, a large 6.4-inch 1080p screen, and incredibly fast charging. If that's not enough for you, there are two additional options — 8GB RAM/128GB storage for $579, and 8GB RAM/256GB storage for $629.
The hardware is great on its own, but OnePlus phones are perhaps best-known for their software. The company's custom flavor of Android, OxygenOS, has plenty of added features but is still extremely fast. The OnePlus 6T ships with Android 9 Pie, making it one of the few phones available with that version.
OnePlus phones always have a few tradeoffs, and the 6T is no different. The headphone jack is gone, and there's no official IP rating for water resistance. Carrier compatibility might also be an issue for Sprint customers, but it works on Verizon (LTE only) and all GSM networks.
In our review, Ryne wrote, "OnePlus fans with devices older than, say, the OnePlus 5 might consider the new phone a worthy upgrade — though even older models like the OnePlus 3 are still great phones in 2018, and expected to see an update to Android 9 Pie. Other Android enthusiasts that were put off by the Pixel 3's slightly ridiculous pricing and laundry list of issues might be pleased with the 6T since it's both cheaper and free of all those various problems, even if you miss out on the Pixel's (many) benefits."
Nokia 3.1
If your budget is extremely tight, and buying a used device is out of the question, the Nokia 3.1 might be for you. It's one of the least-expensive phones that Nokia produces, at just $160, but it still has all the hallmarks of the company's phones – good build quality, stock Android, and up-to-date software.
The Nokia 3.1 has average specifications for a budget phone, including a MediaTek 6750 processor with 2GB RAM, a 5.2-inch 720p screen, 16GB of internal storage (with a microSD card slot), and a 2,990mAh battery. There's a model with 3GB RAM and 32GB of storage, but it's not available in the United States.
Since this is a lower-end device, Nokia had to cut corners somewhere. There's no fingerprint sensor, the camera is mediocre, and it won't work on CDMA networks (like Verizon and Sprint). Still, if you're on a compatible carrier, the Nokia 3.1 is a solid phone for the price. You can see our full review here.
Huawei Mate 20
If you're outside the United States, there's another smartphone worth your attention — the Huawei Mate 20. It's a high-end flagship device, with a Kirin 980 processor, 4-6GB RAM, 128GB of internal storage, a 4,000mAh battery, three rear cameras, and even a headphone jack. The phone also has a gorgeous design, with two-tone colors and minimal bezels.
Like all of Huawei's phones, the Mate 20 uses the custom 'EMUI' skin. It makes Android feel a lot more like iOS, but there are also some strange quirks. Compatibility with third-party launchers is spotty, the gesture navigation isn't great, and so on. However, it is running Android 9 Pie under the hood, so at least you get the latest and greatest.
The main selling point of the Mate 20 is its cameras. Each rear camera has its own focal length, allowing the phone to still take great photos in challenging light conditions. Under the right circumstances, it can match (or even outright beat) the Pixel 3.
In our review, Ryne wrote, "Paired with a fantastic triple-camera setup, the Mate 20 (and by extension, the Mate 20 Pro) is one of the best Android phones out there right now, but only if you're willing to accept Huawei's myopic software vision."
The Mate 20 isn't officially sold in the United States, and even if you do find one in 'Murica, it won't work on CDMA networks like Verizon or Sprint.
source: android police