You Can Now Block People from Adding you to Groups Thanks to this New Whatsapp Privacy Feature
Ever get tired of being added to different Whatsapp groups without your permission? Well Whatsapp is finally rolling out a solution for that problem.
Whatsapp announced on Wednesday the introduction of new privacy features that lets users limit who can add them to group chats.
One notable privacy feature is the introduction of an invite system that basically requires a user's consent before they can be added to groups. Under this system, users will receive an invite link which carries basic information about the group. Users can choose to join the group via that link; otherwise the link expires in 24 hours.
Even better, Whatsapp has introduced a feature that allows you to block anyone from being able to add you at all.
With the new privacy feature, you can select who can send you group invites.
Options available include "everyone", "my contacts" or you can choose to block all invites totally using the "Nobody" option. These options are available under Account > Privacy > Groups in the Whatsapp settings.
Whatsapp announced that the new features are part of updates rolled out beginning on Wednesday. Full global rollout is expected to be completed over the next few weeks.View image on Twitter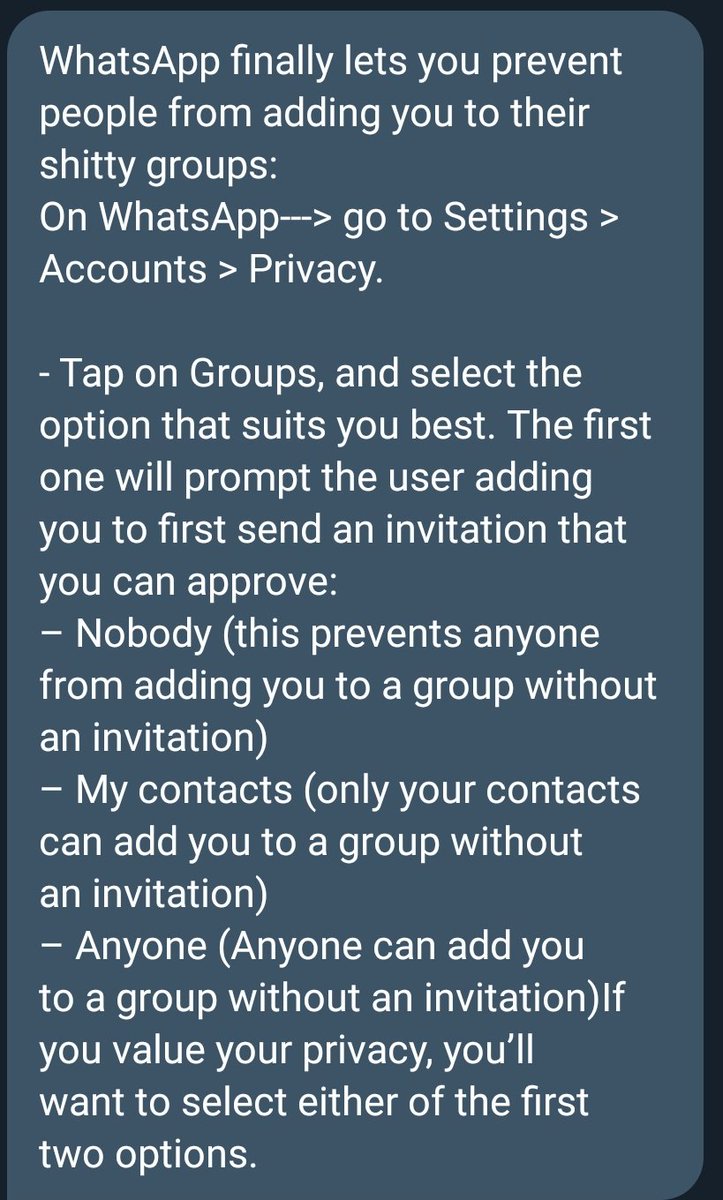 Best News of The Day .
Now, You Can Choose To Join #WhatsApp Group .
The new feature lets you prevent people from adding you to their shitty groups. The feature will roll out soon for users in India.234:38 AM – Apr 4, 2019See Kumar Manish's other TweetsTwitter Ads info and privacy
Whatsapp group is a highly functional and timely feature, but it's also one of the most abused Whatsapp feature. Without seeking user permission, administrators of different Whatsapp groups annoyingly add users to groups.
Some users immediately choose to leave these groups. But some others may not feel like they can leave. For family groups and groups created by someone they know, users feel guilty leaving or hate it when their exit is announced by Whatsapp. As a result, more Whatsapp users prefer not even joining these groups in the first place.
Whatsapp Using New Groups Privacy Feature To Address Fake News
However beyond this, the latest group restriction plays well in the fight against fake news. In countries like Brazil and India, Whatsapp groups are important points to spread fake and misleading news.
Shashi Tharoor✔@ShashiTharoor · 14hReplying to @ShashiTharoor
It shows contempt for the voters to seek to exploit their ignorance of the source & context, which in any case was accurate about the past it describes. Unfortunately many are taken in by these lies. BJP is incapable of being ashamed of itself; but why can't social media act?
I call on those who run @whatsApp, @Facebook & @Twitter in India&who claim to be concerned about the misuse of their platforms by political fake-news peddlers to make an example of this specimen, to start with. The echo-chamber repeating her lies is part of an organised campaign.1,8588:06 PM – Apr 3, 2019Twitter Ads info and privacy533 people are talking about this
Several reports show that in India, some political parties create groups based on caste, income levels and religion. With this classification, they bombard these groups with different reports designed to influence their thinking and conversations.
To address these issues, Whatsapp has already introduced several features. Some include labeling forwarded messages and limiting the number of times a message can be forwarded to five.
The new group invites system and blocking tools will help protect users even further.
Nokia Reveals Plans to Ensure 5G Security
Nokia has announced plans to address the critical security needs of 5G networks, unveiling an enhanced security programme and advanced security testing and verification laboratory.
The new initiatives, which will extend the network provider's commitment to ensuring the highest standards of security, are set to focus on end-to-end (E2E), mission critical networks that "will define the 5G era".
Building on the success of its "industry-leading" Design for Security (DFSEC) process, Nokia has launched the upgraded DFSEC 2.0 to carry out additional verification work in areas such as E2E identity management and network slicing.
According to a statement, another key advance which is expected to drive this movement is Software Defined Networking (SDN) – with distributed cloud infrastructure and augmented intelligent control systems – as it will allow networks to scale in the 5G era.
In order to support the collaborative research taking place as part of DFSEC 2.0, Nokia will also open the "Future X Security" (FXSec) Lab.
The facility, to be established as an extension of Nokia's Future X network lab, will facilitate the joint testing and verification of industrial automation solutions in private local area networks (LANs), as well as trials across public wide area networks (WANs).
Marcus Weldon, Corporate Chief Technology Officer and President of Nokia Bell Labs, said: "End-to-end 5G networks will fundamentally transform societies by providing ultra-high-speed wireless connectivity allowing massive, low latency ultra-reliable streaming data that will drive intelligent automation for a wide array of infrastructure, industries and enterprises.
"But with great opportunity comes significant security risk that must be addressed end-to-end, using an array of novel techniques and technologies.
"As the most trusted end-to-end solution provider in the 5G era, Nokia is taking a leadership position in defining and building advanced security solutions that will meet mission-critical needs, leveraging the deep and extensive security research and disruptive innovations from Nokia Bell Labs."
Source: https://www.porttechnology.org/news/nokia_reveals_plans_to_ensure_5g_security
Peak gamer bling achieved with Swarovski-encrusted WASD keys
I've seen a whole bunch of keyboards this week at Computex Taipei, but none quite so opulent as this exclusive offering from HyperX. As part of a collaboration with Swarovski, which it should be noted is far from a newcomer to the whole sticking–crystals–on–random–gadgets thing, the gaming accessory maker has designed a keyboard with bedazzled WASD and number keycaps.
I used the keyboard briefly and I don't know if I'd say that the crystal glass felt particularly premium, but the jewel-encrusted keycaps did have a nice grip to them, if that's what you're into. If you wanted to experience an even greater rush of superiority after headshotting an opponent in Overwatch, I suppose this might do the job.
HyperX also made a matching headset, as well as one for the PS4:
And there's also a mouse to go with the keyboard, though I'm not convinced the crystals are located in the most comfortable spot.
HyperX told me they made this gear for this year's Taipei Game Show and don't currently have plans to put it on regular sale, but they'd consider it if there turns out to be a lot of interest. I'm not sure there will be, but with the money pouring into esports these days, who knows? Maybe this could be someone's aesthetic.
Source: https://www.theverge.com/2019/5/29/18642129/hyperx-swarovski-crystal-mouse-keyboard-headphones
Firefox Quantum Offers Anti-Cryptojacking Feature
Firefox Quantum, the latest version of open-source internet browser Firefox, has a new privacytoggle that protects against cryptojacking, according to a blog post by Mozilla on May 21.
Mozilla previously warned official blog post that websites can deploy scripts that launch a crypto miner on a user's machine without them being aware — a practice known as cryptojacking.
To combat these exploitative practices, Mozilla partnered with online privacy company Disconnect to create a crypto mining blocker for their browser. Users can now toggle an opt-in feature, that purportedly blocks would-be cryptojackers from taking advantage of spare computing power to mine cryptocurrencies.
Mozilla initially announced that it would block cryptojacking in new browser releases in August 2018. As per a report by Cointelegraph, Firefox featured cryptojacking protection in its Firefox Nightly 68 and Beta 67 versions this April, just prior to the launch of Quantum.
Firefox Quantum also aims to mitigate the practice of so-called "fingerprinting," which makes a sort of digital fingerprint of a user that is employed to monitor their activities on the internet.
Cryptojacking at the consumer level was called "essentially extinct" by cybersecurity company MalwareBytes on April 23. According to the report:
"Marked by the popular drive-by mining company CoinHive shutting down operations in early March, consumer cryptomining seems to have gone the way of the dodo. Detections of consumer-focused bitcoin miners have dropped significantly over the last year and even from last quarter, while business-focused miners have increased from the previous quarter, especially in the APAC region."
According to the report, consumer malware detections have gone down by approximately 40%. Businesses, however, are being targeted more heavily by cryptojacking attempts, with
Business detections increasing by about 7% during the first quarter of 2019.
Source: https://cointelegraph.com/news/firefox-quantum-offers-anti-cryptojacking-feature